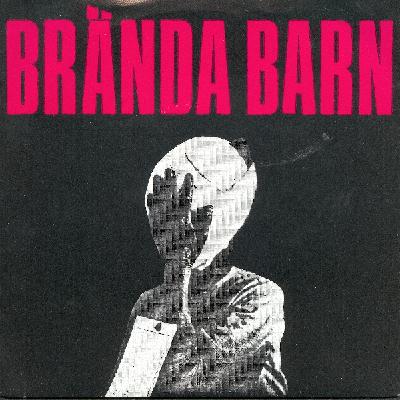 How did you react when they asked you to play on swedish punk 25 years?
-I said yes at once. Only the thing to play in my new hometown Gothenburg.
Which songs are you going to do?
-We do some old punksongs and songs from our LP.
Which members do you come with?
-We come with the original crew but Janne Strandqvist wasn´t in the band from the beginning because we hadn´t any keyboardist in the beginning.
It was a little more punkier in the beginning?
-Yeah, we started as a punkband but new influences came into the picture and we got better and better musically.
Then after that it was more music like bands Siouxsie and the Banshees, Killing Joke which was your thing more than the pure punkbands?
-Siouxsie and the Banshees was also a punkband in the beginning. I think that Sid played drums there. Otherwise you have right , our drummer Henka was very influenced by the drummer in Siuoxsie and the Banshees, I want to compare us more with bands like U2 and Simple Minds.
After Brända Barn it was Bunch with the similar members wasn´t it? Is it any of you who do music nowadays?
-As I know it´s only Janne who do music nowadays. I don´t know anything else. We had a guy on saxophone in Bunch and I think his name was Ulrik.
You hacve done some reuinions already(how many?) , how have they been and how do you look upon this one? Is it any more after this one or is only a one-timer?
-We had our first in Sundsvall 1987, and then 2 gigs in 1991, on Gatufesten and on Pipeline. 1999 we had a new on Pipeline. All gigs have been wonderful. It was wonderful to meet the guys in the band again and it was wonderful to stand upon a stage again. We will do three gigs this autumn, in Gothenburg, Stockholm and Sundsvall. People may think it´s pathetique but if I´m honest I don´t give a shit about what they think. It´s going to be really fun and I´m looking foreward to the gigs.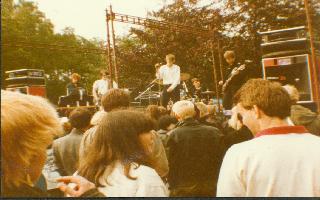 Which members are you coming with?
-We come with the LP band. Anders Brodin - Vocals, Mikael Svensk - Guitar, Peter Byström - Bass, Jan Strandqvist - Keyboard, Henrik Brodin - Drums.
Why do you think the interest is so big for this type of festival? Which middleage will it be do you think?
-Punk meant a lot to many of us. Many of us were very young when the punk came, we were about 13-14 years, I was a little bit older, 16 years. Many got their values from punk. Not me, I had the same values before. If you think it´s only old punks from the past which comes the middleage will be about 38 years but I think there´s some younger people which is coming too, so the middleage will be about 34 years.
Whjy do you think punk is so big today?
-When I was young I wanna revolt against everything but I don´t the youth is so different from then. But seriously, how much does punk chock today? In the 50´s the grown up people was chocked by Elvis.
Is punk anything you listen to today and do you feel that you have something in common with today´s punks?
-I must admit that I´m not listening so much to punk today. I´m grown up with heavymetal and that´s the thing I listen much to today too. Of course can I put on a record with Ramones, The Damned or Sex pistols and think it´s fucking good but otherwise it´s not so much punk nowadays.
What does the word punk mean to you?
-Difficult question. Punk was for me a musical revolution, we was protesting against 10 minutes song and arenarock. 1976 when the punk came so had the groups lost contact with their audience. It was big concerts with 100 000 in the audience and if you should play you had to be a good musican. The punk came and showed us that anyone could play. When we began with Brända Barn I was the only one who could play a little. We had all played in other groups but no one was a supermusican. Henka had singed in our group Ztülb.
Which sort of music do you listen to today?
-As I said before it´s much metal and then I listen to girlspop, Kylie Minogue the most.
Är punk något du lyssnar på idag och känner du någon slags samhörighet med dagens punkare?
-Jag måste erkänna att jag inte lyssnar så mycket på Punk idag. Jag är uppvuxen med Hårdrock och det är också mycket det jag lyssnar på idag. Visst kan jag lägga på Ramones, The Damned eller Sex Pistols ibland och tycka att det är skitbra, men annars blir det inte så mycket punk i dagsläget.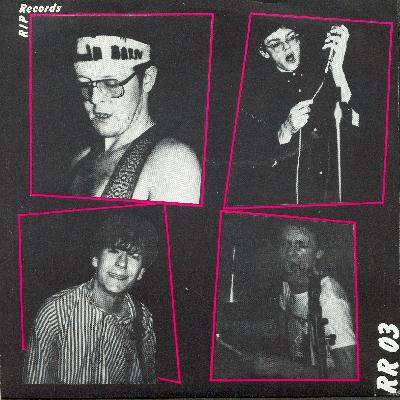 Which swedish punkband have been the most important do you think ?
-Ebba Grön and KSMB.
Which differences did you see if you compare the punk movement in Northern Sweden(Norrland), Gothenburg , The south of Sweden(Skåne) and Stockholmpunk?
-We in Sundsvall(Norrland) thought that the stockholmpunk take the lifestyle as an artstyle. Saturday punks as we said. Ordinary guys and girls during the weeks and the they took on their punkclothes on the Saturday and started to shout about anarchy. The Gothenburg and Skånepunks was more like we, who had som sort of ideal, both when you talk about music and political views.
The punscene was big in the beginning when you started, what did that depend on?
I don´t really know. For me personally it was the music whach was the thing. When I heard Damneds first album , I really get impressed by the unbelievable energy and the uproar attitude. I met a whole lot of people who thinked as I did and the there was a lot of punks, I don´t know where they came from. They wanted to belong to anything and they identify themselves with punk. They wanted to do a revolt against the grownupworld and here they had their chance.
Which bands was best in Sundsvall and is there any good bands there right now? And which good bands have you noticed in your new hometown Gothenburg?
-Not to say too much but I think we was the best. I have no idea about the bands there right now because I haven´t so much contact with Sundsvall nowadays. In Gothenburg there´s a whole lot of good ehavymetalbands like Hammerfall and Dream Evil.
Have you played with some of the other bands before, I mean the bands on the punk25 gig?
-Attentat have we played with on a gig on Sprängkullen. The things I rememebre the best there was that it seems to be the fact that all GAIS-fans was there.
Which is the best punksong through all times (not any own sonh),?
-Ebba Grön "We're only in it for the drugs (part1)"
Which is your most popular song?
-Kärlek & hat
Which is you best punksong?
-Vänner jag hade glömt
Have you played to 1000 in the audience before?
-We played at Gärdet in Stockholm for 50000 once. And then I don´t know how many people we have played before but it must have been 1000 sometimes.
Which of you records can we still buy, any other merchandise?
-You can get the album on CD.
What are you most curious about when we talk about the festival?
-How the audience will be and if it´s going to be a really good party.
Your debutrecord was really good thought the critics, why do you think ?
-Staffan Hildebrant did a film about us in the news (Aktuellt) once. We was the spokesmen for a disillusioned generation. I think it´s really near the future. But I don´t mean that it was so but journalists see us that way. We was only a bunch of kids who wanted to have fun.
Did people think too much about you? What that the reason why you split up?
-Yeah, it was really hard to lkive up to what people thought. Once upon a time they said that Swedens whole rockfuture was depending on us. It´s not so easy to live up to that
What is the most peculiar which have happened to you on stage or in the audience during your time together?
-I don´t remember somthing "peculiar" which have happened. On a gig in Stockholm i was in ecstase in the last song "Hey hey my my" so I fell of the stage, people thinked that it was in the show and they give me applauses. When we played in Ultrahuset in Stockholm they had a small stage so Janne Strandqvisthad to stand in the kitchen and play. And they gave us newbaked buns. On a gig in Kiruna in December so had the people who arranged the gig payed a lot of money to get us play there. It was a lyingtrip and much money we got. When we played almost nobody was on our gig. The most people was down under and there they had a disco in the same time. It seems like we´re was so popular in Kiruna.
What´s the best and what´s the worst of being in aband?
-It was many good things with being in Bräda. We was really good together. We was with each other in the spare time and we was mates before we began to play together. It was a special thin to be out with them. And then it´s wonderful to be on stage and see that people like what you do The worst thing was when we rehearsed and we would do new songs and we have no ideas
Is it diffiuclt to be up in age when the punk still alive? Do you think that older gentlemen like Charlie Harper/UK Subs, Iggy Pop, Mick Jagger is pathetique or?
-Sometimes is a little bit hard to be old. I don´t feel so old in my head. Do you want to do music it doesn´t matter how old you are. Must you put down your biggest interest because of the fact that you have been 30. Iggy Pop is fucking cool yet.
Was it easier io come foreward as band when you began than it is now?
-Yeah, I really think so. When we began there was many scenes to play on round in Sweden. Nowadays it seems like they don´t have so many places to play in if you don´t play covers because then you can play for drunk people in the pubs? How fun is that
What´s the difference for a band today, what advices will you give band which precisly have started their career, what must they think of?
-It seems like a recordcontract is a must for bands who wants to play, so was it not when we began to play. Something to think about is to not trust someone, people try to get good things out of you whole the time. The music world is filled with people who wants to tell you how good you are and how much they want to help you. When you turn your back they have the knife there. Only trust yourself.
I know that Massmedia sang something about Åhlens and punkare , what was that for history?
-Åhlens didn´t let in any punks. We used to be in their restaurant before that and they didn´t liked the way we looked.
Was it hard to be a punk back in time, a lot of fights?
-In the beginning the raggare and some other poeple was after us so one or two hits you was forced to get.
Please rank your five favouriterecords, five best concerts and five most important things in life?
-These lists isn´t the things you thought maybe but I have never done things that people think I should do. The trube rebel.;)
Records:
1: Kylie Minogue "Rhythm of love"
2: Kylie Minogue "Fever"
3: Kylie Minogue "Light years"
4: Hammerfall "Legacy of kings"
5: Y&T "Black tiger"
Favoruiteconcertsr:
1: Kylie Minogue Wembley arena London 2002
2: Kylie Minogue Hammersmith arena London 2001
3: Kylie Minogue Hovet Stockholm 2002
4: The Ramones Domino Stockholm 1978
5: Aerosmith Konserthuset Stockholm 1976
The most important things in life
1: That the health is good(maybe simple but without health no life)
2: That you have a good job.
3: Kylie Minogue
4: Computer
5: Mummy
The first and last record you bought?
-The first record was Lenne & The Lee Kings "L.O.D". The first Lp was Creedence "Cosmo's factory". The latest was The Donnas "Spend the night".
A question you surely have got many times, where did the name came from, was it from Dagerman or am I wrong there?
-The name comes from Dagerman. "Burned Child don´t go away from the fire even if it know that they are going to be burned"
When you began to play, was the ambition to be a rockstar after that?
-Music have always been my biggest interest so it was natural to begin to play.
Did you only do swedish songs because I think I hear some english one on an old liveconcert I have been listened to?
-Our own songs was in swedish, but we have done some covers.
Did you do any covers (except Hey hey my my på Bunchtiden) ?
I don´t remember when we did covers, if it was Brända or Bunch.
Du you think a band like you could have any chance today? Do you think your record stick out today?
-Why not, I think the Lp is good today too. Brodde is still Sweden´s best singer.
Why didn´t you took all Brända Barn songs on this CD? Is there any plans to release everything on CD that you have done?
-First of all, The LP have their borders when you talk about space. And so was it so that we were another band when we started. Any thoughts on a CD I don´t know anything about.
Futureplans for yourself?
-GAIS to Swedish premier league. Timrå IK take the Swedish hockey league. Otherwise I have nu futureplans. I work on and I´m always waiting to the 25th every month when I get my payment
Wisdowmord?
-Excpect no hjelp. You must do thing by yourself.
I heard that you´re suporrting my team GAIS, are you going on the matches. What do you think about GAIS this year?
-I´m green black in my soul. You´rer also a GAIS-fan I suppose, a nice guy in other words,. Isn´t it wonderful to be a GAIS-fan? It began good but then it looked like last year and then we came on too late but we won the last time and then life is easier to live.
Why is GAIS rock n roll?
-The wonderful fans and the wonderful shirts.
Something to add?
-I hope you´re satsfied with the answers. I really have done my best. When we´re talking about my musictaste, so can I count up a whole lot of cool groups which I am supposed to like but I have been honest and said the things I like. Kylie Minogue is a Goddess.