The Netherlands have given us a lot of good punk and hardcoe bands through the times. Born Infected is another good band from his land and this is an interview done in September 2021
Please tell me a little bit history of the group?
-Of course! The band was founded in 2018 by Ronald (guitar), Stan (drums), Patrick (guitar) and Pascal (bass), together with a different singer. After rehearsing for over a year and recording the musical part of the EP, they actually had a singer change, which brought me (Ken) into the picture. After a couple of rehearsals the lyrics for a couple of songs were written and we went on to record them at the same studio the rest was also recorded in. This studio is White Noise Studio in Winterswijk, run by Marlon. Awesome dude and he really helped me with my first recording experience as a vocalist. Thanks dude!
After recording the mixing and mastering process began, as well as the search for a label. The label who clicked the most with was Engineer Records from the UK, run by David. Together we released the EP called "Self Reflection" at the end of 2020. Thanks for all the support David! After that the long wait begun for live shows…..until September 11th when we finally played our first ever show. It was a blast!!

Please tell me a little about every member in the group right now, age, family, work, interests and something bad about everyone? Earlier bands? Other bands on the side?
This question took some interviewing from me actually, here it goes:
-On bass we have Pascal, 40 years young, married and father of two daughters. He used to play in Brickless and Revealed. Fun fact: the dude has the most contagious laugh ever!
On guitar we have Patrick, 51, father of a son and living in Winterswijk. He surely is the metal guy in our band. He also played in Rise Above, Crawfish and Past Our Means. Besides Born Infected he also plays in Disabuse and Rotten Casket.
Our other guitarplayer is Ronald, 57 years old and a father of two as well. He used to play in bands like Winterswijx Chaos Front, Rise Above and Fierce. If you want punk, that's what you're getting with him!
On drums we have Stan. He lives together with his girlfriend and man can that guy play tight and loud as hell! He used to play in bands like Crawfish and Past Our Means and currently also plays in Lou Patty, so he's versatile as well!
And then there's me on voice, Ken. I'm 27 years old which makes me the young one of the band. I'm living in a different part of the Netherlands as the rest of the guys but rehearsals work since my girlfriend lives in the area near where the rest of the guys live. I also play in a band called Reverse The Flow in which I play drums actually.
I can hear much different influences but hardcore and I can hear a little death metal somewhere? Ami I right ? Favorites from the past?
-That's right indeed! The death metal influence comes from Patrick, our metal guy. Next to Disabuse he also plays in Rotten Casket, a oldschool HM-2 pedal driven death metal band with members from Asphyx and Sodom. You can't get more metal than that. Personally speaking I am a fan of the older harder work as well, I can blast me some Cannibal Corpse or Entombed any time of the day.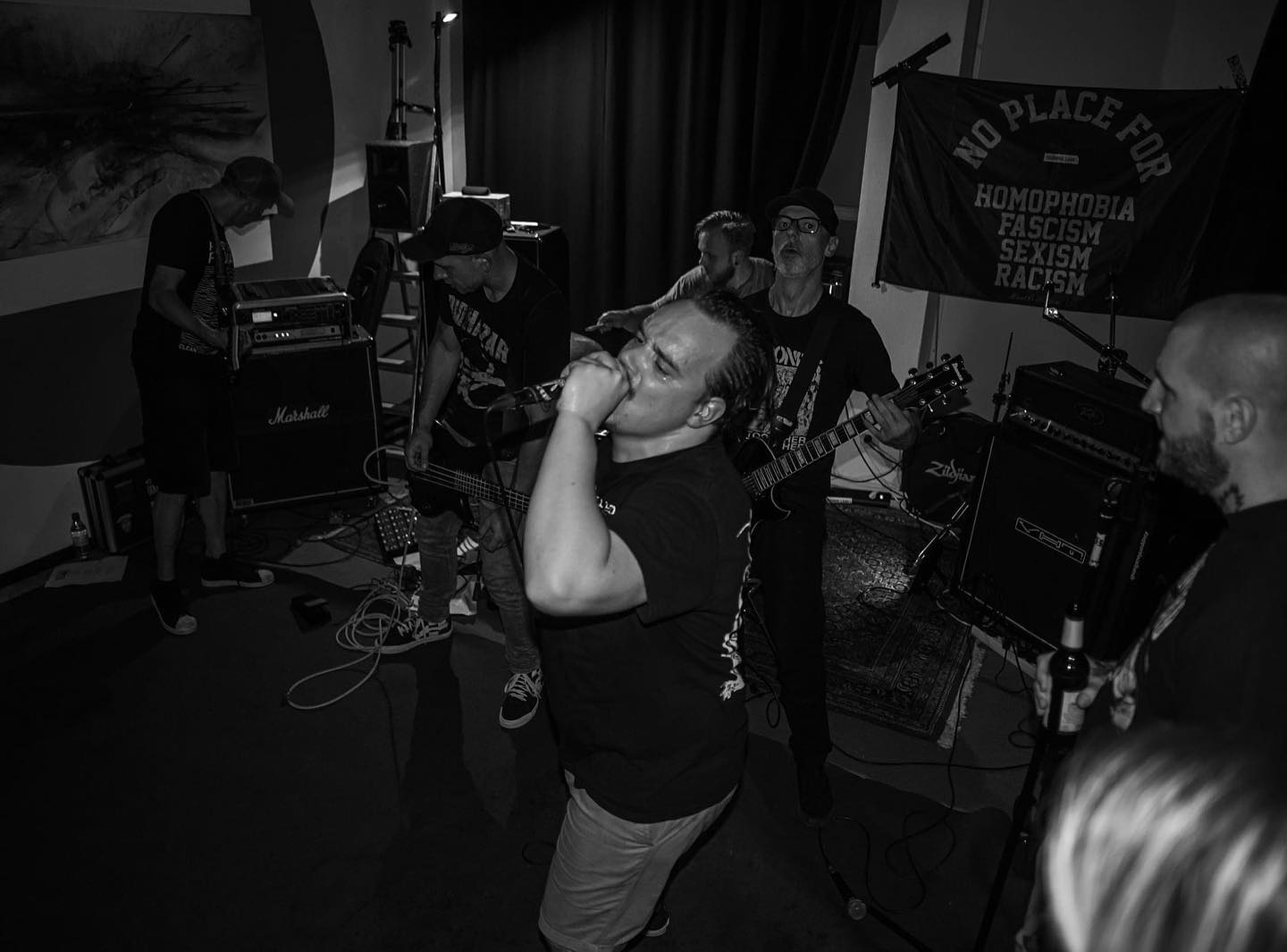 Born Infected are you satisfied with the name? How did it came up? What does it mean? You weren't afraid that some other band would be named like this? Which is the best bandname you know?
-The name really fits what we stand for as a band. As a band we think the world is pretty infected with all sorts of diseases we as humanity caused. That way every new generation born on this Earth is born with the infections caused by the previous generations. To prevent this, we as a band made it our goal to support a couple of charities who try to turn the tide in this, the Hardcore Help Foundation, Sea Shepherd and Animal Rights. We actually donate our profits of merch and EP sales to these charities as well.
Because this is our goal we are really happy no one had claimed this bandname before, would be really shitty.
Personally I cannot name THE best band name in the world, but one of them surely is All Out War, it describes the music perfectly!
What´s the best thing with playing live? Have you done any since the covid came?
And where is best to play? And the worst place?
-Having played one show with this band yet, I'm also thinking back of shows I played with my other band. But the best feeling is seeing the energy you put into performing being cast back at you. Nothing beats the sight of seeing your friends start a big ol pit to the beat of the music you wrote in a rehearsalroom. That being said the best places I ever played were Café de Meister in Geleen (hometown shows always are the best) and those in Café Bluff in Heerlen (my other band is from that area, so another home away from home).

How is to play this sort of music in Netherlands right now? Which types of bands do you have concerts together with?
-Playing loud music in the Netherlands is fun man! A lot of bands, old and new, combined to make sick shows! If you know the right places for shows, Café de Meister, Café Bluff, Innocent in Hengelo to name a few, you are set for a night you will always remember.
As a band we like to play as much as we can, hardcoreshows of course but a metalnight will not disappoint us either. As long as we can spread our message!

How would you describe your music in three words?
-Hard, fast, loud!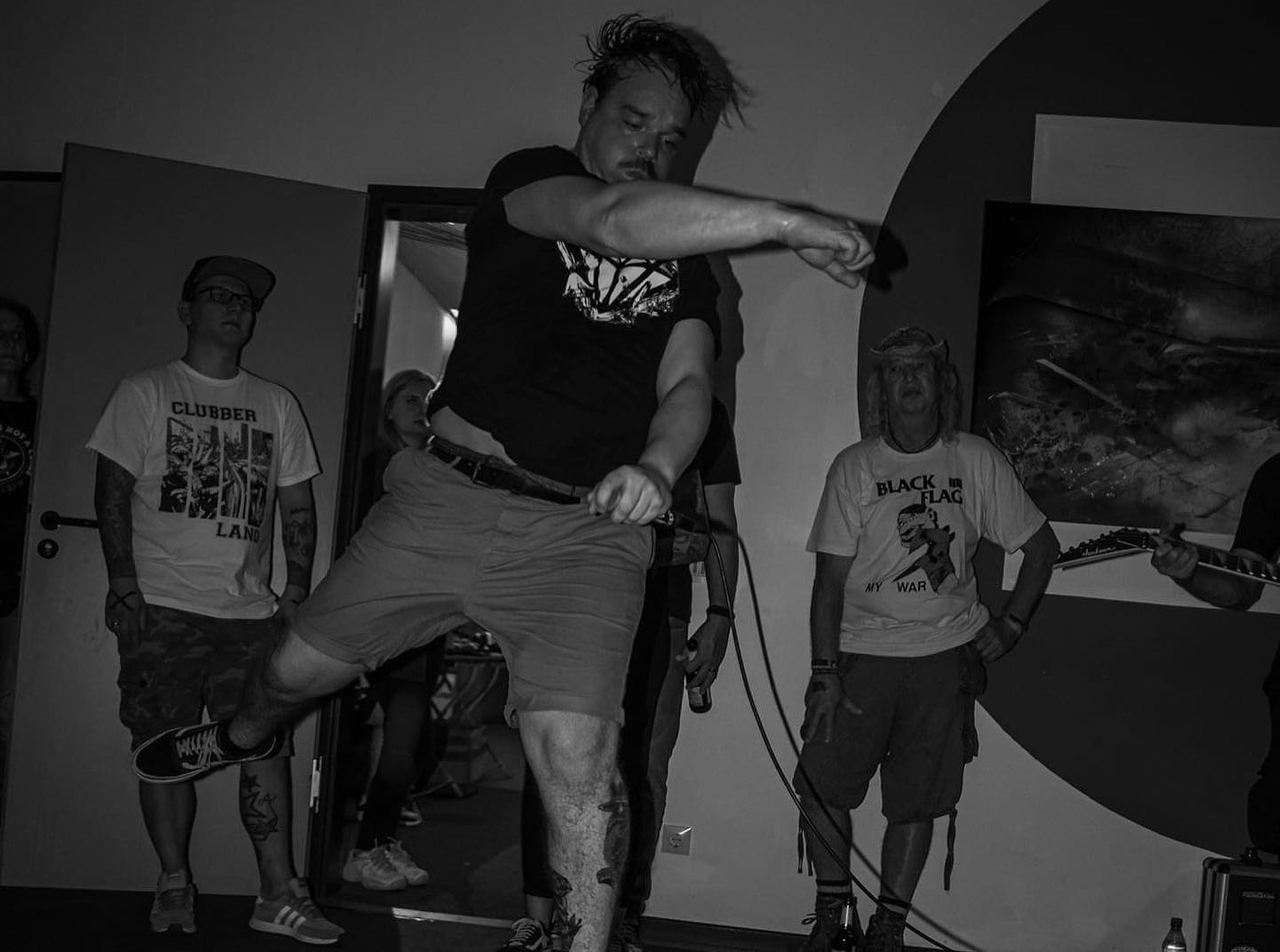 What does punk mean to you, is it only a word or is it a lifestyle?
-To me punk is an attitude. The attitude which says "fuck you" to anyone in your path. But on the flipside it also is a mentality where people can truly be themselves for who they are and don't have to keep up the corporate mask you sometimes have to put on to get through your 9 to 5 job. They may say punk is a subculture for the rough ones and the outcasts but I never met so many sincere, helping, caring and loveable people as when I entered the scene called punk/hardcore. Like our song "hardcore pride" mentions, this really is the place I belong.

Which song/album or group was it who took you into punk/hardcore?
-Story time! I heard some guys where booking shows of a genre called hardcore punk in my area. Since I already was into metal, a scene which was kinda small in my area at the time, I decided to check out a youtube clip called "New York Hardcore Documentary". First band I checked was 25 ta life, musically that was some stuff I could get into but those vocals man, not my cup of tea. Flash forward to a couple of years later I visited a show with Terror, Alpha Omega, Redemption Denied and the Setup. That was the gateway, man that was a show! First hardcore pit experience, not completely voluntarily, but man what a show it was, never looked back again.

What shall a young guy do today to shock their parents as the way we did when we were young? They have already seen everything <![if !vml]>

<![endif]>?
-Mosh, simple as that. Show them pictures and those bruises and they'll for sure think you ended up in an illegal fight club. Sorry mom! I'm guessing I still turned out fine ;)
How is it to live in Netherlands right now? Politically? Fascists?
-Living here is actually pretty fine, Covid measures make it hard to play shows now but things are looking up as I write this. Politically it's something different, our government fell, but we still do not have a new government as I write this. Weird situation really, top that off with some new Covid measures along with protests against them and we can say we live in interesting times. Fascists are there as well, sadly growing actually, we even have a political party which leans heavy into those thoughts, but let's not waste any more words on those idiots. If you still think racism is okay in the 21st century you really should get yourself checked mentally.
<![if !supportLineBreakNewLine]>
<![endif]>
Is there any good bands from Netherlands right now? Is the punkscene/metalscene/hardcorescene big? How is it in your hometown? Old Dutch Hardcorebands?
-The scene here is pretty good nowadays! It's not very big but when someone organizes a show you can always count on a decent to good show up. This is the same in my hometown with one of the most known venues, Café de Meister, on a distance you can easily do by bike! Some noteworthy bands from the Netherlands are Hawser, Born From Pain, From The Heart, Howlett, Manu Armata, Hometown Crew, Defeated Decade, Troops of Doom, Get Some!, Blood of Kings and Skroetbalg. Old Dutch bands in the punk/ hardcore genre worth checking are Backfire, Right Direction, 400$ suits, Seein Red and Better Off.

What do you know about Sweden? Have you been here sometime? What is typical Swedish?
-To be honest I never visited Sweden so my answer to this one might be a bit stereotypical, sorry if I offend anyone. When I think of Sweden I think it is the country of melodeath, good social security, nice people and of course Surstromming ;). I do however really want to visit sometime to explore and find out more about your country. Perhaps even with some shows attached, feel free to contact us!
Have you heard any good bands from Sweden?
-Owh do I! Entombed, Candlemass, Meshuggah, Bathory, At The Gates. You guys do your metal very very well!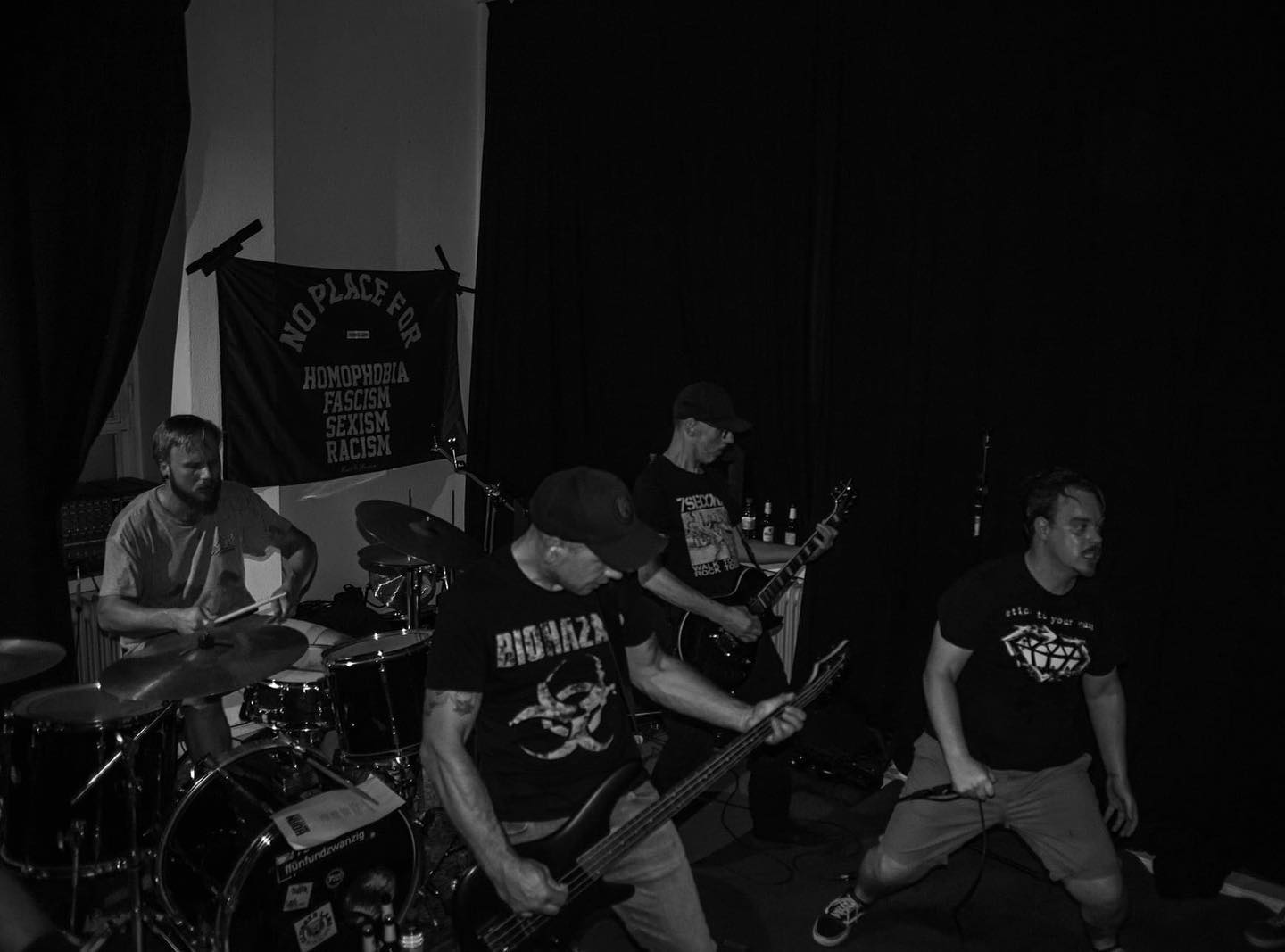 Your lyrics, who does them and what influences you? Never in your own language? Please tell me a little about the following songs
-Humanity Must end
-All Will suffer
-Interlude
The lyrics are mostly written by me. Usually they are influenced by things I live through or things I get annoyed about in the world or in life in general. The lyrics to
Humanity Must End really tie in with the way we are depleting everything we need to survive on this Earth and how this Earth is making clear that we cannot go on like this.
The song All Will Suffer ties in with a writing I once read during my study (it's a bible verse, you tend to read some when becoming a history teacher). I personally don't have anything with faith or religion but this saying really stuck with me. It said that when one person suffers, we all will suffer. This opened my eyes and made me see the fact that when our world suffers, we all will suffer equally because of it. Tying in with the goals we had as a band this really felt like some lyrics to a hard ass song.
Interlude does not have lyrics perse but it does have a quote from the Matrix, one of my favorite filmseries ever, in which Mr. Smith declares that humanity was a plague on earth and they were the cure. It sets the mood for liveshows very well!

Is there any subject that you never will write anything about? Or isn´t anything sacred?
-I don't think I'll ever write about personal situations of my students ever. I work in special education so sometimes I tend to come across a student who really touches your heart when he or she tells you their backstory. Out of respect for them I'll never write anything about them. A new song on the upcoming EP actually bends that rule, a situation my student went through tied in with a negative global trend so I found it fitting to write a song about the situation. The song actually is about the trend, not the specific case of my student, I just want to emphasize that

Politic and music, does it goes hand in hand? Which is your most political song? Is it important to get out your opinions in music? Or is it OK to play music and not sing about politics?
-Of course it goes hand in hand! Our most political song is called "Protect and Serve" and deals with racist cops and how we should make sure they won't be on the streets as a cop ever again. Playing music without politics is fine by me as well, In my opinion everyone should be free to make their own choices in life, that goes for lyrics as well. Just don't be a racist asswipe.

Best political band/artist?
-Is there another answer than Rage Against The Machine?

Do you think that music(lyrics and so on) can change anyones life, I mean people who listens to music?
-Absolutely, I know I have some songs that got me through some rough periods in life and I'm sure I'm not the only one in that. Hardcore does have some great uplifting lyrics for that.

Your favorite recordcover alltime? Who does your recordcovers? And do you have any good recordstores in your hometown?
-My favorite record cover EVER is by Stick To Your Guns on their album Disobedient. It captured the rebellious vibe they want to portray so well, plus the black and white picture with the logo in color is awesome as well! Our recordcover is made by Roel Smit actually, a wellknown artist for punk bands and magazines.
Since I became an avid record collector in the past couple of years, there are a lot of cool record stores in the area here! Music Machine in Sittard is cool and has a very chill vibe and Popeye in Hengelo (near where the rest of the guys live) is everything you expect of a recordstore. Plus, Johan is a awesome dude with his heart in the right place! That being said, always support your local record store, they need it more than an Amazon for example. It would be a shame to see record stores die out.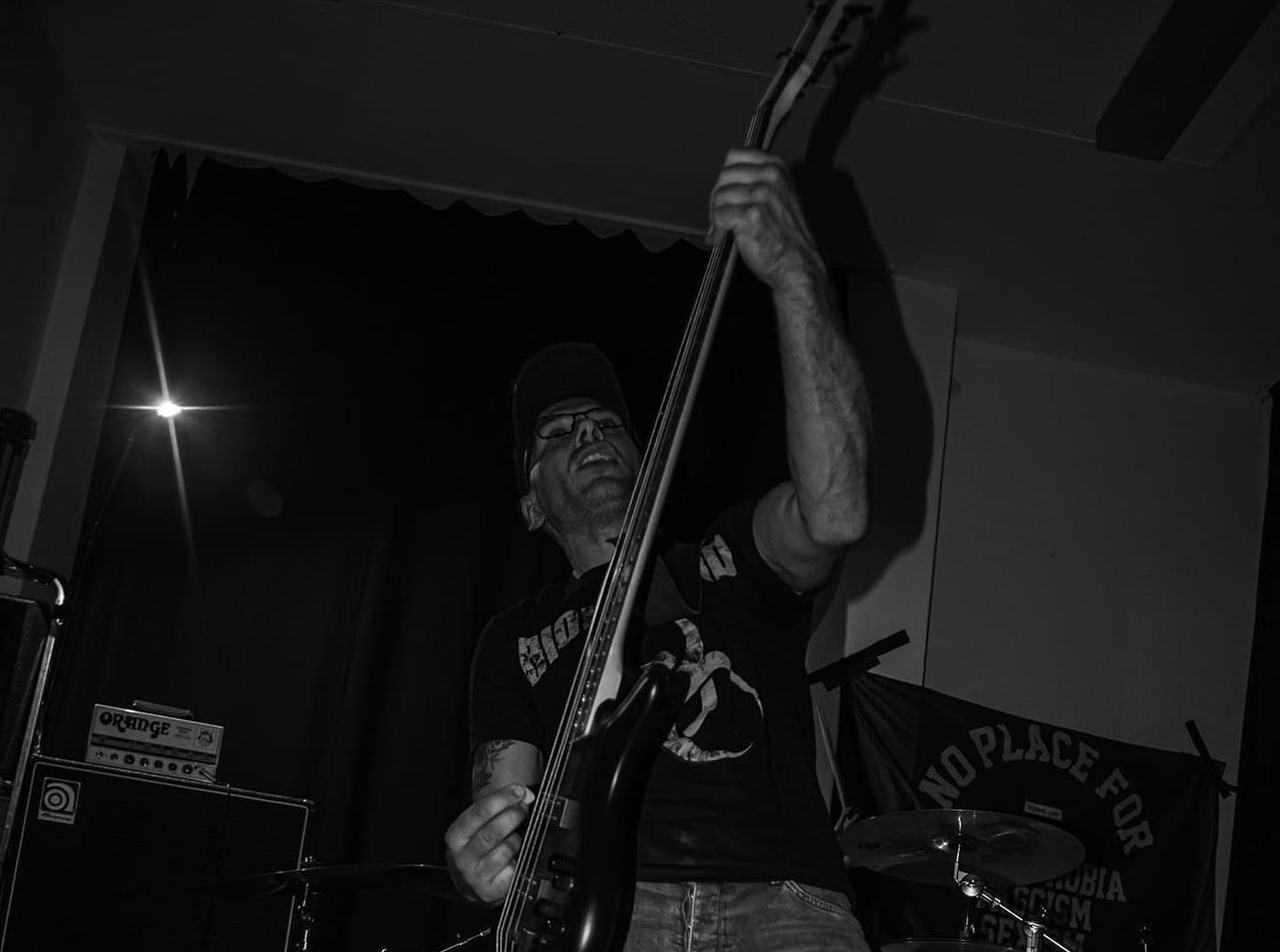 Is it important to get out physical records of your stuff? Why or why not? Vinyl, CD, cassette, what do you prefer if you could choose whatever ?
-As a recordcollector I'm saying a full yes on this one! Physical records bring so much of an experience with it. I like having a physical product in my hands to actually explore and read the booklet. My preferred media is vinyl, though we haven't got those yet for our EP. Might be worth looking into though. The vinylmarket is booming right now.

Please tell me a funny thing which have happened during your career and under some gig?
-The most funny thing that ever happened was during a show with Reverse The Flow in a very warm Café de Meister in Geleen. Our singer couldn't really take the heat in the venue and ran outside to get some fresh air, still holding the mic. All I heard through my monitor was heavy breathing and "auwhoer wat is het warm", roughly translated to "jesus christ it's hot". I had to do my best to finish that song properly haha

How does your audience look like? Which people do you miss on your concerts? Which is the biggest band you ever have played together with?
-Our audience (for as far we had shows with this band) consists out of a good mix of young and old people who are into hardcore. I think this really has got to do with the fact we got some older guys in the band mixed with some newjacks like me. I really like it, love a good mix. That being said, I think this band has played too few shows to realise who we're missing out on in the audience.
Please rank your five favoriterecords, five favoriteconcerts and five most important things in life?
Records:
<![if !supportLists]> 1. <![endif]> Stick to your guns – Diamond
<![if !supportLists]> 2. <![endif]> Architects – All our gods have abandoned us
<![if !supportLists]> 3. <![endif]> Terror – Keepers of the faith
<![if !supportLists]> 4. <![endif]> Hatebreed- Satisfaction is the death of desire
<![if !supportLists]> 5. <![endif]> Amenra -Mass VI
Concerts:
<![if !supportLists]> 1. <![endif]> E- Town Concrete at the Meister in Geleen
<![if !supportLists]> 2. <![endif]> Innofest at Innocent Hengelo 2019 (Surge Of Fury, Distant, Cutthroat LA, Scourge etc.)
<![if !supportLists]> 3. <![endif]> Sound of Revolution (every edition I've been to has been sick!!)
<![if !supportLists]> 4. <![endif]> Terror, Alpha Omega, Redemption Denied and the Setup at the Oefenbunker in Landgraaf.
<![if !supportLists]> 5. <![endif]> Reverse The Flow (my other band) release show at Café Bluff at the end of 2019.
Things:
<![if !supportLists]> 1. <![endif]> Friends
<![if !supportLists]> 2. <![endif]> Family
<![if !supportLists]> 3. <![endif]> Music
<![if !supportLists]> 4. <![endif]> Fun
<![if !supportLists]> 5. <![endif]> Self- development.

First, last and most expensive record ever bought?
-First: Hatebreed- Perseverance and Soulfly- Selftitled
Last: Lifelong- Seul contre tous.
Most expensive: Asphyx- Necroceros special limited splatter edition (I'm a sucker for colored vinyl).

Is it boring with interviews? Is it much interviews?
-Not at all!! Love reaching out to people who want to do interviews and explain what we as a band are about.

Do you care about reviews? Which is the most peculiar you ever had, with this band or any other band you have been to? Have you ever changed anything after a bad review?
-Of course as a band you care what people think about your music and how the music you came up with in a rehearsal space will land with the intended audience. I however see reviews as a feedback moment, a moment to see where the points of improvement lay for the band. I like it! But, we have never changed anything after a bad review.

Which bands do people compare you to, is it boring that people compare you to other bands or is it understandable?
-A couple of reviews compared us to bands like Earth Crisis, No Turning Back, Backfire, Death Before Dishonor, Terror and Wisdom in Chains. When I read this I was absolutely floored, those are a couple of my hardcore heroes haha. Getting compared to those never gets boring.

If you could choose five bands from the past and the history and nowadays and both dead and living bands to have a concert together with your band. Which five have you been chosen?
-Backfire, Irate, Terror, Kickback, Liar.

Is music a good way to get out frustration and become a nicer person outside the music??
-Owh is it! When I had a shitty week at work, nothing beats letting off steam in the rehearsal room or on a stage! It makes all the mental stress disappear for a half hour.

Which is the most odd question you ever have got in an interview?(Except this one)
-Well, since I do not have a lot of interviews under the belt yet, I think this one takes it haha

Which is the question you want to have but you never get. Please ask it and answer it?
-What are your influences for you own vocal style?
Answer: Jesse of Stick To Your Guns and Rob of Born From Pain, mixed with a bit of Roger Miret of Agnostic Front.

Futureplans for the band?
-Play as many shows as we can, record new music soon, make nice donations to the charities we support and make memories we'll never forget!

For yourself?
-Make nice memories with my band, finish my study, work as a special education or history teacher and have the best of time I can have on this little rock floating through space.

Wisdomword?
-Nobody can do everything, but together we can do anything.

Something to add?
-Thanks for reaching out to us and having this interview with us! Really looking forward to the final product and keep up the good work!!