THE BOLOKOS comes from Guadeloupe and they are the only punkband there. They have released a really good record and I was "forced" to interview them and here´s the full interview….july-2019
Please tell me a little bit history of the group?
Mister Fridge: We met in 2009 and began playin' together as The Sleepwalkers. Then after our studies we resurrected the band in 2013 and renamed it as The Bolokos. We were 5 at the beginning and it end up at 3. The band evolved from gigs to gigs, gain experience, make bigger venues, released an album and now we're ready for the Punk Rock Mecca: Rebellion Festival in Blackpool!
Please tell me a little about every member in the group right now, age, family, work, interests and something bad about everyone? Earlier bands? Other bands on the side?
Océ Cheapfret (Lead Vocals, Bass, Bombard) 29 Born in Martinique taking care of parrots and flamingos in a park, never loud enough and eating other people pizza slices.
Edy Caramello (Lead Vocals, Guitar, Harmonica, Bagpipes), 29 born in Guadeloupe making rum in a distillery, Always play faster and invent new rhythms (some of them haven't been discovered yet).
Mister Fridge (Drums, Vocals) 36, born in Normandy, treating cancers in hospital, football fan, always play slower and a bad metronome.
I can hear much different influences but mostly Rancid, Flogging Molly, Adicts and that sort of more happy punk? Favorites from the past?
Edy Caramello :Haha glad you call it « happy punk ». In fact we're more into Classic Punk as The Clash, The Adverts or UK Subs, with various influences like Caribbean music, Ska, Country or traditional Celtic music.
Océ Cheapfret:It's our state of mind: joy, sharing, sun and fun with simple and catchy rhythms.
Bolokos are you satisfied with the name? How did it came up? You weren't afraid that some other band would be named like this? Which is the best bandname you know?
Edy Caramello: I think we could not have a better name. « Boloko » is a creole term that can be translate as misfit or peasant, so we can do anything! At the inception the band was called The Sleepwalkers but apart the fact it was it was already taken it wasn't really fit our personalities. Now there's only one The Bolokos, perhaps because nobody wants that name haha
Océ Cheapfret:Edy's sister always called us "Boloko" because of our old-fashioned look: flashy apparent socks, braces and after a good laugh everyone loves that name.
Mister Fridge: Best band name I know? Pussyliquors haha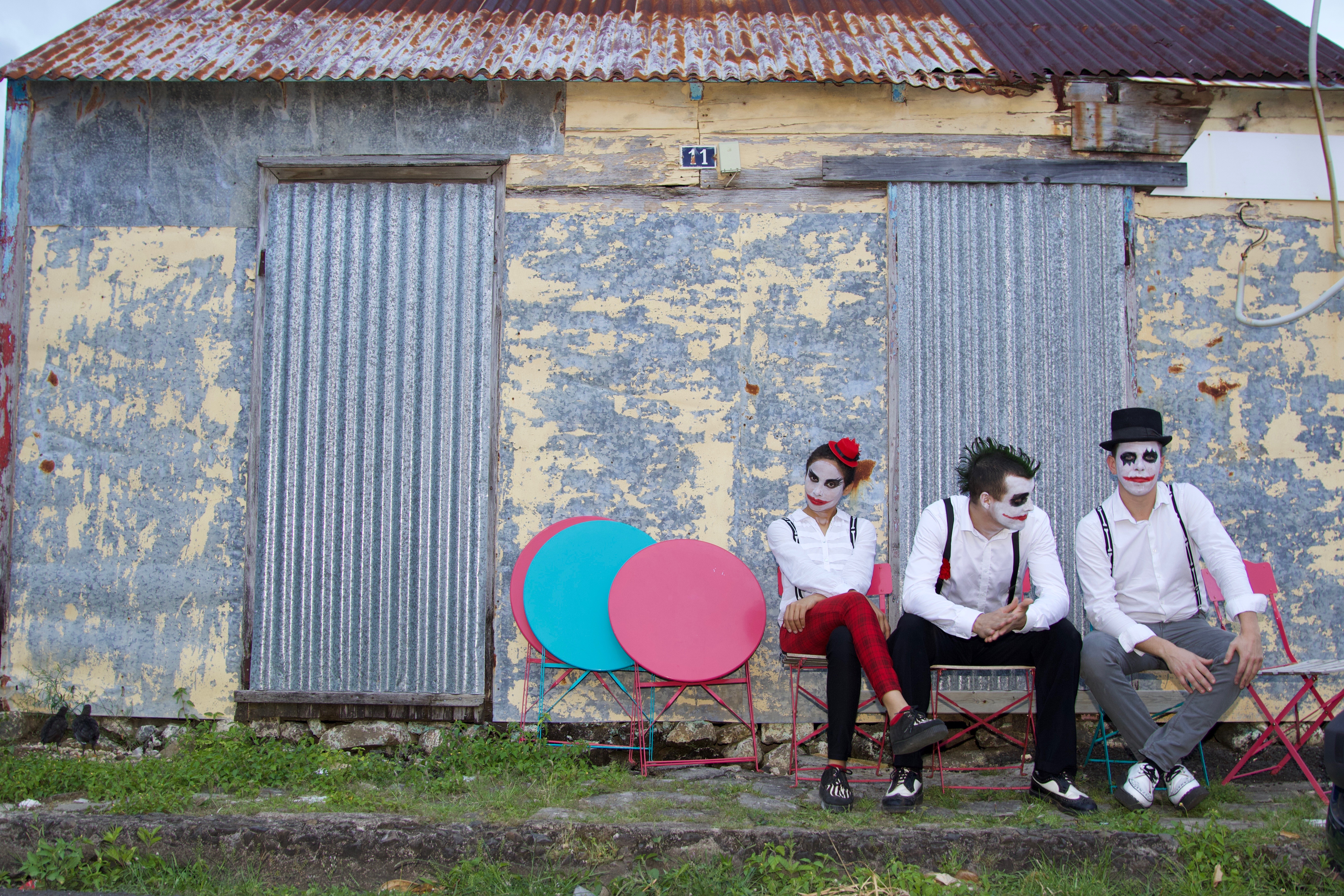 What´s the best thing with playing live?
Mister Fridge: Stage fright is a good thing, when we go up on stage; the communion we feel with the audience is the best thing. If we end up looking at each other three on stage, having pleasure is the best reward we can have.
Océ Cheapfret: Meeting new people, see them dancing to our tunes and share a drink after with them.
And where is best to play? And the worst place? You will be playing at Rebellion, how come?
Edy Caramello:The best gig we ever done were maybe at the legendary Mondo Bizarro in Brittany. I don't think there's a worst. Some concerts are better than others. It's more some owners' attitude that is deceiving than the venue itself.
Océ Cheapfret:For Rebellion yeah it's a dream come true, it will be our 5th time but the first as a band. We always said that after playin' Rebellion we can stop playing music and raise chicken in our garden, but in fact it just increase the will to play.
Mister Fridge:It's better to play for 50 people who're having a good time than in front of 2000 who stare at you like a curious animal.
How is to play this sort of music in Guadeloupe right now? You´re the only band there who plays punk or? Which types of bands do you have concerts together with?
Mister Fridge: Yeah it wasn't easy at the beginning being the only punk band in Guadeloupe. Venues didn't want to hire us because of the stereotypes this music can have for people who don't know the culture. Also with a name like « Bolokos » it doesn't help haha. We play with various types of bands like Reggae, Zouk etc.
How would you describe your music in three words?
Océ Cheapfret: Simple, Loud and Fun
What does punk mean to you, is it only a word or is it a lifestyle?
Edy Caramello: I think it's hard to separate the music from the lifestyle, especially with this peculiar type of music. It's about freedom and creativity.
Océ Cheapfret: Lifestyle. Do it yourself: If you don't find as you want it, create it!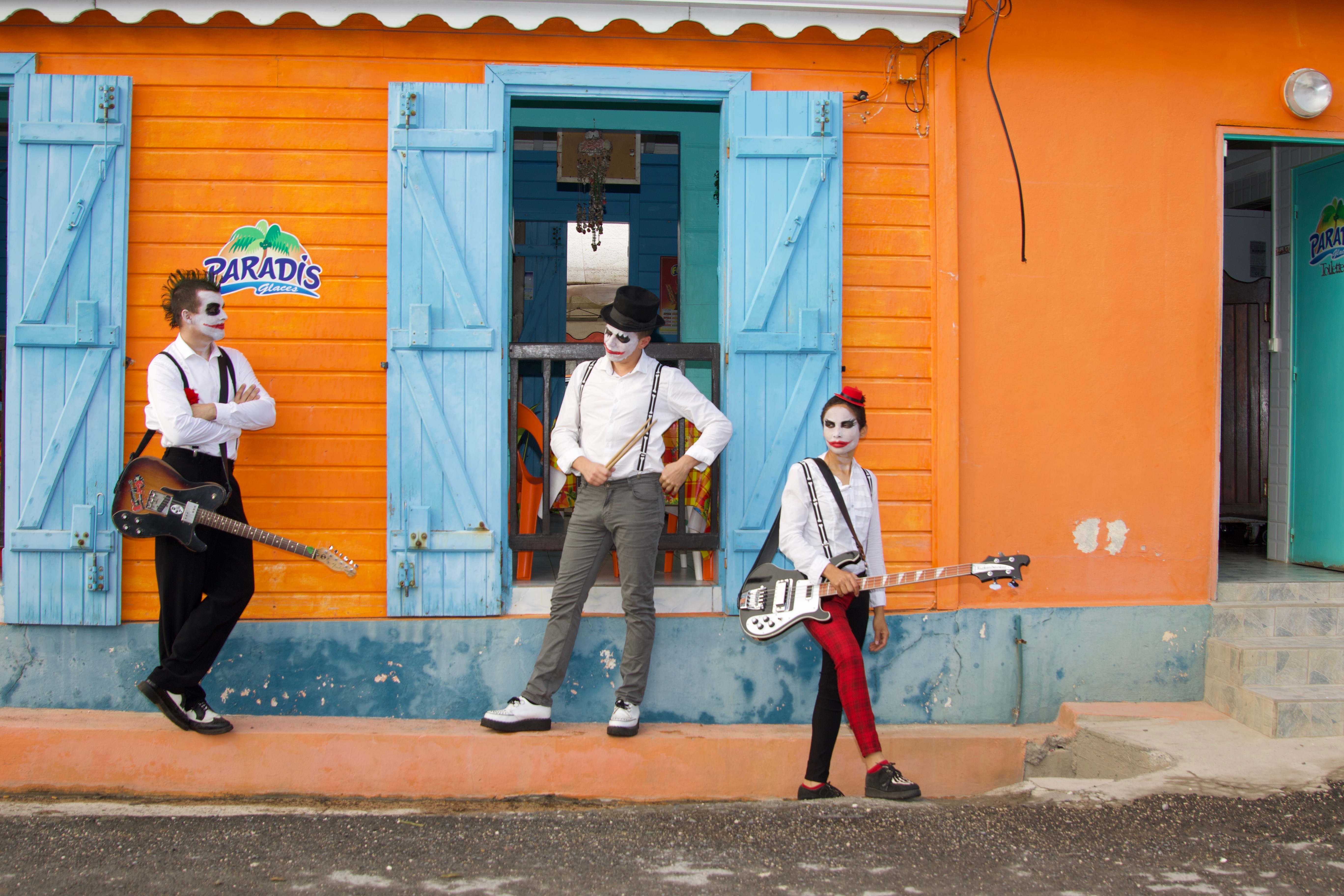 What shall a young guy do today to shock their parents as the way we did when we were young? They have already seen everything <![if !vml]>

<![endif]>?
Mister Fridge: Dunno, maybe everything has been made. The thing is each generation has its standards, codes attached to their time. Every new generation try to made it different to find its personality.
How is it to live in Guadeloupe right now? Politically? Fascists? Does it belong to France or what?
Mister Fridge: Guadeloupe is a beautiful island. Its Politics is slightly different from France and we are always second rate. A cast of ancient colon families owns the local economy; there are not much Caribbean people at head of companies.
Edy Caramello: We don't really have fascists but we have in Caribbean a subjacent racism who due to Slavery and History and we have to fight it in everyday life.
Is there any good bands from Guadeloupe right now? Is the punkscene/metalscene/hardcorescene big? How is it in your hometown?
Edy Caramello: The unavoidable Kassav! Also Loïc Emboulé, Jil Petrus, Jomimi, Dominik Coco, Drexi…
Mister Fridge: Yeah some are really good. However in the rock scene it's more in the classic rock/Britpop vein and most of them only do covers. There's no other band in Goyave, it's a very small town.
Océ Cheapfret: It's not even a town haha more a hamlet.
What do you know about Sweden? Have you been here sometime?
Mister Fridge: I know really well your King Zlatan Ibrahimovic! I wish I could go to see the prettiest women in the world, after the Caribbean ladies of course!
Edy Caramello :I knew some lovely Swedish people (Hi Daniella and Hampus!) they teach me a lot about Swedish culture, and I will definitely go to visit soon.
Océ Cheapfret: I know long nights or long daylights and IKEA haha
Have you heard any good bands from Sweden?
Edy Caramello: Yeah Satanic Surfers of course or City Saints from Göteborg are very good
Océ Cheapfret: You forgot Perkele!
Your lyrics, who does them and what influences you?
Océ Cheapfret: Edy write the most of the lyrics, I contribute sometimes too. It's influenced by everyday life, politics, history, dreams etc.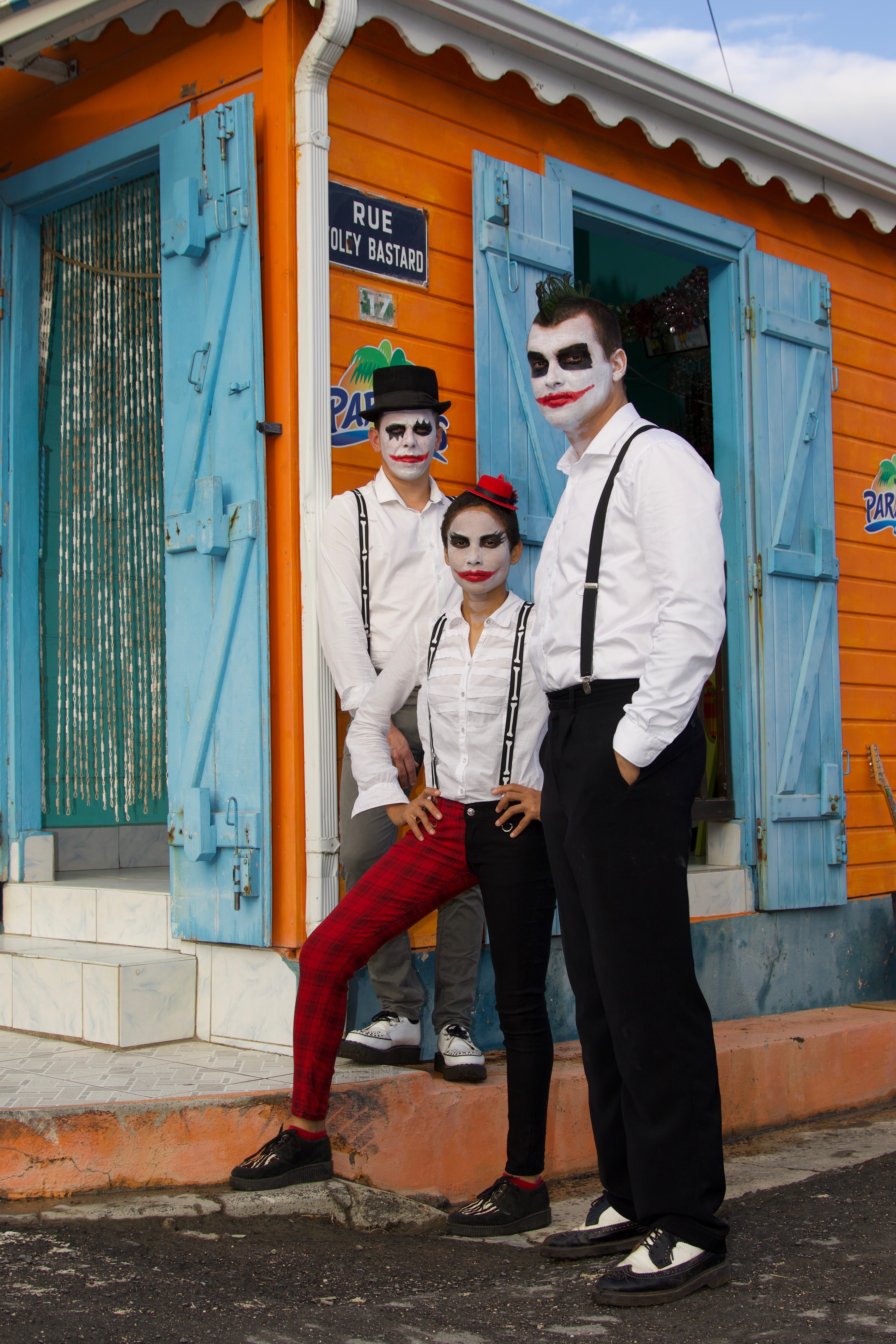 Is there any subject that you never will write anything about?
Mister Fridge: Sodomy maybe haha
Edy Caramello: No, we have the chance to live in a « free » country so we don't restrain ourselves to any specific subject, but just for Mister Fridge I will rewrite a version of « Ring of Fire » with a whole new meaning haha
Politic and music, does it goes hand in hand? Which is your most political song?
Océ Cheapfret: Hand in hand not necessarily but yep it does fit together. The most political song we wrote is « Caribbean Dream ». It's about the struggle we face in Caribbean
Best political band/artist?
Edy Caramello: Plenty but if I had to choose: DOA and Subhumans! Both are big influences
Océ Cheapfret: Jello Biafra and Dick Lucas for me
Do you think that music(lyrics and so on) can change anyone's life, I mean people who listens to music?
Mister Fridge: Of course they can change our perception, I can't speak for everybody but it worked for us.
Your favourite recordcover alltime? Who does your recordcovers? And do you have any good recordstores in your hometown?
Océ Cheapfret: Edy do the all the artwork for the band (cover/poster etc.) in a true DIY way. We don't have any record store in our hometown. My favourite record cover is perhaps Too Much Pressure by The Selecter
Edy Caramello: Hard to pick one but maybe Blonde On Blonde by Bob Dylan. That blurred cover is really good.
Is it important to get out physical records of your stuff? Why or why not? Vinyl, CD, cassette, what do you prefer if you could choose whatever ?
Mister Fridge: We just wanted to have a physical mark of our recordings and the vinyl thing is beautiful.
Edy Caramello: We're not so modern. We don't really use digital platforms. Nothing compares when you have the physical thing (Vinyl/CD etc) in hand, and my favourite the booklet!
Océ Cheapfret: Vinyls are beautiful objects and sounds real.
Do you think that music(lyrics and so on) can change anyone's life, I mean people who listens to music?
Mister Fridge: Of course they can change our perception, I can't speak for everybody but it worked for us.
Please tell me a funny thing which have happened during your career and under some gig?
Mister Fridge: When Edy stage dived in the crowd at the Mondo Bizarro while still playing the guitar. Fun times!
Océ Cheapfret: The funny thing is maybe the reason why we do the make up thing. It's nothing to do with The Adicts (even we appreciate them). It was accidental, we were hired as a backing band by a stand up comedian and somebody told us that it was a dress-up party and the theme was « Clown ». When we arrived we were the only ones dressed like this! The funny part was for our family who came fully dressed as clowns. People in the audience never stopped asking them "are you guys gonna play ?" haha poor them. After that a promoter sold the next concert with a Joker picture and people kept asking us to play like that and it stuck.
How does your audience look like? Which people do you miss on your concerts? Which is the biggest band you ever have played together with?
Océ Cheapfret: The people who come to see us are heterogeneous. Maybe it misses some punks and skinheads but it's fine like this. The last concert we played was with Delgres a Blues band from France.
Please rank your five favoriterecords, five favoriteconcerts and five most important things in life?
Edy Caramello: favourite records
Modern Times: Bob Dylan
The Clancy Brothers & Tommy Makem: Hearty & Hellish
The Clash: The Clash
Kali: Racines
Various Artists: Harder They Come
Most important things in life: Rum, Family and Dominoes!
Océ Cheapfret: favourite concerts
EDDIE AND THE HOT RODS - Mondo Bizarro
BOB DYLAN - Halle Tony Garnier
SHAM 69 - Rebellion Festival
GOLDBLADE Acoustic Set - Rebellion Festival
JIMMY CLIFF – Terre de Blues Festival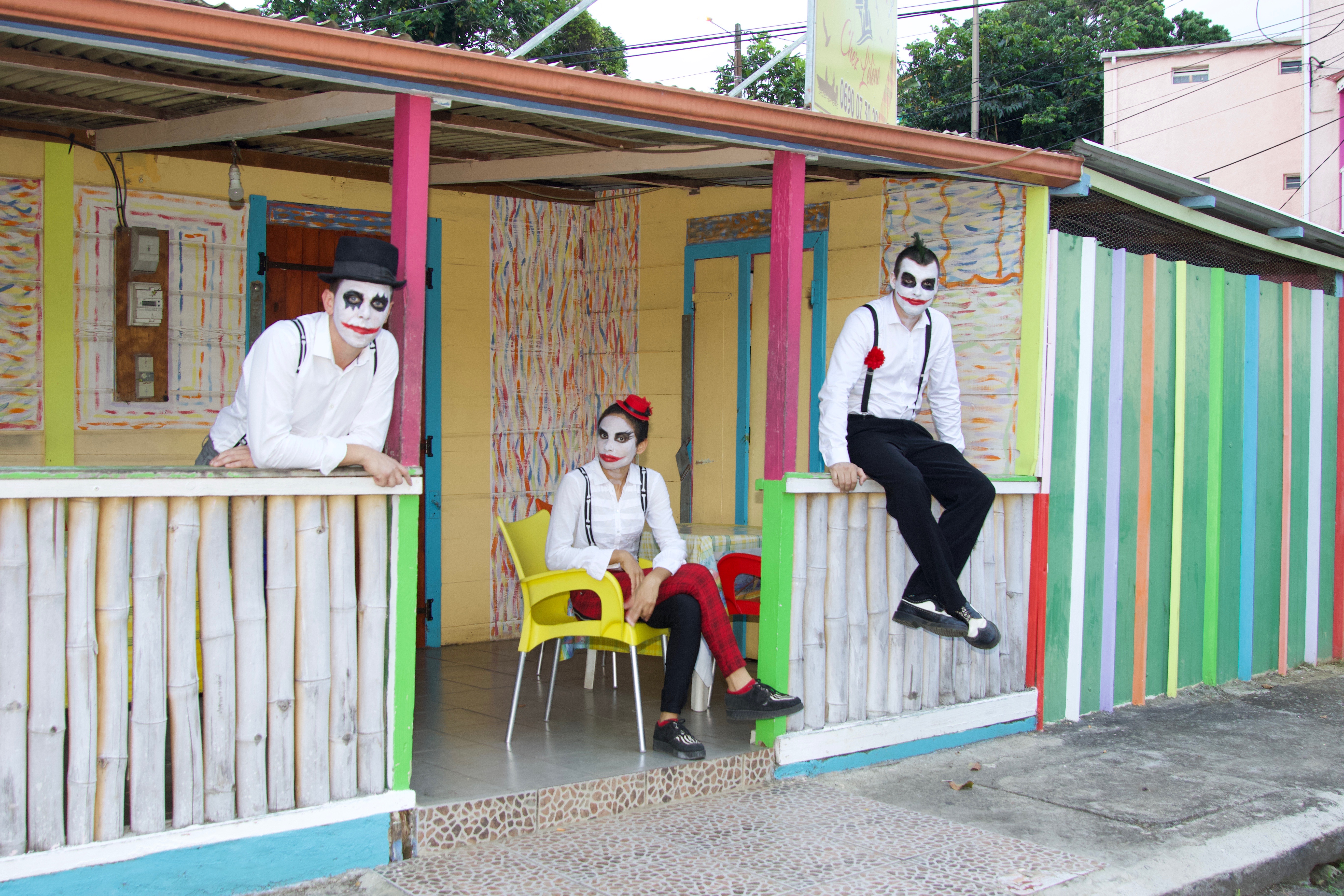 First, last and most expensive record ever bought?
Edy Caramello: Last was PULP: A Different Class, Most expensive: Joe Strummer 001
Is it boring with interviews? Is it much interviews?
Mister Fridge: Always Fun, even we're shy especially when it's for TV or radios
Do you care about reviews? Which is the most peculiar you ever had, with this band or any other band you have been to?
Océ Cheapfret: A review is useful to give you the tendency when you buy a record without listening it previously. Other than that it doesn't influence the fact if we will like or not.
Which bands do people compare you to, is it boring that people compare you to other bands or is it understandable?
Mister Fridge: People always talk about The Pogues influence for the singing part. Of course it's an honour!
Edy Caramello: Yeah at every concert people ask if we can play a Pogues tune, maybe because of the voice or some Celtic influence we have. Sometimes The Adicts for the outfit, even if the music is different. In fact it's more a compliment than a boring thing. Maybe the comparison with Milli Vanilli can be boring haha but no it's an honour. We considered Punk like Folk Music. It's a tradition everyone is inspired by everyone else etc.
Océ Cheapfret: The Pogues, because of the non-articulate kind of singing haha and the traditional tunes.
If you could choose five bands from the past and the history and nowadays and both dead and living bands to have a concert together with your band. Which five have you been chosen?
Edy Caramello: Bob Dylan, Cock Sparrer, Evil Conduct, The Specials, Hank Williams, The Wallflowers, Joe Strummer & The Mescaleros and… Oh wait! It's more than five!
Is music a good way to get out frustration and become a nicer person outside the music??
Mister Fridge: Dunno if the music makes us a better person but definitely it's one of the best things to get out that frustration. Sometimes it's better than sex haha
Which is the most odd question you ever have got in an interview?
Mister Fridge: "What do you know about Sweden?"
Océ Cheapfret: Recently: "how does it feel to play the Devil's music?" haha You have to know that Rock 'n Roll Culture is nearly inexistent in West Indies so people don't really know what is about and have a lot of clichés.
Which is the question you want to have but you never get. Please ask it and answer it?
Mister Fridge: Q: Are you the leader of the band? A: Of course!
Futureplans for the band?
Edy Caramello: We don't really make plans, but if still maintain the same pleasure to play together record another album.
Mister Fridge: Continue to play outside the Caribbean, play Sweden one day!
Océ Cheapfret: Work on a second album and play at Punk Rock Bowling Festival
For yourself?
Mister Fridge: Work more on the backup chorus and improve my technic
Océ Cheapfret: Learn drums to replace Mister Fridge
<![if !supportLineBreakNewLine]>
<![endif]>
Wisdomword?
Mister Fridge: "Kounia manman'w" ! Which means in creole: Hurray for the Guadeloupean Punk!
Edy Caramello: If think it's a Liam Clancy quote: "No Fear, No Envy No Meanness" or from my dear colleague Michele "Sé zyé ki lach" meaning literally: only eyes are cowards. It helps me every time I need to find the motivation to wash the dishes.
Something to add?
Mister Fridge: I think the drummer would be a great leader for this band
Edy Caramello: Thanks a lot Peter for this interview, maybe one day we will come to Sweden and taste some Kalops.
Océ Cheapfret Hej då Peter!
For the photo legend:
with the hat: Mister Fridge
with the mohawk: Edy Caramello
with the red pant (and the only girl): Océ Cheapfret