It´s nice with punkband which is almost as old as me ;-) Clint Hell in the group have been so kind that he have answered most on this interview and the other one answers here and there. Or if it was the opposite way. November-2008.
History
Clint Hell (CH): The whole thing started with that I thought I have been stucked in the suburbs with children and work…nothing more. I had a break of the gigging in some year and I felt really frustrated. So one evening of party I met a person which became our first lead-guitarist – Felcher Wheel. We had both an idea about how we wanted to play something we could play. He had also a paus from the gigging and felt the same frustration as me so we started to do Pistols. After some calls the first line-up of Bodies ready. Me on vocals, Felcher on lead-guitar, Nick on bass, Johhny-O (aka Johnny Glue) on guitar and Mr Rahl on drums. After a year we kicked Felcher and John L. Undell jumped aboard. He quit because of the fact that he moved but he came back in the band 2006.
As(almost9 every band have we had members which have quit of different reasons and precisely have we get rid of our drummer Hans Gee, so the lineups have been varying through the years. So nowadays are we only three in the band but we have some drummers we will test. In other words: .: BODIES todays is Clint Hell, Nick Cee and John L.Undell.
Tell me a little about every member, age, family, interests, work and something bad about every one?
Nick Cee (NC): 40+, graphic designer. Family with wo children and two dogs. The interest are music of course.
CH: I´m 42 now but I act – anyway on stage – as a 22 year old Iggy ;-). Me and my girlfriend have together 4 girls: 20, 16, 8 and 4 years. (One each from earlier and two in common) Work as copywriter, which maybe is a good thing because I wrote the most of the lyrics(not everything). Something bad about me? Maybe so that I could be really drunk as you were in your teenage sometimes. …
John L. Undell (JLU): Born and grown up in Orminge. Tested Upplands-Bro for a year during studies but it sucked Big-Time. I´m the youngest in the band (not even middleage so I think about quit the next question … ;-) 39, wife with two kids (almost grown up), like things, wants to have a Massey ferguson 135:a when I´m become grownup.
Howcome that a gang of old middleaged guys plays punkrock? Do you never be too old for punkrock?
NC: I don´t think you´re too old for that. It´s a good way to meet your mates and in the same time do something together you like.
CH: No, you fucking never be! But the things which is called punk today isn´t what I call punk. I hate everything what Good Charlotte, Blink Blimp whatever and some number and similar is called. It´s disgusting and haven´t anything with punk to do. And why we play is simple: It´s the music we love and we have the time to rehearse so it sounds good. It´s in our hearts and it´s nearest.
JLU: I an answer a little here. Music is music is music, it´s nothing you get too old for, the opposite way more mature and keen(hard of hearing) for. Our grandparents didn´t being bored on their music and my dad will never get rid of Cliff Richard, Beatles, Shadows and those bands, so why should we or our children, grandchildren lose the love for what we/they love?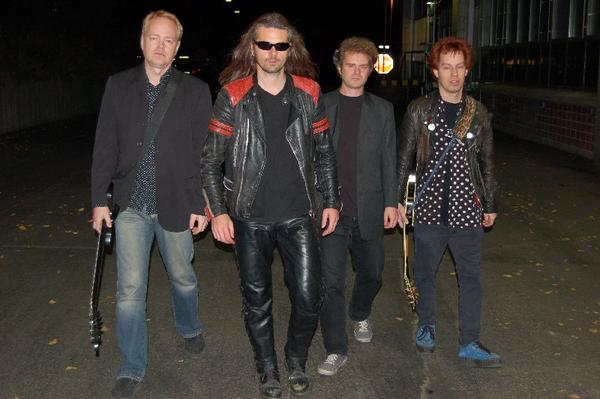 Bodies, the name comes from the Pistols-song or?
NC: Yeah, because we started a s a Sex Pistols tributeband so was the name the nearest.
CH: Yep. Precisely as Nick says and as you see in the historic before we started as a Pistols-band.
You have been on the road very long with different groups, is it more fun to play now than it was in the beginning or is it the another way?
NC: It as fun as it was in the good old time but it was surely a more serious in the beginning. But it´s more easy to go out on the net nowadays and so. The possibilities to record to reasonable prices have also been better nowadays.
CH: I actually think it´s more fun to play now. Not the press from yourself. Because back in time it was bloody serious and you only wanted to "break"… But that DOESN´T mean that you have took down the ambition for how good it should be. Will someone come and see us shall they get an experience and – even if they don´t like us – so will they remember us.
JLU: Yeah, of course, you are like good wine. And with better economy.
What´s the difference?
NC: Read above
CH: Nowadays you do it only for one thing: Because it´s so fuckin FUN! A little bit it is a little bit of social forum. Instead of playing fotball together…
JLU: One ages to meet the challenge.
What does punk mean to you, have it have any influence on your lives or is it only a musicstyle?
NC: For me it´s most a musicstyle and I like that D.I.Y. thought.
CH: For me it have had a conclusive sense – all the D.I.Y- attitude have taken away a whole lot of borders for me. So for me it´s a little more an attitude than just music. And as any other styles so is it hard to say what is pure punk today. We will often hear from the punk that we´re too much rock or metal and the metalheads thinks we had too much punk. The only ones who is putting us down right away is disco and popnerds… … ;-)
JLU: Punk as an attitude, political or something else haven´t mean a shit to me, it´s the energy in the music I want
Is there any good punkbands around today?
NC: It depends on what you call punk. There´s a lot of bands, small and big, with the roots in punk which maybe is more rock. I haven´t so much feelings for trallpunk and other styles. I like the 77-style and rock with punkenergy.
CH: As said. I think it´s hard to say what is punk today. But a Stockholmband which I want to give a tip about is Part-Time Posers. That attitude I think is punk I more often find in metal, actually. .
JLU: I cannot come up with any…
It was a little bit hard to be a punk back in the days because you were "forced" to like a special musicstyle and if you said that you liked Beatles or ABBA you almost got stoned…did you have the same feeling?
NC: The borders have been erased more and more and in our age so is it OK to like Beatles and those stuff. But sure it was so a little when you were smaller.
CH: I had precisely that feeling. I started to like Bowie when I was 7(1973) and I still like him, but it was always right to like him even if it was half OK….
JLU: It was( still is) the same for everyone, which music you like. There´s always some bastard amuse oneself at someone else's expense.
To be a punk today can be a little bit hard too, because the chance to chock anyone today is harder to do? What shall you do today to chock your parents?
NC: I don´t want to give out any tip about that because I have children in that age ;) But by the way to look and dress it must be very hard to chock nowadays.
CH: Today I think it´s more about things you do than the music you listens to or the way you dress. One sure way to take the sense out of your parents is to be selfdestructive and refuse take some help from anybody. But the punk wasn´t destructive. There´s a lot of creativity in it. Only check out how many from the punkmovement which have been writing books, is journalists, work with music, films and they´re in the PR-world etc. It wasn´t so that " fucked yourself" so much as you could(some did it but it went straight to hell for them) you rather did a lot of things back then.
JLU: I don´t answer this. Have too many children in the "right" age."… ;-)
Youcannot deny that you´re influences comes from back in time and from early punk, which are the favourites from the past?
NC: Clash, Pistols, Damned, Iggy, Ramones, Jam, Dead Boys and Buzzcocks of course. Rather classic and expected names.
CH: Definitely Pistols, Clash, Ramones and Damned. Adverts. Iggy. Expected names, I guess. And then there´s a lot from other styles too. But for me it´s a lot hard rock.
JLU: Pistols, Ramones, Dickies, Eddie n the hotrods, Tuffdarts, etc, etc. There was a lot of good bands.
Which audience to you have on your concerts?Ages?
NC: Very mixed. Our own age and then it´s younger people who listens to us too.
CH: In the beginning it was mostly mates, in our own age. Or…After every time we have started again have it been so. And then you have been out and played and then it have been coming a lot of younger. And that´s really fun. The things we could say is that we haven´t been playing for a lot of audience under 20 because we often have gigs on places where they have an agelimit.
JLU: Wifes and relatives. hehe
How do you think it is to live in Sweden today, I mean politically?
NC: There´s alot of things which is bad in Sweden but it does that whick party which have the power. All unnecessary violence and that shit for example.
CH: I feel really disillusioned today. The same shit which party which have the power. The capital is the power and everyone do their thing. I think its fucking bad "stake on yourself and don´t give a damn about any others" attitude which is around since some years. The greed. And then the community have been harder overall – with more and rawe violence etc. Those things I think is shit and have difficulties to understand. But that´s maybe some sort of frustration which must come out somewhere? I have my valve in the music but everyone don´t have that …
JLU: Too blue.
Do you do any political songs?
NC: We´re really unpolitical
CH: In some way. But it´s more about personal experiences and many of the lyrics are written so you can heart hem as political if you want. Sicken for example or Loser. But they could be about something else. I try to leave the interpretation to the listener. So we´re not OPEN political even if there is lyrics which could be taken as political. But we´re not a "partyband" which only sings about party,drugs chicks and rock n roll.
JLU: Mmm, it´s really close with a song like "Guantanamo".
Who does the best political songs in the world?
NC: No check
CH: I think that Ministry is really good there. One of my favouritebands today. And then I think that Green Days American idiot is really good even if it comes from them, most for the political lyric. And there´s some metalbands today which have taken over punks political role.
JLU: No check.
Please rank your five favourite records, five favouriteconcerts and five most important things in life?
Nicks "five":
Records:
1: Who´s Next
2: Never Mind The Bollocks
3: The Boys 1:st
4: Clash 1:st
5: Wildhearts – The Wildhearts Must Be Destroyed
Concerts:
1: Bram Tchaikovsky, The Nashville Rooms, London 79. High, powerful.and f…..g good.
2: Barracudas, London 82 or 83 in a little place somewhere in Fulham. F..k ,what a conecrt!
3: Joe Strummer in Tokyo 2001.
4: Micke Hagström Cosmic Cowboys in Glädjehuset 82.
5: Problem in Musikverket 78 or 79
These maybe isn´t the best concerts musically but it+s the one which have giving me the biggest kicks.
Clints "five":
5 faverecords:
Never Mind The Bollocks – Sex Pistols
The Clash – The Clash (first)
Heroes – David Bowie
Raw Power – Iggy & the Stooges
Psalm 69 – Ministry
(And as a sixth – any of Metallicas album until the black album)
5 faveconcerts:
Foetus på Ritz – 1986? 1987?
Fläskkvartetten in Judiska Teatern – 2008
Ebba Grön in Myrsjögården – 1981? 1982?
Metallica in Riga – 2008 (or in Tallin 1999)
BODIES in Chrome Bar – 1996 (we were fucking great and we played for 1100 in the audience. Fucking fun!)
5 most important things (which become a very near-sighted list):
My children
My creativity(both in my work and privat)
Music
To have so you can make it – not more
Solidarity and wiorldpeace(but I haven´t any solution how you can get there)
Johns "Fives":
My five right now:
Live and dangerous with Lizzy
Reise,reise with Rammstein
Man machine with Kraftwerk
Blurred crusade with Church
And one best of-platta with Cash.
Concerts:
ZZ TOP Göta Lejon-81
Thin Lizzy Hovet-81
Ramones Grönan -88? Maybe.
Rammstein Metaltown Götet-06
And the last time Yngwie Malmsteen was on Berns, fuck that was good….
The first, last and most expensive record in your collection?
NC: First: Ballroom Blitz. Latest: Diciplines "Smoking Kills" (norwegians together with Ken Stringfellow from Posies). The most expensive I haven´t a clue about. And then I changed and sold a lot of records on used records store in the end of the 70´s and with the key in my hand so have I done wrong many times with those things.
CH: The frist record was a Björn Skifs-record when I was about 5 years, the latest one was Metallicas Death Magnetic and the most expensive is an original single from 1967 with David Bowie.
JLU: Vienna by Ultravox, Tom Waits record Asylum Years, some orginal single with Ramones, but I have it to Ego T.
The most embarrasing record in your collection?
NC: No clue.
CH: I maybe don´t display with my inherit records but I cannot throw away books and records…and that even if they´re bad. I would think that a Donna Summer is the one me myself thinks is most "embarrassing" but mostly because I think that it´s so bad more than anyone else is thinking that.
JLU: I have throwed it.
The record you have most disappointed on?
NC: Endless Nameless with Wildhearts
CH: It have been many disappointements of different reasons , just because I´m a record colelctor and have a lot. But….. … Chumbawambas Tubthumper. I thought(and think) that Tubthumper was incredibly good. But it was the only song on the record which was good – the rest suck. (
JLU: Some solorecord with the guy in Rolling Stones which plays guitar, I never remember names, starts to be old.
Which group(living or dead) would you want to hear a new record with?
NC: The Boys. Have seen them some times and they still got it.
CH: Led Zeppelin, if they have released their debut now. Wonder how they should sound. Or maybe Jerry Lee Lewis if he had made his debut today. Otherwise so have Stooges done a new one, so that wish have come true(even if it don´t come up to the classic standard) It´s so that I maybe must say Pistols but Lydon cannot sing as Rotten anymore so I don´t miss it – then I rather take a new one with PIL.
JLU: Rammstein! It´s released next autumn if you read on their website with a following tour. Guess who´s gonna go there.
What drives you to play this sort of music?
NC: That it´s so fucking fun and to write better and better songs.
CH: That this i so fucking fun and it seems like it´s more than we who thinks so. …
JLU: It swings.
How would you describe your music in three words?
NC: Energy, rock, full expression
CH: Punk. And. Roll. (And as Nick… ;-)
JLU: Musically, tasteful, thinkthrough.
How do you see on downloading? Is it bad or good?
NC: Good because it´s an easy way to check out new bands which you ever have heard otherwise. Bad for the artists economically and for me who wants a booklet etc.
CH: For unestablished bands I think it´s good but will you try living on your music it´s incredibly hard if you don´t get paid for the music you do. And me myself is like old men who wants. I want a physic CD/LP and something too look at…and the band who lives on selling merch have in some way had something of records selling in the beginning so they could print t-shirts, caps etc. It´s a big investment and it´s hard to afford to a have a broad range of things to choose between.
JLU: It´s hard to come away from it. Good for bands as ours who wants as much publicity as we can get. But as more you earn you more they squeak(METALLICA)
Futureplans for the band?
NC: Get a new drummer and come out and play. Hopefully we can go back to Scotland during 2009. And record new material.
CH: Play better and tighter and get much out of a new drummer. Write even better lyrics and songs. Back to Scotland during the end of the spring/summer 2009. Record the songs as we already have and those who comes.
JLU: More better songs.
For yourself?
NC: Do really good songs and have my health safe and sound.
CH: Do what I can to help my teenagedaughter in her schoolwork. Otherwise I´m really enjoyed with my life , so continue in the same way. Maybe be part of a musicproject that I have been invited to but it depends how much time and engagement it take – focus is family, work, BODIES. And then it can be more of the time is on my side.
JLU: Njaaa… No conrecte formulation.
Wisdomword?
NC: Be the one you are
CH: Be yourself and take no (unjust) shit.
JLU: Go on and then we will se if it goes!!
Something to add?
CH: If there is someone who set up gigs out in the country and read this so will we come and play. Contact us via: clint2hell@yahoo.com. Prelisten on www.myspace.com/bodiessweden or mail so do we send a CD. And att last , thank you Skrutt for not giving up and that you wanted us!!!