Blue Bloods interview – April 2005 with Jym Bagtaz (drummer)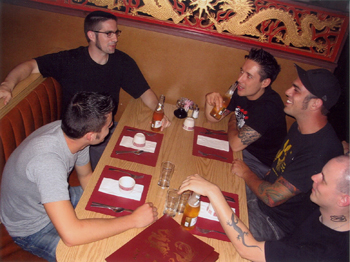 History……
Lead vocalist Tim Baxter and bassist Greg Genovese were high school buddies who had been in bands on and off since they were kids. With their shared musical roots, they decided it was time for a return to punk rock. Hard work and a DIY ethic helped the Blue Bloods record and release their first two CDs Release the Hounds (1999) and Twice as Strong (2001) on their own label Basement Records. Twice as Strong gained them both media and label attention. In 2002, the band signed to the popular European punk label I Scream Records. They hit the Outpost Studio (Stoughton, MA) in August 2002 to record their self-titled full-length album under the guidance of Jim Siegal (Dropkick Murphys, Slapshot, Blood for Blood). 2003 saw the album released overseas in April on I Scream and stateside in September on GMM Records. Solidifying the lineup in 2003 with Johnny Hurts and Bobby Bones on guitars and Jym Bagtaz on drums, the Blue Bloods are now a tight punk outfit. In October the band got the opportunity to be a part of the European "Back On The Map Tour" with other Boston greats Slapshot and Blood for Blood. The band has just released their latest album Death of a Salesman and continues to play live for their great fans as much as possible. 2005 has the Blue Bloods playing all over the US and possibly back to Europe in the late summer or fall.
<![if !supportLineBreakNewLine]>
<![endif]>
Please tell me a little about every bandmember, age, family, work, interests and something bad about every one?
- Our singer Tim Baxter is 31, has no kids and a great dog named Bup. He has a wonderful girlfriend and he grinds through a salesman job during the day to pay the bills. He loves his whiskey, his friends, tattoos and – of course – music.
- Lead guitarist Johnny Hurts is 26 years old, also with no children, and has an affinity for the ladies. An incredible musician, he is also a member of side projects Boozefighter and Dying Contest. He does not take shit from anybody and stand by your side if you a true friend.
- Bassist Greg "Goose" Genovese, 30, is the only married member of the band, and also the only one with a kid. His awesome son is just about to turn one year old, and is our youngest fan! He is a family man true and true, and is our resident graphic designer of the group. He created both our band logo and the layout for our new CD, Death of a Salesman.
- Rhythm guitarist Bobby Bones is the baby of the group. He is just about to turn 21, which means he can finally have a drink in the USA without the cops beating his head in. He is a guitar god – what he does with that thing amazes me daily. He does have a girlfriend – sorry ladies!
- As for me: drummer Jym Bagtaz, who is 29, is the latest (and hopefully last) in a long line of drummers for the group. He has known the band since they began in 1999, and has been playing drums for a few local bands – but none as good as the Blue Bloods. He has a wonderful girlfriend who is about to move in with him – for better or for worse.
Why did you start to play music?
I started playing music late in life, when I was 20, mostly because I am a great love of music and bands. I have been into music, and more specifically punk rock, since I was a kid and have used it to get through some of the best and worst times in my life. I have tried playing guitar but really suck at it. Despite the fact that I have never taken a lesson, drumming comes natural to me and I enjoy playing with such great musicians as the Blue Bloods. These guys are the best musicians I have ever played with. It is an honor for me that I get to create music with them.
Which bands are you being compared to?
We get compared to bands like Dropkick Murphys and Bouncing Souls all the time. With DKM, I think people tend to put us in the same category because we are both from Boston. But that is where the similarities end. We have none of the Irish influences they do. But, if you are going to be compared to someone, that is not bad company to be in!
How come you are on a Belgian label? Do you have any other label in USA?
We are on I-Scream Records in Europe because Laurens and Onno Cromag have been great to us and really discovered our group. They have pushed us in the overseas markets and to international fans, and have really supported us over there. Our first record with them was distributed in the USA by GMM Records. The details are still being worked out for US distro for the new record, but it is bound to be a great label. I-Scream would not put us in bad hands.
Do you care about reviews?
None of us in the band really pay attention to reviews. It is nice when someone likes our music, but we really don't give a shit if you hate it. If you don't like us – don't listen. There are plenty of bands out there for people. We are just one of those bands trying to make it work, and hopefully able to take some of our fans along for the ride.
Which is your most peculiar review you ever have got?
I cannot really remember any particular review that was peculiar, but I am sure there have been some out there that have been potentially scathing. No big deal though. We can't make music everyone likes – we can't be U2 !!!
How is a good concert with Blue Bloods?
One of the things that I am so proud of the Blue Bloods is our live show. We play with such intensity, and with everything we have, we spill our guts on the stage every time we get in front of a crowd. We all give 110% on stage, and I think it shows. When the crowds gets into it, and there is an insane circle pit going – that only makes us play harder. We know that for most of our fans they love going to our shows, and we do not want to disappoint them.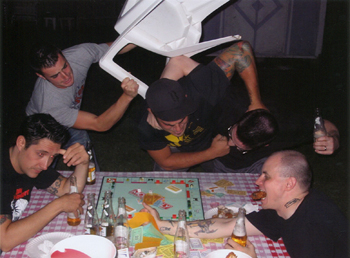 How does the average fan look like?
We have all kinds of fans. From young punks to middle-aged skins to underage college kids to the 9-5 working crowd to blue collar stiffs. Which is what we love – we have never been pegged into any particular kind of punk rock, which I think helps us broaden our fan base.
How much a group of your caliber sell?
We do okay with records sales. Right now we are probably bigger in Europe than we are in the US, but the buzz on the band in the US is growing by leaps and bounds. We are not all living in mansions, but we are confident our sales will continue to go up.
You have been around for a while, which is the biggest group you ever have played with?
In Europe, our biggest shows were when we toured with Slapshot and Blood For Blood. In the US, we have shared the stage with bands like Dropkick Murphys, Street Dogs, Darkbuster, Rancid, The Unseen, Deadline (UK) and many more.
If you could choose five bands from now and from the past to have a big concert with The Blue Bloods, which five would you choose?
Social Distortion, Rocket from the Crypt, The Clash, Ramones and Black Flag
Which is your five favorite records, five favorite concerts and five most important things in life?
- Five favorite records: The Clash (s/t), Social Distortion (White Light, White Heat, White Trash), Therapy? (Troublegum), Rocket from the Crypt (Circa: Now!), Bouncing Souls (How I Spent My Summer Vacation).
- Five favorite concerts: Social Distortion (Boston Aug 1996), Supersuckers (Boston May 2004), Ravonettes (Boston July 2004), Rancid (Boston March 1995), Rollins Band (April 1994)
- Five most important things in life: family friends, music, happiness, respect
First, last and most expensive record ever bought?
First record ever bought was Van Halen's 1984, last record bought was Darkbuster's A Weakness for Spirits and most expensive record bought was a 12" Social Distortion single for 1945 bought on eBay for way too much money!
The most embarrasing record in your collection?
Probably Def Leppard's Hysteria – what can I say, I am a dork J
What do you know about Sweden?
Only that I would love to tour there someday. Let's make it happen!
Have you heard any good bands from Sweden?
I am a big fan of the Ravonettes and the International Noise Conspiracy.
What does punk mean to you, is it only a word or is it a lifestyle?
Punk to me really means just doing what you want and living life on your own terms. I know there are some true blue "punks" out there that take things to extremes, like living on the streets or not taking baths – that is not for us. We live the punk lifestyle on our terms. There are so many bands out there that call themselves "punk" – which is fine, just try to do things on your own and not be a punk just because at one time or another it was cool to be one.
How would you describe your music in three words?
Truth, Pain, Rock
The name Blue Bloods , where did it came from?
We chose the name the Blue Bloods because we wanted to twist the literal meaning of the phrase. The actual meaning of "Blue Blood" means to be a noble, or be from aristocratic descent. And we are very unlike that. We are all blue-collar workers who drudge day to day through life, using music as our escape. None of us are rich or come from wealthy backgrounds, so we thought it would be good to use that social term and fuck with it – showing what we feel a blue blood could be.
How is it to live in USA right now, Bush was elected again?
I have never really been into politics. Our band tends to stay away from issues like that, but I can tell you that I am no fan of our current prez.
That bands played against Bush, is it the right thing to protest against anything?
If bands want to speak up and play their music to go against President Bush, or anyone in government, that is their right. That is what is great about this country. It just isn't our thing. There are plenty of "message" bands out there – they can more than handle the protests.
Can music change anyone's life?
Definitely. It has changed my life completely. When I was real little I wasn't into music that much, and what little music I had was crap, radio friendly pop shit. But when I was 12 my friend gave me a tape with some Ramones songs on it – and my world literally got turned upside down. I started getting into bands and punk music, and one thing lead to another. If it wasn't for that friend, I may not have even started playing drums.
I have only the last one on I scream records, what have you done more?
Death of a Salesman (I Scream Records) Nov 2004
"Left Out In the Cold" – Boston In-Fest Compilation (FNS Records) May 2004
"Burning Bridges Light the Way" – Boston United 2003 Compilation (Rodent Popsicle Records) April 2004
The Blue Bloods (I Scream Records) April 2003
Twice as Strong (Basement Records) Sept 2001
Release the Hounds (Basement Records) Oct 1999
What drives you to play music?
I live to play music. It fills my every waking moment. When I am not thinking about drumming, I am thinking about how to make our band better. Apart from my friends and family, the Blue Bloods are pretty much my life. The energy of the music, combined with the incredible feeling you get when you are on stage and there are fans singing along to your songs – it makes for an enormous joy that can only come from being in a successful band.
Is it many interviews, is it boring?
We do a bunch of interviews, including print, radio and internet, and they are all fun to do. I enjoy them because it gives me a chance to actually give some meaning to our band and our songs, instead of just people assuming things by looking at our CDs or hearing our songs. We the Blue Bloods can accurately express how we feel about all kinds of subjects.
Which is the question you never get but you want to have, please ask it and answer it?
Q: What are Johnny Hurts' and Bobby Bones' real names?
A: I'll never tell!
The floodwave which came to Asia and took many lives have been much in TV, much depending of that many Swedes died there, how much space does a thing like that get in American TV, if you compare with the terrorist attack, 150000 dead vs. 10000 dead?
The terrible flood was a large part of American television and news. For many weeks as the reports came in there were pictures and videos all over the place. There was more coverage for the Sept.11 attack, however. Probably because it happened on US soil and it was such a huge trauma for the American people. And, it happened essentially on television while the world watched.
Which is most important when you do your songs, is it to have a good lyrics, good melody or to have a refrain that people remembers?
When we write songs, we never really consciously make it a point to have one particular aspect of the music -- whether it be lyrics, melodies or hooks – that is the sole focus of the song. Since we all collaborate on the songwriting process, it ends up being that each member of the band creates the best possible song they can.
Are there any good bands in USA now?
There are a ton of great bands in the USA right now, you just have to look for them. You certainly are not going to find them on MTV. Especially around Boston, we have bands like The Pug Uglies, Far From Finished, Darkbuster, Bloodshot Hooligans, Dementia 13, Street Dogs, Tommy and the Terrors, Dropkick Murphys, Blood For Blood, Slapshot – and many more.
Which is the most important punk song and punk band of all time?
For me, the best punk song I can think of is "Career Opportunities" by The Clash. Not only is it reflective of the social status at the time, and what the Clash fans could relate to, it is a kick-ass song. The most important album – that would have to be the self-titled Ramones album in 1976. It changed the music industry and paved the way for bands like us to even get on a record label.
Future plans for the band?
Right now we are concentrating on hitting as many markets in the US as we can. We have gigs every single weekend and are constantly in the van on road trips for shows. We love playing, and we love our fans, so we try to get out as much as possible. The late summer or fall should have us back in Europe for some festivals and a tour throughout the continent. After that, we will probably start to demo some of the new songs we are writing now. Hopefully by summer 2006 we can head back into the studio for the next album.
For yourself?
To just keep up the delicate balance of working stiff during the day and punk rocker at night.
Wisdomword?
Don't eat the yellow snow.
Something to add?
Thanks for letting me do this interview. It was a pleasure!