Tra and Aaron have answered all the interview questions at a band
meeting and Bloody Irish Boys gives us the short interview. Novenber-2006.
History?
-The music started out by being a vision of Shayne Underwood mixing punk and tradtional Irish music together with a blend of metal, bluegrass and Celtic overtones.
Please tell me a little about every member, age, family, work, interests and something bad about every one?
-Shayne Underwood, 25, drunk, asshole
Joshua Smith, 26, classically trained cell phone player
Tra Stevens, 26, family: yes, is late for practice at his own house
Dex Darfus, 22, family: marginal, prefers drinking beer in alleys
Aaron Lehmann, 28, between job opportunities, practices slurring words in his spare time
Mike Wilson, 25, no, plays fiddle on the side and is a full time drunk, part time pimp, most of the time douschebag.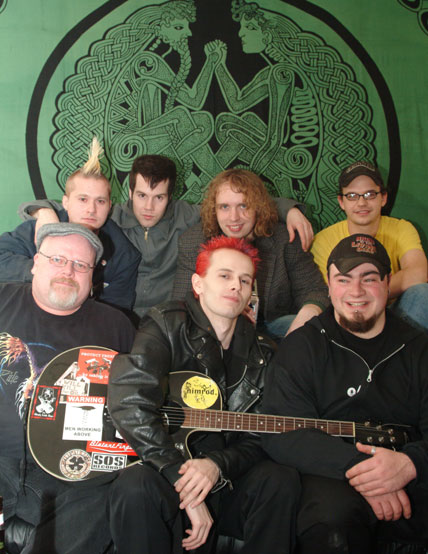 My review of your record is like this BLOODY IRISH BOYS-DRUNK ROCK(CD-SICK SAD RECORDS SS 05-002) Fantastic this one: I feel how much I miss the groups as Pogues when I listen to this. Sure there are groups like Dropkick Murphys and that type of folk punk but it feels like this group is more closer to the original in some way. I become so fucking happy when I hear this and their fast music. Much of the traditional folk music can be heard here and that is the thing I like so much about this record and this is among the best things I have heard in this style for a long time. My Wicked way sounds like a song which is taken from a Social Distortion album so fucking good.(EIGHT) 9/10-06What about it?
-Thanks, I think
Is there any other bands youīre being compared with?
-The Pogues, Rancid, Social Distortion, Dropkick Murphys and Flogging Molly
Most of all, I would say because of their popularity.
Do you care about reviews?
-Yes, we enjoy reviews of the cd and of the band when we can make the time for them.
Have you Irish roots?
-Yeah, we all share some Irish heritage.
How would you describe your music in three words?
-A drinking inspiration.
How is it to live in your homecountry?
-It's ok but actually we can't wait to do a world-wide tour.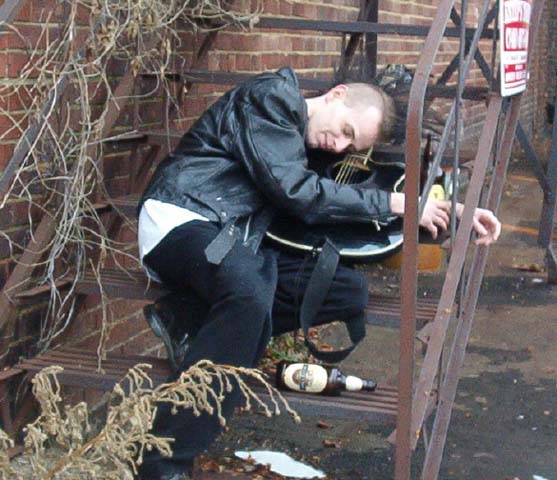 What about the government?
-Well, not so pleased with its decisions the last few years.
Do you think that music and politics goes hand in hand?
-Absolutely if thatís your thing, we stay away from that ourselves though.
Best political band?
-Crass, Megadeth, Propagandi
Is there any good bands in your homecountry now?
-Yeah
What do you know about Sweden?
-Aaron wants to learn how to play the Nyckelharpa.
Have you heard any good swedish bands?
-Yeah there is a good bit of folk and black metal from Sweden.
What does punk mean to you, is it only a word or is it a lifestyle?
-A lifestyle but mostly a mentality or mind set that you are usually born with or develop at a very early age.
Please rank your five favourite records, five favourite concerts and five most important things in life?
-Dirvish; Harmony Hill, Fear Factory; Demanufacure, The Decemberists; The Crane Wife
First, last and most expensive record ever bought?
-Death Cab for Cutie, Bonzo Dog Band
Most embarrasing record in your collection?
-Vanilla Ice
Is it similar things, folk and punk, rebel music I mean?
-It has the same feeling, but it's talking about two different periods of political history.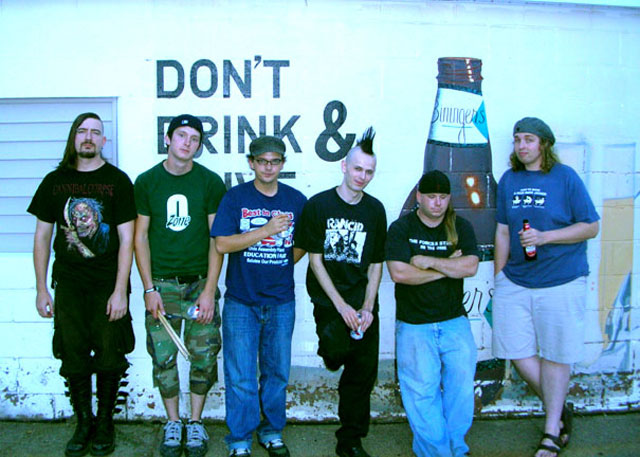 When do we see your next CD?
-Next year (2007)
Is it many interviews? Is it boring?
-We love interviews, it's cool.
Which is the question you never get, please ask it and answer it?
-Do you want a million dollars? Answer: Yes.
Is it any chance to see you in Sweden soon?
-Hey, if you can cover the plane tickets we're there.
Where is the best place to play?
-Anywhere
How is a good gig with you?
-Getting paid, getting laid, getting drunk.
The name where does it comes from?(yeah itīs a boring question but it's interesting)?
-Its something that Shaynes' Dad Dean Freeman use to say when he heard us playing Irish music.
What shall we do about all rascists?
-There really isnít much we can do with it, because there will always be racist people around, its more of a question of what we actually let them express in a public gathering.
The best band in punkhistory?
-The Sex Pistols, Misfits, depends on the decade really.
The most important punksong?
-Holiday in Cambodia
Futureplans for the band?
-Recording the new album, and touring in 2007
For yourself?
-The Band
Wisdomword?
-Donít give up
Something to add?
-Support us, buy our stuff.