The guitarist Manuel is answering the questions for my interview with Bloodstrings in the end of June 2023. The sing in often in English even if they´re a german band. :
Please tell me a little history of Bloodstrings, how you met and why you did start to play together and when ?
-We've all first met when we still went to school. Nick, Patrick and me are from the same small town near Aachen and know each other since we were around 14 or 15 years old which dates back to 2003/2004. Celina is from another small town on the opposite side of Aachen and Nick got to know her some time earlier than the rest, but in the end we share most of our friends and started seeing each other more and more because we've all been part of the same small Aachen punkrock scene since we were that young.
The band itself though was founded in 2009 when we decided to put up a Psychobilly-band.
Have it been the same members all the time, or have it been many lineup changes? Earlier bands?
-We started with another drummer (Maximilian Möhring), but he left the band pretty early for personal reasons. We're still friends and see each other from time to time, but he had different plans with his life back then. Patrick is our drummer since then and the lineup hasn't changed in any other way.
Patrick, Nick and me had bands previous to the Bloodstrings.
Nick had a punkrock-band called Ashtray (later known as Max and his drinking problem), which was some young guys playing Social Distortion and Rancid-like punkrock,
Patrick had a band called Crap, which I guess can be described as American melodic punk-influenced, and I had 3 bands before.
My first band was Saurer Regen (Sour Rain), a german-singing rough punkrock band, then I co-founded Einweg (Disposable/Single-Use), which was a mixture of Swing-rhythms and hardcore punk, also singing in german, and then I co-founded another german punkrock-band called Nennt uns wie ihr wollt (Call us what you want). But all these 3 bands were nearly only playing our local area.
Celina didn't have any earlier bands but was trained in piano and singing.
Bloodstrings is the name, where did it came from and you wasn´t afraid that some other group would be named so? What do you mean with that name?
-No, we weren't afraid that the name was already taken but I guess we checked it back then. I don't really remember. The idea of the name was to take something that sounds cool and relates to the fact that in our earlier bands we all literally played till our fingers were bleeding. This may came from lack of technique or from excessive passion or maybe both. You decide. 😉
Your new Heartache radio is really good, are you satisfied with the final product? Is it only on CD or how is it?
-Yeah, we're really, really satisfied and lucky how good it turned out to be. It comes on orange and purple vinyl, CD and of course on every known streaming platform.
Is it important to give out the record as physical releases do you think? Would it feel like you have released a record if you only release it digital?
-Since we're all vinyl lovers I guess we'd never put out an album only digital. Also if you go to a concert by any band and like their music, you'd want to take something of that feeling to take home with you. At least we feel that way.
Do you play any covers when you play live? If you do, which then?
-When we've got enough time for the show, we always play at least one cover song. Right now it's an older song by Die Toten Hosen called "Wünsch' dir was", but we've had lots of different covers over time. For example by The Interrupters, The Distillers, in our early years we've had covers of The Creepshow and Horrorpops, Johnny Cash and so on.
Please tell me a little about what your songs are about? And tell me about the songs below?
-Our songs are mostly about personal stuff as mental health and good (or bad) feelings or personal experiences that we think everyone can relate to, but also sociocritical/political issues
The Bottle Talking
Having a few drinks too much, hoping that the nonsense you talk all night won't affect other people's feelings too much.
Short way down
This song's about artists or people in certain industries that walk over corpses, stab people in the back to get what they want for example fame. It is about the shallow side of the industry, about "fake it till you make it" and has the core message that you can climb your way up to the top of the ladder but one false step and you can be on the ground again.
Bottom view
This one is about the support that an individual that feels like a down and out loser can experience in a group of people that feels the same way and thus "feel revived". It's a shoutout to the "losers" that we all were when we met as young people and felt connected by that.
Is it important to get out your opinions in your music, or do you only sing about trivial things? Which is your most political song or shouldn´t you put politics into music?
-Yes, it became important to us over the years. In the beginning our lyrics were mostly horror-influenced but in a kind of metaphorical way. Now it's more straightforward saying what you want to say. I guess our most political song is German Angst, which was written during the refugee-crises of the last years and the lookaway- and refusal-mentality of the society. On Heartache Radio you also can hear a song about racism within the punk rock scene, which sadly happens from time to time. We've always been leftys, but first started to put our political views into lyrics some years ago.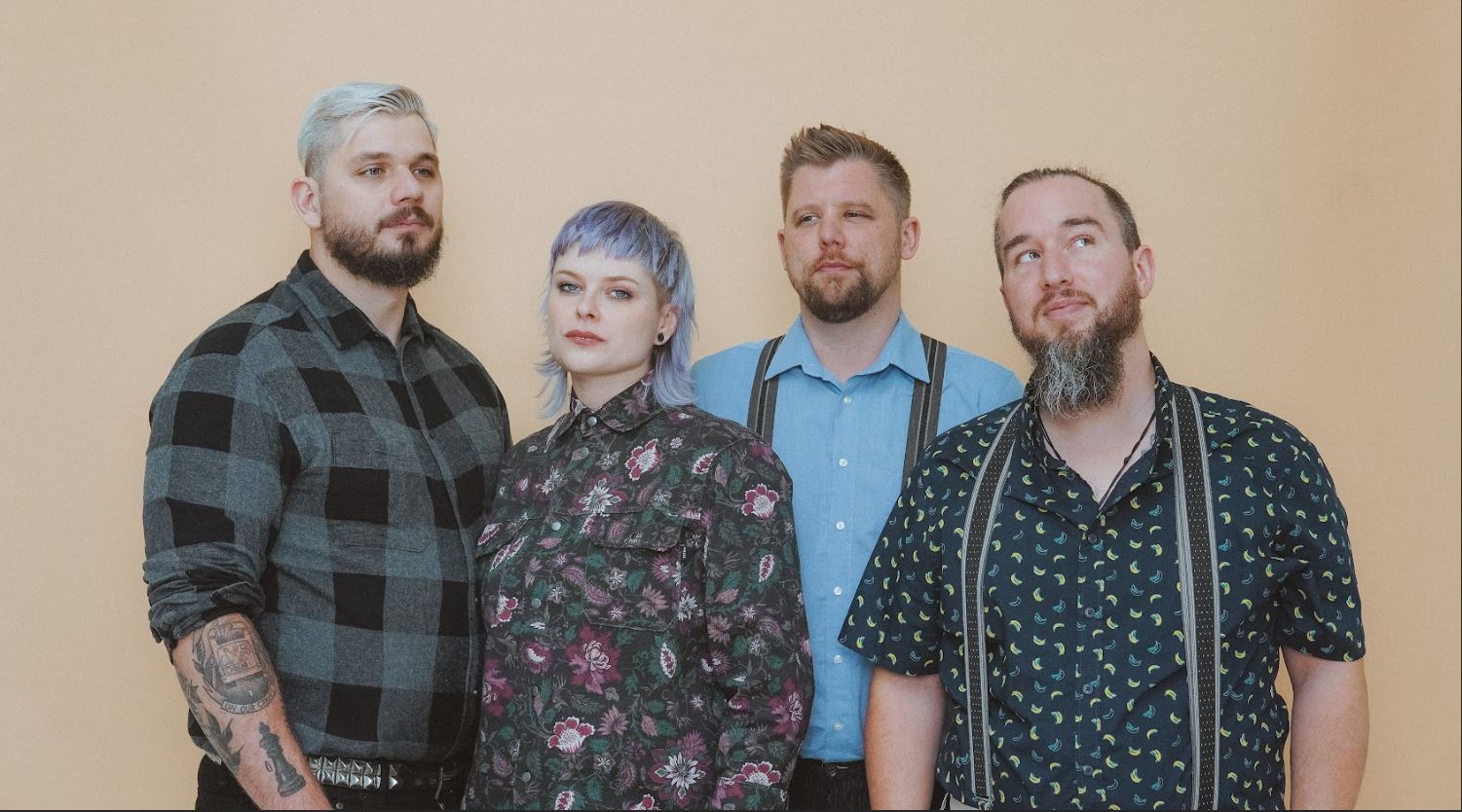 Do you think that your lyrics can have effect on other people who listens to them…any example on it? Have you changed anyones mind?
-Well, at least we hope so. Like "Heavy Cross" is hopefully something especially women or non-binary people can relate to. "Don't Die" is about mental illness and we have already gotten lots of feedback by people actually saying that this song helped them through rough times. There is no bigger reward than that.
How is it to play this sort of music in Germany and which type of bands are you having concerts with? Which is the most peculiar band you have been playing together with?
-We've had shows with lots of different punk rock bands, but also metal, hardrock, ska, rockabilly and psychobilly bands. Most peculiar as in strange or in extraordinary?
Maybe something between Japanische Kampfhörspiele (german deathgrind-band we played with at Störfaktor Festival 2019 – awesome stuff!) and Rancid (two weeks ago on SBÄM Fest in Austria).
Do you have any footballteam that you support? (I support Arsenal and a Swedish team which is called GAIS)
-I really don't like german football. I think there are way more interesting sports than this. Our drummer Patrick is a fan of the sport and of our local team.
How would you describe your music in three words for people that haven´t heard you? Say it in three words?
-Listen. To. It.
I like beer and also make beer.. If Bloodstrings would do a beer , what would it be named and which sort of beer would it be? Or maybe you´re straightedge?;-)
-I guess it would be a very strong and dark starköl. 😉
And how is it to live in Germany now? Racists, the cost of living, and what about peoples reaction to the Ukraine-war?
-Difficult question. Of course there are fucking racists all over the planet, the living costs are rising and the Ukraine-war is I guess the most fucked up thing that our generation has to deal with. Somehow you kind of just deal with it, as hard as it sounds. When it comes to racists you can of course stay loud and do whatever you can do against them. About the living costs, we all try to save money on different things and thinking twice before we spend money on something we don't really need. The Ukraine war of course frightens most of the people in and outside of Europe. Everyone hopes that is doesn't escalate any further than it already has, especially nuclear. We have personally supported refugees that came shortly after the war begun and can just motivate everyone to do the same. Fuck Putin, end the war!
Which is your own favoritesong among your own songs? And which song is the people choice?
-My personal favorite on the new record is Ich Hab's Schonmal Gesagt because of its raw power. I guess we'll see which one is the people's favorite. 😉
What´s the biggest difference when you plays live nowadays if you compare when you first started to play in a band?
-Well, we play some bigger stages, but I guess the biggest difference for ourselves is that we started to give more and more thoughts to how we can put the most effort into setting up a good show/experience for everyone involved. From the audience to the staff and crew members.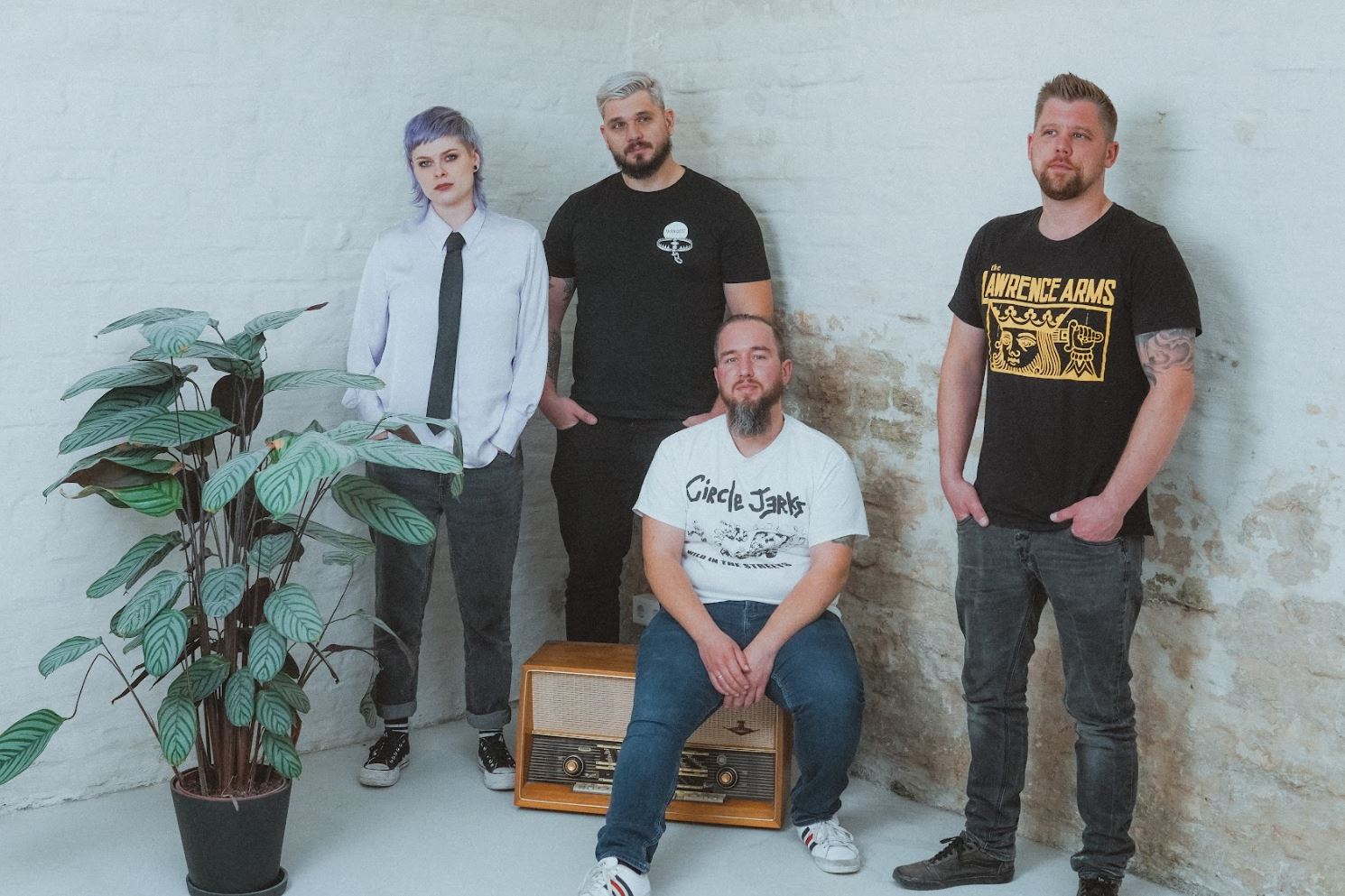 And have you opinion about punk changed through the years? What do punk mean to you, only a musicstyle or a lifestyle?
-For me personally punk is mostly about the raw energy you can put into whatever and also the solidarity. Shows, records, demonstrations, merch, videos, tours and whatever is part of this whole thing. Clothing or outer appearance not so much. My opinion on that never changed.
You do your song in english, never in german?
-By now we had one german song on every LP. "Der Nebel Steigt" on Coal Black Heart, "Mondsüchtig" on Born Sick and "Ich Hab's Schonmal Gesagt" on Heartache Radio.
Is it easier to do songs in english?
-I wouldn't say it's easier because we're no native English speakers, but we think you can reach more people with it.
What´s your biggest livegig you have done this far? The biggest band you have played with?
-Our biggest I guess was Wacken Open Air in 2018. Apart from festivals we had gigs with Pascow (german punk band, they are huge here), Mad Sin, Creepshow or Demented Are Go for example.
What do you know about Sweden? What is typical Swedish? And what is typical French(I meant german of course)?
-We've only seen little of Sweden, because the only Swedish city we ever played is Malmö, but since we had the Tour with The Sensitives and Death By Horse (if you don't know them, check them out – great Swedish punk rock!!!) we know a little Swedish aside from Ikea, like hårsnodd, upp! and tak. 😃 Typical french… Croissants? Baguettes? Border Patrol people that pronounce our names very funny?
Have you ever been here? Any good bands from Sweden that you like?
-As mentioned. Also we're big fans of Refused, The Baboon Show, Hellacopters, Asta Kask (and their german equivalent Rasta Knast), Millencolin, No Fun At All, The Durango Riot, Klamydia (no wait, they're from Finland!), Satanic Surfers or Arch Enemy, In Flames, Opeth and The Haunted, to throw in some metal bands.
Your audience when you play live, which type of people comes, age?
-We've played for very small children and really old farts, but most of the people I'd guess are between 18 and 40 years old.
What´s the best of playing live?
-Seeing people enjoy the stuff we play.
Please tell me a funny thing which have happened during a livegig with your band?
-We had this gig in Leeds, UK, where this guy had to sit on stage and hold his hands on the power adaptor of my multi effects because it went off all the time and the whole guitar sound with it. Greetings to Dicky from Nosebleed at this point! Also I fell over on stage during this one. Very chaotic, but memorable!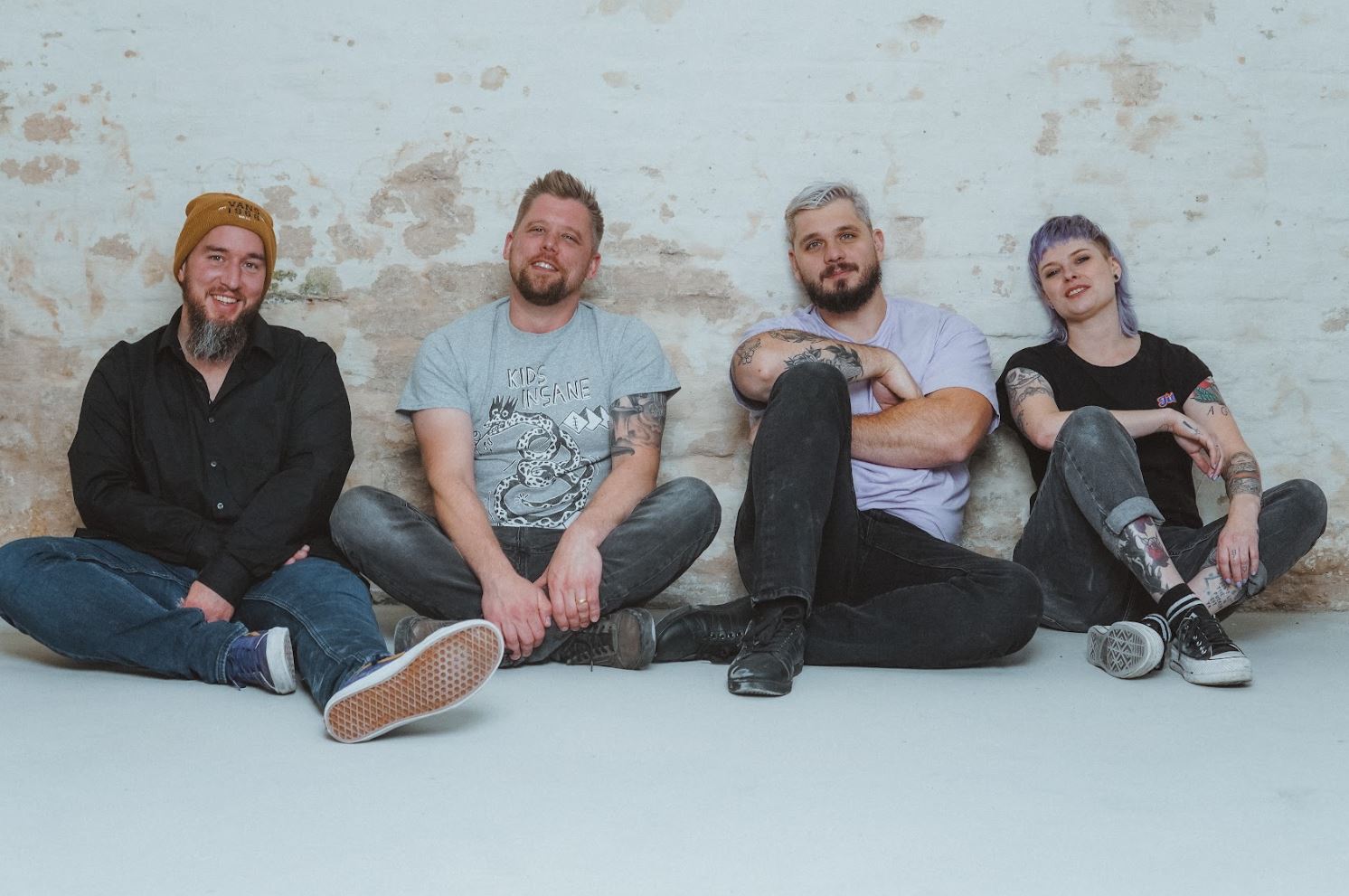 Is there any good bands in Germany today? New and young bands which is good?
-No, we're all shit. 😃
Which is the record that you always must have in the tourbus?
-Our own records, because otherwise we could not sell them at our concerts. ;P
Do you buy much records, or is it only Spotify and those type of things to listen to music? Is there any good record shop in your hometown?
-Yeah from time to time I buy vinyls from the bands we play with or when I go to concerts. The most well-known record shop in Aachen is Plattenbau, but there are several other shops.
Which was your first record, the latest you bought and the most expensive you have bought?
-My first record was "Hier Kommt Die Maus", a single that the german comedian Stefan Raab released when I was 8 or so. The Latest was "Heut ist ein guter Tag" by Donots, the band that produced our new album.
Do you care about reviews? Which is the most peculiar you ever had, with this band or any other band you have been to?
-Well I definitely care about reviews and what people think of our records, but I don't take it to heart when someone doesn't like our stuff.
If you could choose five bands from the past and the history and nowadays and both dead and living bands to have a concert together with your band. Which five have you been chosen?
-Ramones, Screamin' Jay Hawkins, Hans-A-Plast, NOFX, Donots
Kind of a wild mix. :D
And if you been paid for do a cover-record with four songs,which four songs have you done then?
-Ramones – I Wanna Be Sedated
Screamin' Jay Hawkins – I Put A Spell On You
Hans-A-Plast – Hau ab, Du stinkst
NOFX – The Separation Of Church And Skate
Futureplans for the band? And for yourself?
-Play more shows/tours, put out more records. And for myself I hope to finally repair/renew a wooden frame that stabilizes a grape vine in my garden. :D
Wisdomword?
-Eat more nazis!
Anything more to add to the interview?
-Att hälsa eller frisör!