With songs like Parasites in paradise, Mesrine, Megalomania and Such Fun so gave us Blood really many good punksongs. Here have I interviewed The Cardinal in the beginning oy may 2015.
He says like this: Many thanks Peter for giving myself, The Cardinal, the opportunity to write for your fanzine. If you know any promoters who would like to see the band on in Sweden please let me know. They did some LPīs without Cardinal too and we donīt talk about them here…
Please tell me about todays members and the member of the old Blood what they do and so on?
-Sean Valentine the bass guitarist works for Nissan, Steve Bailey the Lead Guitarist for Citizens Advice, Tony Hardy is a Graphic Designer, and the new manager Paul Henderson, has his own business called Ink Clan Nation, which sells top quality band merchandise.
When did you start to play with The Blood again?
-I started to play with The Blood again about 2008 after stopping in 1994!
What did you do between the different Blood-lineups and when Blood dinīt play, did you play with any other group?
-I went back to school, after originally leaving both school and home when I was 13. I discovered I was dyslexic, and went on to get a first class BA in Humanities, and then a Master's degree in philosophy. I became a teacher, and a youth worker, working with young people who had all kinds of difficulties with the law, drugs, being a human being. I also worked with young people who had severe disabilities. I tried a few other bands but nothing happened with them.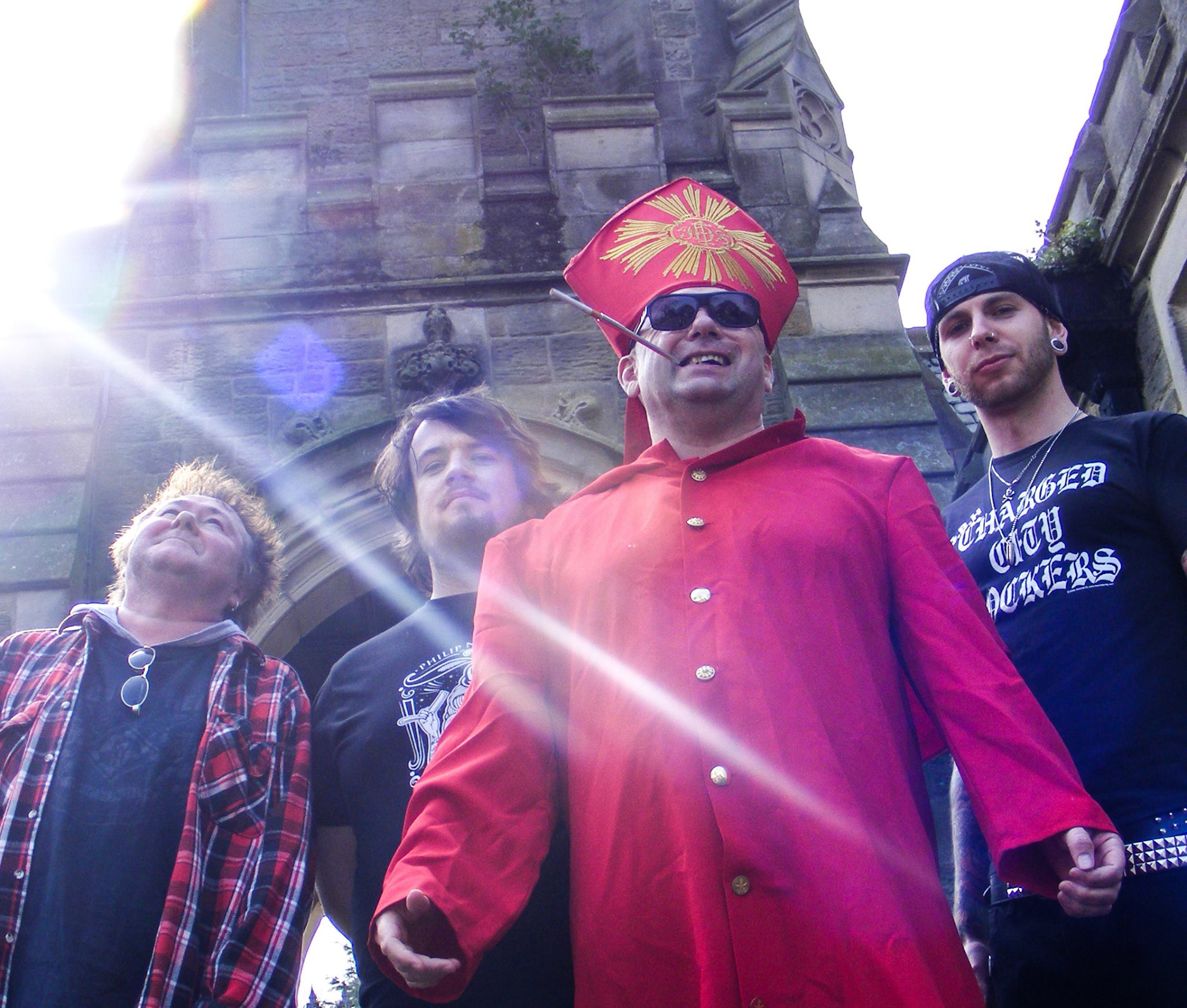 Whatīs the biggest difference of playing nowadays if you compare with back in time?
-Well back then I was on Cocaine and alcohol, now I am just on alcohol! Of course the main difference is JJ is not here now!
How does your audience look like, is it any difference between the audience nowadays if you compare with the old audience?
-Well the audience in Japan, USA, and Canada is a much much younger one, and in the UK the people who come and see the band are in mostly in their 40s and 50s.
You have cult status in California you say, how does that shows?
-Well when we played the east and west coast of the US, headlining every night with 4 or 5 bands preceding The Blood's show, the audience were all mostly teengers, or in their twenties, and they all knew the words to all The Blood songs. In California The Blood were on the Jukeboxes in LA and San Francisco, but it was the young people who had Latin blood who really loved/love the band's songs and who celebrated avidly the Blood's ironic castration of dogmatic faith, and its anthems that sensationalize alcohol with sing along overtures of hedonism, nihilism, and anarchism. The also enjoyed Stark Raving Normal which which suggests that to dwell as slaves in a placid mediocrity is a waste of a life!
You did False gestures(one of the best punkalbums ever done I think) and the Se Parare Nex album, but this was a little bit more metal if I donīt remember wrong, why did you go this way?
-Well JJ and I both loved The Damned, but we also were fans of Alice Cooper, and we wanted to try and write some stuff like that. We though Se Pare Nex did that, and we were happy with the result of the recordings.
You said that youīre working on new material, how does that sound?
-I think the new stuff will sound like The Damned in someway!
-Ja
What does punk mean to you, is it a word or is it a lifestyle?
-I think that the punk spirit, at heart, is a rabid poltergeist that yells out be whoever you want to be, and do whatever you want to do, and fuck ANY-ONE who tells you that you are wrong. I think that the soul of punk is a refusal to be normal - and a conscious idea that screams I will not bow down before the civilizing process, no matter what the cost.
Your lyrics, what are they about, which are your most political song?
-I think all the 80s songs The Blood recorded infer a dimension of the corsair in them, whilst encouraging that they are listened to with a flagon of rum! And I think that cocktail is political one in itself.
Politics and music, is that going ok together?
-I think irony in musical works creates more of a challenge on behalf of others who re enslaved to those who have the money and power. There is afterall an ethics in AStheTics!
Which is the best political band?
-Pussy Riot
Is there anything you never will write a song about?
-I will tell you when I am dead!
Can you imagine yourself as a band to do a tributesong to a footballteam, or to something you believe in, as Animal rights, some political party or something like that?
-Yes
Do you support any football team?
-Manchester United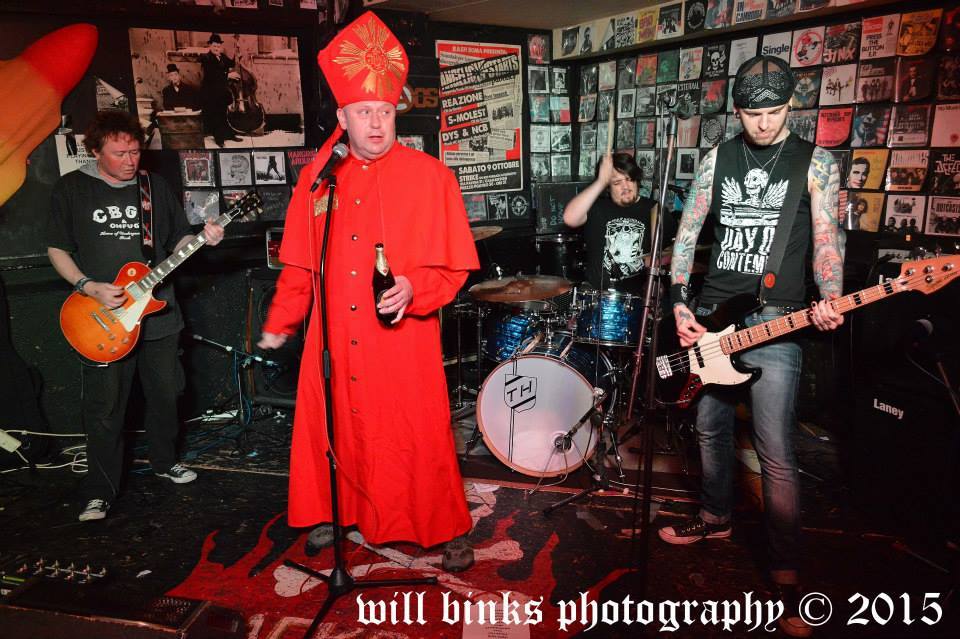 Is there any good bands around in England right now?
-The Damned
Around the world?`
-The Damned
If someone sometimes compare your band Blood to something else, which bands are they being compared to, what would you say if you were to compare you to something?
-I cannot remember The Blood being compared to anything or anyone. At our first gig at The Marquee in Wardour Street London Soho, I recall that a music journalist wrote that The Blood were 'Undisciplined, Unorganized, and Unprecedented', JJ and I like that a lot! And it probably was as near to the truth as you can get. I would not compare The Blood to any other band.
Which is the best description someone ever have written about you? And the worst one?
- 'Undisciplined, Unorganized, and Unprecedented' is probably the best and the worst depending on one's own sensibilities, ego, or perspective!
Youīre going to Rebellion this year, what is the best with Rebellion festival?
-I will tell you after the festival as I have never been there before. It will be fabulous to see The Damned as I never have before.
What do you know about Sweden?
-ABBA, who I adore!
Have you heard any good Swedish band worth to mention?
-ABBA, who I adore!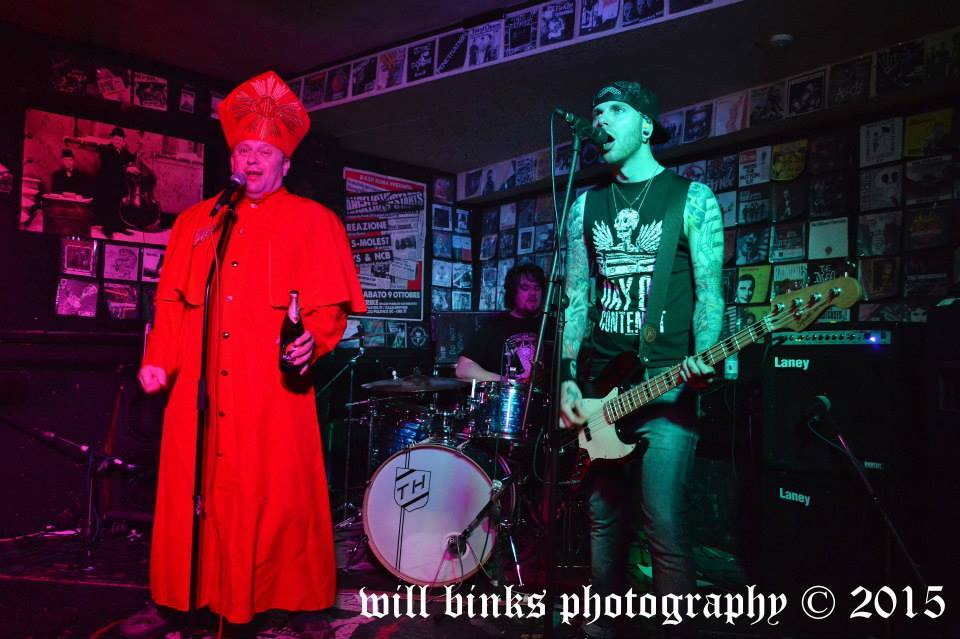 Please rank your five favourite records, and five most important things in life?
-My top 5 songs in no particular order:
'Take It As It Comes' - The Doors
I heard 'Take It As It Comes' for the first time when I was 12 years old, in 1972, and I think it was one of the songs that set me off on a nihilistic, anarchistic, and hedonistic trajectory. There is a vitality and verve about the song that encouraged me to specialize in having fun, to playful with my voyage even when the civilizing process was about to be thrust down my teenage throat.
'Can You See The Real Me' - The Who
'Can You See The Real Me' From The Who's Quadrophenia. I heard this when I was 13 and it immediately illuminated to myself just how fucked up I already was in comparison to most people around me. I was a One Arm Bandit on an alcoholic promenade and the schizophrenic libretto and noise of this anthem became my best friend.
'No More Mr Nice Guy' - Alice Cooper
Glorious and fantastic guitar melodies introduce another song where the singer and composer is in an identity clash with himself. This song was epic to me in the sense that the anthem itself is a sweet sweet thing which echoes and applaudes the human beings beautiful agitation within the paradoxical nightmare that is being.
'I'm Eighteen' - Alice Cooper
There is always a song that a singer songwriter wishes that they had wrote, and composed, and this song 'I'm Eighteen' was the one that I always wished I had wrote. I think its beyond classic!
'Get Ready' - The Temptations I loved 60s soul and Motown but this was my favourite song out of that epoch, and it inspired the 'Joys Of Noise' from 'False Gestures For A Devious Public' believe it or not.
The most important thing in life is life itself, and therefore to to live it and be alive in it is the most important thing. Not be the walking dead zombies who ends up bitter with regrets. Or simply, its not the years of your life, but the life in the years, the energy that you put into the universe.
First, last and most expensive record ever bought?
-Meaty Beaty Big And Bouncy by The Who is the first ... the rest is a blur ...
The record you bought only for the nice cover and you get so disappointed on?
-I think that was Billion Dollar Babies for the front sleeve or cover, but I liked the music too.
What do you think about downloading, mp3 and so on? Is it important to get out a new record on CD/LP and not only digital?
-I think the digital age lets the whole world hear music free, and that this is a good thing!
Futureplans for the band?
-Keep on keeping on! Tour the world until I die!
For yourself?
-Keep on keeping on!
Wisdomword?
-Be yourself, and do not compare yourself to other.
Something more to add?
-I think that False Gestures For A Devious Public is an immaculate conception, in the contradictory sense that it came out of what the civilizing process might call nothing, and by that I mean paradoxically that it was a orchestration of self mutilation as JJ and The Cardinal, myself, were literally, undisciplined, unorganized and unprecedented beings who dwelt perpetually in a jacuzzi of drugs, alcohol and delirium, our unspoken trajectory seemed to be to annihilate each nano second that beckoned.
I think that JJ Bedsore was a genius in many ways, and in many ways he was, and still is, what punk was/is still about!
Colin Smith/aka/The Cardinal