-Ia hevn´t so good check on the new bands, anything you can recommend, english or swedish?
There´s a lot but have you heard the Radars on Svindel Records...good swedish band with english lyrics? Check out my site www.skruttmagazine.se and find some good groups there ;-)
Is there a lot of gigs now o?
-We´re going to work together with Ronny Lauritzen which are going to book some gigs and we have done about ten gigs since the punkgig but we hope to do more on festivals this summer and when the new record is released.
Must try to see you then.... have never seen a gig with you....but I´m soon 50....how old are you nowadays?
-Ha ha, I am 52,Frobbe and Peter 50,Johan is the youngest on 40, but you never to old to rock.
Good.....but have anyone of you anytime lived on the music?
-Only me, I started to play with Johnny Thunders after Bitch Boys and I tourd with him between 83-88 and then I have worked with occasional works between gigs and studioworks.
What are you doing nowadays?
-Plays, paints and works on a book.
What type of book then?
-A compilation with novels with pictures to them, parts of them I have if you´re curious on them
Aha....these rockstars must do everything.... paint, write, do muic...heheh. What di the other do when they hadn´t Bitch Boys, did they play music or what did they do?
-I have always painted and wrote, played since I was 10 years old and had exhibitions which have been good. FRobbe worked long as a barchief on Riche, Peter started a company which was having people that people can hire and he still have that company and it is really good going.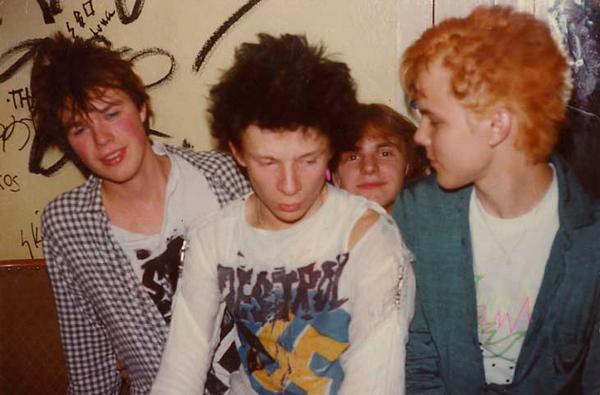 What does punk mean to you today amd what did it meant to you back in time...have your view on it changed and in what way have it that if it is so?
-I started to play out already as a 12-year old 1972 and was very influenced by New York Dolls and The Stooges, Stones and rebel music and I hated when bands like Yes, Emerson, Lake & Palmer, Focus,Genesis dominated the charts and the musiclife so the punk came as a gift from above. I saw Pistols on Kåren- 77, Clash the same year and like the music. The punkwas much(anyway in the beginning) a DIY-movement. Do advertismnet for gigs on a stencilemachine, call mates who have bands , find clothes on Myrorna, some spraypaint and fantasy, do a paper(fanzine) yourself etc. Today is punk the same thing with an ideal for things to do and to be outside the establishment
How have it changed you do you think.....how have been without it.....maybe hard to say?
-It´s hard to say because I was really hooked on music and rebel spirit before the punk came. But without I haven´t been so creative and believe that everything I do is going to do if you only believe in it.
But in the beginning of Bitch Boys career...did you get a load of shit for your lyrics... I think about songs like Häftig Fredag, Sighsten H and Kungakompis for example?
-No, people liked them becaus eit was about things that was actual back then and Kungkompis(Mate with the king) is still actual, ha ha.
Yes it is actually...you wan´t maybe seen as a political band and that wasn´t so many Stockholmsband , it was maybe more politics in Gothenburgpunk for example...do you think that Gothenburg and Stockholm was far apart each other when we talk about punk from the past?
-Sure, Gothenburg was more the myth about the workingclass and leftwing, and then the most of the culture elite came from the overclass and they played workers. I come from the workingclass, my father was a mechaniqueworker, my mom was a teacher and they don´t talk so much about it and they don´t clothe down themselves or play it. It´s something that you are and hav ein yur blood and want to come away from or anyway make better. ,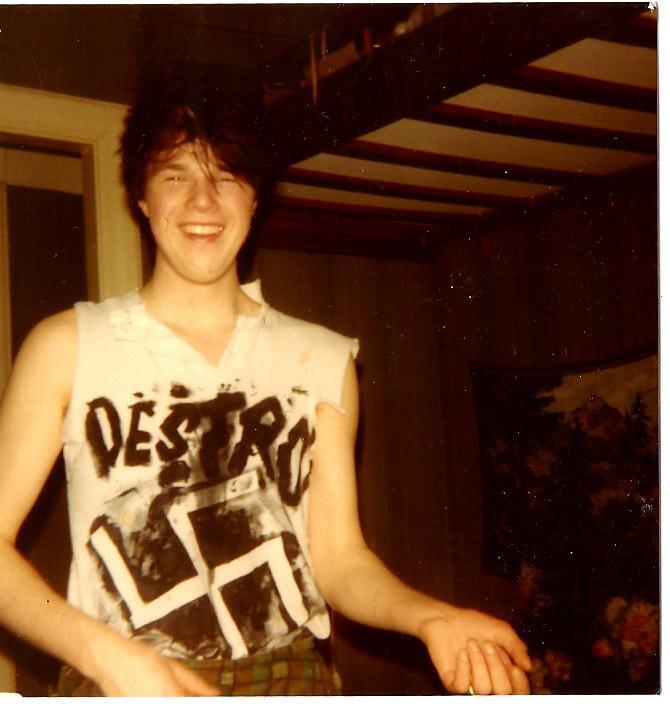 Micke Thimren back in times....or maybe it´s now!
But your lyrics was actually really dangerous sometimes too I think....who did the lyrics and who des them now?
-I di and I do 80% and Frobbe 20%.
A good mix between humour and politics and today´s truth I think...which are your favouritesongs to play and which are the audience favouritesongs to hear?
-It´s different but Automobil is always fun and gives us a kick to play. And now we have rehearsed "Gyllene Pistolen" and"Du ska dö" so those are favourites now. The audience always like Automobil and likes Lördagsrebell, H-son produktion, Jag hatar, Svenssons barn, but all of our songs actually and our set is around 35-40 minutes and then it´s only good songs and some new.
But nothing from Continental?
-No, he he, it´s a different chapter in Bitch Boys history.
Yeah, what happened there....what did you want with that record?
-I don´t really know, we was inspired by the synthwave as everone else and Frobbe doesn´t like that and he quit, so we recorded the record and then we quit playing.
Yeah, it wasn´t so good maybe but it was funny in some way...I think about the mame...there´s some other bands isn´t it with the same name...how have you act on that?
-There is some russian band I think but we´re only interesting in Sweden.
But I think there is a girlband which did some record which they sell on Ginza too...But some other thing instead...five records you can´t be without? i
-Stones "Exile on main street", "The Stooges"first record, "New york Dolls" both records Sex Pistols "Never mind the Bollocks".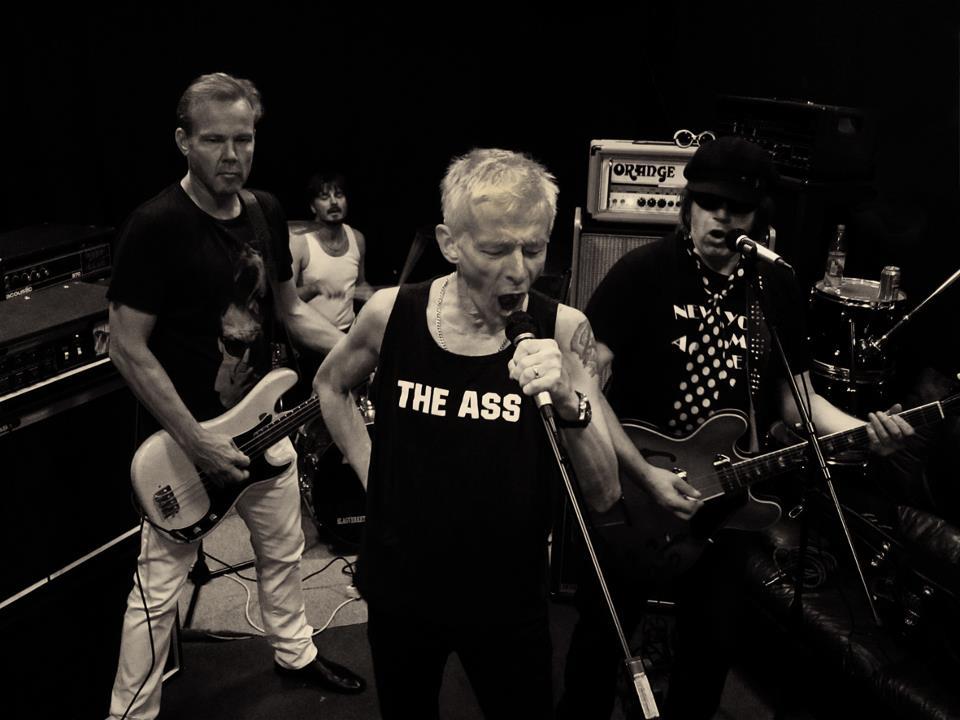 Good record everyone...how do you see on mp3 and downlaoding?
-Says like Iggy Pop, think it is really good because I haven´t earned a penny on the record I have released and more people who can listens to my music that´s better.
So can you see it too....but I want a box with everything you have released...is there anything which is unreleased?
-No not so much, but we have found an old tape from a gig from 81 which can be something if the sound quality is good.
AAlways something....which is the most funny thing which have happened on a gig with Bitch Boys...on stage or in the audience...have you something funny to tell us?
-Maybe not the most funny thing but something we remember and surely the people who was there. We played on facade in Göthenburg after Extra with Annelie Rydé and we was a little bit drunk and when we came on stage så did I hit a whole whiskeybottle in the scenefloor and I shouted that Gothenburg, now you should see some real punk and we hade the volume as high as we could and the we did about two songs before the drummer get oof the stage and Frobbe went behind the drums and the our manager came and said to us. -- If you quit now you get the money and some beer, ha ha. One other time in Karslhamn a man came up on stage and he put of the sound when the audience came up on stage and was pogoin and then i became a really hot discussion between Frobbe and him before we continued to play and everything we have on video somewhere but I don´t know where.
Hehe...many odd things havehappened in the punk through the times.......which is the biggest band you have played with and which is the biggest act that you have been had as a support act?
-We were support act to Duran Duran and Echo & the Bunnymen, Di leva was suåpport act to us i Gävle with his band Pillisnokrs around 79.
Cool....we maybe should start to quit this interview now and is it something you want to share with us as a wisdomword? ....
-I use to say "Face the truth before the truth face you", or"sleep will you do in the grave".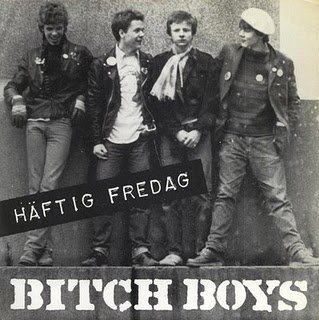 The futureplans is as I undersand the Ep and some gigs...any new fullength with only new songs?
-No I think we will keep going to do the EP format and CD with bonustracks. people seem to not have the guts to hear a whole record(as the old LP format was) anymore. o
Mayeb not...do you release a vinyl Ep on CD with extrasongs or what do you mean?
-Excactly or probably..
On the same label?
--Yeah Ronnys, he wanted me to say hello
I talked with him precisely...something more to add?
-Once a punkrocker, always a punkrocker.