Bisoninterview ,can it be something, sure, this one was done 21/7-2000
(The answers is given by Tomas who is playing guitar and sings)
History?
-In very young years me and Johan was inspired of the active punkscene which was then and vi spent many hours of being in Rolands Gosskörs rehearsalstudio. I don´t get it how they could have us like an audience everyt time they rehersal. And then we decided to start an own band. The band got the namei "Greta Stensprongs proteser" and it was Johan playing drums and me on guitar and singing. Unfortunately we were so fucking bad so we couldn´t get any basist to play with us. I change into bass and we tried to get a guitarist which have could showeed us how good he was. We get Jonk then but unfortunately he was a little too much Roffe Wiktsröm-inspired(blues man) , but what do you do when you want to rock. We have changed our name to The Mani in the Moon, Jonk didn´t was long in the group and he was so unsmart so he quit the band some days before a gig at Tre Backar in Stockholm. Somebody told us about Ove who we didn´t know anything about except that hios brother was a fucking good basist. He has been in the band since then and then we got a guy called Benkt on sologuitar. He could do solos as the old heavymetalfreak he is. The music got too much soloinspired and I could concentrate me on singing. When Benkt was leaving the group to move to Skåne(hmm) it was hard to fill the replace him.We thought that if we play much louder than before so would not anybody miss benkts guitarsolos. Said and done.
We had been on compilationCD:s but now it was time to put out an own record and then your name can´t be The Man in the Moon ,that is so difficult to say when you´re drunk. And then we had been singing on swedish all the tiem so a english name was a little bit ridicilous. The first record came and the other record came and we are very satsified with both.
Puh –that was a long history.
You have been in bands before, do you have any bands beside of Bison nowadays?
-Johan is the bands freelancer. He has been playing covers in Bob Cats. And that was no fukcing Proud Mary-sweet home Alabama band because they did good covers by Ebba Grön, Reeperbahn and Stockholms Negrer and some Dylan of course. Now he´s playing in a band which is called Unpredicteble raw which plays some type of garagerock.
Ove have his soloproject Abowe youre mind. That is heavy stuff And then he is in a crazyhardrcokband which is called or something like that.
I´m faithful to Bison in every way. I would gladly play to another band but I don´t have the time.
Please tell me a little about every member, age, work, interests and so on?
-Ove Noring 30+ Electrician. Interests – To go away from the world and go down to his studio which he have in his basement. He record many other bands there and he have Abowe youre mind of course.
Johan Leidermark 30+ Qualitycontroller on a antennacompany. He like to do woodwork and other good ornaments which you can use. To paint paintings and to work as little as possible.
Tomas Nilsson 30+ Works with care about people with autism. Interests –Music ,listen, play and to release.
Everybody in the band is interested of being together and to drink beer.
How would you describe your music?
-Fast rocknrollpunk with wight and melodies and good swedish lyrics.
What is punk for you? Is it only a word or...?
-Punk it´s a way to live and an attitude which is build on DIY-ideas, it´s more about that than the other attributes like spikes and mohawks. It´s feel very unnecesseary what people draw lines between the different punkstyles. You don´t have to be so political correct but it´s a word which is so paradoxal so I can´t understand how it can be "Nazipunk" It doesn´t go together.
You´re a little bit older than other bands in this style, you don´t go to be rockstars or what is drive you to play?
-We have always been rockstars. It´s only so that not anybody have understand that yet. You should see which rockposes we can and that we do when we rehearse. We have been taking the whole stuff from Bon Jovis Livin on a prayer. What do you mean with a little bit older. I idn´t know there was a maximum on the age. Is it something that the European Union have come up with or is it the king. Shit the same.
Where did the namecame from? Is it any funny history behind it?
-Everygood name was taken and then Ove get´s a little buffalo when he gets drunk when he drinks booze(which he don´t do so often, we´re lucky).
Is there anything funny to tell us from your career?
-When we did our first gig with Greta Stensprong`s proteser we got censured in the local press. The writer thought our name was to macabre so he changed it to something better. Guess why it´s get so slow for us to show for all the people in Sweden.
QA funny gig with Bison was when we played in a little house in the woods outside of Uppsala. It wasn´t so much audience but it was good and we played with nude upperbody and after the gig it was sauna with both girls and boys. Not so that we´re old man with dirty fantasies but some nudity don´t hurt.
You have done two CDs or, nothing more ?
-Two fulllength-CD´s and some compilationrecords and cassettes.
You have Trapdoor records, is there any other bands there?
-Trapdoor rec. is mine (Tomas ) own little hobbieproject. No other banmds are on it. But on the compilations I have given out I have my favourites which I hope I can release some more with.
Is there really any band you want to have there?
-Electric Banana Band really wants to be signed and would you choose fror free it´s a box with old good Tomas Ledin. No shit this question was difficult and the bands who are interested can send me a demo.
You thank only two bands Black Sabbath and Ebba Grön, why just the two ones and noone more?
-We could thank so many more but this two bands have been the ones which shows that good music can be so fucking good. It´s not only us they have inspired.
Is it many interviews?Is it boring?
-We have been interviewed by the localpress in the small cities we have played in. and some zines. Once I got interviewed in finnish radio in the telephone. What I didn´t know what that they broadcast the interview direct and it got crazy everything.
The question you never get but you want, question yourself and answer it?
- Is Elvis "The King" Presley alive?Answer:I don´t think so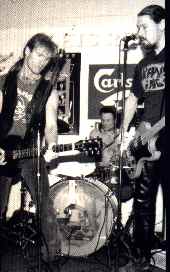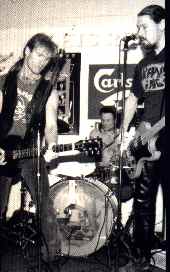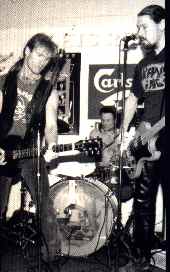 Do you read much about music, on the net or on paper?
-I read som zines. I miss good old Backstage.
What shall a good fanzine contain?
- Music,of course. Good interview which isn´t the usual standardformat of an interview. I like interviews with other people in the musicbusiness as concertpeople, labelpeople and so on. Some own thoughts can be exciting to read also.
Is it many gigs or? Where´s the best place to play?
-It´s not so much gigs right now. We haven´t worked so hard to get them becuase we have worked with our new album. But it depends also on that there´s not so much places to play except if you don´t play the Sweet Home Alabama music.
How is a good gig with Bison?
-Like the one in Uppsalaskogen , but some more people. We appreciate when people pogoing so we get the microphones in our thorats when we´re singing.
Why an own label to put out records on, haven´t you get any contract?
-We wouldn´t say no if some of the bigger independent labels in Sweden want to realse us. But in the same way it´s very fun to relase records so it don´t hurts if we don´t get signed.
Which are your advices to new bands to get a contract and what shall they think about when they´re new in the musicbusiness ?
-Work hard and be prepared to do much of the work by yourself. Even if your songs are good so must you see that people understands that so they buy your records. It can be hard work but it´s fun.
Yeah Bebappelula baby, what that´s for a title?
-If you listen to the lyrics on "Öken" so can you understand what it´s all about,maybe.Yeah Bebappelula Baby is an internal word. Fucking fun and party. That things can´t you get too much of. It only makes you good.
When you do music, what is most important, music, lyric or a refrain?
-That is a good refrain is important but it´s the whole song which is decide if you´re satisfied with the song. You can´t play a halfbad song only because if it´s have a hitpotential. The lyrics are very important. It mustn´t have many opinions in the lyric and it can be humour or a relationlyric. The most important thinbg is that the lyrics is honest.
Who does the songs and how do you do?
-Different. Sometimes comes Ove with some chords that he has recorded in his basement and so can I put a lyric to that. Some songs for example."Led mej hem" has Ove done by himself. I write the songs with an acoustic guitar so music and lyrics comes in the same time. It can be hard to understand for the other in the band how fast the songs I present sound like an old Mikael Wiehe song.
What do you think about Sweden, musically and politically?
-Sweden is and are going to be a duckpond(Politically) Musically swden feels good undeground. It´s lot of bands but there´s very little chance to the ordinary people to hear them. Where do you find a radioproducer who dare to jump off the mainstreamtrain and put some more odd songs in the radio. The commercial radio is a scary culturehating crowd which have put theirself as a cover over a living musicsweden.
Is there any good bands in Sweden? Outside Sweden?
-There´s plenty of good bands Please check out the Holy Shit-records. And in other genres can you find good bands like. L. Winnerbäck for example. Much of the things on Burning Heart is cool and from outside Sweden I like Korn, Guano Apes, Glucifer and so on. On this question comes the toher mebers to say their opinion too. Ove: Motörhead ,Sator and ZZTop Johan : Thåström, Sundström and Ljungström
Whic is the first and the last record you bought?
-The first one is a secret, but if you really want to know -Schytts-Hålligång 4.(Now is it said.)The last one is KKPA:s latest one- a really good record.
Idols when you were small?
-ABBA and KISS, but it was a long time ago . After that I started to listen to bands like KSMB, E.Grön and Sex Pistols.
To your website, who does it and it is important to have one?
-Our website was done bu Oves brother Åke.But for a while ago he laid it on me. Because of my HTML-knowledge and that sort of things it not happen so much with the website right now. We think it´s good to have a website so interested can see what happens right now with Bison.
What do you think of the new way to communicate with email and internet?
-Fucking good, fast and easy and the chance to get infected is little.
Any favourite site on the net except Skrutt ?
-The punk rock shop. A site that sells music without any other prices. The s Grottforskarens site is OK. Some netzines have I never checked out. I really like paperzines, I like to take in bath, hit some in the head with it and smell on it
What is the best and the worst thing to play rock in a band?
-The best feeling is when you have done a really good song or done a really good gig. The worst thing is when you feel frustrated when you can´t write a new song but you want to do it. Or when a gig when the tune isn´t so good on the crowd or on the guitar.
What is the future of rock?
-Have you seen Iron Maiden and Lemmy with Ulf Larsson in Söndagsöppet you don´t want to think about rocks future.
Futureplans?
-Out and play so often we can. Maybe have an internal pubevening in our rehearsal studio.
Wisdomword?
-Wisdomtooth
Something more to add?
- When you think about it, maybe Elvis is alive??!!