Billy Gould was in Faith No More before and now he has a cool label called Kool Arrow where he puts out odd and good groups like Flattbush, Naive, Kulturshock and so on. Here we´re talking about both the label and Faith No More but he´s not so keen of talking about FNM. This was in November 2003.
Please tell me a little about yourself? Family, age, interests and so on?
-Male, 40, no children but getting married, Bull terrier and Retriever dogs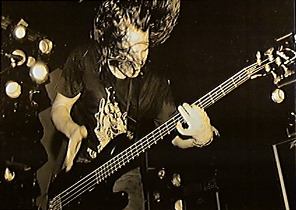 You was in Faith No More and you were there and formed it, how did you came up with the musicstyle, was it only something who only come foreward?
-It was a combination of things...we didn't have any specific music style in mind, so we just tried to play what felt natural. I think it was the way all of us played together that made things into a "style". Still, we did share the same taste, we liked similar music (and hated similar music, most of the time).
How would you describe your own music in three words?
-Friend or foe
It feels like you were really influences but Frank Zappa and those sort and that is something I can see on your record label too, Zappainfluences? What about that?
-Actually, I don't own a single Frank Zappa record, and I never have. I appreciate his sense of humor, but his music never made a huge connection with me. I probably only know a handful of his songs.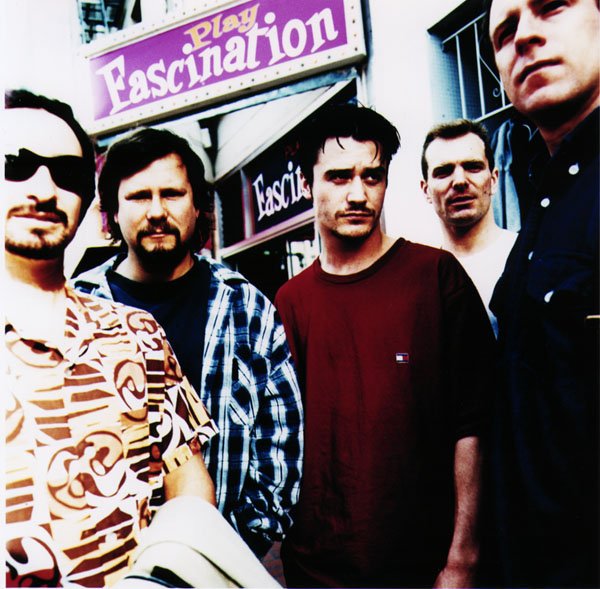 Have you been in any other bands before FNM and some bands after that?
-I was in a band called "The Animated" that had Chuck Moseley on keyboards and Mark Stewart (Stew/The Negro Problem) on guitar. This was when I was around 15-18; also I played bass with an SF band called the Pop-O-Pies in the early 80's. After FNM, I played on a couple of projects: The Triple Gang, which was a band that did only 2 shows, and covered the Fall album "This Nation's Saving Grace" The members: myself, Alex Newport (Fudge Tunnel, Theory of Ruin), Matt Jervis (Clarke Nova), and Jon Weiss (many local SF bands). Recently, I joined a one-off project called "Black Diamond" that involved members of Satyricon, Turbonegro, Amulet and Ralph Meyerz and recorded a single with them.
And you have your own label Kool Arrow? Why did you start a label?
-I was tired of band politics at the time, but I still wanted to work with music.
You have very odd bands there like Kulturshock, Naive, Flattbush and so on and with odd I mean that the members are from odd countries there we´re not used that bandmemebrs come from. Is it anything you want them to be or is it only so that the most interesting music comes from smaller rockcountries?
-Well, I think every country in the world probably has at least a couple cool bands. There's this prevailing mentality that things coming from the States or UK are somewhat "better" and I don't subscribe to that. The sad fact is that there is good music everywhere. And yes, sometimes a band from a place like Denmark will be more interesting, because it's a small country and the reasons for making records might not have anything to do with getting rich and/or famous.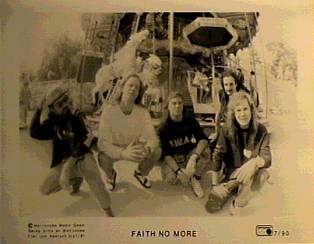 Which are the dreamband to have on the label?
-The Beatles.
Which record are you most satisfied with on the label?
-They really are so different from one another, it would be hard to compare them.
Which of FNM;:s record or songs are you most satisfied with?
-Same answer. I really don't know, and in any case, I haven't listened to FNM for years.
You played you last gig in april 98 in Portugal, you don´t have had any plans to reuinion only for a gig or so?
-We didn't know that Portugal would be our last show.
Why did you split up?
-It seemed like a fun thing to do at the time.
Is there any good bands in USA right now?
-Sure.
How much does your bands on Kool Arrow sell?
-Just enough for me to keep doing this.
How much did FNM sell when they were as most known?
-A few million.
Have you heard any swedish bands?
-Of course.
What do you know about Sweden? What is typically swedish?
-Mosquitoes.
When the terroristattackwas, how was your feelings, was it What did I say, fear , anger or what?
-It was an eye opener, that's for sure. And I was afraid about how our political leaders would exploit the issue.
And then USA get into the Iraqwar? How about that?
-Pretty fucking stupid, isn't it.
Does music and politic goes hand in hand? Many of your bands seems to have politics in their music?
-Politics and music generally shouldn't go hand in hand..only when things get really fucked up. Like now.
Which is the best political band in the world?
-Good question...NOFX do it in a pretty unpretentious way....
Which are your advices to new bands to get a contract and to get up as a band a little?
-If you really want to move to the next level as a band, don't just look for a recording contract. Get out there and TOUR. There is no substitute to playing live.
Please rank your five favourite records, five best concerts and five most important things in life?
-Five favorite records: Can't, there are too many to list.
Five Best concerts: David Bowie in 1973 (my first concert), Black Flag , Sade, No Means No, Young Gods.
Five most important things in life: Free time, a close network of friends, good food, music, and self-confidence.
First, last and most expensive record ever bought?
-I don't spend "big bucks" on records, I'm not that kind of collector. First one I bought was probably Elton John's Greatest Hits in 1975 (?), and the last one is the new Killing Joke and Tribalistas (from Brazil).
Which are the people who buys Kool Arrows records?
-I couldn't really tell you. Our releases are all different, as are the people who buy them. Actually, I like it that way.
Futureplans with the label?
-Stay in business.
Futureplans musically?
-Play MUCH more often.
Futureplans as an human being?
-Inspiration and Dying.
Wisdomword?
-Think for yourself.
Something more to add?
----