BIG MEAT HAMMER
Jordan Kratz from Big Meat Hammer is a nice guy and he can his old punkstory. Here he gives us the true story of Big Meat Hammer in february 2001
Please tell me the history of the group?
-I formed Big Meat Hammer in late 1989.At first the band was made up of 3 guys from my earlier band,"The Gorehounds",and a lead player Dave Busch.Mark,Bob,and Ned were from The Gorehounds.I had gone to Federal Prison on a drug rap and wrote a bunch of lyrics and music.The Gorehounds split up in the summer of 89 and BMH was formed in the fall doing mostly stuff I wrote in jail.So I put out a tape LP that was produced by my friend John Hayden and we played some shows.In the fall of 1990 I put the band together with the present line-up excepet the drummer.We have had a lot of drummers but Lenny,Skummy,and Jim are all from the fall 1990 lineup and really the official band.All the stuff we do is from this lineup except a few favorites from my original 1989 lineup.
Please tell me a little about every member in the group, age, family, interests, and something bad about every member?
-I will save myself for last and tell you of the band members first:
Jim Rand is in his mid 30's and is presently the Station Manager for WMPG,our local cool radio station.In the early 1980's Jim was instrumental for bringing Punk Music to Maine.He did a radio show then as a DJ and played the music us Punks love.Later he rose in position but still DJ'd as he does now.When he was program director he made sure some Punk would always be on the schedule.Jim had me come in to do a show that played obscure Punk for 5 years or so.Jim puts on shows for WMPG and is involved with community affairs.WMPG caters to the public and Jim is the glue to hold it together.Jim has also been a live supporter of Punk and has been going to shows since the 1970's.He has played guitar since the 70's and likes to play a "machine gun" type rhythm which can cause ole Jimmy to break a string or two or three.Watch his hands and they are wicked fast in the strumming rhythm.He also loves beer drinking and will be glad to accept a brew from any of our fans.Down em Up Jim !!!Jim loves to party and have fun.He loves to golf and play Card games for money.
Who´s your daddy, is it the only one you have done, ,how can I get any other records you have done if you have done any more?
-We have changed the name to simply,"Keep Portland Clean",for the name of the CD.It does have 28 songs and is 66 minutes long.
We have a tape LP called Songs From The Dinner Table and I will give that away for free.It is a full LP and I only ask for postage money.We also have a 7" record with artwork by Marvel Comics artist Mort Todd.See our web page for this cover of Barbarian Woman Spewing Brains.We are on a few comps but those comps never gave us any.Who knows what they did with our music.I make us videos so we have a bunch of wacky videos and live shows on NTSC Video.If anyone wants any of our music they can write to me.On our website is an ordering page with some stuff on it.If you don't have a computer write to me at
Jordan Kratz
P.O.B.7971
Portland,Maine
04112 USA
Who´s your daddy(Songs from the dinner table) is coming out on a real CD now, which label?
-I am putting together my own label called GOREPROD.For years I have called my moonlighting activities as Gore Productions which I use for Video/Audio projects/Jobs.So I shortened it to GOREPROD.I will press a 1,000 CD's at first.This should go to the pressing plant and be out by March.I am just finishing the proofing of my graphic design job.I did the mastering and graphic design for this disk.My friend Fraser engineered as well.We are setup to do mastering for bands using state of the art A/D D/A converters and a Pro-Tools system.We generally do 2 Track Mastering and Audio Restoration using the Cedar System designed by BBC Scientists.If any bands need Mastering or need to clean up old tapes or scratchy records give us a shout.I will sell my CD on the website as well as more conventional means.We are currently looking at which Distrubutors we would want to contact.The name is changed to,"Keep Portland Clean".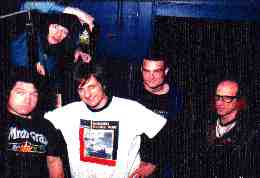 You have been on the punkroad for a long time, any other bands you have been in?
-I have been involved with Punk since 1976.I used to drink my liquid luched at the club in Boston where Punks played back in 1974 when I went to a drug rehab/alternative High School across the street.This club was The Rathskellar and it would play an important role in the Boston Punk scene.It was there that I saw The Deadboys,Ramones,Stranglers,and many more bands in the 70's.You see back then there was no coool music coming out that you would of heard on the radio.I remember being pissed and switching the dial back in 1975.As a result I listened to a lot of 8 Track Tapes.One day in 1976 I found a station playing a real obscure old Blue Cheer tune.It was from the first LP and that was something new for FM radio so I listened and heard all this new music.Boston local bands like The Real Kids and DEVO, and more.I heard the concert report on this show called The Deme Monde and they said that bands were at the Rathskellar so I started going out to shows.I was playing in some bands...more like jamming with friends on the harmonica.This started back in 1972 when I was 16.I could feel after seeing some new music(not called Punk then)I felt that I would like to play this and it would be easy to write songs so I did do that.
I formed The Transplants sometime in either fall 1976 or fall 1977 I forget.I wrote some tunes and the rest was covers like I Wanna Be Your Dog,Iggy Stooges Songs and later Deadboys stuff.Soon I covered some 60's garage tunes too by The Sonics,13th Floor Elevators,etc.This was at a time when doing that was unheard of.I really felt good knowing I was involved in some form with this new rebellion against bullshit corporate krap...and goverment/society/the world.This was a time when people laughed at me cause of my looks.Redneck city shmucks beat the shit out of me,threw bottles out of car windows,etc cause I was the only Punk in 3 or 4 cities North of Boston.There really was no signs of Punk Rock until you got to the heart of the big city.There you could spot some graffiti or a cool band flyer for a show.
I went to Punk shows and went mental back then.I climbed on things and dove into people as well as dance up/down slamming into the next person.No one did this stuff and I think people thought I was baked back then....I was hehehe.On speed,coke,heroin,acid,anything.Partying all the time having a ball.
The Transplants gained some following and at one time was #4 on the Radio Free Punk Rock Charts that was on that Deme Monde show hosted by Oedipus.I did lots of crazy things on stage back then and gained some notoriety for those stage antics.I jumped on tables and knoced off drinks,i mooned people.rolled on the stage.slammed my head with mike stands,,even chewed stands and whipped em a t people while the stand was in my mouth.We had originals like Police State,Suicidal Tendencies,I've Had My Fill.I will sell home made CD of this band from a 1977 recording.We split up in 1980 and then I ust fooled around till I decided to put together a new Transplants lineup.I just did it for fun cause for a while I liked to just go out and see bands rather than play.Eventually I moved up to Maine and did The Gorehounds.The Gorehounds were formed in 1986 and died by summer 1989.I went to the Fed Prison 1988-89.
You knew GG Allin, was that man so crazy as we knewed him?
-Actually GG never did anything Crazy to me.I knew him on/off since the 1970's.his brother Merle was the Bass player in the Boston Punk band Thrills.Their guitarist went to that drug rehab high school across from The Rat with me in 1973-74.I followed Thrills and did a recording or 2 for em.That is when I met GG.I saw him do some crazy ass shit to people he didn't care about.I guess you could say he was the craziest of the Punks.He was on his mission and if you got in the way he would fuck with you.Sometimes he fucked with people just to do something and have a little fun.But all of you have heard the ole GG stories so I don't have to repeat those same tales ya heard before.GG did have his friends and he was good to his friends.
Your roots in your music comes from the 77-punk, was the punk better back then?
-I think that Punk scene was the best time.It was new and small and all supported it by going out to see each others bands and it was closer.The music was better and original.We dressed original and now it is just younger ones copying what we did.Some are there to corrupt our scene with their PC views acting as Overlords to what Punk is and not.We only had free expression in the original scene.Freedom was important in many ways.Nowadays there are all kinds of Punks instead of just one.I mean there are Anarchy Punks,PC Punks,Drunk Punks,Streaight Edge Punks,Vegan Punks,and even more.Oh Yeah I remembered there are Gutter Punks too.Punk Rock Ruled when you knew you could be beat up for being one.When you did something you never did before and trod on new ground.When you knew everyone on the scene and they all knew you.When you always saw at least 75 people come out to all the local shows.
Things seem to getting real lame around here.If you play Punk practically no one comes out but on the other hand if you play bad 70's Retro Krap you will get a big audience.Kind of sucks but you'll never see me selling out to play krap just so people come.And when you do play since now there are all these little cliques of Punks you get even less coming out.The PC punks and straight edge wouldn't like us and who knows who else.The old days were obviously much better.Ask any older Punk anywheres and they'll have the same answer.
Any good bands nowadays?
-Hard to say.I guess I do hear things from time to time that sound cool to me.Mostly when I do get the chance to listen to stuff it is tapes/vinyl I own.older 70's-80's punk stuff.One thing I do see is the younger Punks that do have an open mind make some good music and put on good small shows.I saw some bands recently made up of 16-8 year olds.They sounded like ole early 80's thrashing Punk.I liked it and thought it was about the best I've heard in a while (Maine stuff)and the kids liked it too.they had a good pit going and stuff.These kids all had their studded up leathers/colored hair and it looked cool..kind of like a time warp.
Is there any good bands in your homecountry?
-I haven't been listening lately.
What do you know about Sweden?
-Not to much.I have heard of it's natural beauty and good people.I have met some swedes over the years and liked them.I know I have heard Swedish Punk and enjoyed it.
Have you heard any good swedish bands?
-I have but can't remember any names.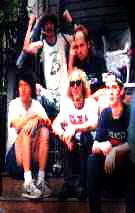 How is a good concert with Big Meat hammer?
-See Beautiful Punk Women ! Drink Many Cheap Beers ! See Drunks Falling Over Each Other ! All this and more at your local Big Meat Hammer show.Fans rush the stage and sing with me.People slammin around infront and spitting Beer all over us.Soaked in sweat and Beer.Lots of energy in the room.We play about 50 minutes.Do some ole Stooges and Deadboys covers for the Punks.Lots of Audience Participation.
How does the average Big Meat Hammer look like?
-Very Unaverage I guess
Do you have good contact with your fans, in which way?
-I hang out when it is warm outside downtown and am easily found by those who want to.I talk with and party with my fans.If they don't live here I will write to them and maybe send little free mags or something.I enjoy maintaining a correspondence with fans.If I play in a place where we have fans we will go and party with them after a show.Meet new fans and have fun.
You have an own webiste, who does it and is it important to have one?
-I put together a band website around 4 or 5 years ago.I thought it was cool then and I still do.Those who are young now are the lucky ones.when I was a kid I was thrilled just to own a battery radio.I am 45 so there were not many electric toys in the 60's.Families all are getting Computers and going online.I saw this before and put us on the web.I had mp3's and even broadband video 3 or 4 years ago.BMH was one of the first rock bands on the web and the first punk band to be on for Maine.Computers unfortunately are a way of life and are not going to be going away.It is important to explore the technology around you and put it to your use for the art.The internet will and does offer a way to bypass large labels and to distribute your own art.This means you and your band receive the benefits..the large label is not needed.
Can music change any persons life you think?
-Music is a way for me to get out my aggressions and negative feelings in a positive and constructive way.Music is the only therapy I need.Music can and does change one's life.It can open or close many doors for the individual.
What do you think about the combination rock and politic?
-Music is a good way to get a message out.ANGRY YOUTH heheh...Get Pissed and write a song about it.Let other's know what is happening politically.The only downside is those who look down on other musicians like those newer PC (politically correct) punks who get a little to involved in Politics and will not support a scene except their own little cliques who share similar beliefs.I have seeen this behavior grow over the years and cause the local scenes to split inot smaller groups which can suck.I am a firm believer in free speech to all people.Even asshole NAZI pricks have to be able to speak as we the non-racists can speak.
all people can and should speak their mind.PC Punks/Vegan,etc can and do censor free speech and in some ways are as bad as the Goverment they supposedly speak out against.
Whats the best and whats the worst of being in a band?
-Being in a band sometimes is like being Daddy and having to take care of wayward children...Being in a band is fun and sometimes it can suck too.
I have played in bands since 1972 and I would still do it all again if I had the chance.Playing music is in your blood and you do it through the good times and bad.It is a big responsibility to lead a band and this is a job like any other.It does get to be tiring after a while but you got to dig in and do it.It pays off in the end.
What´s the most peculiar which have happened on stage or in the audience during a concert with you?
-Hard to say so I will have to relate a few tall tales of my past.
A.first off back in Boston I had a blast in 1977 going to PUNK Shows.Back then I used to jump on tables and slam into people when no one did that.I can honestly say I was one of the first slamdancer/stagediver.Now that was a riot playing and then I would jump into people and roll around the floor knocking the dancers over like a "human bowling ball".
B.One of my old girlfriend's used to strip off hwer clothes and dance around the stage.that was 1986 and we would shoot up coke /heroin B4 playing.I would be real wasted.One Halloween I played a club"The Rat" headlining the show,got carried out in a homemade coffin and was so high from heroin I remember falling all over the stage ...a real drugged out mess.
C.Occasionally I rip off my clothes and do fucked up things like cutting my chest,or wrapping my dick around a mike stand.I like to chew on mike stands and dance around with a mike stand in my mouth.
D.We have played a few shows where we got thrown off stage after a few songs.Guess they didn't like us.
E.I played a show at a girl's college and that was a mental show.I wiped blood allover myself,we destroyed the place,lots of fans came and terrorized this place.It was the craziest party/show I did in years.I can only remember little bit of that one.It was in 1986.
Is it many interviews? Is it boring?
-Interviews are cool and not boring to me
Big Meat Hammer, what do you mean by that name?
-It is a kitchen utensil used to pound meat.All musicians must of had kitchen work before.BMH is a food tool.
What does punk mean for you? Is punk more important for you nowadays or was it more important back when you were younger?
-Punk will always be my life.The same as before they had a word for it.The only difference in me now from before is I am not getting high like before.Punk is just as important to me now.I am a REBEL..have been since the 1st grade and will always be a REBEL.
Please rank worlds five best records, the 5 best concerts you have been to and the five most important things in life?
-1.Iggy and the Stooges 1st LP...2.Sex Pistols LP....3.Ramones 1st LP....4.New York Dolls 1st LP...5.13th Floor Elevators 1st LP I guess for records
Best 5 shows I barely remeber...1.Deadboys at the Rat 1977...2.Destroy All Monsters at the Rat 1978 3.Iggy 1978 Boston
4.Agnostic Front/Void/Murphy's Law/Aggression 1984 Boston....5.Pink Floyd at the Music Hall Boston 1972 (what a fucken LSD trip that night was!!!)
If you could choose five bands from the history and now to play with Big Meat Hammer, which bands would you choose?
-Great question and lots of bands I would love to play with.
A.How about if we could of played with Blue Cheer (leigh stephens guitar early line up only).BC wasone if the loudest bands in the late 60's.They are also a band with lots fo fuzz/distortion guitar and a real heavy sound.I like the first 2 lp's with Leigh on guitar.That would of been a great show.
B.How bout Iggy and the Stooges and we open the stage.I do all kinds of
mentalness and then the Stooges top it off.
C.Or Maybe a BMH and Deadboys show.Now that would be a great one.Cheetah was my roomate back in Boston.Cheetah and Skummy could do some double crazy lead guitaring.
D.Playing a show with The Avengers.I love the early Avengers recordings and that would of been a great show.
E.doing a show with GG Allin.GG was gonna play with us in Maine.He died 4 days b4 the show.I made a benefit and played GG videos and we played some.We gave the money to Merle to help out.

First and last and the most expensive record you have bought?
-My first record was back around 1964 I don't remember.I can only guess now but it will be one of these
The Monster Mash LP or Beatles 1st or Stones 1st.My mind is blanking out here.Back then I had some singles (i think they cost 29 cents for a 7" then)like The Ventures doin Wipe-Out,The Bird by Trashmen,Some Johnny and the Hurricanes.....maybe a Link Wray 7" like Rumble or Run Chicken Run
My last record I bought was I just got Chron Gen, The Best of which about covers Chron Discography for me.It is all old 80's Brit Punk.
Idols when you were small?
- 1960's Years
Rolling Stones (1960's lineup only),Link Wray,Velvet Underground,Doors,Iggy and the Stooges,Blue Cheer,MC5
What do you think about the new way to communicate with email and internet and all that?
-I think it is a great thing.Instant commmunication,Transferring files,and more.
Any favouritesite?
-Nope.
When you do you music, which is kost important, is it the melody, the lyrics or to have a refrain which people remembers?
-I just write what comes to my head.I never think about other people when I write.
Who does the songs in your group?
-I do most of them.Skummy also writes.Jim wrote one and the band comments on the arrangements.
Do you do any covers when you play out, if you do which?
-I Need Lunch or Sonic Reducer by Deadboys,Various old Iggy and Stooges covers,Drink Fight Fuck and Bite It by GG Allin
Future plans for the band?
-Just keep playing and making music
Future plans for yourself?
-Continue to make music and videos.Explore new technologies.Play gigs and party
Wisdomword?
-Stick to your Beliefs.Twist Technology To Your Punk rock Goals.

Something to add?
-Nope