Berlin Blackouts is a really a good german punkband. Bev was so kind to answer a lot of questions for Skruttmagazine in october 2019.
Please tell me a little bit history of the group?
Bev: It's actually a really long story. We had a few different guitar players, and a few drummers, Katja (bass) and me on vocals and guitar are the the only original members. We started in the end of 2014. At the moment we're a 4-piece, but our guitar player is really shy and doesn't want to
be on pictures and in videos, that's why everybody thinks we're a 3-piece.

Please tell me a little about every member in the group right now, age, family, work, interests and something bad about everyone? Earlier bands? Other bands on the side?
Bev: I sang in a band called "Radio Dead Ones". We were around for 12 years, played all over europe and released a big pile of records. Katja played in a few bands before (Twitchblades, Erotic Devices, ...) and Chris our drummer is currently in two other Bands (Kotzreiz and Bloodhype), but he always played in bands and could always survive without a job, but with music. Our guitar player is having his own band called "Gang Zero". Katja's working at the world's only Ramones Museum in Berlin. We're in our mid-30s and 90% of our life is about music.
I can hear much different influences but mostly old punk like Ramones, Heartbreakers and some newer stuff, am I right? Favorites from the past?
Bev: Oh yeah, we're listening to alot of different music, we want to keep it oldschool with this band. We try to avoid any modern elements and try to keep the old sound alive. I'm a very big Sex Pistols fan, but also Clash and Ramones. We also love weed and this calls for Reggae like Peter Tosh and so on.

Berlin Blackouts are you satisfied with the name? What does it mean? How did it came up? You weren't afraid that some other band would be named like this? Which is the best bandname you know?
Bev: Right after we named the band like that, I never thought about the name anymore. But I think it sounds great. In the beginning we were a team of real party animals, that's why we thought "blackouts" fits. If any other band will ever think of taking this name, we will sew them haha ... I think "Berlin Blackouts" is my favourite band name 😉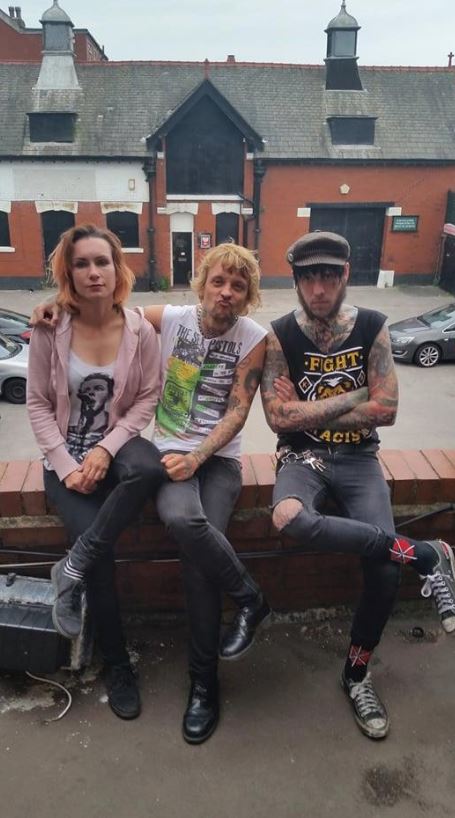 What´s the best thing with playing live?
Bev: The adrenalin. Better than any other drug in the world.
And where is best to play? And the worst place?
Bev: I love playing in Czech Republic, but also the UK is great fun.
Sorry, I know you're from Sweden, but this is actually one of the countries were it's a bit tricky. I played there a few times and once the security almost started a fight with me while we played, because I drank booze on stage. Once they took the first bottle away I grabbed the second one and started making fun of the Queen. I had my fun, but it was weird how easy it was to offend people there.
How is to play this sort of music in Germany right now? Which types of bands do you have concerts together with?
Bev: It's absolutely not easy as an english singing band in Germany. It never was and it's hard to even name a few bands who could get somewhere if they didn't sing in german. We play with any kind of bands. A few weeks ago we played with a hardcore band, a garage band and a HipHop guy. Diversity is always cool.

How would you describe your music in three words?
Bev: '77 Punk Rock
What does punk mean to you, is it only a word or is it a lifestyle?
Bev: Being against society, capitalism, racism, Nazis, television, McDonalds, Primark, H&M and many many more things. That's my way of PunkRock.<![if !supportLineBreakNewLine]>
<![endif]>
Which song/album or group was it who took you into punk/hardcore? You sing that you will "Make Punk Rock great again"…which are the orange biliionaire you sing about?
Bev: Sex Pistols - Never Mind The Bollocks was my first Punk record. This brought me here. The song you mentioned is a duet with Peter Bywaters from Peter and the Test Tube Babies. He's been one of my favourites since I was a teenager. Now he's a good friend. Haha, the orange billionaire is that brainless american dickhead ... don't want to mention his retarded name.

What shall a young guy do today to shock their parents as the way we did when we were young? They have already seen everything?
Bev: The reality these days is so extremely shocking, that I think it's better to try be a good person and use your sanity to not get lost in this daily madness.

How is it to live in Germany right now? Politically? Fascists?
Bev: I'm from the east of Germany. When the wall came down there were many Nazi skinheads. Me and friends had to run and hide a few times to not get beaten up by this scum. But they killed teenagers with coloured hair in my neighbourhood. They just beat 'em dead on the street and were chasing black people through the inner city. In Berlin it's easy to avoid these blockheads, but in the smaller cities you have to take care. I'm just glad about the fact it's mostly old people now. The next generation seems to be a bit smarter, they don't want this right-wing brain-wash anymore.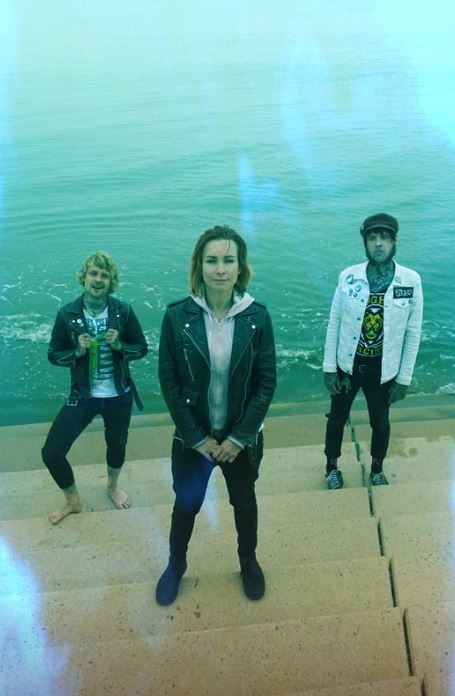 Is there any good bands from Germany right now? Is the punkscene/metalscene/hardcorescene big? How is it in your hometown?
Bev: Yes, there's tons of bands in any genre. Most of the bands I listen to are not from Germany, most bands I like are from the UK.
One german singing band is "Schrottgrenze", they're great songwriters, I like what they do.<![if !supportLineBreakNewLine]>
<![endif]>
What do you know about Sweden? Have you been here sometime?
Bev: The nature is fantastic. Emil i Lönneberga was the hero of my childhood. I've been there as a kid with my family and played there with my old band.
But I don't like Stockholm, it's too neat and clean for my taste.

Have you heard any good bands from Sweden?
Bev: Sure, I just saw the Hellacopters. It's extreme how many good and talented musicians come from a country with so few people living there.<![if !supportLineBreakNewLine]>
<![endif]>
Your lyrics, who does them and what influences you? Never in german? Please tell me a little about the songs MSP and Kubrick Eyes?
Bev: I write the lyrics. Any free minute is about thinking of lyrics and melodies. Life in general is the best topic, it's easy because you just sing about what's going on. German doesn't really sound well. I recorded two songs in my life in german ... think that's enough. hehe.
MSP stands for "Manic Street Preachers". They are one of my favourite bands for more than 20 years and when they released there last album, I liked it so much that I had to write a song about them. "Kubrick Eyes" is about seeing the world from a different angle ... I think Kubrick had a special way to see the world and if he couldn't express himself in his art and movies nobody would have understand him. It's hard to be a stranger, because normal people find it scary.

Is there any subject that you never will write anything about?
Bev: About drinking. That's a very lame topic, I think.
Politic and music, does it goes hand in hand? Which is your most political song? Is it important to get out your opinions in music?
Bev: It's goes well together for me. Because I read a lot about politics and listen to music all the time. Still I can not simplify politics enough to write real political songs. I would call it more critical of society. I write the songs mostly for myself, I don't care too much if people listen carefully to the lyrics or just have fun while listening.
Best political band/artist?
Bev: Peter Tosh or Joe Strummer.

Do you think that music(lyrics and so on) can change anyones life, I mean people who listens to music?
Bev: No, I don't think so. It could change something in the 60s, but not anymore.
Your favorite recordcover alltime? Who does your recordcovers? And do you have any good recordstores in your hometown?
Bev: Sex Pistols - Never Mind The Bollocks is the best cover ever. Our artworks are DIY, made by us. Katja did the last record artwork all on her own.
Oh yes, there are many record shops. One in my neighbourhood is called "Static Shock". It's a nice little shop.
Is it important to get out physical records of your stuff? Why or why not? Vinyl, CD, cassette, what do you prefer if you could choose whatever ?
Bev: I never downloaded one single song. I like vinyl. It's still a nice feeling for me, when I get my hands on my new record for the first time.
Please tell me a funny thing which have happened during your career and under some gig?
Bev: The funniest shows were the ones when I was really young and extremely wasted. But I can't remember most of the things well enough, to write about it.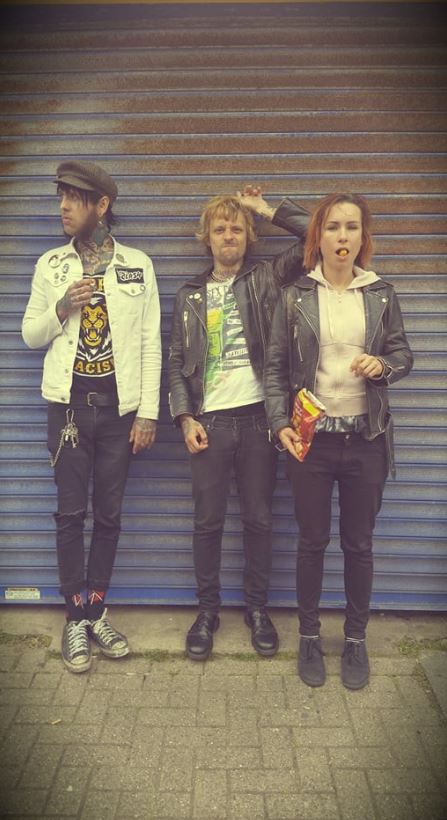 How does your audience look like? Which people do you miss on your concerts? Which is the biggest band you ever have played together with?
Bev: This depends on the country, the city, the type of venue. We don't have a proper following which you could describe with a stereotype.
Sometimes I miss younger kids at the shows and I still find it really weird, that PunkRock is such a white music. It's rare that you see black people at PunkRock shows. The biggest band I ever played together with is "Die Toten Hosen". It was a christmas show infront of 12.000 people.
Please rank your five favoriterecords, five favoriteconcerts and five most important things in life?
Bev: Records:
Peter Tosh - Legalize It, Bob Marley - Survival, Clash - London Calling, Sex Pistols - Never Mind ..., 3 Colours Red - Pure
Concerts:
Zeke (15 years ago), Lunachicks (20 years ago), Arctic Monkeys (last year), Beatsteaks (20 years ago), Duane Peters & The Hunns (20 years ago)
Most important things:
friends, brother, girlfriend, band, weed
First, last and most expensive record ever bought?
Bev: Sex Pistols (first), More Kicks s/t (last, pre order), most expensive one might be one of Tom Petty's records.
Is it boring with interviews? Is it much interviews?
Bev: Since print magazines died out, there are almost no interviews anymore. Sometimes they're pretty boring, sometimes it's fun.
Do you care about reviews? Which is the most peculiar you ever had, with this band or any other band you have been to?
Bev: I like it when people take time to write about a record you made, but to be honest most of the times I'm to lazy to read them.
That's why no review sticks in my mind.

Which bands do people compare you to, is it boring that people compare you to other bands or is it understandable?
Bev: For some reason people always compare us to bands I really like, that's why I think it's cool.
If you could choose five bands from the past and the history and nowadays and both dead and living bands to have a concert together with your band. Which five have you been chosen?
Bev: It doesn't make a big difference to me playing with different bands. Before our show I can't really watch bands, because I'm too nervous. After our show I'm almost dead for a while and just want to smoke a spliff. It would be a waste if we could play with The Clash for example and I still miss them hehe
Is music a good way to get out frustration and become a nicer person outside the music??
Bev: Definitely. It helps me to find my balance better than anything else.
Which is the most odd question you ever have got in an interview?
Bev: If we dream of making money with it. Making money with PunkRock is silly.
Which is the question you want to have but you never get. Please ask it and answer it?
Bev: Which politician would you kill if you could be a terrorist for a day? At the moment I'm switching between Erdogan and Bolsonaro.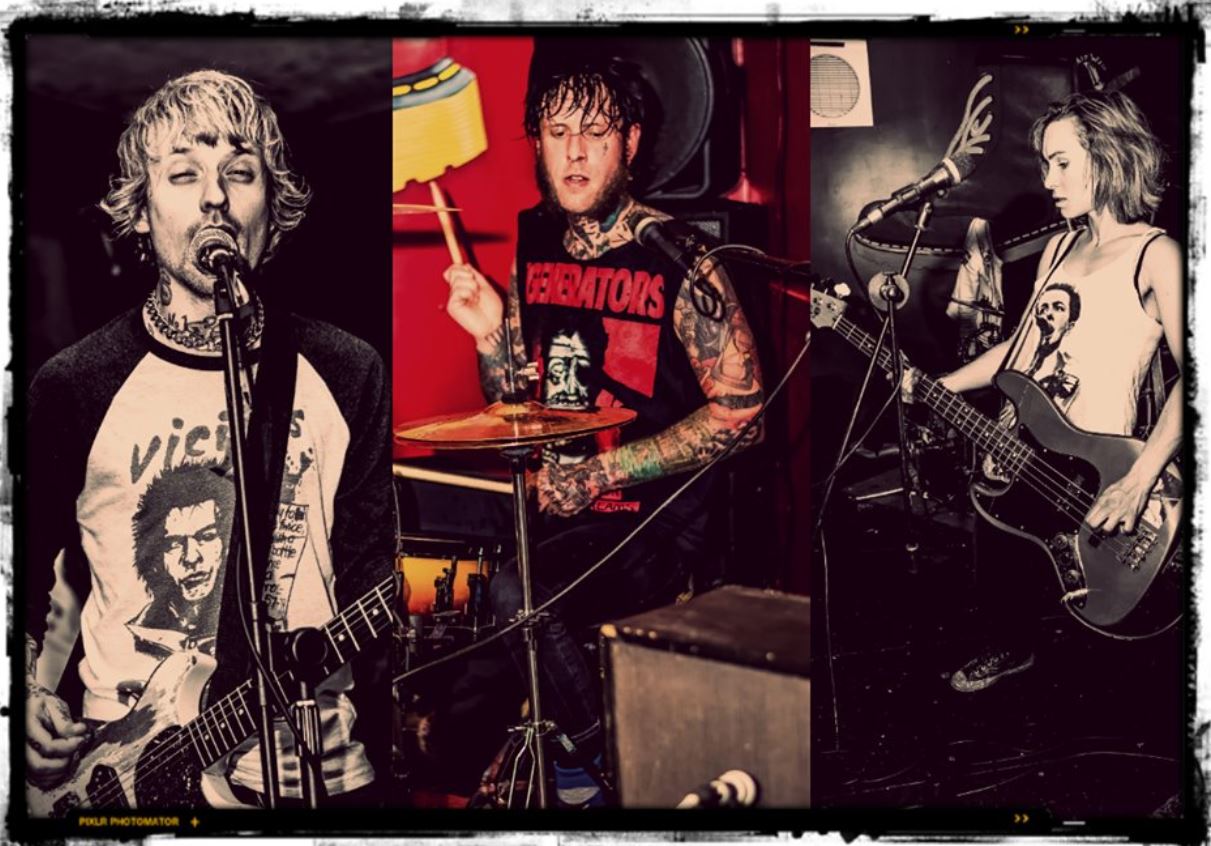 Futureplans for the band?
Bev: Playing all shows we get offered. Making a new record next year.
For yourself?
Bev: Having a good time before the world's too fucked for it.
Wisdomword?
Bev: Sorry, I'm still too young to be wise.
Something to add?
Bev: Don't take peace for granted.