Bent Out of Shape from Netherlands have done one of the best records this year I think. Please read this interview which was done in december-2022. I think it is Bart who answers the most of the questions.
Please tell me a little about every member and the history of the band? Age, work, bands before?
The band started in october 2019. Our former bass player Jeroen said we should start an Oi band and we approached Norbert and Henk and that was it. We took off running, writing songs real fast and came out with a 7 song demo early 2020. We got picked up by Demons Run Amok from Germany and had a bunch of shows lined up and then Corona happened. So no shows, but we kept writing and recording. Jeroen had to step down from the band, because he was too busy with other things, but we're still close friends. Rik stepped in on bass; he's been my bandmate in our other band; de Hûnekop, for 13 years and we were already in a Misfits cover band together before that. He also goes way back with the other guys, so it was a no-brainer. Henk, Norbert and I have been making music together (on and off) for over 25 years now. Our first band together was a HC band Spirit 84, that ran from 1997 til 2002. After that we were in Dead Horse Running. They were also in the Dead Scenestars together and are currently in HC band Icepick. Everyone's also been in a bunch of other bands, but that's too many to mention. Henk is a graphic designer, Norbert has his own Sports broadcasting company (SBC) and does construction on the side. Rik is a safety inspector for mainly playgrounds and I'm also in safety and ergonomics. Age? I know I'm 46 and the oldest. The other guys are 'early' forty-ish haha.
Your music is a style which came foreward many years ago, I think you have traces of both old punk and of course oi?
I consider that a compliment. The original intent with this band was 'let's do an Oi band', but in the end it's all punkrock. We don't have a rule book on how we have to sound. Henk is the main songwriter (music) in the band and he listens to all kinds of stuff and you can hear that I think. Of course we're influenced by a lot of classic (Oi) punk bands, but we also take cues from newer bands like the Reapers, Bishops Green, No Heart etc.
The name Bent out of Shape where did it came from? What do you mean with it…You weren´t afraid that someone else have named a band like this?
My first idea was to call us Band Out Of Shape. As a word joke obviously, for a bunch of older guys doing a band again. Then I wrote it out with Capitols and noticed the abbreviation was B.O.O.S. Boos is a Dutch word for 'angry' and bent out of shape means pretty much the same. That settled it for us; it was gonna be Bent out of Shape. Of course I Googled, to see if there was already a band with that name. I only found an Indie band called Bent outta shape, but they already split up, so we're good.
Is it important to release physical things? Or can you feel that you have done a record if you only release it digitally?
Physical is very important. I'll never forget my first demo tape, first CD, first vinyl.. The music is what matters most of course, but lyrics, artwork and actually holding something in your hand matters a lot too. This last album has a lot of blood sweat and beers in it. To just release it digitally would have sucked big time.
You have never been to Sweden and played or been here as tourists? If you not have when do you come?
Henk and I were in Götheborg Sweden in 2006, when his old band REMAIN played there on tour, I roadied. That was my only time there, can't say I remember a lot of it frankly. Henk went back later for vacation in Stockholm. Norbert was also in Stockholm to play (ice) hockey and Rik has been to Sweden several times for vacation. A few months ago we played an Oi fest in Hoofddorp and there was also this awesome Oi band called Oldfashioned Ideas from Malmö, and we hung out there and they invited us to play in their town some day. So maybe if you could set up a show as well, we could do a little tour through the north of Germany, Denmark and Sweden. Vilka länder har haft nöjet att höra bandet live? Hittills har det bara varit Nederländerna och Belgien. Vi spelar i Tyskland nästa år och är redo för weekendresor var som helst! När du gör låtar, hur gör du, jammar du ihop eller kommer någon med en text och lite med musiken eller hur gör du dina låtar? Vi gör mycket preppinglåtar hemifrån. Henk spelar in riff på sin telefon och skickar dem till oss. Jag har ett elektroniskt trumset och lägger till trummor och klipper och klistrar sedan. Sedan tittar Henk eller jag på vilken text som kan fungera till låten. Så ofta har vi en rå demo med en låt 75 % klar. Sedan i replokalen spelar vi det och kommer med broar etc, och avslutar det. Norbert skrev också en del grejer och jobbar på samma sätt, förutom att han själv lägger till elektroniska trummor.
Which countries have had the pleasure to be hearing the band live?
So far it's just been the Netherlands and Belgium. We're playing in Germany next year and are ready for weekend trips anywhere!
When you do songs, how do you do, are you jamming together or do someone comes with a lyric and some with the music or how do you do your songs?
We do a lot of prepping songs from home. Henk records riffs on his phone and sends them to us. I have an electronic drumkit and add drums and then cut and paste. Then Henk or me looks what lyric might work for the song. So often we have a crude demo with a song 75 % done. Then in the rehearsal room we play it and come up with bridges etc, and finish it. Norbert also wrote some stuff and works the same way, except he adds electronic drums himself.
I think your record is one of 2022s best records? What about that?
What can I say? You're obviously a man of fine taste haha. No seriously; it's a great compliment and means a lot. Like I mentioned before, a lot of work went into this album. With full time jobs, families, other bands etc., it takes some dedication to keep a thing like this going. So I'm proud of what we've put out so far, and especially the new record.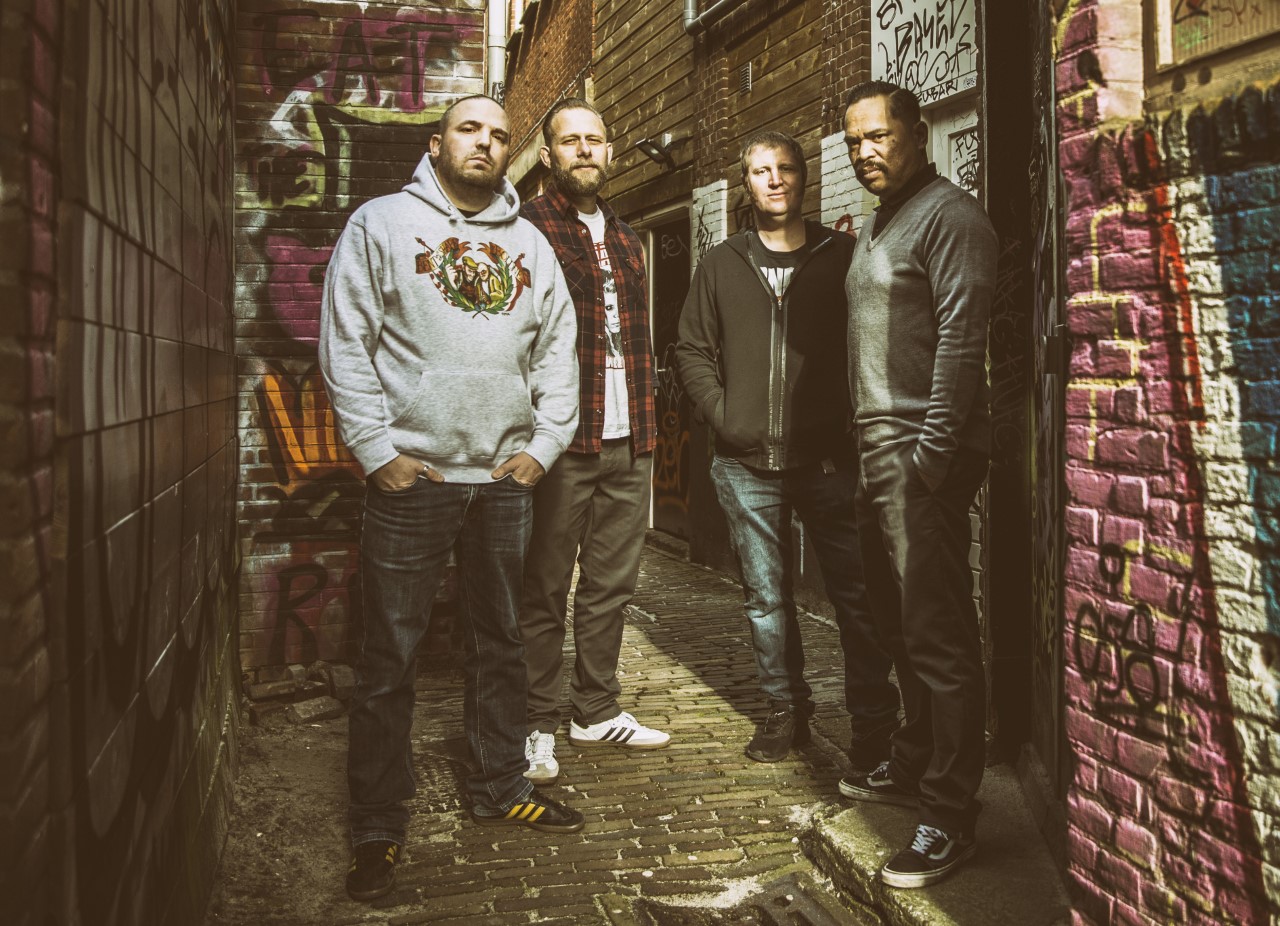 Please tell me a little about the following lyrics….and who wrote it and why?
My part of town
I wrote this one. But it's mostly inspired by stories from Norbert and Jeroen, about an area they used to live (Vlietzone). Some crazy shit went down there (and still) and I thought it could be the subject of a lyric. Like I often do; I kind of tried to write it in a way, that it could be relatable to other people too. So it became a song about neighbourhoods going to shit; which happens all over the world
Good old memories
This is a special one. This song was actually a gift from our friend Ronny Hamersma (the Reapers, Day Drinker, Crown Court, Hard Wax etc.). Ronny is a good friend of ours and an absolute master songwriter. We were hanging out (drinking) at his house and he showed us his set up and how he records his home demo's. He played us the original version of this song and we immediately loved it. Ronny said the Reapers hadn't used it, because the lyrics were so personal to Ronny, that it didn't feel right for Gwenn to sing them. So the lyrics would have to be re-written, and from how I remember it, Ronny wasn't really motivated to do that, so the song got shelved. We said, mate, this song is too good not to record; to which Ronny said; why don't you guys take it? So we did. Henk had the same 'problem' with the lyrics though, so I asked Ronny if he was okay with me changing them. He was and I did, to make it relatable to us. So we changed the lyrics a bit and cut out a few parts in the music, but it's still basically Ronny's song. Best gift ever. Oh as far as the lyrics go; I hope they kind of speak for themselves.
Contagious
I wrote this lyric (slightly different) some 15 years ago, when a friend got very ill, not for the first time. You're completely powerless when that happens to a loved one, and wish you could do more, but all you can do is just be there. That's what it's about basically. I never used it and thought it might be too 'emo' for this band, but it actually worked out pretty well I think.
How is it to live in Netherlands nowadays, racists, politics,covid, etc?
I love living in the Netherlands, and especially our neck of the woods; Fryslân. Covid was fucked up and revealed a lot of ugliness, but I hope that's in the past. Dutch politics aren't great, but also not that terrible I think. There's many parties and the government is always a coalition, so there's some compromise and nothing too extreme. Racists suck.
Are you calling yourself a punkband, oiband or what do you call your style?? What is your thoughts about punk when you started and if you compare with punk today?
I think we mostly use the term Streetpunk these days. I've been listening to metal punk and hardcore for over 30 years and I can't say the scene(s) changed that much in that time. It all got bigger, but there's still a healthy underground. I don't have strong ideological thoughts about punk, I'm a metalhead/hardcore 'kid'/Oi boy.
Do you have any favorite football team(I support Arsenal(England) and a Swedish team called GAIS myself)? And how will it go for The Netherlands in World Championship?
I support Cambuur Leeuwarden and others supports SC Heerenveen, both Frisian teams in the Dutch premier league. The Netherlands beat the USA today and we'll play the quarter final against Argentina. I hope we win the cup, but wouldn't put money on it.
Beer is expensive in Sweden. I have a very big interest in beer and brew myself? Your favourite beerstyle ? You don´t have an own Bent out of shape-beer? Or maybe you are straightedge?
We all like beer. My favorite beer is free beer. Just regular beer, like Heineken, Budweiser, Becks, etc. No fancy stuff. Henk is our resident connoisseur and likes special/craft beers. We don't have our own beer, we're not Maiden or Motörhead haha.
Is there any good bands from The Netherlands worth to mention? And how is the oi/punk/hardcore scene living on in The Netherlands right now?
The scene is small but dedicated. There's a lot of good bands. The Reapers, the Young ones, Complaint, On the Rampage, Diamond Dogs, One Voice, Savage Beat, etc. 2023 is gonna see releases by Malad and City Riot, so looking forward to that. Bullbar is a relatively new band, who's debut album impressed me a lot. And I can't talk about the Dutch scene and not mention the kings of kings; Evil Conduct.
What is your strength when you play live?
Having fun. We get up there to have a party. Henk is a good frontman, that connects with a crowd. And when Norbert takes his shirt off, you know something's about to go down.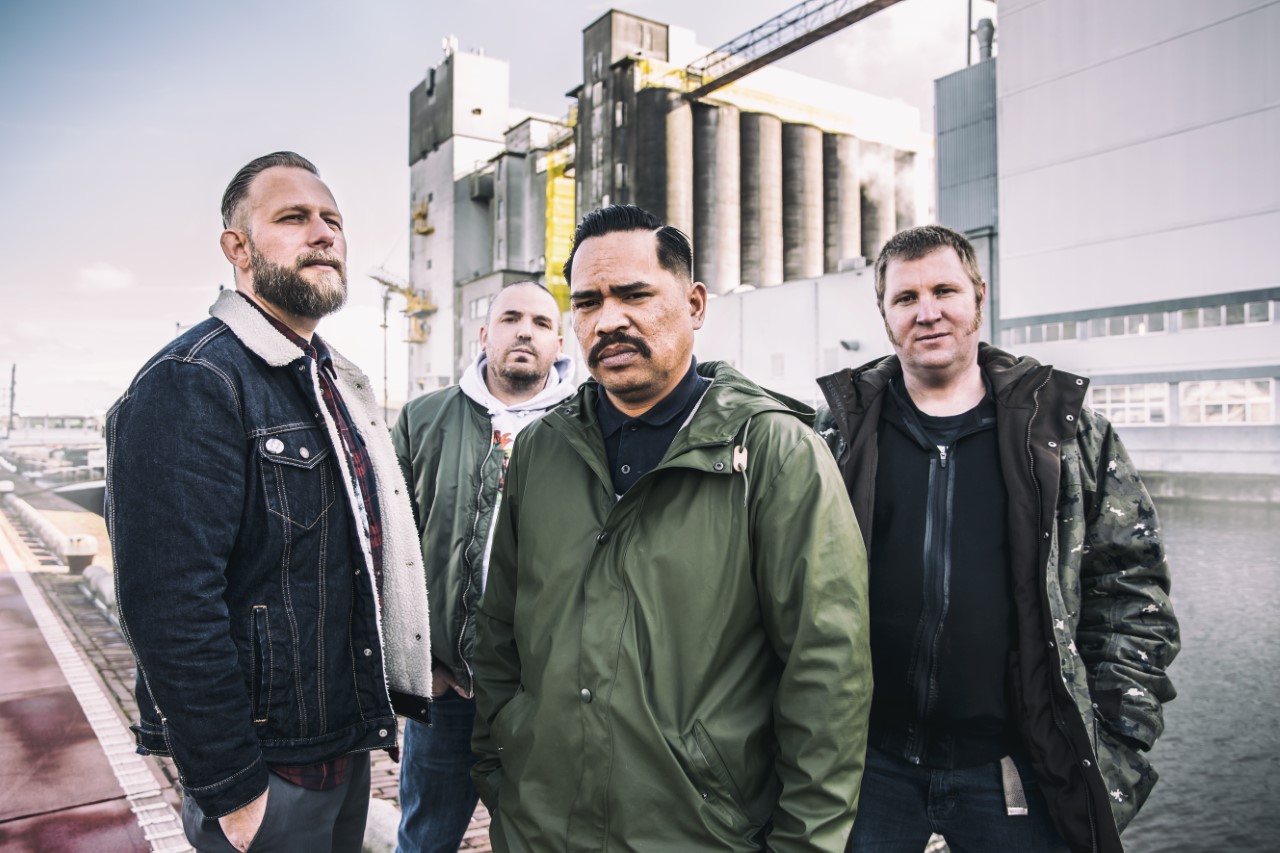 Which type of people comes to your concerts? Which type of people do you miss?
Depends on the type of show. When we played Oi this is Tegelen, or Oi in Hoofddorp, obviously there were a lot of skins and punks mostly. Like I said before, the scene is small but loyal. There's many people who'll travel for shows. When we're on a more diverse festival bill it can be that, combined with rockers, HC kids, metalheads etc. I don't really miss a type of people actually.
Do you buy much records, or is it only Spotify and those type of things to listen to music? Any good record store?
I still buy records occasionally (mostly cd's actually), but not as many as I used to. Spotify just made it too easy not to and I've spent a small fortune on music in my life, so I don't feel too bad about it. In my hometown Leeuwarden there's actually a few real cool recordstores that sell mainly vinyl, like King Kong Record, Big Bad Wolf Records and T-Rex.
Are you selling any merch on your gigs, do people buy it? What sells best?
We sell shirts, vinyl and cd's at shows and recently we've added football scarfs, which are pretty cool. So far I think shirts sell best.
Which is your own favoritesong among your own songs? And which song is the people choice?
My favorite might be Never went away. It was on our demo and we decided to re-record it for the new album It goes down pretty well live also. I don't know about the people's choice, though from the new record, many say their favorite is Places to go.
What´s the biggest difference when you plays live nowadays if you compare when you first started to play in a band? Or is this your first band maybe?
I've played in bands for over 25 years and I can't really come up with a difference. I get less nervous and less drunk before a show these days I guess.
Do you care about reviews? Which is the most peculiar you ever had, with this band or any other band you have been to?
Yes, I care about reviews. It's always nice if someone takes the time to really listen to your music and share their views about it. Peculiar.. I haven't really read any weird reviews so far. In 2020 we made the yearlist on American Oi twice, with both our demo and our EP, that was pretty special.
If you could choose five bands from the past and the history and nowadays and both dead and living bands to have a concert together with your band. Which five have you been chosen?
Top of my head: Cock Sparrer, Rancid, Stiff Little Fingers, the Last Resort, the Exploited. So no zombies on stage.
Is music a good way to get out frustration and become a nicer person outside the music?
Probably, yeah. Although music's mostly fun to me, and doesn't feel like getting out frustration so much, it just helps avoiding it. Playing in bands is also a great way to stay connected to some close friends.
You sing in English, why not in dutch? Which is your most political song or do you not want to put politics into your music?
I write pretty much all the lyrics and it feels safer to do that in English. Dutch would be very literal and I'd weigh all my words more. Also; we don't have big global aspirations, but it's nice to have people from other countries understand what we sing. We don't want to put politics in our music really, but it sometimes seeps in. Divide and conquer of the demo is our most political song.
Any good Swedish bands you like?
Sure, lots of them (insert ABBA joke here). Outlast, Perkele, Lavett, Oldfashioned Ideas, a lot of great stuff. The Clichés are probably my favorite. I also like a lot of Swedish Death Metal.
Is it boring with interviews? Is it much interviews? What do you prefer Telephoneinterviews, face to face or as this one via e-mail?
It's not boring at all, though some standard questions get kind of old after having answered them a few times. It's not that many, so it's cool and we really appreciate it. So far we've only done these type of interviews and I like it, because you can take the time to think about, and formulate your answer. I was interviewed for a podcast recently (not particularly about this band) and that was cool, but later you think of things you should have said, or wished you said.
Futureplans for the band?
We don't really have specific plans or goals. We can't really tour or anything, because of jobs, families etc. So the plan is just to play a bunch more cool shows, hopefully record more music.
Futureplans for yourself?
Stay healthy and continue on my current path.
Wisdomword?
It's not about having what you want; it's about wanting what you have. Count your blessings and learn to be content.
Something more to add?
Just thank you for reaching out and the kind words!
How can I get a hold of your other records. Please tell me about every record you have done?
So far we've done:
- Demo 2020 cd
- Who laughs last 7"
- Split 7" with the Boldness
- Split 7" with Skroetbalg
- Old rats on a new ship full length LP & CD
You can get a hold of them here:
https://shop.demonsrunamok.de/de/suche?controller=search&orderby=position&orderway=desc&search_query=Bent+out+of+Shape+&submit_search=Suchen