The Greek band Bent by Sorrow sent me their latest rehearsal and their CD and a T-shirt. Their music was really nice to come in contact with and not like all other bands so I did this interview in September 2015.
Please tell me a little bit history of the group?
-The band was formed in 2013 after the recording of the "Same crew, different sails..." EP. Guest appearances on the recording sessions included members of famous Greek bands like Heavier than God, Deus ex Machina, Earthbound, etc.
The initial band line-up consisted of:
Vox: Yiannis Saravanos , Zak. A
Guitars: Giannakis Dimi, Yannis Geronikolos
Bass: Dimitris D.E
Drums: Vanx P.
The band performed in many Athens venues with many famous Greek bands like Last Drive, Nightstalker, Wish upon a star, etc.
After some changes the latest line-up consists of:
Vox: Dim Arap
Guitar: Giannakis Dimi
Bass: Dimitris D.E
Drums: Vanx P.
Under this line-up the band performed in the summer of 2015 at the Greek island of Paros, giving a full-blown one and a half hour set.
Please tell me a little about every member in the group right now, age, family, work, interests and something bad about everyone? Earlier bands?
-Dim Arap is 35, unemployed and he's a joke teller. He's been a musician since 1995.
Giannakis Dimi is 40, unemployed and he's got serious life anxieties. He's been a musician since 1988.
Dimitris D.E is 35, a chef and he thinks he's deaf (his amp's volume is never high enough). He's been a musician since 1997.
Vanx P. is 41, also unemployed and he's a drummer. He's been a musician since 1988.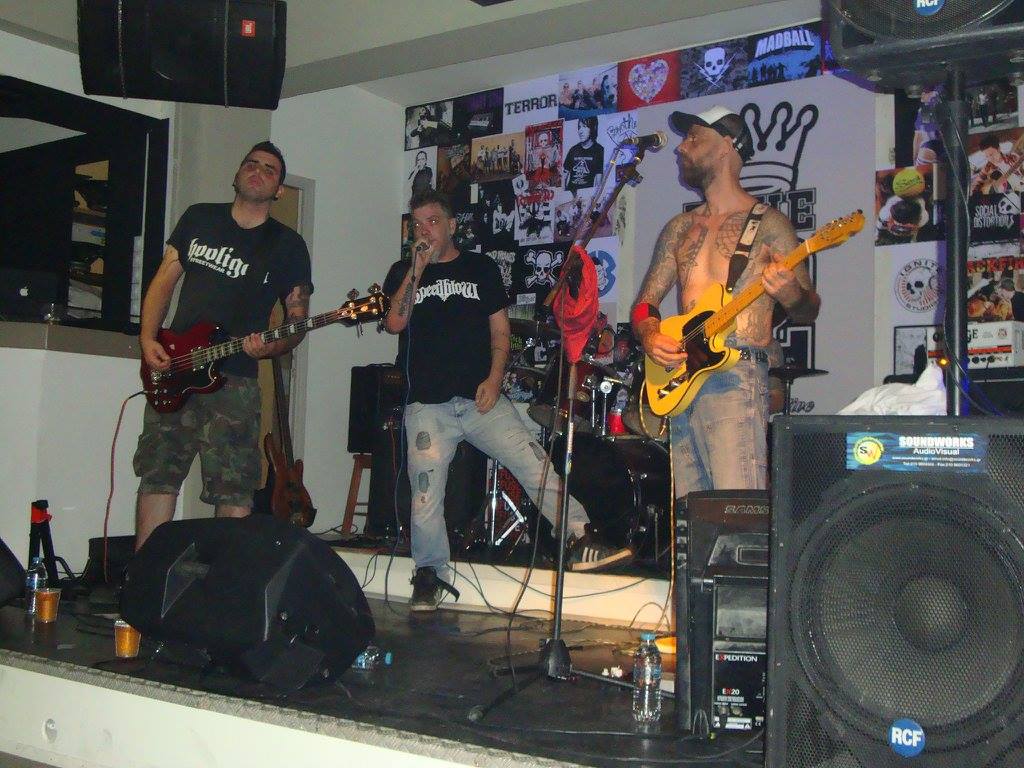 I can hear much different influences in your music especially on both emo and some hardcore and some indie? Am I right? Favorites from the past?
-There are definitely influences from these styles. Some of our favorites include bands like Deftones, AFI, Pearl Jam, The Cure, Faith no more, etc.<![if !supportLineBreakNewLine]>
<![endif]>
Bent by Sorrow are you satisfied with the name? How did it came up? What does it mean? Which is the best bandname you know?
-We sure are satisfied with our name. "Bent" essentially comes from the slow tempo that the band usually uses (we're not famous anyway for our fast beats!), and "sorrow" came up from the more melancholic riffs that were first played on the guitar, though always through an exaggeration. It could also mean different things to different people based on their everyday lives.
The best bandname: Bent by Sorrow
What´s the best thing with playing live?
-The adrenaline rush and the joy of communication with the people.
And where is best to play? And the worst place?
-There are no bad places. We like playing wherever the bros and sisters are. Music is our weapon.
How is to play this sort of music in Greece right now? Which types of bands do you have concerts together with?
-We think that not many people really "get" our music but more and more are getting in our vessel. We're only two years old anyway and so far things are going well. We mostly play with punk-rock and stoner bands, styles that are much more popular here.
How would you describe your music in three words?
-Street Dark 'n' Roll
What does punk mean to you, is it only a word or is it a lifestyle?
-It's not either one, punk is a way of living.
How do you see on downloading, mp3 and that stuff?
-It's a time of changes and we need to adjust. We don't have a problem with downloading music since we mostly care about playing live.
How is it to live in Greece now? Politically?
-In Greece today we're living the rebirth of "new objectivity", the rise of a new era. Politically speaking, capitalism has reached the end of it's circle.
Is there any good bands from Greece now? Is the punkscene/hardcorescene big? How is it in your hometown?
-There are many upcoming good bands who are very active abroad and some old ones that have standed the test of time. The punk/hardcore scene is on it's peak. There's a huge interest and many events are being held in most Greek towns.
What do you know about Sweden?
-Really long nights, death metal, black metal, meatballs, beautiful girls, good social care.
Have you heard any good bands from Sweden?
-The Haunted!!!
Your lyrics, who does them and what influences you? Never in Greek or?
-Most of the lyrics have been written by Giannakis Dimi. Some tracks were written by the different singers. Our influences come from everyday life and politics. Our last songs are inspired from Lovecraft's horror stories. In general we also write about anything that sends negative vibes in our lives. We only sing in English because we want to be understood by as many people as possible.
Is there any subject that you never will write anything about??
-Tennis (hahaha).
Politic and music, does it goes hand in hand? Which is your most political song?
-Politcs and music don't necessarily go hand in hand, but music has definitely played a role throughout history. Our most political song is probably "Music is our Weapon".
Best political band/artist?
-The Clash
Do you think that music(lyrics and so on) can change anyones life, I mean people who listens to music?
-Of course it can. It can give people the power to make their dreams come true.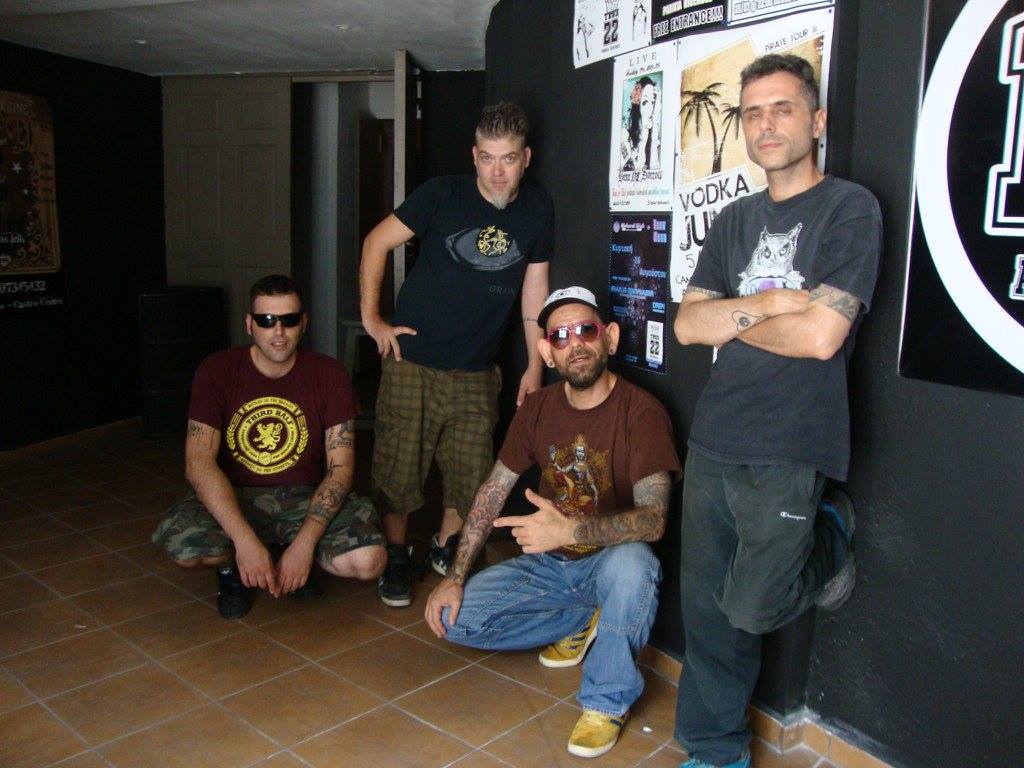 Your cover on your CD looks really nice, is it important to have a record cover which shows people which type of music you play? Your favorite recordcover? Who does your covers
-Not necessarily, we think that most of the times a cover reflects the themes of the record and sometimes the mental state of the artists. In our case the cover of our EP shows the "change of route" that we took from punk forms to newer rock forms. It was made by Zak. A
One of our favorite covers is from The Sound's "From the lion's mouth".
Is it important to get out physical records of your stuff? Why or why not? ?
-It's important because a physical record is something that can last for ever. It's like the labor of a band.
Please tell me a funny thing which have happened during your career and under some gig?
-Giannakis Dimi: Once, I was playing in a big event in Athens with Abrasive Wheels as headliners, and some guy was found pissing on stage behind my drummer.
How does your audience look like? Which people do you miss on your concerts? Which is the biggest band you ever have played together with?
<![if !supportLineBreakNewLine]>
<![endif]>
Our audience comes mostly from the punk-rock scene. We would like our music to be heard from everyone with no exceptions.
Please rank your five favoriterecords, five favoriteconcerts and five most important things in life?
-Black Sabbath – Black Sabbath
Deftones – White Pony
Faith No More – Angel Dust
Nirvana – Nevermind
U2 – The Unforgettable Fire
Faith No More, Machine Head, The Cure, Rancid, Cypress Hill
Tranquillity, strength, health, art, inspiration.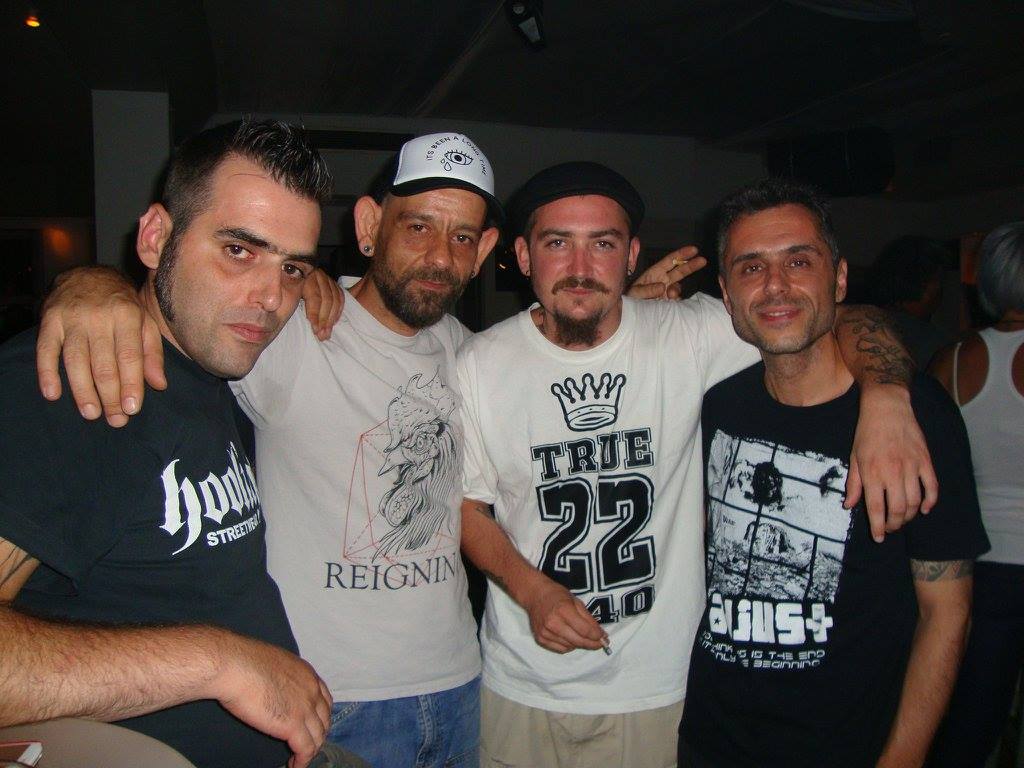 Is it boring with interviews? Is it much interviews??
-Interviews are not boring and there is a reason for giving them. It's a way for a band to bring in public their news and their general way of thinking. There aren't many interviews, we only give them when we have something to say.
If you could choose five bands from the past and the history and nowadays and both dead and living bands to have a concert together with your band. Which five have you been chosed?
-Pearl Jam, The Clash, Nirvana, Radiohead, Black Sabbath.
Is music a good way to get out frustration and become a nice person outside the music??
-It can be but it really depends on the person and if he's open and willing to take something from music!!!
Which is the most odd question you ever have got in an interview?
-"Please tell me a little about every member in the group right now, age, family, work, interests and something bad about everyone".
Which is the question you want to have but you never get. Please ask it and answer it?
-Question: What is the level of your dedication to the band, and are you going to expand your efforts beyond your country's borders?
Answer: The current line-up is more dedicated than ever, we love what we do and we'll do everything in our power in order to perform in live shows beyond the borders. The feedback from our fans and the press will definitely play a crucial role to this. It all depends on how much our music "touches" them.
As long as we exist, "Bent by Sorrow" will also exist.
Futureplans for the band?
-The band's plans include the recording of new tracks and more live shows in and out of the borders.
For yourself?
-Keep playing music and sliding over it's splendor.
Wisdomword?
-Hope.
Something to add?
-Thanks a lot for the interview and we hope one day soon to come over there and play for you.