Belta 53 is a really interesting group that makes me think of early Swedish punk but still with a modern touch. The group was so friendly and answered a lot of questions from me in October 2019
A little history of the group?
- It started in Haurida outside Jönköping in 2012. Jojo had a blog that Jonathan followed and when she wrote that she was missing playing in bands he was quick to respond. They decided to try it together and managed to persuade Anders to join as a drummer until they found someone else. We never had any idea of ​​genre but we just played. In the beginning, we rehearsed maybe 1-2 times a year. But in 2014 when we applied for Livekarusellenl, things got a little tighter between rehearsals. It has taken a while to really find our stuff. People started calling it punk and we decided to call the music punkrock. Many discussions have taken place, but now we know a little more what we want as a band and in what direction we want to move on in. Anna joined the band at the tambourine and vocals in the spring 2019 and it was clearly a lift.
Tell us a little about each member, age, job, family, band before and band on the side?
-Jojo: I have two children. Works as a music and leisure teacher. Plays guitar and sings in Hoppstylta. Has been in several bands and projects in the past, including KOnstruktivt Illamående.
Jonathan: Works with media, has played in a lot of bands and constellations in a whole lot of years
Anna: Lives with cat and topgether with someone. Works as a hotel receptionist. Belta 53 is the only band.
Anders: Has both a job and a family. Also plays in Spegelmannen.
I can hear much older Swedish punk like Pink Champagne, Dom Fåglarna etc, I hear right? Was it better back in time?
- Anders: If in the past is the 90s, yes it was.
Jonathan: I don't think it was better in the past. It was played and released just as much crap as it is today. We have never tried to sound like any particular group or style, and I think it is important to continue that way. We are so different and have so many different influences, and the most exciting thing is if you mix everything up and see what the mix will be as a result!
Jojo: One thing I think about is that in the past it was more common for the songs on a record with the same band to sound very different from each other. That's a thing I think is good. Otherwise, I do not know. Society is progressing in development in some respects while it is declining in others.
Belta 53, are you satisfied with the name? If not the best band name had been taken, which name would you have chosen? I mean which is the best band name?
-Yes, we're happy.
Jonathan: Although a name is still just a name. It is the music that counts.
Anna: Not everyone who is named after a cow !! There are many good band names.
Jojo: Hoppstylta is otherwise my favorite band name.
What's the best thing about playing live?
-Jonathan: Everything! The audience! The feedback! The nerve! The feeling of throwing yourself out of anything can happen! To give "everything" to the people who come there, evn if they are 5 or 500!
Anna: And you can see the reactions right away.
Anders: To see the audience jump, dance and sing along in the songs.
Jojo: That someone has chosen to come to listen to us and also stay there. The feeling when people sing along to lyrics I've written is indescribable.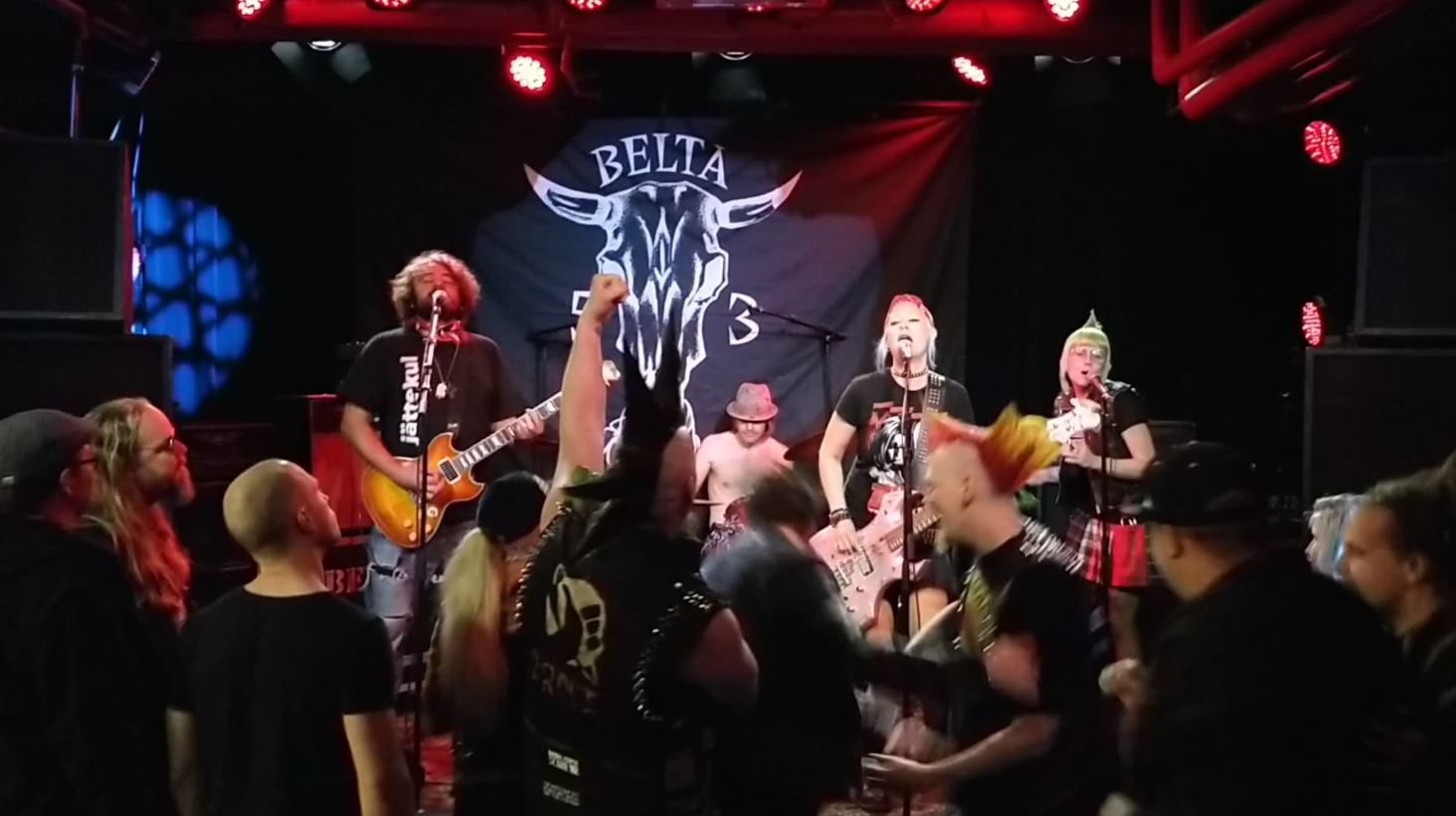 Where is the best to play, where is the worst?
-Jonathan: It's always best to play where people listen and like what we do. It can be quite different from time to time in one city.
Anders: Best is a decent little scene indoors. Worst of all a big outdoor scene with lots of room for the audience so even though it is 100 people it looks empty.
Jojo: Yeah, all the places where the audience comes close are good. And where it is allowed for little unknown little half-leash bands to play. I love teenage punk bands that do their first gigs and where the mood is that everyone help each other.
What is it like to play this kind of punk in Sweden today ?
-Anna: Just fine! As long as people live, this music will be created and someone will always recognize themselves.
Jonathan: And incredibly important in the time we are living in right now. I feel extremely proud every time I get to be on stage and sing lyrics like "Everyone must have faith and think! We have the right to live and exist! "
Jojo: Then it's not for someone who wants to make money. But you can find really nice little places with fire spirits that pull together gigs, fix good food and a place to sleep.
How would you describe your music in three words ??
-Attitude, passion, energy
What does punk mean to you, is it just a word or is it a lifestyle?
-Anna: For me, it's more of a lifestyle than just a word. I am who I am and do not intend to be someone I am not, and in between comes the punk.
Jojo: Lifestyle for me too, ever since high school. Initially it was just the style of music but it expanded to become a place where I can be myself. One way to show the outside that I am different. To stand out but still get to belong to a group. To stand up for the weak and dare to do my thing. DIY etc. Then I tried to be normal for quite a few years but it did not work very well.
Jonathan: Punk is a way of approach, not a style of clothing or even a certain kind of music. Punk is about going your own way and exploring it, even if it doesn't follow the template.
Anders: Yeah, I think about the same as the rest of the band.
Which is the group/album/ song that got you into the punk?
-Jojo: My uncle told me about The Clash. He had heard them at Roskilde and thought it was something for me. That's probably how it started. On their pink carpet, in front of the stereo with headphones on the family party.
Anna: At first Ebba Grön, but then Attentat that did the salvation (old Attentat not new).
Anders: I've always liked Green Day
Jonathan: I grew up when punk first came and was influenced more by a way to be and attitudes than necessarily by that or that artist. Then I have a lot of different bands that I like.
How do you see on downloads, mp3s and the like?
-Anna: Have got my music there myself through sometime so who am I to judge.
Jojo: I think it's good for music to be more easily accessible
Jonathan: It's just like when we were recorded each other's LPs on the cassette in the past. It is a way to discover new music. If you like it enough, you buy it sooner or later or go to a gig. So it was for me and my friends at that time.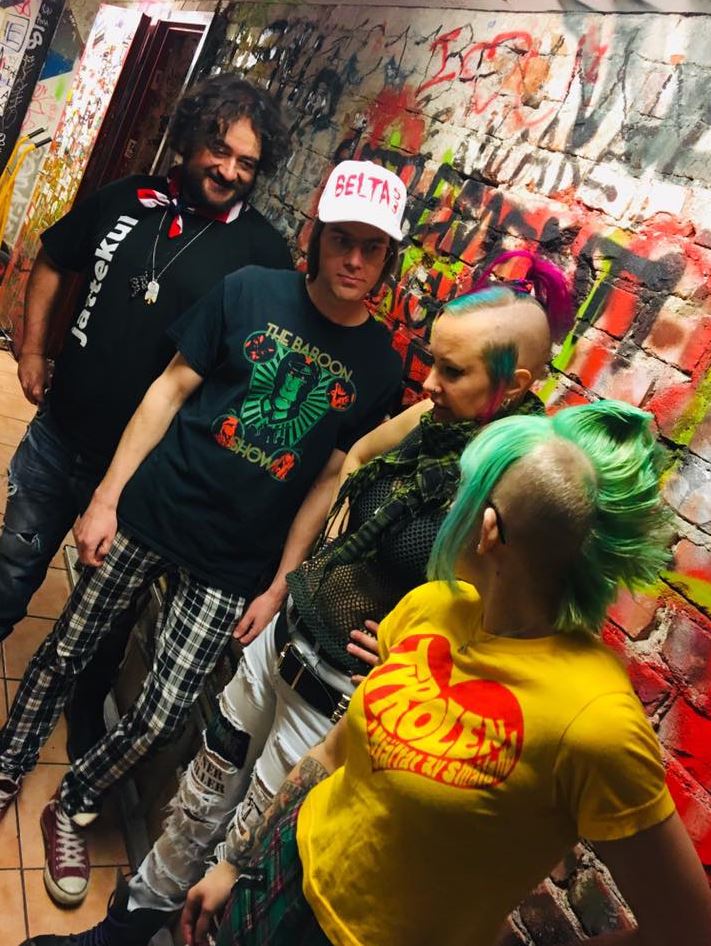 How do you think about living in Sweden today, politically? SD gets more and more votes?
-Anna: Some moments creepy, others absolutely wonderful. But SD is poop.
Anders: Sad. People vote for something that is bad for them and almost all they know. Totally incomprehensible.
Jonathan: For me who is both an immigrant and looks like this, it is incredibly nasty. Going out on the town and knowing that every fifth person you meet votes in a party that would rather throw one out of the country is pretty disappointing. The tone has become completely venerable, social media is an open stinking sewer where the human stink unit's most stinking carcass floats to the surface. In addition, a vast, burgeoning ignorance spreads, along with prejudice, relativization and "alternative facts". We have never had so much knowledge available, at any time, in the whole history of humanity, and yet it feels like people are becoming dumber and more uneducated than ever. It is in such situations that it feels more important than ever to play with Belta 53 and go into counter-attack with music.
Are there any good bands in Sweden today? In your hometown?
-Anna: A lot of bands that have Jönköping as home. Punk? Some, including Cervix and Skrammel
Jojo: And quite close as in Tranås there we record our next album is Rövsvett and in Skövde we have Körsbärsfettera. Otherwise, my favorites right now are Allvaret, Arre! Arre!, Slöa Knivar, Giftigt Avfall, Trubbel and Gatans Lag.
Jonathan: Köttgrottorna and Dead Pollys are two that I can pull off the hat on a standing foot.
Do you play anything outside Sweden?
-We have played at Huset KBH in Copenhagen. But it would be fun to get out and play more.
Other good bands from abroad?
-Jojo: I want to tell you about Jigsaw Youth. Three young people from NYC USA mixing punk and grunge. Real fat. Then Honningbarna from Norway are fine
Jonathan: Ampex, TDK, BASF LGR-50. But on a roll, not cassette tape, etc.
Your lyrics, what influences you? Never in a language other than Swedish?
-Jojo: I only write in Swedish as I find it difficult to get well-written texts in English. The texts are important to me both when I write myself and listen to others. It somehow becomes more personal and more approachable in Swedish. Other lyricwriters I am inspired by are Joakim Thåström, Mart Hällgren and Veronica Maggio. The topics I write about are things I am passionate about right now or have strong feelings for me. It can be politics, love or really anything.
Is there anything you will never write about? Or is there nothing which is sacred?
-Anna: In my opinion, nothing is sacred. But I'm not alone in the band so ...
Jonathan: The most important thing is that everyone in the band can handle the lyrics to 100%. Then it will be good and will come from within.
Jojo: We will never kick down. The boots we hand out are dedicated to those in power, bullies and those with privileges.
Tell us a bit about the songs Flexitarianer and En kväll i augusti?
-In the song Flexitarian(Flexitarianer) we follow a pig from birth to slaughter. Everyone in Belta 53 is not a vegetarian and we are not looking to judge anyone. However, we want to raise the idea that every time you eat meat, it is an animal that has been killed. We simply want to give the pig a voice.
One evening in August(En kväll i augusti) was written after a horrific incident in Huskvarna in the fall of 2018. A man died after being beaten by children and teenagers. With the song we want to honor his memory and at the same time remind us that we must never be silent. We must stand up for the equal value of all people. We need to talk about it but also show it in our way to act. We must never let hate take over.
Politics and music, does it always belong together ?
- Anders: It doesn't have to be, but I think it will be more interesting.
Jonathan: It's like asking about love and music always comes together.
Anna: On the other hand, it becomes easy so you can probably understand where you stand through your texts.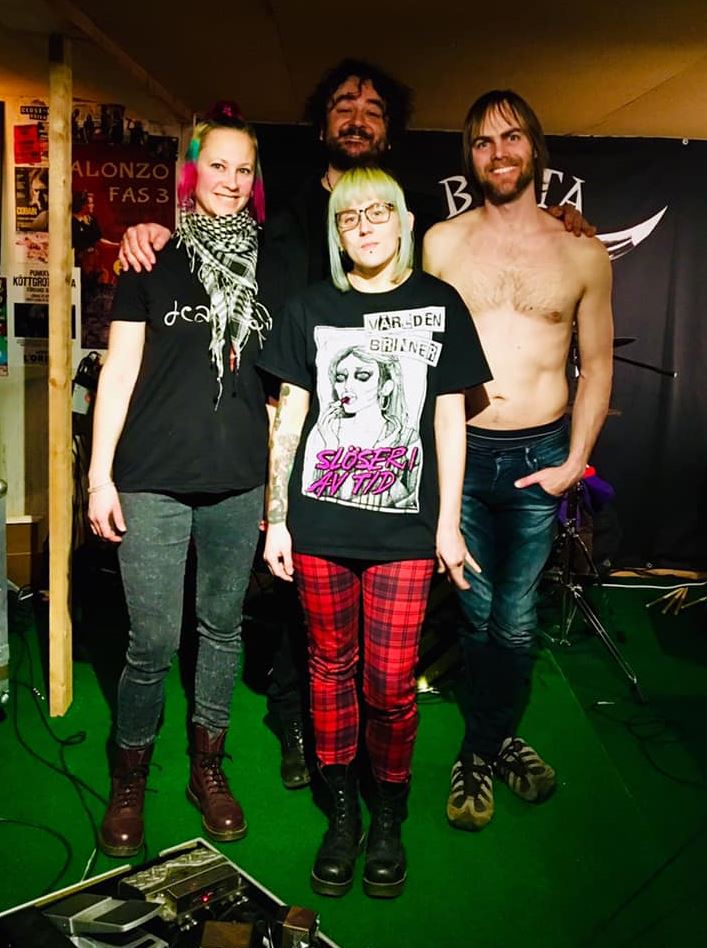 Best political band / artist?
-Anna: Dead Kennedy's Jello Biafra hahaha now that he's the only one I know who actually almost got anywhere in politics.
Jojo: The Baboon Show. Then I grew up with Björn Afzelius and Mikael Wiehe.
Jonathan: Belta 53
Do you think music can change someone's life, then I mean lyrics etc?
-Anders: Well, it can affect a lot.
Anna: Well, wouldn't have been who I am today if not the music have been there.
Jonathan: Absolutely! It has done that for me.
Jojo: The text in DLK's Troll och häxor made me catch the eye of racism that was normalizing even when I was in high school. DLK was tough and I didn't want to be the one who believed in trolls and witches.
Your cover is really cool on your CD, who did it. Is it important to have a cover that you understand what kind of music you are playing? Which is your favorite cover of all time?
-Anna: I ... With the help of my partner. Favorite Cover? Wow a lot.
Jojo: For me, it's important that the cover is appealing, feels fresh and matches the contents of the disc. My favorite cover right now is probably this. Otherwise it's Pride And Prejudice with Beyond Pink.
Jonathan: Check out the blog "katastrofala omslag", it's a good place to know how NOT to do ...
Is it important to get out physical discs? Vinyl or CD or both and? Is there any good record store in your area? The latest ep are you just releasing digitally or?
-Anna: South End Records is probably the only record store we have in town, just moved to a fine local!
Jojo: Om du faller is only released on digital platforms.
Anders: It is a bit of fun with physical discs but if there is no demand, it is just unnecessary to print up a lot of discs.
Jonathan: Releasing digitally is becoming more environmentally friendly.
Please tell us something really fun that happened during your career on stage or behind the scenes etc?
-Anna: When we were support to The Vibrators, the singer (Nigel Bennett), who was sitting and working on the computer while we were playing, took off his headphones and stood up to listen to us. And so he said "This is a good band" even though he doesn't understand a word of Swedish.
Jonathan: We've played twice on the radio, on different radio channels - and both times Jojo damaged a string on the bass. Which she never does otherwise.
Anders: More tragic, maybe, when I threw a t-shirt in the crowd and nobody wanted it. Got to pick it up from a water pool after the gig.
Jojo: I think I say or do embarrassing things that others have fun with about every gig. Fortunately, I have no sense of being ashamed.
How does your audience look like? What type of people? Do you miss any types of people?
-Anna: Think we have all kinds of people, everything from punks to non punks.
Jojo: After all, we are not that hard and we are a bit different within the band. So we might attract some different types of people.
Jonathan: We play for those who are there, if only the audio engineer. Everyone is welcome! If you focus on those who are not there, you insult those who have made it to get there. They have the right to get maximum focus from us.
Please rank five favorite records, five favorite concerts?
-Jojo: Records: Allvaret – Skam och skuld, Beyond Pink – Pride and prejudice, Matriarkatet – Antiklimax, The Baboon Show - People´s Republic of The Baboon Show Formerly Known as Sweden, Trubbel - Snestegsvalsen (but I love evrything with Trubbel). Concerts: Thåström – Huskvarna Folkets Park 2002, Trubbel/ Tiger Bell - Pinnen i Nässjö 2014, KSMB – The reunion on Bråvalla 2015, Honningbarna – West Coast Riot 2016, Arre! Arre!/ Vånna Inget – Punk i Parken in Malmö 2016
Jonathan: Records: Dag Vag: Scenbuddism, Peter Gabriel: Us, Kebnekajse: III, Cream: Goodbye, The Jam: Live Jam. Concerts: Ebba Grön/Dag Vag, Huskvarna Folkets park, 1980, Peps Persson, Jönköping, 1984, Bruce Springsteen, Ullevi, 1985, Abraham Laboriel, Missionskyrkan Bankeryd, 1994, Peter Gabriel, Globen, 2014
Anna: Write what I feel right now. Skivor: 1. Pink champagne - Vackra pojke. 2. Xray-spex peel session and more 3. Everything with Ramones 4. My compilation CD with Troublemakers 5. Mögel Mögel
Anders: Broder Daniel - Cruel town, Green Day - American Idiot
A really good concert was System of a Down on Hultsfredsfestivalen 2005
Is it boring with interviews?
-Anna: No, but som many questions, feeling the pressure haha.
Jonathan: …snark… zzzzzz… what… what did you say?
If you could played together with five bands, both dead and alive bands and have a concert with your band, which five have you been chosen?
-Anna: Ramones have been awesome!
Jojo: Bikini Kill, Pussy Riot, The Runaways, The Baboon Show, Beyond Pink.
Jonathan: Dag Vag line-up 1979-81, The Jam, Dead Pollys, M A Numminen, Spike Jones and his City Slickers
Anders: Broder Daniel, Turbonegro (old), Ganglion, Sibirian Meat Grinder, Hellacopters
Is music a good way to get out frustration and become a kinder person? Are you angrier today than you were as a young punk?
-Jojo: I'm angry in a different way today. And I'm probably a little more nuanced in my anger. Then I didn't really have the knowledge to argue for all the injustices I experienced. For example, the guys took precedence over the "tough" instruments and in addition all possible other benefits. I tried to distance myself from girls for a while because I was so tired of being placed in that compartment. Now I know better and value the sisterhood in a completely different way. And music is clearly a more constructive way of channeling anger than kicking things apart.
Anders: I'm probably more nuanced today, but possibly angrier than before.
Anna: Think music is a great way to get out of all the emotions, not just frustration. And I'm probably as angry today as I was when it occurred to me.
Jonathan: The day I stop being angry at the conditions in the world, it's probably out with me.
What is the strangest question you received in an interview?
-This
What is the question you never get, ask it and answer it?
-Jojo: How many pedals does Jonathan have in his bag?
Jonathan: Right now 7 pcs. But that may change.
Future plans for the band?
-Play more, continue to develop, and to continue to be against racism and all forms of discrimination.
For yourself?
-Jonathan: Same answer as the question above.
Jojo: Right now I'm just looking forward to a free weekend and getting to sleep haha.
Anna: Stress less, say no to overtime at work.
Anders: I want to be a good fellow and develop as a musician and lyricwriter.
Words of wisdom?
-Jonathan: Anyone who doesn't learn from history is doomed to repeat its mistakes. Everything you want people to do to you, do that to them. The truth should set you free.
Anders: Behave yourself! It might pay off.
Jojo: Always be true to yourself.
Anna: Life is a bitch and then you die.
Something to add?
-Thank you for interviewing us. Feel free to come to our gigs and listen to us online. Check out our website, follow us on YouTube, Spotify, Deezer, Bandcamp, Facebook, whatever. Every single person who wants to join this journey is important to us <3