ISIS QUEEN FROM BARB WIRE DOLLS WAS SO KIND TO BE FAST AND ANSWERED MY QUESTIONS ABOUT THIS MARVELLOUS PUNK GROUP AND THIS WAS DONE IN SEPTEMBER 2014.
Please tell me a little bit history of the group, the Greek roots and other things?
-We formed at an artist commune on the island of Crete, Greece when Pyn, our guitarist, introduced me to punk music and I asked him to start a band. We got discovered by a famous DJ in Los Angeles named Rodney Bingenheimer who started playing our demo CD non stop on the radio station there called KROQ. He invited us to play in Hollywood and we sold everything we could and got there. Now its been over 600 shows across 18 countries and that's the power of one person making a difference.
Please tell me a little about every member in the group right now, age, family, work, interests and something bad about everyone?
-We are four people, two girls and two guys. We live like in a commune still and we all want to do the same thing, play music and surf when possible. Something bad? I think everything we do is considered "bad" by society!
Steve Albini have produced your album from 2102, how come you get a so well established producer?
-Steve is the "antiproducer". He makes real rock and roll records by capturing the natural sound of a band in the studio. We just played our songs like we were at a show and he did his magic with the microphones and mixing board. We did it all live and in one take, including my vocals, and it turned out magical. Pyn knew Steve from before because he recorded many albums in the past with him when he was in other bands. Steve is a real artist and his legacy will live on forever.
I can imagine that you´re fucking good live, is it so?
-It is so. It's as good as a good fuck live.
What´s the best thing with playing live?
-It's where I can be totally free and connect to the music loud and hard and with the audience it all becomes one big energy ball that explodes in synchronicity and in harmony. It's pure bliss and ecstasy.
And where is it best to play?
-I don't care where I play live, it could be in the UK or in some back door squat in New York, it's all the same. Every one of our shows becomes a communion and everyone releases their negative energy as they fill up on life. The live stage is my alter, my religion of sorts.
I compare you a little to that you´re a continuing on an early Nirvana with Courtney Love on vocals… other bands you have being compared with?
-Everything changes and one moment you might see that comparison and then in another moment you might hear something else. I don't try to do anything like anyone else, but sometimes the influence comes out naturally for me. I am more inspired by other bands though but the listener has to make up something to feel safe at first.
How would you describe your music in three words?
-Raw, powerful, life-changing.
What does punk mean to you, is it only a word or is it a lifestyle?
-To me it's all about full on rebellion against the normalness of society and the rules and morales that are pushed on the people, from religion to status. Punk is a life style and it's always going to be there fighting for change and for freedom.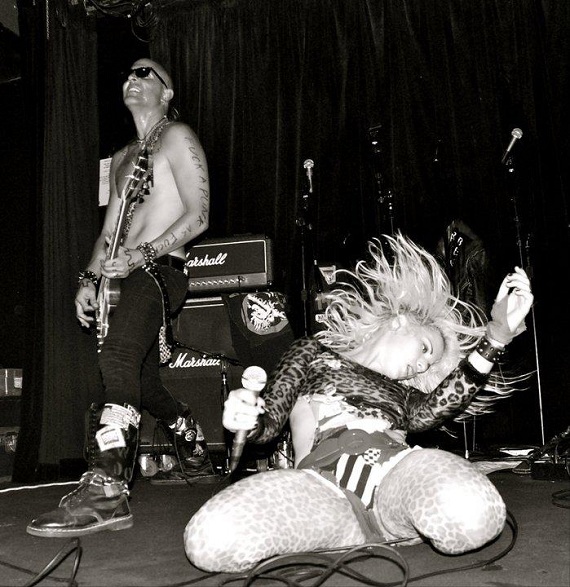 Are you living in USA now or what?
-Our base is in Venice Beach in LA but we have also taken time out to live at the artist commune in
Crete to write and record some songs before we tour again.
How is it to live there?
-I can't put it in words how amazing living in Venice and in Crete is. It's simply magical.
Are there any good bands from Greece, USA , the world right now?
-We have played with probably over 2000 bands since we started and I can only think of a few on my one hand that are offering something new to rock and roll. But I can tell you there are more bands out there from the early days still playing the reunion circuit with non-original members cashing in on their past name and this is embarrassing to me. Where is the new blood? The punk scene needs a major transfusion and only with new blood can it be saved.
What do you know about Sweden?
-Not much other than your country is about as big as Greece, population wise, and yet you have produced so many bands that are important to the history of music. We have been offered many times to come there and I would personally like to come play there because every Swedish person I have met has been absolutely fantastic.
Have you heard any good bands from Sweden?
-I have heard of The Hives, International Noise Conspiracy and Hellacopters, but don't know much more about them. I heard they are big and that's all.
Your lyrics, who does them and what influences you?
-Pyn is the magic wordsman. He channels that universal energy and songs just come out of him like a mad river that needs to flow down into the vast ocean. He deserves a lot of credit when it comes to our songs. He gets it from us for sure. When Dennis the guitarist of Flogging Molly was staying at Pyn's house one night, he asked Pyn to play him some of his songs. Dennis listened until the morning as Pyn played a few hundred of them while they drank red wine. At dawn, Dennis called his then girlfriend and Pyn played a song he wrote called "She's The One" for her on the phone and then Dennis took the phone and asked his girlfriend to marry him. She said yes thankfully. Dennis called Pyn the greatest living songwriter. Pretty fucking cool to have him writing the songs for us. He's also a master at playing the guitar like a zen punk.
Do you do any covers when you play live, which(if you do) ?
-Never played one and we don't plan on playing any.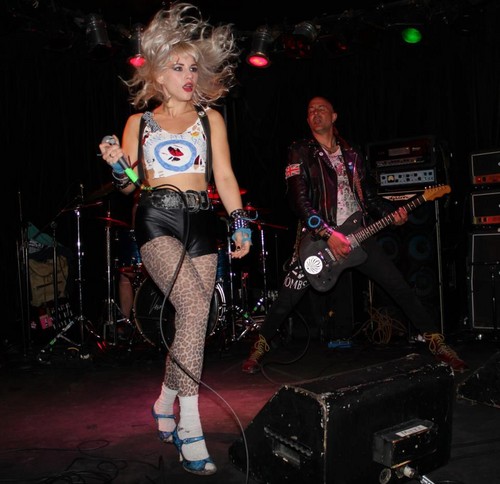 Politics and musics, does it goes hand in hand?
-Music is the soundtrack for your life, right? Then if you are getting fucked by your government then your soundtrack will reflect that too. If you don't know or care that your elected politicians are fucking you, then you would probably not be listening to anything punk I guess. Other music is for escaping, which can be useful at times. And then there's the classic rock gods like Zeppelin and Sabbath and AC/DC that make you small but amazed at what magic exists in music.
Best political band/artist?
-John Lennon. There are lots of political bands like Crass, and even the Clash or Sex Pistols, but Lennon made stands against the system and died for it. He is a true martyr to the cause. I fully respect the bands out there that speak up against the establishment but if you are going to do that, then reaching the right audience makes a big difference. Preaching to the choir does not.
Do you think that music(lyrics and so on) and change anyones life)I mean people who listens to music)?
-Of course. I see the young people of today who listen only to computerized music and they have become mental slaves to the digital age and status of society. One of our new songs called "Take Me Home" is just about that. Music saved me from my horrible existence, so I know it can for others too.
Have you done anything more than Slit? If you have how can I get it?
-We have recorded a few times, some songs came out on a few limited edition CD's and one live album, but we sold out and stopped selling them now. "Slit" is our official debut album because it represents us the way we were at the time, playing nonstop, and fighting for our lives and others to survive in this world. "Slit" is all you need to wake you up and to inspire you to change your life.
No new CD/LP on it´s way?
-In early 2015 we should have our new album "Rhythm Method" that we will be recording in November in Texas at a studio called Sonic Ranch out and also we will be recording a double live album in October in Berlin. The new year is looking exciting.
Please tell me a funny thing which have happened during your career and under some gig?
-I caused a riot in Texas when I put a fans face in between my legs during a song and there happened to be a policeman that just walked into the show and he immediately arrested the boy because he thought he was grabbing me. I ran out to get the policeman to let him go and to let him back in the show and the whole crowd followed and started rioting in the streets. I got arrested but finally the policeman let me go back on stage to finish the show and the boy was released after it was over. That was very surreal knowing the power of a crowd against a form of authority. That's not really funny I guess, but if you were there, you would have laughed at the insanity of what happened. I sure did. And the show was epic thanks to the mini riot and arrest.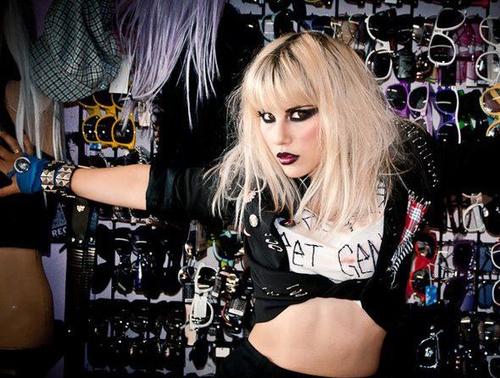 How does your audience look like? Which people do you miss on your concerts?
-Our audience changes from country to country. One good thing is that we have a lot of boys and girls at our shows, but not many under 20. Most of our crowd listens to early punk rock and metal and I do wish there were more 13-20 year old kids coming to experience a real live rock and roll band. We have a great audience, that is for sure. Everyone gets along and dances a lot in a cool, '77 style and there is a lot of good vibes after the show.
Future plans for the band?
-Come to Sweden. Eat some meatballs. Rock you harder than before. Forget who ABBA was.
For yourself?
-Keep finding ways to be inspired and to share that inspiration wherever and whenever I can.
Wisdomword?
-Share whatever you have, have principles, stick to your guns, and no compromises. Words from Pyn's father the night he met the band.
Something to add?
-In unity there is power, in power there is change, and in change there is freedom.
.