Niclas in The Baboon Show took some time and answered my questions in this christmas times(2005), an interesting group which is mixing freshly between Pixies, Patti Smith, punk and pop
Tell me a little bit of history of the group?
-The Baboon Show was started in october 203 and that over some beers. An selfreleased 6-track ep with the name "This is it" was recorded in the beginning of 2004. We did 20-25 gigs from Luleå in the north to Visby in the south in lesser than a year after that "This is it" was released. When we didn´t played live we wrote songs which in the end came on our debutrecord which came on National in October 2005.
Please tell me a little about every member, age, work, family and something bad about every one?
-Cecilia Boström - vocals, 24 years, she adore Morrissey/Smiths and she make clothes so the hands is bleeding. She´s used to be called Sundbybergs Nina Hagen. She hates sports, lost her voice, drinks Fernet, falls with bicycles and drop sewing machines.
Helen Lindberg - bass, 24 years, decorator, likes oldmanrock, partys with cakes and familydinners, is always sharp, must be a mediator and she take care of her drunk mates always when they have been fighting with someone or when they have lost some things.
Håkan Sörle - guitar, 30 years, Luleå Hockey-mad studioowner, he have small children and he´s a busdriver, have Bon Scott and Angus Youngs blood in his veins, ha have tattoos and he fell asleep in odd places.
And me, Niclas Svensson - drums, 30 years, works with records, and as Håkan I am Luleå Hockey faithful, I love cheese, is always positive, makes heavymetalshous on pizzarestaurants, I throw out bad jokes from myself and some oldmancomments..
Howcome that you sound as you do? Many different influences?
-We are all influenced by different music. Cecilia likes Blondie, Smiths and a lot of english indie, Helen likes oldmanrock´n´roll and british scamppop,
Håkan have listened to AC/DC since he was born, and I'm like everything from Dan Berglund and Oasis to Mayhem and Arsedestroyer. But we listen to many different things evryone of us.
How would you describe your music in three words?
-Good fucking punkrock!
I can imagine that you´re fucking good live, is that right?
-That´s the most important with The Baboon Show.We work hard with that it would be so good and energic as possible live. It often comes foreward people after the gigs and says that we´re really good on stage so I assume that we are that.
How does your audience look like,which type of people comes to your concerts?
-It´s a mixed audience. Everything from from young punks with pimples(on the places they can come in) and popfringes to rockers and crustpunks and alcoholised deathmetalfreaks.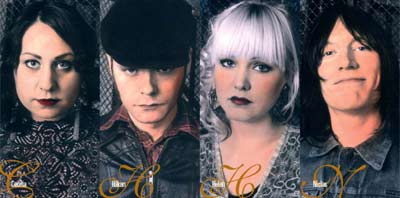 Punky is your music but how is your relationship to punk? Is it a lifestyle or is it only a music style?
-Everyone in The Baboon Show have listened/listens to punk. When you take politics and music the result often become punk. We´re political persons which started a band and started to play punk. So it´s both of them.
Is there any good punkbands, now and then?
-A lot of! Ramones is probably the best punkband ever. I and Cecilia was on a Bad religion concert some months ago. They are still fucking good live and they´re close to my heart. And theres´a lot of more which is good!
Is there any good bands in Sweden?
-There´s a lot of bands, and mostly in the crust and HC-scene. Otherwise I think that we and Randy is Swedens best punkbands., anyway live.
To play rockmusic in Sweden, is it so that you must be wellknown outside Sweden so it can be functional or is Sweden big enough?
-It´s seems to be different for different bands. It depends where you want to start, which record label you´re on, which contacts you have and so on. It can be a coincidence that a radio channel in Germany plays your song, which everyone starts to like and then the word is spreading. Then you begin in that end. Or you get a rumour about the group that you´re a good liveband and then you start here. It can be a little bit different.
Is there any good places to play for your music?
-Enough big rockclubs where it can be 200 persons is best for us. We want to have good contact with our fans.
The Baboon Show, from where comes the name?
-I thought that baboon was a funny word and then came Håkan up with the rest. Then It became Baboon Show. It can also show how our society is today and which people who have the power. Everything is a big baboonshow
Is it important with a name which sticks out?
-Not always, but it´s good with a name which suits the music you play.
Which is the best band?
-I saw a band with a name called Rövfitta(Asscunt) when they would play on a gig. Not so good, but really fun.
Is it many interviews, is it boring?
-We haven´t got so many interviews yet, so it´s not boring yet.
Which is the question you never get but you want to have, please ask it and answer it?
-Why? Because everyone want!
Please rank your five favouriterecords, five favouriteconcerts and five most important things in life?
-Records: Oasis "Definitely Maybe", Breach "It's me god", Mötley Crüe "Too fast
for love", Kiss "Dressed to kill", Skitsystem "Grå värld/Svarta tankar" (it varies but that´s the way it feels right now)
Concerts: Kiss in Globen -96, Slayer (allt imes), Oasis in Cirkus -02,
Ramones on Skellefteåfestival -95, Illbutts on Luciavakan on Hertsön in Luleå
-91.
Things: My girlfriend Lina, The Baboon Show, Luleå Hockey, Carmen och
Gubbängskiosk.
First, last and most expensive record in your collection?
-The first record I bought for myself was "Shout at the devil" with Mötley Crüe on LP.
The latest is Randy "Randy the band" and Satariel "Hydra". The most expensive must be Oasis "The masterplan", a b-sidecompilation on 10 vinyl box which only was released as a promo in Germany. I paid 1500:- Swedish krona for that.
The most embarrassing record in your collection?
-A vinylsingle with the swedish team in horsejumping, but it´s really fun anyway.
You don´t like long songs?
-Yeah but it doesn´t suit us and our music.
Which is the longest song that you appreciate?
-No idea. "You suffer" with Napalm Death maybe? He he!
Is it an advantage or disadvantage to have girls in the band?
-The advantage is that it´s smells really good in the tourbus and not only sweat from guys. He he!
Is it good to be on National Records? What do you like the other bands there?
-National is really good and simple to work with. They work really close to their bands and we have a good and almost daily contact with them. Alice in Videoland is the band which we have been most in contact with band we have played a lot of times together this autumn. They´re really nice persons.
To sing in english have been the only alternative for you or?
-Yeah, it felt naturally from the beginning.
Futureplans for the band?
-Release next record which will come in april, only seven months after "Don´t Don´t Don´t" was released"Don't Don't Don't" is released on LP in march by Kaj on Wasted Sounds. The next single "It's a sin" (no it´s not a Pet Shop Boys-
cover) from our debut comes in january. A really fun video is recorded to that song too. But most of all we wants to play live and we have good expectations or the festivalsummer 2006.
And for you?
-Change work and maybe take my drivers license sometimes.
Wisdomword?
-Act!
Something to add?
-Thanks for the interview. See The Baboon Show live when you get the chance. We have fun and that will infect all I promise.