Awkward Age comes from USA and have influences both from Mega City Four and Husker Du I think. Vic which sings and plays guitar is the one who have been answering my questions in june 2015.


Please tell me a little bit history of the group?
-We started about five years ago after most of us had taken a break from being in bands. We were kindred spirits in that we were a bit burnt out on the grind of being in a punk rock band trying to make it to the next level. Awkward Age was always just an escape, a place where we just play loud and have fun.

Please tell me a little about every member in the group right now, age, family, work, interests and something bad about everyone? Earlier bands?
-I am Vic and I am 30 years old. I sing and play guitar. Eric, the drummer, is 34 and Matt, the guitarist, is 33. I am studying to become a web developer and used to play in a band called The Knockdown. Eric is a teacher and used to play in The Holy Mountain and New Bruises. Matt works in a law office and used to play in No Truth Lies and New Bruises. <![if !supportLineBreakNewLine]>
<![endif]>
I can hear both Mega City Four and Husker Du? Am I right? Favorites from the past?
-I would say the bands we can all agree on liking are Superchunk, Samiam, and Jawbreaker. But my favorite bands are Jimmy Eat World, the Weakerthans, Hot Water Music, and countless others. Eric loves Braid, Lifetime, Gameface, Texas is the Reason, a lot of stuff that came out of the 90's. Matt is more into the Ramones, the Replacements, The Marked Men, bands like more of a punk edge to them.

Awkward Age are you satisfied with the name? How did it cameup?? Which is the best bandname you know?
-Awkward Age is sometimes a hard sell because of the name. People think that makes us awkward for some reason. It is actually a reference to Gameface, a band from the 90's that was on Revelation Records. The best band name I know is The Doors. For some reason to me, that name perfectly fits the music and the image of the band. Jawbreaker would a close second.

What´s the best thing with playing live?
-The feeling of empowerment it gives you. There you are on a stage with a microphone to amplify your voice and you are backed up with this incredibly loud, powerful sound to convey your message, even if your message is just about wanting to drink and lamenting about past relationships.

And where is best to play? And the worst place?
-My favorite place to play is the New World Brewery in Ybor City, FL. The sound is great, the people who work there are really nice, and the atmosphere is great, very Americana. My least favorite place to play was this basement in Tampa where they would let the dogs come downstairs while bands were playing. We were witnessing animal abuse.

How is to play this sort of music in USA right now?
-Punk rock is not as dangerous or underground as it used to be. It's basically dad music at this point. I still see a lot of younger bands forming, which makes me happy, but punk rock, at least to me, is a comfortable in the USA right now. For me, playing and taking part in punk rock culture is similar to going to church. It's a nice social scene with a very fundamental idea in the center.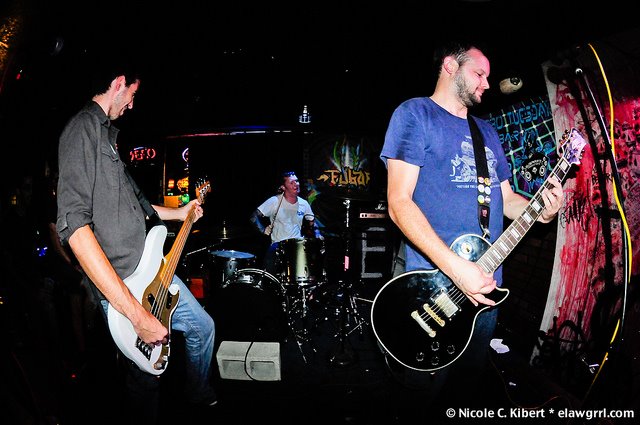 How would you describe your music in three words?
-Melodic, messy, fun

What does punk mean to you, is it only a word or is it a lifestyle?
-Punk to me is a social scene. It's a common ground where you can meet a complete stranger and start having an in depth conversation about a very specific culture. That's a big reason why I have been a part of the punk scene for 14 years now.

How do you see on downloading, mp3 and that stuff?
-For a band the size of Awkward Age, downloading is a huge help. We can sell our songs online, ask promoters to listen to us, share our songs on social media, and we don't have to worry about the financial end of being career musicians. For us, it's a great tool.
How is it to live in USA now? Politically?
-I really have no frame of reference because I have never lived anywhere else. I am also a white, straight male from a middle class family with a college education so I am never marginalized politically. I would like to see my county take a new proactive approach to writing new policy on reproductive rights and limiting the power police hold but at least the federal government is trying to make gay marriage legal everywhere and reestablish relations with Cuba. All good things.

Is there any good bands from USA now? Is the punkscene big? How is it in your hometown?
-Good punk bands in the USA: The Menzingers, Timeshares, Iron Chic, Beach Slang, You Blew It, Places to Hide, Banner Pilot, The Lawrence Arms, Bob Mould is still putting out records, Hot Water Music is still going, the list goes on…
The punk scene is big in certain area and small in others. Also, the scenes and sounds are regional. Northeast punk and hardcore(Lifetime, Kid Dynamite, The Bouncing Souls,) sounds a bit different than stuff from the southeast(Against Me, Hot Water Music) which sounds different from bands based in the Midwest(Alkaline Trio, Lawrence Arms, Banner Pilot).
Our hometown is great. There are no bands that are touring out of it nationally right now but we still find ways to consistently have great shows with decent turn outs.

What do you know about Sweden?
-I know I want to visit someday!

Have you heard any good bands from Sweden?
-Millencolin! Refused! Both those bands had a huge impact on me.
Your lyrics, who does them and what influences you?
-I (Vic) write them and I am always telling to a semi-autobiographical narrative, something that goes from point A to B and gives a simple but poignant story. <![if !supportLineBreakNewLine]>
<![endif]>
Is there any subject that you never will write anything about?
-I don't know if I like to say I would never write about something, but I would like to steer clear of using false praise or false contempt for the sake of manufacturing a feeling. I try to be as honest as possible.

Politic and music, does it goes hand in hand?
-If you say some something political with grace and integrity, then I am totally behind your band. But if your message seems contrived or worse, is promoting a brand of politics I am uncomfortable with, then I probably won't listen to the band.

Best political band/artist?
-Strike Anywhere. I saw them when I was 17 and it changed my life.
Do you think that music(lyrics and so on) can change anyones life, I mean people who listens to music?
-I know it changed mine. I had a tough time emotionally in high school and bands like Rancid, At The Drive In, Saves The Day, Bouncing Souls, and Jimmy Eat World saved me. They empowered me.

Your cover on your CD looks really nice, is it important to have a record cover which shows people which type of music you play? Your favorite recordcover?
-My favorite record cover is a tie between Through Being Cool by Saves The Day and Hello Bastards by Lifetime. TBC is really fun and tells a story in pictures of feeling out of place at a party. It's really well done and fits with the music really well. Hello Bastards is a great homage to the Blue Note Records album covers from the 1950's. Just really well done layout.<![if !supportLineBreakNewLine]>
<![endif]>
Is it important to get out physical records of your stuff? Why or why not? No record label?
-I can't get my head around not having physical copies of a record. At the time of writing this, we are gearing up to have our record, "We Could Be Anywhere", available on CD, Vinyl, and Tape. To me, that's really exciting because I can hold a physical copy and know that it exists because I was creative.

Please tell me a funny thing which have happened during your career and under some gig?
-Well, one time Matt's guitar fell and the headstock broke into a million pieces. He made me drink with him that night. We once played with a band that dressed up like Anime characters.
How does your audience look like? Which people do you miss on your concerts? Which is the biggest band you ever have played together with?
-Our audience is mainly men over the age of 21 with beards. They are usually drinking. The biggest band we have ever played with is the Riverboat Gamblers. They killed! Such a good live band.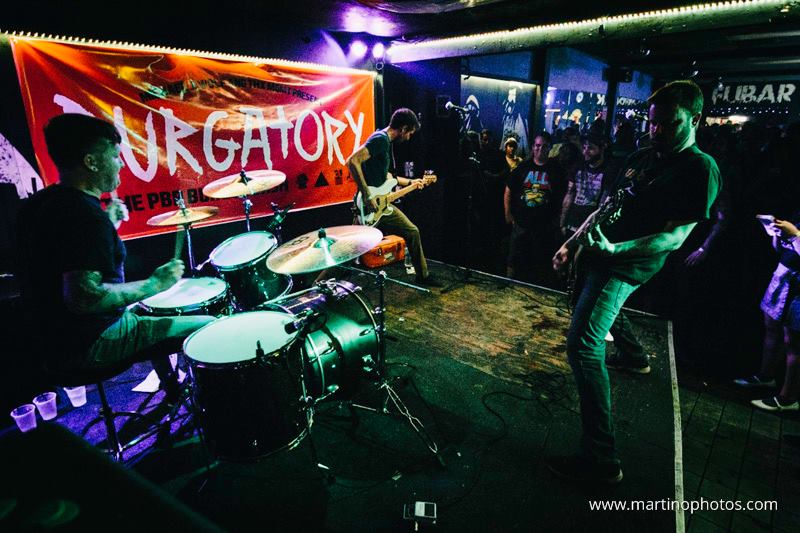 Please rank your five favoriterecords, five favoriteconcerts and five most important things in life?
-My favorite records are:
1) Jimmy Eat World – Clarity
2) At The Drive In – Relationship of Command
3) Counting Crows – August and Everything After
4) Paul Simon – Graceland
5) The Replacements – Tim
My favorite concerts:
1) Strike Anywhere in Rochester, NY -2002
2) Jimmy Eat World in Albany, NY – 2004
3) Eve 6 with Lit in Rochester, NY – 1998
4) AFI in Rochester, NY – 2003
5) Lemuria, Bridge and Tunnel, Potboiler in Oneonta, NY - 2007
Most important things in my life:
1) My family
2) My Health
3) My girlfriend
4) My friends
5) Making music
Is it boring with interviews? Is it much interviews??
-I don't answer many interviews so it is hard to tell.

If you could choose five bands from the past and the history and nowadays and both dead and living bands to have a concert together with your band. Which five have you been chosed?
-My glorious show with have Death Cab for Cutie, Jeff Buckley, Paul Simon, At The Drive In, and Jimmy Eat World. It would be in a cool, clean diy space.<![if !supportLineBreakNewLine]>
<![endif]>
Is music a good way to get out frustration and become a nice person outside the music??
-It is the best way to get out frustration. It's a shield.
Which is the most odd question you ever have got in an interview?
-I think I once had tell what is my favorite type of gum. Weird.

Which is the question you want to have but you never get. Please ask it and answer it?
-I don't really know!
Futureplans for the band?
-We are going to tour! Play Fest! Put out some new songs!<![if !supportLineBreakNewLine]>
<![endif]>
For yourself?
-Go back to school! Continue making music.

Wisdomword?
-My wisdom to anyone who wants to listen is to honestly believe in yourself. Empower yourself by following what you are passionate about and if you are going to do it, do it all the way.

Something to add?
-Thanks for the interview! I hope you come to the States at some point!
<![if !supportLineBreakNewLine]>
<![endif]>