You will go out on tour now, where do you go and how long and do you go with some other bands? -Yeah, we´re going out on tour tomorrow friday (2/7) with a strat in Chemnitz in germany. We´re going to do 7 gigs in Germany and one in Belgium. All in the band really looking foreward to meet both old an new people. Avoided first drummer comes along with us as a roadie and that helps much. We´re going to go by ourselves because that´s most more easy. Two years ago we was on the road together with a canadian band called Oversight through whole Eueope. It was fun but it wasn´t going round almost. Since then we have been travle for ourselves and will surely do that in the future also. We´re going to do 8 gigs in 10 days so it´s going to be tough, but that is hits you must take, anyway it´s going to be fun.

It seems like it´s going better for you outside Sweden than in Sweden?-Through the years we have never prior Sweden. It feels like if the climat in Sweden when we´re talking about punkrock is that, you´re big and always play or you´re in the middle which I would describe Avoided as and then it´s hard to get gigs. we have done some gigs in Sweden each year but the response have not been so good but do we get offers to do some more gigs we will really want to do it. The response in Europe have been better and most in Germany but also in Canada which we toured for three weeks in 2001. People are more openminded for new bands which it does it more easier för bands like is. We hope we come to Canada soon againbecause it was fucking fun and it was much audience on the gigs.


No interest from some labels in Sweden, Burning Heart should suit you now when NFAA "have passed away"?-Burning Heart? It have been good to us because they seem to have fucking good distro+and that they fix tours for the bands which makes it easier for the bands. The thing is that they seem to prior bands in pop and rockstyle nowadays which is makes it harder for our style now to get a contract. Ten years ago a lot of hardcore and punkbands from Sweden was signed by Burning Heart, but now it seems really dead on that front. However, i wouldn´t say too much, because I haven´t bought a record from they in some years now. we will send one record to them anyway and then we will see if they answers. Sure, we can "replace" No Fun At All if you want it. You´re not the first one who says so, peculiar. We hope Babs will read this!

Have you some dreamcompany you want to be on? -Dreamcompany?Not directly but Fat Wreck seems to be good, even if Epitaph and the label we talked about recently seems to be good. But if you´re goping to be realistic it doesn´t matter. Only the label have good distro and that the label can fix tours it´s surely be good.

You was on a polish label, how did that worked out? -The polish company seemd to be good in the beginning because Pawl(ex-singer) could talk polish. We others in the band hadn´t any contact with him. He paid the studio and the copies of the first record, the second record we paid the most. Nowadays we haven´t any contact with him and no contract are written. We aren´t angry on him f, he did what he should do. Right now we have sent away some records to different labels, especially in Germany and in Canada. We´re excited to see which answers we get...


Please tell me a little about every member, age, work, interests, family an dosmething bad about everyone? -Me first, my name is Carl-Johan Bloqmqvist and I´m soon 26 years. I have been styduing down in Malmö for 1 and half year and there I have been living with my girlfriend.It´s over now and that´s so that I and the girl is moving to Falkenberg because she´s going to study in Halmstad and I will work in Falkenberg. I have no education, I have only read some seperate coruses.The most horrible with me is that I was out in the woods one day and picked up cones. No jokes apart, I cannot come up with something. Boring, isn´t it? My interests is to watch football, and then I play drums in another band calle Jeremiha.
Jakob Sandahl, 25 years, sings and plays bass. He´s married to a polish girl which he met when we were there the first time, it light a fire on new years eve three years ago . They have a child together and all three of them lives in Biskopsgården in Gothenburg. Jakob will do a doctors degree in the autumn, ha have read a lot through the years, you can phone him about which courses he have read, the number is 070- Jakobs dad is called Ove, only that things is hottible(ugly) Jakob likes to play football in his spare time, and then he´s going away with his dad sometimes and fish with his dad.
The last member in the group is Johan Hernman, 25 years, guitar and background voclas. He have precisly moved together with his gril Linda in an apartment in Gothenburg. Nowdays he lives 10 minutes from Vasaplan. Johan have studied sociology and in this autumn he will study statscience. Johans dad is called Hans and thats horrible(fun!). Johans interest is computers and his bike which he is often out and biking on at least some hours a day and you will probably see him some time.
Pawel quti the group, why? Is Jakob taking over the vocals forever or do you looking for a new singer?-Before the second tour Pawel had met a girl from Poland. He wanted that this girl should follow the Polen-gigs nut we said no- He was not so satisfied and he refused to take no for an answer. It went out so that he quit the band and noone in the band have no contact with him today and it will surely be so.But noone in the band are unsatisfied or angry on him. He have his life in Poland and we have ours here. This happened 3 years ago and then after that we did the tour in Europe (2002) with Jakob on vocals instead of Pawel.After that tour we only did one gig 2003. During the winter 2003 we all four met again and had long discussions if we should continue with the band or not. But we dicided to coninue with the band But only some months after that our bassist then Torbjörn decided to quit the band. He should go to Uppsala and study chemictechnique and it have been impossible for him to go back and foreward so the choice for him wasn´t so unexpected. After that me, Johan and Jakob met again and talked through what have happened. After these discussions we decided to give it a chance. After this decision it felt like if Avoided never have been better. We have really fun again and we´re all really triggered on the band. We have recently recorded four songs which we´re really satsfied with and Jaok do a really blistering thing with the vocals. So right now we´re not looking after a new singer.

How would you describe your music in three words? -Melodic, angry punkrock.

How is a good concert with you? Is it any difference of being only three on stage? -A concert with us is hopefully fun and relaxed. We always try to go in with that attitude that it must be as fun as possible. We always let the people say what they want so they can feel that they´re aprt in the concert. We say some jokes and we try to get all comfortably! As a three piece suite it feels really good, we feel very strong and united!


How have you developed since the start?-We have been really tight since Jakob taken over the bass and the vocals. We sounds more like one now and I hope that people think that too. In the beginning of our career I think we´re sounded a little much too straggling and too much like everybody else. It feels so much better now.

How have the scene devolped here in Sweden during these years? -I feel as it haven´t deveolped so fucking much these years. I miss a good contactnet through whole Sweden there we all can help each other to do gigs. The big punkbands have bookingagencys, but all other punkbands which like to play in Sweden then? I think that Swedenspunkscene have been better if we have helped each other more, it´s to much egoistic thoughts in many bands, A site in the style with Europunk.net or punkinternational.com had been good. Then could all band and privatepersons met there and discuss things like that. Ten years ago it was many bands in our style but right now it feels like it´s not so many bands, We must try to play more in Sweden, but right now we haven´t so good check on what´s going on in Sweden.

Is there any good bands in Sweden right now?-Yeah, bands like The Hives, Hellacopters, Soundtrack and so on is always right. I miss som twotact punk which is worth the nam. I hope it comes some more bands like that soon.

Some of you have been moving upto Gothenburg from Falkenberg, have you other poeple coming after or will you do it?f -Right now livesJohan and Jakob in Gothenburg, I live myslef in Falkenberg and that will not change in the nearest years.

When you do songs, which is mot important, is it to have a good lyrics, a good melody or to have a refrain that people remembers? -Often comes Jakob up with a melody or a riff, sometimes me. Jakob is often put a lyric to it and then we all rehearsal the song together. Lyrics are important and I think That Jakob does it very good. It´s often he who writes about thinking of yourself and not follow everybody else. Go your own way and you will thank yourself someday.

I have followed you from the start and what advices would you like to give to a newstarted young band, which traps shouldn´t they go into? -The advice I can give to a newstarted band is that they must go their own way, don´t give a dman about if other people thinks you sucka nd that you should put the band down.As long as you believe in yourself it will be go fine.Important is also , which we in Avoided recommend , is too talk much eye to eyeif it´s something which disturb you. Tell each other about the problems and loose them up immeditaly . Don´t talk behind someones back and stand up for your opinion. Try to play as much gigs as you can, you cannot get a rumour about the band if you´re home playing Playstation. Seek things on Internet, make new contacts, there´s a lot out there...
What´s the most peculiar which have heppened during your career, on stage or in the audience? -Poland is the country where it´s have been the most bizrre things. On our second tour there it was a supprotband there the drummer didn´t have the energy to go on. He said to his bandmates, no, now we cannot play anymore, I don´t have the energy to go on. The guy hadn´t no nerves. An other guy, also a drummer, was so drunk that he missed the cymbals sometimes. We stood back in the local and couldn´t keep us from laughing. You meet a lot of funny poeple and many odd people, that´s the charm with it. On a gig in Poland the audience was 40 footballhooligans with shaved heads and boots. Then we wasn´t so cooky.
What drives you to play music? -The unity in the band is so good and that is the thing which drives us I think. We have very fun together and we like to be with each other, that´s the simple truth. i
Please rank your five favouriterecords, five favouriteconcerts and the five most important things in life? -Records: Ten Foot Pole "Rev" 2. Rise Against "Revolutions per
minute" 3. The Get Up Kids "something to write home about" 4. Jimmy
Eat World "I don´t remember the name" 5. Pulley " Matters". Much melodic punk, but that is waht I have grown up withe, there´s a lot!
2. Favouriteconcerts: 1. Bad Religion Kåren, Göteborg 1998 2. Avoided
in Chicoutimi in Kanada 2001 3. No Use For a Name Mejeriet Lund 2004
(?) 4. Ten Foot Pole and Hi-Standard Loppen, Köpenhamn 1999. 5.
Metallica, Ullevi Göteborg 2004 (what an experience!)
The most important things: 1. My love Karin, which I love above everything else2. My friends and my family 3. my drums 4.Punkrock 5. Snuff(unfortunaly)
First, latest and most expensive record ever bought? -First record: Kiss "Dynasty" Latest record: Pulley "matters" Most expensive: I have always paid normal price on my record, no rarities:
The most embarrassing record in your collection? -Embarrassing record? Must be Aerosmith.
Which record/records must be in the tourbus? -Jimmy Eat Worlds was it on the 2002 summertour. Otherwise its Rise Against and Bad Religion which must be in the bus, so is it. Now have we Ronnie as a roadie and he loves hiphop so we will see what happens!
What do you do otherwise in the tourbus to get the time going? -We often talk about everything between heaven and earth, look at the nature, sleep or do some farts. The life on the roads can be really tiring so we sit mostly and do nothing and talks til the next city comes.
What do you think about living in Sweden then? -For me it´s really perfect to live in Sweden. I like the calmness and I live in a small city so it feels really good. But unfortunaly not all people in Sweden feels like me and it´s much up to us so all of us can have a good time here in Sweden.
I like GAIS(I live much for them), do you have the same feelings for your footballclub FFF or do you don´t care about sports? -I´m very interested of Falkenbergs FF and watch all homematches as I can see and some of the awaygames. Right now FFF have turned around the bad start and now it´s a little bit better. WQhen FFF met GAIS the team was under all critics. so we will hope it´s going better at Gamla Ullevi. It goes on very well for GAIS, fun for you?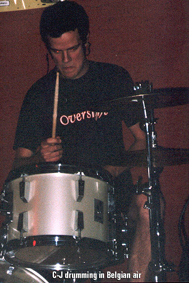 Could you imagine to be on a tribute to a sportsclub, musicartist or something similar? You have already done that maybe?-I haven´t anything agaisnt to be on a tributerecord but if the other ones in the band wants the same I don´t know. We haven´t been on any tributerecord yet, no.
Futureplans for the band? -Futureplans? Now we´re going on a smaller tour as we said. When we come home we will follow up our promosendings and see if it´s any interest from any label. Tehn we have contact with a guy in England which can put together a week or two on the British Isles. It would have been fun. And then it´s a new Europeantour in an halfyear-year.
And for yourself? -I moving from malmö to Falkenberg in august. And then I will work a little on Carlsberg to make some money.And then it´s always something new on it´s way with the band.
Wisdomword? -Go your own way, you always feel better that way!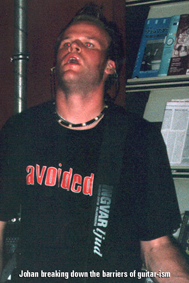 Something to add? -Thanks for the interview, Peter. And to everyone else check out our website. www.avoided.org praise us, say that we´re shit or send an email, we answer them. And buy our new promorecord for 20 Swedish krona, check out the website to see contact info. Be careful!