Hey Peter,
Apologies for the delay, I hope you like the interview!
Take care,
Jan Grijpstra/AUTUMN 12/6-2007
History?
-We were founded in 1996 but released the first album in 2002, called "When lust evokes the curse". Our second album, called "Summer's end" saw daylight in 2004 and last month we released the third one, called "My new time". In between we toured as much as possible and made 2 videoclips.
Please tell me a little abotu every member , age, family, interests and some bad thing about every one?
-Our leadsinger is Nienke de Jong. Her age is unknown, hehe. She runs together with Arno Krabman the studio we recorded my new time in.
Our guitar players are brothers, called Mats and Jens vd Valk. The are also both active in two other bands, called Seizure and Cantara. So you can call the un-separatable.
Our bassplayer is Jerome Vrielink. He is the youngest member and besides bass, he can play guitar and drums as well. He also plays in the band "Massive assault".
Then we have Jan Munnik, a very talented piano/synth player. He is also very strong in arranging songs and providing songs of catchy hooks or melodies.
I am the drummer and the last one of the original line up (which doesn't mean that I am older than methusalem!).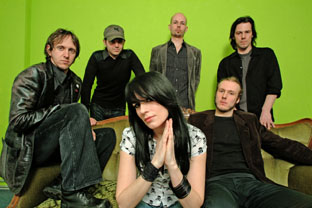 How did it become this sort of music?
-The original founder, Meindert Sterk, wanted to incorporate more symphonic influences in Metal music. Around that time it was still a rare thing that was only done by the Dutch band "The Gathering".
Metal Blade, is it a good label?
-It's a great label. Their support and promotion is solid and very extensive and they already released the album worldwide. So we are very happy with this co-operation.
How would you describe your music in three words?
-Symphonic Rock and Roll
Which bands are you being comapred to? Is it the usual Nightwish and so on?
-Because the lack of opera-oriented vocals and very orchestrated sounds, we are not often compared to that kind of bands. But bands like Lacuna coil or the Gathering are often used.
Is there any good bands in your homecountry nowadays?
-I think there are a lot of good bands. To stay in the genre of melodic rock/metal I can name: The wounded, After forever, The Gathering, Epica, Delain, Within Temptation… I can go on for a while.
What do you know about Sweden? What is typical swedish?
-I travelled through Sweden last summer and I found it a very beautiful country filled with forests. The family of our guitar players really adore Sweden, they have a house there and visit it at least once every year.
Have you heard any good swedish bands?
-To name one: I really like the band Opeth. Great musicians and amazing music.
Your lyrics, where do the influences comes from?
-The last album was mainly written by Mats and Jens. They use personal theme's for their lyrics. Things they feel and see around them. So this album became in that way very personal.
Politics and music, does it go hand in hand?
-Yes. But you should not force an opinion upon the audience. That makes you as worse as the average politician. I think it is perfectly alright to give people some stuff to think about.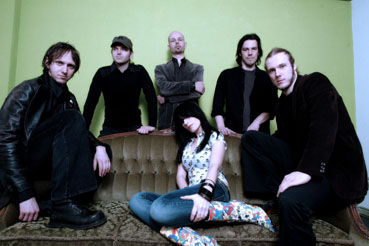 Best political band?
-System of a Down.
Your name Autumn , have it any special meaning or is it only a name?
-The founder of the band and our former bass player, Meindert, came up with the name. It symbolizes the contrast between beauty and decay. This contrast can be found throughout every aspect of life. The name has kind of a gloomy feel (in the positive manner of speaking) that can also be found in our music.
Besides this, our tour manager believes that it is the best season of the year. I do not completely agree with that, hehe, but besides the cold and the rain, natures' scenery is often great!
Which is the best country to play in?
-We haven't been to that many countries, so I have not a wide range of choice. So far I have no complaints about any of them.
How is a good gig with you?
-For me a gig is great if I feel the vibe of the music. So that you are in the music, so to speak. Sometimes when this is not the case, you have to work really hard to make a good show.
Your audience, which type of people comes to your concerts? Age?
-It ranges from very young to very old. We never see one group of people in the audience. Mostly they are "listening audience".
Which type of people do you miss on your concerts?
-Sometimes I would like to see some more interaction, like the chaos you see at some hardcore / metal concerts. But our music is not really suited for that, hehe.
Please rank your five favourite records, favourite concerts and five most important things in life?
-1. Midlife crisis – Faith no more
2. Anathema – a fine day to exit
3. The end – The never ever aftermath
4. Opeth – Blackwater Park
5. The wounded – Hollow world
1. System of a down - Graspop
2. Opeth – Graspop
3. Rammstein – Fields of rock
4. Anthrax – Wacken open air
5. Muse – Pinkpop
1. Life
2. Family / Friends
3. Band
4. Work
5. everything else
First, last and most expensive record ever bought?
-First: Iron Maiden: Number of the beast
Last: The end: Elementary
Most expensive: Faith no more: Angeldust (bought it twice because the first one got broken)
The most embarrassing record in your collection?
-Top 40 of 1992
Is it many interviews, is it boring?
-Hehe, depends on the questions. You ask a lot but they are very short and mostly original, so you are high in the ranking of good interviews.
Is it always the same person who does the interviews for Autumn or do you give everyone the chance to speak for the group?
-Depends on the type of magazine and if the interviewer has a specific wish of talking to somebody. I do most of the mailers.
Which is the most peculiar review and most peculiar question you ever have got?
-A peculiar review I cannot remember right now but the question is definitely: "If you travel in a car by the speed of light and you switch on your headlights, will they work?"… Great question.
Which is the question you never get but you want to have? Please ask it and answer it?
-Why do you keep going for it? Because it is worth every second and effort I put in it.
Do you have any favouritesite on the net?
-Online newspapers.
A place like MY Space, what do you think about it?
-For us it is a great way to show our videos and give people the opportunity to listen to our music. I am personally not into this system, I have no myspace site. Some members of the band have.
Where do you stand when we talk about downloading and so on?
-It is already a way of life for people. I don't mind but I hope that people keep supporting the bands they like by going to concerts and buying the CD's.
Which are the biggest band you have played with as a support act and which is the biggest you have had as a support act?
-If you count festivals: Metallica and Rammstein. Otherwise it would be Within temptation, Cradle of Filth and The Gathering.
A Belgium band called Sengir is supporting us sometimes and in the pas a Dutch band called the wounded supported us a few times (great band).
The biggest amount of people you have played in front of?
-40.000 on an edition of Fields of Rock (a dutch rock/metal festival)
Futureplans for the band?
-We want to make a videoclip, do some touring for this album and then make a new album asap.
As an human being?
-Stay happy.
Wisdomword?
-Make your own decisions.
Something to add?
-Thanks for the interest in the band. I hope your readers will check the new album.