Astmatisk Gapskratt is a really good norwegian punkgroup. They have many different styles in their style and they sing in norwegian and I really love it. Here they gave me an interview in the beginning of february 2021.
Please tell me a little bit of the history of the group?
Enok: It all started when Morten moved into town in 2008.
Morten:Since then nothing has been the same… I started working at the same school as Enok's girlfriend. She wanted to start playing guitar, and needed band members. I picked up the bass for the first time in my life, got Enok behind the drum kit, and Snotlip was born. Our only claim to fame is two songs on a sampler called Steinkjer Pønkroch Shitty. Long story short, Trude quit, Vegar joined, Enok wanted to play the guitar, as that's his main instrument, we tricked Svein into joining on drums, we needed a name change, and Astmatisk Gapskratt was born. Now we're in 2015. Our debut gig as AG was at Steinkjer Pønkrock Festival with Charta 77, Anti-Lam Front, Mormones, Cockroach Clan, etc. Since then we've played gigs in Oslo, Kristiansand, Steinkjer, Trondheim, Östersund and Namsos, released two albums and one christmas single.
Please tell me a little about every member in the group right now, age, family, work, interests and something bad about everyone? Earlier bands? Other bands on the side?
Enok "Kjetting" Moe: 39 years old, healthcare worker, father of two, have been in several punk/hardcore/metal/industrial projects since my teens, "Ørtæv" being the only one to actually release albums. I play lead guitar and have the "shouty" hardcore vocals in the band, since I don't know how to sing.
Morten "Petite Mort" Haugen: Bass player, asthmatic vocals that mostly hit the right note, 43 years old, one daughter and two stepsons. I work as a French and English teacher, watch Liverpool and my daughter's team play football and watch a shitload of series and movies. AG is my first and only band. A bad thing about me? I tend to piss in bottles in hallways outside of my hotel room when drunk on tour.
Svein "Swine" Nekstad: 35 years old, father of two, work as a butcher, played in one band in my late teens, play drums in AG. I like to drink cream right out of the carton.
Vegar "Kongen av campingplassen" Pedersen:41 years old, married, two kids. Teacher in science, math and I service computers for the students. I got into punk through Astmatisk Gapskratt, where i Play rhythm guitar. Before that, I never really used to listen to punk ,other than Bad Religion, and The Offspring. When i was younger, it was all about Guns n' Roses. We have played split gigs with several punk bands over the years, and once you've seen them live, they tend to find they're way to the playlist on Spotify. When Astmatisk Gapskratt have gigs, I tend to drink way too much beer. That does not help my (lack off) playing ability.
I can hear much different influences but mostly punk and melodic punk both like USHC and "trallpunk"? Favorites from the past?
Enok: There's definitely a lot of both Swedish trall and American hardcore in there, and otherwise everything from hip hop to black metal. I listen to a lot of different music myself, and my philosophy has always been to write music I like and not care about genres, sorry if that sounds pretentious.
Morten: I could happily spend an entire interview just talking about how much Swedish trallpunk has meant to me. From the moment I heard "Ishockeyfrisyr" on Definitivt 50 spänn igen, watching Charta 77 and Sector Sexs at my first real gig at 17, flipping through the Birdnest mail order zine, booking Lastkaj 14, Charta 77 and Mimikry to play in Steinkjer, I could go on and on. My favourites from the classic trallpunk era are Charta 77, Sector Sexs, Radioaktiva Räker, Skumdum and Charles Hårfager. Nowadays there seems to be a resurrection of the classic trallpunk sound, where Sardo Numspa and Lastkaj 14 are the obvious favourites, and I am really excited for the forthcoming Fruktansvärld debut.
And then I don't even want to start on talking about Punk in Drublic, ...and Out Come the Wolves or Hoss! However, I have to mention that Tony Sly's songwriting is a huge influence, even though it doesn't show much yet. It may be more of a distant goal to reach for.
Svein: I listen to most punk subgenres from the poppiest pop punk to crust and black metal, but my favorites are bands like Nofx, Rancid, The decline, No use for a name and swedish bands like Lastkaj 14, Sardo numspa, Menudå and Björnarna
Astmatisk Gapskratt are you satisfied with the name? How did it came up? You weren't afraid that some other band would be named like this? Which is the best bandname you know?
Enok: My favorite band name is "Brutal Kuk" from Trondheim
Morten: Being the one who came up with the name, of course I'm satisfied. Haha. It just came to mind during a conversation with a fellow asthmatic during winter, when my asthma condition is at its worst, and when you try to laugh, all you can come up with is some wheezy coughing. Immediately I thought it would be an excellent band name, and when the precursor to our current line-up was due a name change, we made it our own. As to what is the best band name, it's hard to choose. There are so many good ones. Tatuerade Snutkukar, Charles Hårfager, Åka Bil, Leftover Crack, Fruktansvärld. You Swedes are good with band names!
Svein: I think my favorite band name is Paralgin Fortere
What´s the best thing with playing live? Do you miss playing live right now?
Morten: I think I speak for the entire band when I say we really miss playing live, that's the best thing about being in a band. We were so lucky to get to play two gigs during christmas, before the covid-19 thing flared up again.
The best thing about playing live is the adrenaline rush you feel when going on the stage, sharing a happy moment with the audience and getting to release all your energy. Also, watching the other bands you play with, which are usually good.
And where is best to play? And the worst place?
Enok: If I were to make a list of my ten favorite venues I have played, half of them would be someone's home. It's such an intimate setting and I find punk/hardcore to be really emotional and intimate.
Morten: I agree with Enok, but I have to say it was quite an experience to play at Rockefeller (quite a big venue in Oslo), at one of our first gigs with the current line-up
Enok: Yeah, that was surreal. The next month I went to Oslo again and watched The Dillinger Escape Plan on the same stage we played.
How is to play this sort of music in Norway right now? Which types of bands do you have concerts together with?
Enok: I think punk is in a good place right now in Norway. While there's definitely a large portion of bands focusing on American style pop punk, I think there's also a good climate with less gate keeping and divide between different sub genres, so it's accepted when you play crust punk or powerviolence to also have Blink-182 in your record collection.
How would you describe your music in three words?
Morten: Fast, energetic ballads
What does punk mean to you, is it only a word or is it a lifestyle?
Enok: I feel the least punk thing to do is defining what is and isn't punk
Which song/album or group was it who took you into punk/hardcore?
Morten: For me, it was three albums borrowed from my uncle at about age 14; Ramones – It's Alive, Buzzcocks – Singles Going Steady and Sham 69 – That's Life.
Enok: I had heard some old school punk, then in 1994 when I was 13 I bought "Smash" by the Offspring and the "Basket Case" single by Green Day, and while they both gave me a taste of something I liked, I wasn't completely satisfied and started going to local shows and digging deep into punk records searching for that fix.
Svein: I think maybe the Ramones and the norwegian band Silver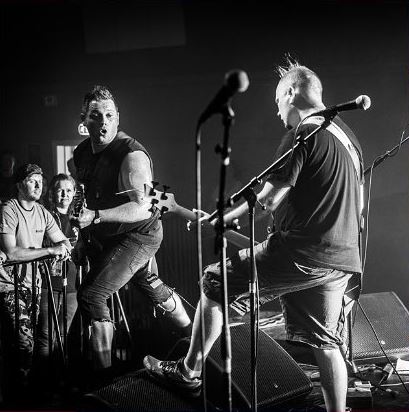 What shall a young guy do today to shock their parents as the way we did when we were young? They have already seen everything ;-)?
Morten: Start doing chores without being asked and giving away their allowance to charity. I would be shocked if one of my kids did that.
How is it to live in Norway right now? Politically? Fascists? What do the norweigan people thing about our covid-strategy?
Enok: In general most Norwegians think we have managed Covid-19 much better than Sweden and laugh at Dr. Tengell's claims that you are doing well, but it's a lot easier in a country like ours that has low population density and manageable borders. Politically we have a conservative government now that we hope to get rid of before they manage to destroy too much. Fascists are luckily not that common, the Scandinavian neo-Nazi gang NMR came to our town trying to hand out flyers in December 2019 and social media was flooded with videos of local people of all ages and genders going up to them and telling them to get the fuck out of our town and I've basically never been prouder of my local community.
Is there any good bands from Norway right now? Is the punkscene/metalscene/hardcorescene big? How is it in your hometown?
Enok: Lots of really great bands all over the country and fairly good communication between them. In our small home town Steinkjer me and Morten are board members of a club which puts on regular shows with punk bands from the whole country as well as some from Sweden, Great Britain and other countries. In our hometown I have to mention the bands we share rehearsal space with: Our all time favorites "I Like To Tell Men That They Can't Handle Two Things At The Same Time", the old school punks in "Dirty Toilets" and the fusion jazz/prog ensemble "ORDN". There's also some cool metal bands, right now the most interesting up-and-coming bands are the metalcore act "Soaris" and the young thrash metal duo "Dep" who are like 13 years old.
What do you know about Sweden? Have you been here sometime?
Morten: Sweden are my favourite neighbours. As Steinkjer is quite close to Östersund, I have been there several times. Both on holiday (browsing records at Skivbörsen, attending Yran, etc.), with my daughter at Storsjöcupen and twice to play concerts. I've also been to Hultsfredfestivalen several times and visited other cities. One of my favourite trips to Sweden was when we went to Stocka to pick up our debut album at Per's place. 3/4 band members went on a road trip with a driver, starting early in the morning, drinking beer, listening to great music, eating burgers (SCK-Per makes the best burgers), returning with our first ever vinyl release and playing a gig at a friend's living room when we came home around midnight.
Enok: I drank a crate of 24 beers on that trip, so I don't think I had my best performance that night.
Have you heard any good bands from Sweden?
Morten: Too many to mention. As previously mentioned I'm a big fan of trallpunk, so you have the obvious ones as Charta, DLK, Räkorna, Räserbajs, Skumdum, Mögel, Strebers, Asta Kask, Dia Psalma, Sector Sexs (most underrated band ever), as well as the current SCK roster. I'm a huge fan of every band on our label. I was also hugely into BHR for a while, so then there is NFAA, Millencolin, The Hives, Raised Fist, 59TTP, Raised Fist, Randy, Refused, Liberator, Chickenpox C.Armée, etc. The melodic death metal scene has produced some great bands, with Entombed, In Flames, The Haunted and At the Gates being the cherrypicked best of them. You want rock? Hellacopters, Backyard Babies, Sahara Hotnights, Gemini Five and Maryslim work just fine. I had an indie phase in my youth, so I can't pass this question without mentioning Wannadies, Brainpool, Salt, Bob Hund, Fireside and Monster.
Enok: While I agree with everything Morten said, I would also add Totalt Jävla Mörker, Knogjärn, Ett dödens maskineri, Nasum, Skitsystem, Lok, Trevolt, Slöa Knivar, Psykbryt, Mimikry, Ebba Grön, Satanic Surfers, Vånna Inget/True Moon, Beyond Pink, and a whole lot of bands that he agrees on and would make him think of a hundred other bands he forgot to mention.
Morten: Oh, I agree, but I shouldn't add any more now. Except maybe the Östersund bands Babysitters with Machine Guns, Beforeskin, Avd. 5 and Djävulskap? Östersund is considered a Norwegian city for us. By the way, if anyone could make digital copies of the early Babysitters WMG demos and send them to me, I'd be stoked. I lost my cassette tape with "My parents say" on it several years ago, and would like to hear it again.
Your lyrics, who does them and what influences you? Never in other language that norwegian?
Tell me about the following songs
På Trynet
Sprukne skjell og knuste glass
Tar alltid imot dæ
Enok: In the early days when Morten wrote all the songs he experimented with lyrics in English, "book"-Norwegian, our spoken dialect (Trøndersk), even Swedish. I myself have a principle of always singing in the dialect I speak, because I find it more honest and true, so when my other bands quit and I started writing more songs in Astmatisk Gapskratt I think Morten just realized I wasn't going to compromise and started writing all his lyrics in Trøndersk as well.
Morten: På Trynet. This is a song about those times in your life when nothing goes your way. Every little bit of happiness and luck that might come your way, just gives you false hope and you're kept waiting for the world to come crashing around you again.
Morten: Sprukne Skjell og knuste glass. This song is about someone who kept my spirits up when things were really bad privately, and knowing the good times couldn't last. I think you can see an emerging pattern concerning my lyrics here. I let Enok take care of the uplifting stuff.
Enok: Tar alltid imot dæ is a song about sticking up for friends and others when they need you. The title means "I'll always catch you" and was actually inspired by a friend of ours who ran towards the stage at a concert, planted one leg on the edge and then performed a back flip into a crowd surf. He trusted us catching him and it was a nice metaphor of how you can trust a good friend to be there even when you take risks.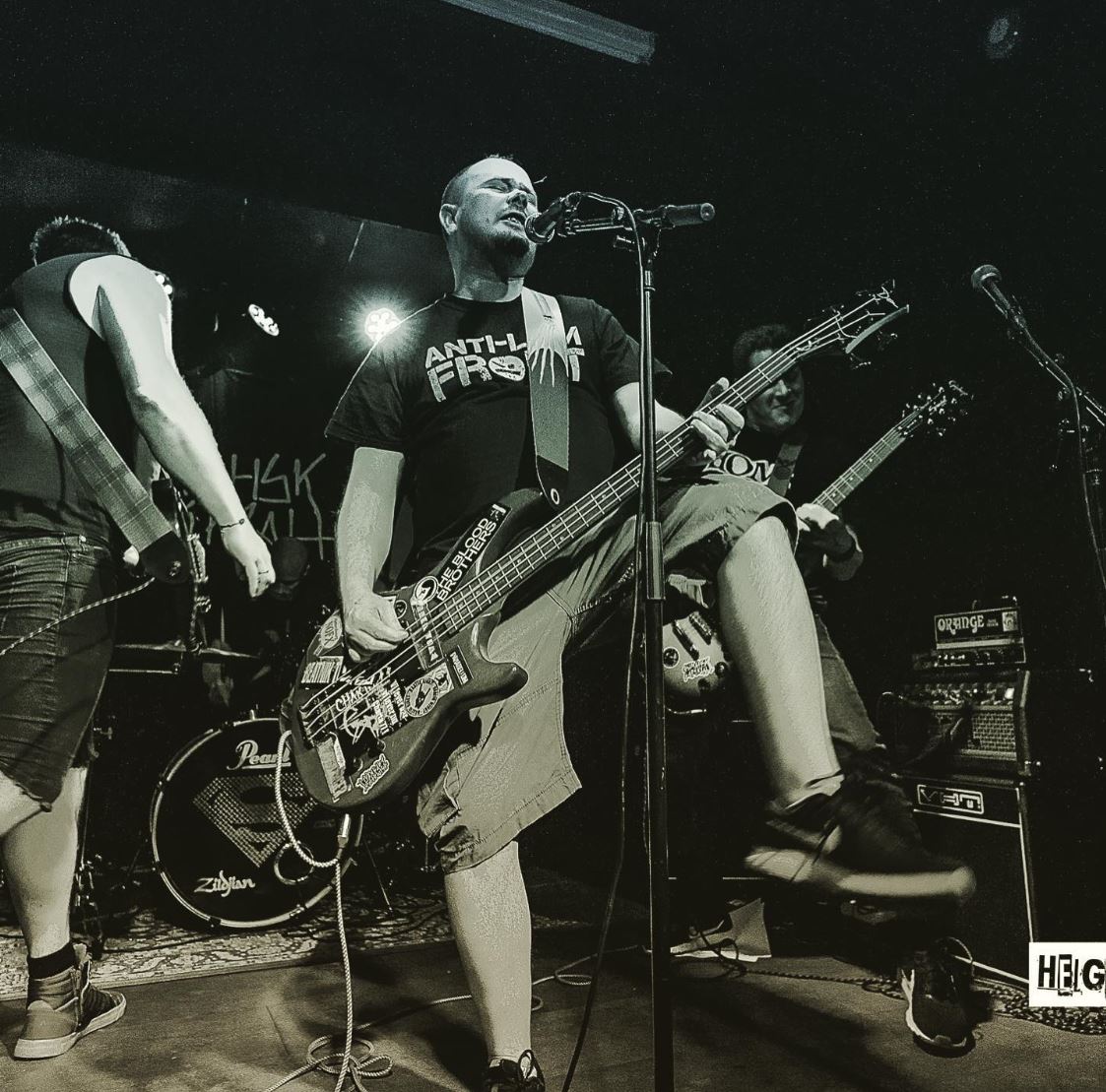 Is there any subject that you never will write anything about?
Enok: I don't think I'm funny or clever enough to write humorous lyrics.
Morten: I'm really funny and clever, but never in the mood to write humorous lyrics. Seriously, though, I don't think I'll ever write a song about wedding cakes or pumpkins.
Politic and music, does it goes hand in hand? Which is your most political song? Is it important to get out your opinions in music?
Enok: I think the most "political" song on this album is "56789byråkra10", about what it's like to be unemployed and trying to navigate a system that attempts to end unemployment by making it really shameful and really difficult to be unemployed. The song suddenly became much more relevant during covid-19 when thousands of workers were suddenly laid off at once and didn't get their applications for unemployment funds reviewed for many months. The song "Sammen i stormen" is a love song about finding true love in a shared passion for fighting oppression, and that's also pretty political. I think any real and honest lyric has an edge of politics in it, so yes, it goes hand in hand.
Best political band/artist?
Enok: I think there are many British bands that are in a class of their own. Oi Polloi, the Restarts, etc. Then you have bands that manage to combine politics with really catchy choruses like Anti-flag (US) and ZSK (Germany). Me and my girlfriend went to see ZSK in Düsseldorf, and there's just something about standing in a moshpit with 600 people who are all dancing chaotically while chanting "alerta, alerta, antifascista" that makes you feel like you are ready to go out and change the world.
Do you think that music(lyrics and so on) can change anyones life, I mean people who listens to music?
Enok: There's a lyric by Wingnut Dishwashers Union that goes "A punk rock song won't ever change the world, but I can tell you about a couple that changed me" and that really sums up my feelings on this matter. I write very personal and honest lyrics, so for me it means a lot when someone says they can relate to the lyrics, or even ask us "is this song about me?".
Your favorite recordcover alltime? Who does your recordcovers? And do you have any good recordstores in your hometown?
Enok: The previous album was designed by a local Photoshop wizard named Lene Aas. She deserves lots of work assignments, so we try to mention her name as often as we can. The last album cover and the two digital singles was drawn and designed by me.
Morten: My favourite record cover is the first one that really made an impression on me; KISS Alive II. Seeing Gene Simmons sweaty and bloody on the front cover and that majestic live shot taking the entire space of the fold-out just left me stoked.
Svein: The album "Sell outs som ingen vil kjøpe" from Laarhöne is my favorite cover because i like skulls (because I am childish). I like the design and choice of colors.
Is it important to get out physical records of your stuff? Why or why not? Vinyl, CD, cassette, what do you prefer if you could choose whatever ? What is best with Second Class Kids as a label?
Enok: The best thing about the SCK label is to be signed alongside so many of our favorite bands, and wonder how we ended up there.
Morten: Personally, I like to have a physical copy in my hands if there is a band I really love and care about. Sound files on the internet do not have the same feel to them. However, I like so many different bands and genres that I simply don't have the money to buy everything I want, so I am delighted for digital streaming services, such as spotify. Nowadays I prefer vinyl, as CDs are on their way out, and I haven't owned a cassette deck for decades.
Please tell me a funny thing which have happened during your career and under some gig?
Enok: There are so many, but most of them are just the typical things that happen when you travel across the country and drink way too much, but a sweet moment from right before the lockdowns was last winter when we had a spilt gig in Trondheim with our friends in the legendary Cockroach Clan at the tight and sweaty cellar club "Fru Lundgreen". There was a couple at the club who were pretty well dressed, and a little older than us. The woman kept telling us all night that they got married the same day, and after a while we realized it was true. When we went onstage we really thought it was cool that we were basically playing their wedding party. So I dedicated "Sammen I Stormen" to them as their wedding dance, as it's our only love song. It was a beautiful moment. Then, when Cockroach Clan went onstage, singer Billy tried to make a toast for them. He didn't see them, so he asked for them in the mic. A voice in the back answered back: "They went home to fuck". I hope they both had an amazing night and stay happily married and fucking like rabbits.
How does your audience look like? Which people do you miss on your concerts? Which is the biggest band you ever have played together with?
Enok: I think a lot of people who otherwise consider themselves misfits feel at home and included at our concerts.
Morten: I think the biggest band we have played with, at least on the same bill, is Charta 77.
Enok: We also played with Adhesive, remember?
Morten: Adhesive's most popular song has 350k streams, Charta 77's most popular song has more than 3 millions streams. Who's biggest? Not talking about quality here, as Adhesive was one of the most impressive live acts I've ever seen.
Please rank your five favoriterecords, five favoriteconcerts and five most important things in life?
Enok: This changes from day to day, but I think Refused's The Shape of punk to come, System of a Down's self titled debut album, Motorpsycho's Demon Box, Turbonegro's Apocalypse Dudes and Mr. Bungle's Disco Volante are five albums that all really shaped and inspired me musically in some way. It's even harder to pick out five concerts, because I've been to so many great ones with awesome mosh pits and really intense mood, and I really think physical live music is one of the most important things in life.
Morten: Right now it's Rancid - ...and out Come the Wolves, Lastkaj 14 - Becksvart, Anthrax - Persistence of Time, No Use for A Name - More Betterness, Deftones - White Pony.
I've been to so many great concerts, it's hard to pick 5, so I'll just go for Laarfest in 2019, where we played with all our favourite bands. Two days of fun, great music, great people and beer. Music is the most important thing in life, followed by good mental health, my daughter, series and sufficient rest.
Svein: I try not to have favorite records because i change my mind all the time, but five great ones are Rancid 5, Nofx Self Entitled, Lastkaj 14 Stormar, Laarhøne Sell outs som ingen vil kjøpe, Frenzal Rhomb Smoko at the pet food factory,
First, last and most expensive record ever bought?
Enok: First: GnR's "Appetite for destruction" bought on cassette when I was a kid. Last: Lastkaj 14 "Speglar och rök". Most expensive: Prudence "Drunk and Happy" (1973). I had a hole in my collection of these local 70's folk/prog legends and found the missing piece at a used record store.
Morten: First: I got Gene Simmons' 78 solo album from my uncle when I was a toddler, but the first record I can remember is KISS - Crazy Nights on cassette. The last albums I bought were the Birdnest vinyl re-releases of Dia Psalma - Efter Allt, Hymans - Hymanity and Johan Johansson och hans Lilla Svarta Värld. Most Expensive: First Anthrax single Soldiers of Metal. Before I got a family, I spent most of my money on collecting Anthrax, Toy Dolls and Beatnik Termites records.
Is it boring with interviews? Is it much interviews?
Enok: The worst part is having to brag about ourselves. We are generally really modest.
Morten: I think this is only our second interview ever, so we haven't had the time to be bored yet. Considering our long answers, I guess it's you who is rather bored by reading so far.
Do you care about reviews? Which is the most peculiar you ever had, with this band or any other band you have been to?
Enok: I love reading reviews and am generally sad that there are less papers and magazines doing professional reviews nowadays. I used to write for a local newspaper, and while the music reviews were the least respected articles by the editors and generally was done for shitty salary, they were always the articles other people wanted to discuss with me.
Morten: Whether the reviews are good or bad, it's fun to think that there's someone who's taken the time to listen to our record and give his/her opinion on it. We have mostly got great reviews, so I can't recall any peculiar ones.
Enok: Oooh, I remember one! A reviewer once docked a whole point from our score because we had too many pictures of ourselves in the inner fold of the cover.
Which bands do people compare you to, is it boring that people compare you to other bands or is it understandable?
Enok: I like it. When they are spot on and mention bands that actually are among our favorite bands I am impressed, when they compare us to a band I haven't heard I check out that band and often get a new favorite band. When a German magazine wrote that our previous album sounded like it could have been a new Asta Kask album I was ready to tattoo that quote on my body.
Morten: One person we know said it sounded like (Norwegian hardcore band) Brutal Kuk on Fat Wreck Chords, and I really liked that comparison.
If you could choose five bands from the past and the history and nowadays and both dead and living bands to have a concert together with your band. Which five have you been chosen?
Enok: We'd split with Asta Kask, Rabagast, Rasta Knast, Crass and Lâche and offer free attendance to anyone who could say the line-up five times really fast.
Is music a good way to get out frustration and become a nicer person outside the music??
Enok: Duh.
Good name on your record with Blackskatecruststreetpopcorepunk because it´s almost describe your music, how did you came up with this?
Enok: It started as a joke that we printed on our merch t-shirts, making fun of everyone who cares a lot about genres and even make up a separate genre name for their own band.
Which is the question you want to have but you never get. Please ask it and answer it?
Enok: Q: What's your favorite compliment to get at a gig? A: "I didn't think I liked punk until tonight"
Futureplans for the band?
Enok: We want to release our Christmas album. The songs have been done for five years or something already, but the project keeps getting postponed as we write new non-Christmas songs.
Morten: We'd also like to play concerts again, but that's not up to us at the moment.
For yourself?
Morten: Try not to get kicked out of the band due to horrible bass skills.
Enok: None. I never plan ahead for anything, I just improvise every day.
Wisdomword?
Morten: It's never too late to make a mistake, and most likely you will.
Something to add?
Enok: A dash of hot sauce, maybe?
Morten: If in doubt, go for the Gastromat.