Asta Kask have got a new audience and even if Ernie isn´t so satisfied with a gig in the sunny afternoon so think I that the gig on Frihamnspiren in Gothenburg in the beginning in august 2006 was really good. Here´s the interview with him done in september 2006. .
It was fun to see you at Frihamnspiren? How did it felt to play in bright daylight? ?
- It wasn´t so good to play when it´s light. It's better to play in a dark cellar. But it was fun to play in Gothenburg even if I was falling on stage and everything. !

I can imagine that you have both young and old on your concerts today? Which is most fun to see there?
- yeah…it´s really fun to see so many young people there, it´s them which will go into our shoes when we have got a wheelchair but it´s always fun to see old wellknown mates(and not so wellknown) and it's often parents with children which all likes us. :)

The young wants to have autographs here and there, isn´t it a little against punk "principles" with autographs and similar?
- If you don´t give them autographs you´re a diva and if you give them autographs you´re a rockstar. Then I think it´s better to be a rockstar in that caseJ. Why say no to autographs if the kids wants it. And then you can talk with them and give them a chance to show them that you´re a ordinary human being which is both have shrinkles and smells bad.

I know that you have got the question before but what have happened with the CD-releases and the DVD-release on Burning heart, was it something with the right to the name Asta Kask or what was it?
- Yeah, it´s have something to do with the right to our name. It goes very slow. We´re extremely frustrated that the stuff is late but we do everything to make it go faster. But I cannot say more right now.
I have got the DVD and there´s a lot of funny things on it and most that old interview there you say that you aren´t in the band? Tell me about this a little and when did you came into the group?
- On that movie (where I do my cameradebut and therefor the nervous behaviour hehe) I am 14-15 years and hangaround to Asta, I followed them to some gigs and was a mate to Micke. When Micke put together the new lineup I said that I should be the bassist as a joke. Had played for half a year but I couldn´t almost tune the bass. Micke learned me quick and he put notes with keys and so and the rest is history.
.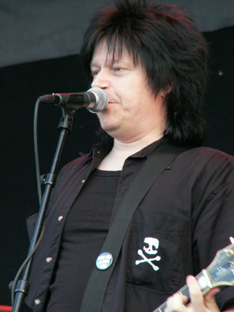 Wasn´t it so that you couldn´t play at all and as Sid Vicious got help with taped strings and so on?
- No, taped strings I didn´t need but the playfulness wasn´t so good. I think I could the basstunes to "Warhead" with UK Subs and "Guns of Brixton" with Clash, so we jammed a lot on those songs in the beginning.

You seems to have very fun on your concerts, what drives you to play?
Is it so fun as it was in the beginning to play or is it even more fun to play nowadays?
- Money, Girls, Booze, Drugs. No, it's sounds like cliché , but it's fun. We have more fun this time with Asta than we ever have had. On stage is always fun – and we often scare each other and Micke hates when you´re behind him on stage so that am I as often I can ;) We have a really relaxed relationship to the playing nowadays , we have nothing to prove and everything which is happening now we count as a bonus to the things we have done the years before. .

It comes a new record this fall, how have the audience taken the new songs?
- Remarkably really good.. I say remarkable because I hate when my old favouritebands which plays newwritten songs and I was thinking that our new songs should get a cold reception but it wasn´t so. People seems to like them and talk and talk about them after a gig. ,

Isn´t it feels very odd that your lyrics is topical even 20-25 years after they was released for the first time? That nothing new have happened in Sweden?
- Sure it's boring in some way but the struggle goes on. But many good things have happened – the wall have fallen and apartheid have been removed in South Africa and so on. Asta have always had as a goal to avoid to sing about some special year or sing a special name which can be out of date.I mean to hear about Bohman or 1977 doesn't feel so up-to-date every time.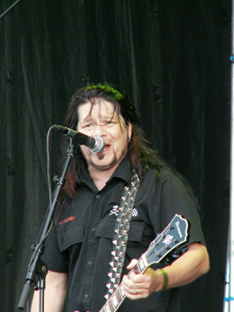 Will you vote this September? Is it important to use your right to vote?
- I have already voted and I have voted on a party. I think that is important. We have a democratic system which is built upon the voice from the people. If I don't use that maybe some more odd types are doing that.

Which is the biggest and dumbest thing you have heard from some politicans before this election?
- I haven´t read so much about it but one of the worst things is the expression"nya moderaterna" which they´re saying, when their opinions take miles back in time. Otherwise it´s the same shit. Everyone will have it better, more money in their wallets. But they're forgetting everytime where the money will be taken from.and then they have four years on to slide apart from their promises

Can you trust any politicians ? Who is most faithful among our politicians?
- I think Maria Wetterstrand is one of the more faithful. But when it's time for an election I don´t trust anyone.

It have coming some new bands like Greta Kassler, Varnagel and so on in "your style" is it something you listens to and do you have any favourites in the swedish punk?
- I have precisely being aware of My Space and find good things all the time(visit my site there myspace.com/erniebazzo – it´s not so much to read but you can be my mate anyway hehe) and you can see that the swedish punk is alive. I don´t like the word trallpunk so I don´t use it. Favourites right now is Baboon Show, they´re so fucking great.

What does punk mean to you, is it only a word or is it a lifestyle?
- It's stucked in my inside. Punk was forming much my way to be and my fundamental values and opinions which is still left. For me is punk a way to be and to be against the people around and then I don´t mean to booze my head into small pieces, spit around or be more aware if I have the coolest Dr martens I´m angry in my way and take opinion when it's needed and I have a more balanced way to see things. But I´m a punk in my soul and heart.

What do you work with nowadays and what does the other ones do?
- In the band we have netengineers, carpenters, hairdressers and I´m not a carpenter or hairdresser.

Was it good that Dade came into the group and made the middle age lower? What does Bjurre do nowadays?
- Middle age AND and middleweight. And then he maed us more sweet and that he did with 88%. Dadde is really good and we didn´t take him for his young age, weight or look , we took him for his really good drumming. Bjurre plays with Frost and he have it so good as only a Bjurre can have it. We talk to each other now and then.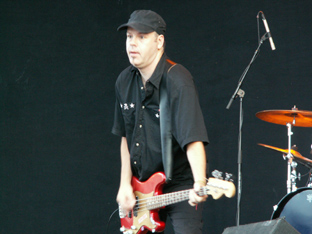 Does it feels like you will play together now for many years or do you think that this is a one-timer every time you play?
- Now, were real and this isn´t any reunionthing. We´re in on our fourth year now on this journey and I see no end. Now we must look after so our record comes out so we can play on that for a while. We have plans half a year forward into the future, but no stopping date.

But you lives in different places in Sweden don´t you? But you don´t have to rehearse maybe?
- Dadde and I lives in Stockholm. Micke in Törebord and Bonni Mariestad. We rehearse some times a year but it's not too many. The songs is stucked there anyway.

How can it be so that you´re popular outside Sweden even if you only sings in swedish? Do you have any explanation to this?
- No idea. Do you understand? I don´t get it..

Many bands do covers on your songs, how does that feels?
- Really fun! We collect the things we come over on our site and we have around 40 now. It´s flattering but it´s always fun to hear how other bands doing our songs. Especially if they arrange them a lot from the original.

Couldn´t you release them a s a tribute to yourself?
- No, it would have been arrogant. It´s like singing "Happy birthday" to yourself on your birthday and then give yourself a present. No, they will be only on the site.

Is it many unreleased songs which waiting to be unreleased?
- No, now it is empty.

Please rank the five best record and five best concerts ever been to?
It´s two record and then I didn´t came up with anymore.
1. Give ´em enough rope - The Clash. A timeless classic record and Clash best through all times. Masterpeice and the only record I can put on many times a year.
2. Don´t don´t don´t - Baboon Show. You become so happy, so happy. The have picked influences both here and there and made an own thing of it. Very good.
My bad memory isn't so good for me sometime so I cannot remember all gigs I have seen but here's some. .
1. Clash on Hovet 1986. Not the original line up but it was good.
2. Baboon Show in Motala punkrockfestival this summer. You become so happy, so happy. 15 people in the audience but they go on as if it was Olympic Games in music. .
3. Sahara Hotnights in Kafé 44 in Stockholm last year. Really good.
4. Saints in Glädjehuset, Stockholm in the end of the 80´s

First, latest and most expensive record ever bought?
- The first I remember was "Slade in flame" with Slade. Noddy Holder sings. I know, Micke!
- Baboon Show - Pep talk
- Sex Pistols bootleg "live in Halmstad" which I bought in that time I collected Pistols. It costed around 400 swedish krona.

The most embarrassing record in your collection?
- I cleansed them out of my collection during my teenage and it was some John Blund and Magnus & Brasse hehe. But they´re surely cultrecords today. Today I haven't anything I'm ashamed to…I think I have a record with the synthpopband Indochine which I don't remember how I got. But embarrassing? Nooo, I eat all music.

Which is the biggest band you have been support act to and which are the biggest band you have had as a support act?
- Puh...that was difficult. We have been playing in the same gig as UK Subs, Imperiet, and a lot of other bands...latest before Millencolin, Backyard Babies, Hellacopters and Hives but as I said before – I don´t remember everone. Biggest was UK Subs with Charlie Harper with his 100 kilos. The biggest support act I don't know… .

Where in the country is best to play, north, south or is it hard to say? But where are the audience most wild and sing along a lot?
- In Northern Sweden they´re really crazy. Umeå was boiling the last time we were there but it have done that in all place, north, south, east and west.:)

You have never been talking about write your lyrics in English and do a CD in English?
- No we haven´t even joked about it.

Now I will not torture you more…but what happens with the band in the future?
- We plays on our coming record. In November we will play in Japan for a week and if the force is with us we go on really hard in the beginning of 2007. And then we will see :)

Futureplans for yourself?
- To come over a really stubborn cold and hold my thumbs that the new record will come out soon.

Wisdomword?
- Stand on you otherwise does anyone other stand on you.

Something to add?
- Don´t vote for the blue(right wing)