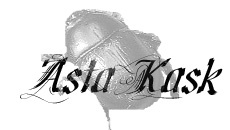 Right in time for the swedish punk 25 year comes here an interview with the cultgroup Asta Kask
How did you react first when you were asked if you wanted to play on the gig Swedish Punk 25 years?
Ernie:-It sounded like a fun idea and after a fast contact with the other ones in the band we agreed on rehearsal and see how we felt then. Jönsson had to wait after the first rehearsal to get an answer and we said that we could say no really late but the rehearsal was really good so we didn´t waited long to say yes!
Micke: -I was laughing because of the fact that I have refused in 11 years to do any pathetique reunion. After the last gig on Frysen I sold all my instruments and things just because I didn´t want to do this again. I didn´t want to come to a pizzeria or bar playing SWEET HOME ALABAMA or Creedence covers just to get a little payment and play for drunk hookers and hangasses.
Ernie had already planted the idea for the other thickies and they was on. He had the good taste to call me when I was a little drunk and then it was REALLY OK. And then after that I was thinking about it but then it was too late.
Bonni: -It was a feeling that got more and more positive. First reserved because of the fact that we always have been reserved to reuinions. And then after that it was really fun when we noticed that we all thought it was fun and the things we rehearsed for and that it felt right. And then I was really excited after the first rehearsal. Now we´re really loaded and we look foreward to the 4th of October…
You is the only band which started a little bit later than the other bands, why did they want you on the gig you think?
Ernie:-It depends how you see it. Asta is a band which almost began in 1978 but with this personal we have played since 1982. I don´t really know why they wanted us….maybe because of the fact that we´re really nice?
Micke: -No,there have you wrong. The original Asta Kask was started in 1978 under an other name. And we played with Attentat and Perverts in 79 or 80 in Mariestad. We "breaked" late in 1981 with the single "För kung och Fosterland" But as I said we´re older than so. And then many people says it´s because they must be sure that the audience come. I´m unsure on that , a party like this can surely make people come without some special band.
Bonni: -Nja…but it´s so that the thing which became Asta Kask that people knows about was formed from a band who began when it was new with punk. Some of the early asta-songs was done before the name Asta Kask was founded. And then it is, as we udnerstand a cultthing with Asta Kask and we was a little of a mix of the 77-punk and fast melodic punkrock which is more the thing today. We have a foot on both sides on the border you can say.
You have incredibly big influence on many swedish punkbands in the middle of the 90´s, how did that felt?
Ernie:-It´s only fun that we have inspired some bands.
Micke: -In the 90´s? Not an idea, but in the 80´s it was some band who was influenced by us and that was flattering. I wonder if they must take the same shit as we did.
Bonni: -It´s difficult to say. We have difficulties with seeing it and accept it but we have understand that its´a fact. There´s to way to relate to that. On one hand it´s extremely big and it feels like an honour to be an influence to them. But in the same way you can feel anticlimax that Asta Kask , together with for example Charta 77 and Coca Carola have been som sort of mall for the Swedish punk. Everything have tendencies to sound same as when the trend started and a new band from the beginning have decided how they will sound. It feels like punk have run out of musical freedeom and its´there where the music was when punk wanted to break through those barriers. Noone is interested if you don´t can match the old mastodontbands..
It´s a big interest for you nowadays too, in which way do you notice it, not only from Sweden?
Ernie:-To me who does the astasite it comes in a lot of mail and have done since the site opened 1996. Many young people of course who have heard us for the first time but old people from the past want to say their words. From outside Sweden people writes from Brasilia, Germany, USA, England, Japan, Spain, Italy, Russia and a lot of other countries which have heard us. Many people wonder when we come to their country…..
Micke: -Sure . It´s amazing that people want to hear us halffat old men from the countryside. In many years we have got post and mail from the whole of Sweden and from the whole world where they have asked us about playing tours and from bands who wants to cover us. The first time I heard Rasta Knast I got really amazed that they did the songs better than us. But when the Brazilians sings in Swedish and it sound like we wanted it to sound I get really madhappy.
Bonni: -How it shows?.. As it always have done. It comes always questions , demands, wishes, bribes, threats and so on…about reunions and gigs. The last years more and more people outside Sweden have asked us these things.
Which songs are you going to do on the swedish punk 25 years? No new material?
Ernie:-We don´t really know yet, but noone is going to be disappointed. It´s not going to be a copy of earlier reunions anyway, that can I promise.
Micke: -We´re coming to a rapport from 79-86. In the first place something from every year and record. If we send something new I don´t know right now…If it feels OK maybe but I don´t think it´s someone who want´s to hear something new.
Bonni: -Nja…new material… that have been an open question. If we will and feels for it maybe it can be some new songs but that´s nothing we have been thinking of doing. If it comes it comes by itself during the rehearsals and if it don´t comes it´s new songs . Otherwise we have taken out the songs , not excactly but that we keeps for ourselves.
How do you think you have developed during the time you played, as musicans and as individuals?
Ernie:-We was stuck in a special style which surely stopped us a little but we wanted to play really simple and not do any difficult things. The only thing I think was a little bad was that we didn´t varied the tempo more than we did , I think we all have been feeling better of that. But then we didn´t haven´t sounded like Asta anymore maybe…
Micke: -Of course we developed much during the time with Asta both musically and mentally. Asta was a sort of band which people don´t wanted to develop because then you have been sold out. We refused to release a LP because it was commercial in other people´s eyes. Mentally we became the people we are today. It was the best school I ever have been to. Take no shit-hide. Do you think one thing, say it and stand for it. The musical development was from 1 to 100 but that we didn´t get the chance to show it.
Bonni: -I don´t think Asta as a band developed so much but we got tighter and more skillful on our instruments, which maybe was shown in the arrangements of the songs. And then we went from fast to faster(maybe fastest).
As individuals we changed a lot. We was really careful about our ideals and the bands moral(everybody else did also). That went over to dumbness(read naivity). Many is the times thatwe went home with full tank and some sandwiches in a bag and the ones who have had the gig counting the money . The whole Asta-period was a long proofin to show other people that we still had our feet on the ground and don´t thought that we were better than anyone else. Something like the "jantelag"(an unwritten law that says that you will not think that you´re better than anyone else, typical Swedish) martyr or something like that…hehe. Unfortunaly is the punkmovement a tough family to be raised in. Brothers and sisters says that you´re good one time and the other time they put a knife in your back as soon as they hear a rumour which are making you as bad as you earn a stab in the back…..but we learnt a lot out of it anyway.
After Asta it was some different groups like, Cosa Nostra(are they still going on), Strebers, Nein(or what was they called)?
Ernie:-Nein, yes, that was right. It was me who was playing with Nein and it was me and Patrick and Conny from Rolands Gosskör. We did really greasypop for 4 years. Bjurre and Bonni had Cosa Nostra and Micke was in Strebers for a while. And then we have been in many sideprojects through the years.
Micke: -After Astas split up 1986 began Bonta and I and Bjurre talking about band with mafiastyle and Ramonessound. Like Cosa Nostra, But they did a band they called Harlequin. I was going to Africa and came home to no band. Insetad of that a reunion with Asta 1989 ich Vita Huset, Much water ran and The Strebers wanted me in the band and Ernie had the band Nein with some Rolands Gosskörpeople and Bonta who already have a tattoo with Cosa Nostra did that race. Strebers split up after Hultsfred 1988. was restarted with a new style and crew and Cosa Nostra started to come foreward on scenes in Sweden and in Europe but they have much bad luck. I was doing some heavymetalstuff as Quicksand Jesus and some tougher things like Thuggs and then I quit everything.
Bonni: -Yeah, Micke went on to Strebers short after our break. And then he helped Diapsalma as a sound engineer. Ernie had the band Nein with some of the guys in Rolands Gosskör.
I and Bjurre had Cosa Nostra from 90-81 and had the band until the summer 2000. Bjurre continued in the crustband Deny as a basist and a s a drummer called Frost. Both of these bands are still around. You can call Frost and book them for a gig.
Is it anyone of you who play music today?
Ernie:-Bjurre is the only one who play music nowadays, in Deny and in Frost.
Micke: -Updated thanks. Asta plays right now. Bjurren is the most active today with his two bands FROST and DENY and that guy isn´t something to play with. We other old men is pathetique astas nowadays.
Bonni: -Yeah were having a band that called Asta Kask as we for the moment rehearse with… ….
No,jokes apart. The only one is Bjurre who still is playing..
Wasn´t it really boring to drive to Strängnäs to rehearse with Strebers?
Ernie:-I pass that question along to Micke.
Bonni: -That question must Micke answer himself……
Micke:-Of course it was…..it was 20 miles north to rehearsal and and in the same time I was divorced and my children was in Göthenburg,,,20 miles south. I bought a car to manage to do this and I burned 22000 miles directly. 80 miles every weekend except the Strebersgig. I can drive car now. BUT it was worth it….ULKE JOHNNY PELLE was really good pals and I have really good relation to my children TIM and NANNA today….but I could have lost everything.
You split up 1992, any thoughts about reunions after that
Ernie:-No thoughts about it, why or why not? It´s not only to decide, the feelings must be there too and the will and the time. Now it was the time that we all wanted to do this. We have got questions about reunions through the years, both from Sweden and from outside Sweden, both with big money and without but all of us must want the same thing in the same time.
Micke: -We quit playing 1986, we was reunioned 89 and 92 on other peoples demands. A funny thing was that we only did a reunion to the small things but we said no to the bigger things as being support act to Ramones and Iggy Pop on their Scandinavian tour together and we have gopt 50000/gig. That we haven´t done this embarrassing thing earlier was that Cosa Nostra had Cosa Nostra and I have said that I never will play again. That we have met now have more explanations than Punk 25 years. Some unfinished business with record labels because this time isn´t a reunion….IT`S A REVENGE…it will hit many ways. You will understand , we got much shit before. And we didn´t was worth it.
Bonni: -Do you mean Asta Kask so did we an end to the group 1986 and then we had two reunions in 1989 on Vita Huset and in 1992 in Fryshuset. Except of these two we have always said no to those things. It have been depending on that I and Bjurre didn´t want our mates to Cosa Nostra feeling that they stand in the shadow of Asta and that we wanted to do now-things, not the past. Another thing was that we have decided in common was that we didn´t wanted to take any steps out from our ideals. We had agreed not to have any other members and to stop playing in the band when people accused us to be big divas, profiteers, poseurs and japantouring rockstars. If we then would reunite now and then will that take the edge of the reason why we did quit Asta. I thin k that many of you would put the moralcake in your throat if you knew how many and which things we have been missing because of these facts….both before and after Astas death.
Now it´s three gigs, two in Gothenburg and one in Stockholm? Is there something after that?
Ernie:-We don´t know yet, but the door is open, so we will see.
Micke: -We did a secret gig in june in Stockholm under the secret name ESTER KEX but it has been out a little so the place was full. We saw it as a training before the autumn. Right now 2 gigs are boked NALEn in Stokcholm and Musikens Hus in Gothenburg. Maybe 2 gigs on every place if the tickets sin´t enough. We´re not afraid of some gigs now. The last time we qiui we was forced to do it…this time is a revenge so this time WE will take the life of Asta if someone must do it.
Bonni: -Nja…maybe more. Nalen in Stockholm and Musikens Hus GBG is booked. Otherwise…it will surely been out soon.
Which crew will you have on the gigs?
Ernie:-The people whow as in the group 1982-1986 and which was recorded all the records except the first EP.
Micke - guit, vocals
Bjurre - drums
Bonni - guit, vocals
Ernie – bass
Micke: -The only one who have been functional Micke Ernie Bjurre and Bonta.
Bonni: -Micke Tröstlös – guitar and vocals, Bonni Banzai – guitar and vocals, Ernie Bazzo – Bass, och Bjurre – drums and other stupidness.
<![if !supportLineBreakNewLine]>
<![endif]>
Which was the original crew?
Ernie:-On the first EP "För kung & fosterland" was it:
Micke - guit, vocals
Steve - guit, vocals
Pelle - bass
Uffe - drums
Micke is the only originalmember.
Micke: -The originalcrew have been different between 78-81 but the most of the time it was Uffe Bugsy , Steve Aktiv , Pelle Skabb and Micke Menlös. Pelle died some years ago and that´s a guy I can miss sometimes.
Bonni: -During the time for the first recording:
Micke - guitar and vocals, Steve Aktiv – Guitar, Pelle Skabb – bass, Uffe Boogie -Drums. Before that it was very varying.
Why do you think the interest is so big for this sort of festival? Which middle age will it be on the festival?
Ernie:-The old men have 40 yearcrises :)No I think it´s a fun thing and some want to have some nostalgykicks. The public will be a little bit older but I hope that some younger people will come.
Micke: -Of course it´s a high nostalgything for many and some 40 year crises. The ages will be varied I think. I think that is many who was in the punk at that time is there and some younger who is curious. And when we played back in time the audience was kids in the front and the cooler and older in the back and after them the parents to the kids in the front.
Bonni: -I think that punk have been a very big influence to many people and something like this have never been done for this elderly(excuse for the expression) type of people, which I think have been there, looking around, all the time. When the strength of struggling have been layed down so have the love for the music still been there and what it stands for. You can´t identify with today´s punkgigs and you can´t feel so close to today´s young punks and the style of punkmusic they play. And then this is a big thing. Hey will find the same type of people and a "homeground" there. And then this is a big nostalgytrip too.
Why do you think the punk is so big today?
Ernie:-Timeless thing and straight music combine with the natural cycle with musicstyles which goes up and down.
Micke:-It comes in waves. It was a good time for punk 91-93, maybe it wasn´t so interesting but punk is always come back when the other music is too bad. Which children want to have anorectic pornmodels which exploits by multinational labels as idols. Fucking lunatics and posing Gangsta rap, it´s sick.
Bonni: -Do you mean generally, internationl I think the establishment won. They took all and absorbed the revolutiona nd did a big thing out of it, they moved into the big arenas and then you have a new style to suck out blood from, it can sell as much as heavy metal and folkrockmastodonts as Bruce Springsteen and more. The kids like, then it´s big..
But national there´s a movement left but not so big. It will die in the same moment it will be big. The last mentioned comes now and then when commercial shit is stucked in the throat of people.
What does the punk mean to you, was it only a word or how was it?
Ernie:-Without the punk I haven´t been the man I am today. The punk have really formed my life really much. Even if you haven´t all the ideals today so have you many of them left and you are acting like a punk without studs and leatherjackets and a nice hairstyle. So for me punk have been really important.
Micke: -A total lifestyle . A school that I haven´t regret. The punk got me understand that you don´t have to float with to be accepted. Rather put our your opinions and be respected or be mentioned.
Today kids try with every trick to revolt against the grownupworld. Some parts in the hiphopstyle is the same kind of revolt as we had 77. Now I don´t mean egoistic thinking goldhiphop with halfnaked chicks and a wishing about getting more money. No more like Petter, Timbaktu and so on……there´s some hope.
Bonni: -The punk meant a whole lot for me. It´s a part of me in the same way as parents is. Punk was my moral thing when I missed some rules what I should do and not do. I have no rolemodels(like parents) which ciuld help me and answer my questions and guide me when I needed that. In this time the punk came. In punk I found the values and limits that I needed to form me to the human being I am today and I´m satisfied with.
Isn´t it unfair for the punks today, they can´t chock in the same way as we did? What will they do to chock people today?
Ernie:-I don´t know…mustyou go around and chock people? It was my thing to do then. I wanted to be seen but it´s up to everyone and it´s depending which people which are around you. The youth is really good to come up with things themselves and don´t need an old punkgrandpas advices to chock people…....
Micke: -Of course it ´s hard to a youngster today to surprise their parents which have been in the punkstyle themselves. Lived in collective houses, demonstrated, said no to the militaryschool, name it. But many times they revolt in the wrong direction and became real pigs and NSF(nazis) loves unsecure children.
Bonni: -Interesting question. The question is that if the young kids today have the primitive need to chcok people as earlier punks had. I don´t that need don´t hit so hard as it did then The limits and border you wanted to smash then is smashed already and the kids have space "to look the way you want" from the community. I think that todays "struggle"is more about politics. So if you will chock is more when you´re getting free from your parents but that´s nothing special for the punk I think.
How was it to be a punk back in the days when you look as worst?
Ernie:-Raggare(people with big american cars) and skinheads was the ones who messed around with us all too much but otherwise I remember the good things.
Micke: -In a little place as Töreboda there the majority is old raggare as Töreboda was the only thing to run. Turn the leatherjacker out and in and keep calm. It was often confrontations wihere they said they would kill you and so on. It was only one way out sometimes when you was stucked in a corner. It was to talk about that you only listen to Ramones…sometimes it was the thing to say because Ramones was accepted in their cars. But raggare was really dumb people so it went often out fine. It was worser when the nazis came…you can´t talk to a dead stone.
Bonni: -Then it wasn´t a day without you had to defend your style and the way you looked. If it wasn´t anyone who said something and wanted a full explanation so was it a raggare who wanted to fight.
And then it was the people who didn´t want any answer, they only their things and run over to the other side of the street..
It happened something in Uddevalla too, tell me?
Ernie:-Hmm...after a gig there we gathered round Mickes camouflagepainted Ford Anglia-62 which was our tourcar then. We drove around a little hanging around on the roof and on the doors in the car. The came the police and he threatened us to tear our drivers license apart and he gave us a really big fuck off. When the police have left we hear a voice behind us. "And what the fuck are you doing "- on uddevallska and we understand that we stood near the hamburgerkitchen where the local raggare has their gathering. Two raggare, one long and thin and a short and fat came foreward to us and start to fight with us. They tried to take the keys to our car and kicked on our car. Then Micke thought that we should go. As far as that was everything good. , that was only one problem. Bjurre and Ernie is left on the Anglia which goes far away. When they looked up again they´re eye to eye with the two raggare. Both very angry. Bjurre and Ernie looked at each other and run without knowing where to go. During the running we heard V(´s behind us. Fast into an opening in a bush. Panic. We were stucked in a tennisyard. Out again and away towards the centre of Uddevalla, adn we tricked them left and then we throwed us self udner a bush in central Uddevalla.
After some minutes we hear a sound we recognize and there came a camouflagepainted Anglia in high speed. Out in the way and wave. But after it comes 3-4 american cars with drunk and angry raggare chasing the Anglia. Fast behind the bush again.
After some hour we succeed to find each other again with some help and we could come out from Uddella.
The end is happy…everything is happy…
Micke: -I know that Ernie have told you a little about this thing but fact was that it was often like this in small cities. We often get the police´s help to get out from the small cities. We hade a guy who arranged gigs for us with let us play with his old raggarband Buschman, Eddie Meduza and so on and imagine 4 small punks playing in front of 4-500 drunk raggare.
Bonni: -Ernie have telled us the things really good. But the Uddevalla-raggare is only an expression which many other carpeople had those days and they was like cavemen. And if they hadn´t that style Bjuerrs longinger could give them this style he he he.
How many gig did you do during your active time?
Ernie:-Somewhere between 200-250 with this crew. The old crew about 50.
Micke: Micke: -Not an idea, maybe 250-300 gigs.
Bonni: -Yeah…it was a whole lot.
Is punk something you listens to today, is there any of todays punkband you like?
Ernie:-I listen to all sort of music today and of course some punk today too. New bands can I listen to now and then and then it´s the more poppunky style. Street and skatepunk or what is it called . But only some songs here and there, I haven´t bought a new punkrecord in ages but I like things as Randy, Rancid and so on... I have really bad at Swedish punk at the moment. Planet Pogo of course which I am doing some stuff with…
Micke:-Of course I still listens to punk. But I listen to more things today and I like the most and is curios on new stuff.
Bonni: - Yeah, it´s still my bag. But then the limits burst a little here and there, but is it aggressive and the nerve is there it have really big chance to be played in my stereo..
Todays punkband? It depends how you mean and what you count as punkbands, for example Blink 182, Sum 41 and so on I listen not so much to even if I can think it´s good music. In the more uncommercial style I have really bad check on the groups today. Because when youre not out so much as before you never knew anything.
Which music are you listening to otherwise?
Ernie:-You name it. I listens to everything…Spike Jones right now…and Randy, Pugh and The Jam. Tomorrow anything else..
Micke: -I´m a big fan of redwinepoetry and the king there is named Stefan Sundström. And I listens much to the radio.
Bonni: -Everything which sounds original and have something to say to me!
Which swedish punkband have been the most important?
Ernie:-I don´t know…all punkbands are important in their way, it depends on which perspective you have. Am I playing in a ounkband that band mean a lot to me, I have done something and I can shout it out , the things I will say. That´s the most important. Which influences you have is a different thing.
Micke: -Ebba Grön started it up together with KSMB. Asta made a new trend and style to play and DiaPsalma and DLK fronted the new wave in the 90´s.
Bonni: -Mmmm….Ebba Grön, KSMB, Massmedia….you can count them up a,, the bands in the same time. Later the bands will be divorced in different punkstyles and then it was easier to take some bands apart. And if I say without thinking which band I have been in I can say Asta Kask and Anticimex as important bands.
What differences did you see if we talk about the northern punk/southern punk/gothenburgpunk/stockholsmpunk and now middle sweden punk?
Ernie:-It was swinging in different ways but all have their qualitys . I like music from different parts of the land(What a politicananswer isn´t it? Hehe
Micke: -The difference is really big. From Gothenburgs boogierockpunk to industryinfluenced punk in Sundsvall. Punk from the country from small citites I think was the biggest. Stockholm's Strindbergs was really good. Gothenburgpunk didn´t came further than Alingsås or?
Bonni: -The northern punk was really an own style with their depressive style and it´s deep, Stokchllm, Southern Sweden and Gothenburg showed their roots in more tradtional rock. Here have I don thought about the different sounding language. The westgotapunk what is that then….hmm……Maybe that these bands was absolutely free from being in any musicbusiness(except Bert Karlsson, who didn´t fish in this pond) and they had more distance to their influences. In Skaraborg it was a black spot where noone knewed nothing and when we was out and played so was we so drunk and didn´t take any wisdom with us home hehe.
Is there any good band sin your hometown right now??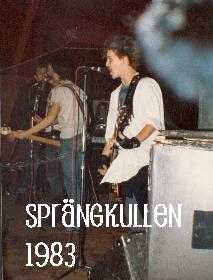 Ernie:-In Stockholm? Planet Pogo is my favouriteband here.
Micke: -Sure.
Bonni: -Yeah,sure…but I have not heard them…or about them. It´s a combination of that I´m not so often is out and that there´s no scene for the bands right now.
Have you played together with some of the other bands before on a gig?
Ernie:-I don´t remember if we played with Brända Barn sometime, maybe some time in Sundsvall but Attentat have Asta played with in 78/79 sometime.
Micke: -We played with ATTENTAT two times in Mariestad in the 70´s. Perverts too if they´re on this autumn. We played with Slobabans Undergång once in Skara and if it was in Uddevalla 85
Bonni: -Yes
Which is the best swedish punksong all time(you will not say your own song)?
Ernie:-Aldrig dö - Dr Zeke
Micke: -Glimmande Nymph by Bellman with Fred Åkerström .
Bonni: -It´s difficult to say….hmmm …..1000 punx with Grisen Skriker, We´re only in it…with Ebba, Jag ska aldrig dö with Dr, ZEKE is some candidates.
Which is your most popular song?
Ernie:-"Välkommen hem" our fans voted about that on our website.
Micke: -After a voting on our website it became Välkommen Hem, but I think it´s varying which age and which city we talk about.
Bonni: -People´s voice says "Välkommen hem" right now. But a new voting will maybe say something else..
Which is your own best punksong?
Ernie:-"God save the queen" I say if yiu force me into a corner with a loaded gun to my head and give me three seconds to answer but there is many aspirants there(I don´t think he understood my question but what the hell)...
Micke: En tyst minut from our second ep
Bonni: -No, I haven´t got a clue. It´s some songs we feel more for but I can´t say some special song.
Have you played for 1000 persons before?
Ernie:-Yeah, that have we done sometimes.
Micke: -Some festival things had some big audience. Some Greenpeacegig and so on. Don´t try to make me nervous.
Bonni:-Yes
Which of your records can we buy today? Other merchandise, is there any?
Ernie:-Right now only the liverecord "Från andra sidan" which is from 1992, "Sista dansen"which is a livesplit with Rolands Gosskör from 1989 and "Med is i Magen" on CD (1984) And then you can buy the EP "Rock mot svinen" which is a compilation with the most singles on LP and "Till Sista Droppen" which is an Ep with some unrelased songs on. Both Rock mot Svinen and Till Sista Droppen is relased by a german label
T-shirts you can buy….is a pirateshirt from USA which is sold here and there and a shirt printed in Germany..We will try to get some own shirt out to the 4th of october....
Micke: -Not a clue. The distribution have been bad in many years and that´s because of lack of interest both from us and from the record company so it can maybe be hard to find records. We hope we get some order in this now.
Bonni: -I´m not really sure what is still left/and what is ccoming. But you who want Asta-things don´t have to worry.
What are you most curious about when you think about the festival?
Ernie:-Which band will have the most balded persons and the most fat band and which audience it will be. We must weight in and we must come easier from the gig because of the weigthloss.
Micke: -I´m really longing to see Freddie The King Wadling and the nostalgytrip with Grisen Skriker.
Bonni: -Grisen Skriker, and who is looking as who´s grandpa and if someone is going to die of a heartdisease or burn up.
How was the critic on your records, and how does the established write?
Ernie:-Not so good, it was mostly localpapers who wrote about us. But we got some really good reveiws.
Micke: -We almost always got good reviews but not in Nerikes Allehanda there we always got bad reviews. We met the reviewer on our last tour 1986 and she would have an interview after some days after she have been writing bad about us…she was drunk and really rude. We threwed her out after some comments about her way to do her work. The day after the review get even worser.
Bonni: -Noyes..it was both good and bad.
Which is the most peculiar review you ever got?
Ernie:-We was called "Trallhurtiga sprallpunkare"(easytosingwithfast funpunks) by a sundsvallpaper once....
Micke:-All stupidfunny comments and tries to point us out like a funpunkband or something like that.
Bonni: -It must have been the best example on professional and objectivity which met us in Örebro and then we already was in a war with the militant female people in this city. A female so called journalist have done an interview with us after the gig and had(after a whole lot of red wine) decided to do an interview with us a in "a real way" and that did that she was not so nice to us.We really gave her a lot of nice stuff to write about and what Asta Kask thinks about journalists which is like drunk rockstars with a very little selfconscious and that we ´re not drinking when we´re doing our job as other people which eventually have got too little love as a child…and so on… About that we couldn´t read anything in the interview but a really bad review oft the gig and the band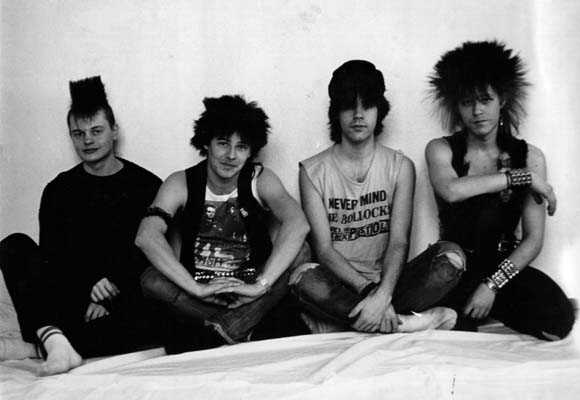 Why did you split up,was it to big pressure on you or what?
Ernie:-It started to be too much about Asta and too much gigs and very mad questions from Okej and Veckorevyn and other things we said no to. We don´t wanted to be big and we was against most things which could do us big but we thought it was fun to sell records. And then we went to different ways musically and socially. And then I moved to Stockholm and we have decided earlier that if someone moved or quit the band Asta will not be anynmore. And then it went that way
Micke: -We had come to that point when the gigs was more often and took more and more time out of our private lifes. To get up in the morning and write a song because of the fact that you must have money to your bread doesn´t do the song good. Ernie moved to Stockholm and we felt that we were finished there. We had the last years take a lot of a shit from people and were really tired of that and sad too. Because half my lifetime it had been Asta and to take so much shit felt not so good.
Bonni: Yeah….because of the fact that we only played for the money for gas and get a big audience but we was called poseurs, profiteers, rockstars and you name it. So when Ernie moved to Stokcholm so wasn´t it difficult to do as we once have agreed about, to put down Asta when someone is quitting the band. Therefor we recorded a LP(which only rockstars do) and then we gave it the name …Aldrig en LP(Never a LP) and instead of touring Japan(as all poodlerockers do) we decide to put down the band when it was as biggest.
How is the feelings now when you meet and rehearsal?
Ernie:-We have never had so much fun as now.
Micke: -We have really fun…. Before the first meeting I had taken my guitar into pieces because of the fact that I didn´t want to play.The other fatties have already borrowed one to me in the rehersalroom, After 15-20 minutes it was it always have been.
Bonni: -It feels better than ever and we have really fun together and we are on the same niveau more now than we ever have been. And then that the music sits as ever before it doesn´t make the things worser.
Have you had some contact after the break up?
Ernie:-Mostly mail and telephone but we haven´t meet each other so much.
Micke: -No not at all…..Bonta and Bjurre of course through Cosa Nostra but not a single telephone call to me during the years. Not me either. Ernie and I have met in Stockholm sometimes but it got weird.
Now it is like those years haven´t been.
Bonni: -No, not except me and Bjurre which had Cosa Nostra after the splitting. But that was surely why we haven´t any relations outside Asta Kask when we played. We came from different places and we was with different people before and during the Asta-period. Ernie moved and Micke was left in Töreboda and I and Bjurre was in Mariestad. When Asta disappeared the things between us also disappeared. Weird…..
What is the most peculiar which have happened during the tine with Asta , in the audience or onstage?
Ernie:-That I was stuck in a stagediving punk and disappear in the auidience. That Bonni during a song lay down his guitar and goes down in the audience and hits an enemy bloody, weaps the blood away and go up on stage and start to play again. That a gang of skinheads comes into the gig and shit the scare out of all but after a while people understand that they love Asta and sings along in the lyrics and hits themselves into each other heads during the whole gig. I don´t know…many weird and fun things have happened.
Micke: -Many strange thing but most of the things was Ernie involved in. I remember when TSt smashed the equipment on a gig in Bollnäs I think it was and all of our instruments was filled with electricity. It was lightning between us and the heart was pumping thrice as fast, so fast. You was stucked in the microphone when you sang. Another time in Örebro so was a fat girl pogoing so much so her boobies came out of her shirt and that got me and Bonni down on our knees. It have happened much but it must be archived in my head.
Bonni: -It´s much we can tell you there….hmmm…..something which always feels peculiar is when you´re off stage and from backstage your hear the audience shout" ONE MORE TIME ONE MORE TIME" …
What is the best and what´s the worst of being in a rockband?
Ernie:-The worst thing is to travel and carry things, the best is to be on a stage.
Micke: -Best: Mates, travelling, take foreward the eqipment, lunchbreaks, afterparty.
Worst: The playing, scenefear, groupies, demands and the audience.
Bonni: -Best: The things we do together and to be part in something that is over the usual things and that you share it with people who thinks the same.
Worst: That always struggle to don´t lost yourself in everything.
Is it really hard to see that the punk stills alive and you have coming up in age? Do you think that older gentlemen like Charlie
Harper, Wattie, Mick Jagger, Iggy Pop is pathetique?
Ernie:-No, Iggy can never be pathetique. Folk must play a s long as they want to. It´s pathetique when Nazaerth comes and play on the Finlandboat with one of the originalmembers cousins boyfriend as the only thing which reminds us about the originalmembers and do Love Hurts.
Micke: -Not for a moment. We´re better than ever, just a little bit more tired and our extra kilos on our bodies don´t make it easier precisly.
Bonni: -No, not so long as you don´t hold onto something you feel that you´re going to lose. That struggle is pathetique.!
How does people around react on the fact that you´re going to play again?
Ernie:-Only positive.
Micke: -My children thinks it´s really odd. My wife thinks it´s even more peculiar because she wasn´t in it when it was actual. Otherwise I think that people tries to say it´s good. It´s ME who is my worst enemy.
Bonni: -I don´t really know, what do you mean with that? The nearest is living as much as me in my decision so it´s really positive in the same way I am. I know that many people really is happy and all the other people I don´t give a shit about. They will think what they think.
Was is easier for band to come through when you came through?
Ernie:-Yeah it was. More places to play and all those things.
Micke: -Of course it was more chance to play with more effective people in our music. That this ain´t here today depends only on themselves, lazyness and they want everything served. Work a little yourself. Is it no place to play, build one up then.
Bonni: -Yeah, I think so, it was more scenes and more places to explore.
What´s the difference for bands today and what advices will you give a band which have started to play, what shall they think about
Ernie:-To play the things they want to play and don´t be crushed when the rockstardream not will come true. And they must have fun during the time they play and document the things they do and save it and not write bad recordcontracts.
Micke: -Nothing is free.
Bonni: -You must work more for yourself, not only play, you must get your gigs yourself. As in the beginning of the punk. The best advice I can give is to lift foreward is why are you playing together and then never forget those motives. Is your goal to live on the music you must forget that and take some strathegic work instead and throw your integrity to hell.!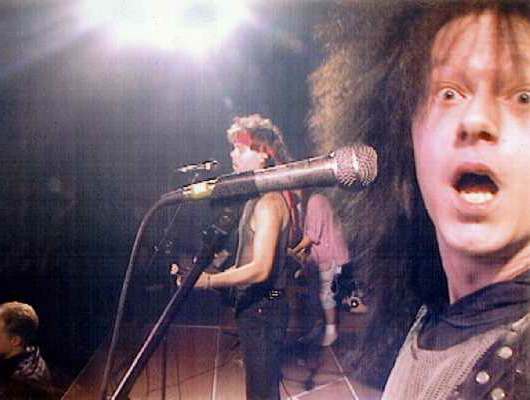 What do you think about mp3 and the rumours that say that the recordlabels don´t have any money left because of that
Ernie:-Bullshit. Mp3 is the best advertisment for a band. Of course it´s people who never buy a record but it´s the same people who recorded their friends records on cassette and never bought any own records. Many mp3 I load is from records I never have bought anyway. Asta have had mp3 on our site since 1998. Almost every song we have done, we still sell records.
Micke: -If the record companies will be ruined because of the fact that the records is too expensive in the shops so is the wrong things there. Mp3 in all honour. Who wants and who ´s buying. I want to buy the originalrecord but not for too high prices.
Bonni: -That people who have written songs don´t get the money is sad but that prove that the music business must change their attitude to this new things. That the way between artist and listeners have been shorter I see very positive. But of course must everybody get paid for their part in a song. I think the record label must go away from the view " record label to distribution to store to buyer" and think of some closer contact to the buyer and work out alternative methods to spread and get paid for the music. And then I think it´s going to be a group of people who always want the whole record and not a compilation of mp3´s. When you can´t survive without help with help from those you´re really bad out. Naive?…maybe….
How was this thing with Pang Records and all those things and the rumours about that Asta have been cheated? Is there any truth in this?
Bonni:-No, not really. But of course we have been too kind and nerdy to everyone…but as we said, this ain´t a reunion this is a revenge!
Please rank your five favouriterecords, five best concerts and five most important things in life?
Bonni-No I cannot, but I can have some in every category…
Record: CITY X "Ud af funksjon" fucking good single
Concert: ODEN in Karlskrona 1986 (and Kafe 44 lately)
Most important things in life: YOU, NOW, WHY NOT? WHY? THE ANSWER IS NO!
Micke:I cannot.
Ernie: I cannot
First, last and the most expensive record ever bought?
Ernie:-First: Slade "In flame". Latest and the most expensive I can´t remember...
Micke: -First record Clash 35 swedish krona on Domus. Rest of the things is in a fog.¨'
Bonni: -"Slayed" with "Slade" I think was the first one.
"Elvis Presley" and "Nice guys finish last" with Planet Pogo was the latest.
Most expensive: I don´t really know.
A question that you surely have been asking many times, where does the name come from?
Ernie:-AKTAS-stickers which we took apart and we made them to different names.
Micke: -You have surely heard about the things with Aids. Ask Bonta. We have only lend the name.
Bonni: -Yeah……. It have been many speculations in this question. All from torned printed things to ships which have come with the AID-virus to Europé. But here the true history come. " It comes from a history which testify about the first female policemen in this country and the freedomfighter and rebel "Lasse i Berget". That was a man who lived during the 1900 ´s century and he refused to live after the "normal" He lived in a cave in Kinnekulle and he lived his life there and he said that he was free and his independent life with help from a gun and that he was good in geographic, as a Rambo you can say. Once the policepower tried to do(one of many) attempt to catch Lasse because that a man said that he has been on his land and shoot an animal. The local police had promised the baron five policemen but athe fifth policemen have been sick so he forced his daughter to put on an uniform. Her name was Asta and she was a funny sight, to big uniform and a kask(helmet) which came wrong on her head all the time. Lasse knewed in time that they would come and he have done a big gap like a bearcatcher as they fell into, alle xcept one Asta she ran for her life but Lasse catched her and kept her in as a hostage. During tow weeks of many attempts to storm the place Lasse and asta fell in love and Lasse let him be caught. Asta said what she knewed and therfor Lasss penalty only was 6 months. A preast let them get married in Lasse cave and they drank out of …yeah yeah…..Astas Kask(helmet)…..which have been left in Lasses cave.
When you started to play, what was the ambition, was it to be rockstars or what?
Ernie:-No, to have fun and get out the angry things which was stuck in there somewhere and which waited to be outsinged.
Micke: -Of course not..The highest dream was to play on a schooldance in Töreboda. Which we never have done. If you not was interested of sport In your teenage you can choose on driving around on your moped, drink a lot or start a band….or then you could do all things together.
Bonni: -No.to change the world or maybe to get your own life an existence in any meaning.
How does it feel when you hear a lot of foreign bands do covers on your songs? Which cover is best?
Ernie:-Feels peculiar and fun. Best is Rasta Knast version of Inget ljus – Kein Licht.
Micke: -Of course it´s flattering. Rasta Knast is really good.. but when brazilian AGROTOXICO sings the song Psykiskt instabil in swedish without knowing what they sing about I really feels cosy.
Bonni: -It´s flattering…and unreal. Best is Rasta Knast version of Inget Ljus.
You only did songs in swedish, no english songs?
Ernie:-Johhny Boy was an english song on "Aldrig en LP" which was about som queercowboys and their jealousy.
Micke: -No. Maybe we had the funsong called Johnny Boy. A cowbouyqueersong. We had a cassette which would be distributed on a french label which was called"With a body like Mickey Mouse." I don´t remember what happened with that.
Bonni: -We thought that it was pathetique to have english lyrics when you play to a swedish audience. The only time we went from that was the song Johnny Boy , an unserious song, and important history about homosexual cowboys..
Do you think a band like yours could have any chance today?
Ernie:-No.
Micke: -NEJ.
Bonnie:-No.
What was your strength as a band?
Ernie:-Happy melodies, much humour and lyrics which are actual today too.
Micke: -The strength was the playing together, bassounds, the choirs and a mix of humour, irony and serious things.
Bonni: -Humour, we hold together and we had the same value in the band and melodic simpleness I think..
You will not release all your stuff in a box with pictures and so on?
Ernie:-You´ll never know.
Micke: -Maybe so.
Bonni: Yeah-a big box which we put out on the sea and then we put fire into it …or something..we will see.
<![if !supportLineBreakNewLine]>
<![endif]>
Wisdomword?
Ernie:-Stand on you otherwise anybody else do it.
Micke: -YOU CAN NEVER RUN AWAY FROM YOUR PROBLEMS. Because you´re always with you.
Bonni: -Revolution starts into yourself….not somewhere else.….!
Futureplans for yourself? And for the band and your songs?
Ernie:-I will enjoy the coming Astaperiod and the nice company it is and then I will go out in the streets as an usual man until I wait on that Planet Pogo want a producers to their next record too.
Micke: -I can´t say anything about that now.
Bonni: -One day each, the things that happen happens!
Something to add?
Ernie:-Writeache.
Micke:-How will you get any structure in this interview?
Bonni: -No, I think you have taken the most out of me, it feels good.
Take a question to yourself that you want me to ask you and answer it?
Ernie:--Do you think this was a long interviews?
-Yeah, boy! Think of my old fingers, they really ache now:)
Bonni: -Is spontanius selfburning a phenomenia or a right to do??
Of course it´s a right to do and in some case you must do it!
All the pictures except the one from Sprängkullen is from Astas homesite.