Tompa from Asocial has been so kind to do an interview with me or rather I with him. This happened in October-2019
A little history of the group? Why did you stop playing once and how did you get started again?
-Asocial was formed sometime around 1981..punk was new to us then, and everything was very exciting ... damn we were only children..but it was a great way to spend leisure time. In fact, it took all the time, in principle. Hedemora is a small hole, but there were lots of bands and we had a music club and concerts were arranged. We released some demo tapes ... trading, as we did at that time. We released later, our first ep..Det bittra slutet. After the first Ep I quit the band and started Svart Parad. After that came the second record sReligion Sucks, with some other members. Asocial continued with some personal changes and release ep nr 3... House of gore..which, according to the band members, was not so successful, like this in retrospect. During this time, a lot of influences from the Bay Areathrash were brought in, and also some other metal. I don't really know why the band quit playing after that. We reunited around -97 and did some gigs ... with Extreme Noise Terror, and Bollnäspunken. Me and Tb were in pretty broken condition then and it all ran out in the sand..not like to have a band when two of the members fit better on the alcoholist bench. In 2016 we got some questions about Asocial by Daniel Ekeroth, who had started working on a book about Swedish hardcore ... which is coming out in the future. These questions and the talk that became that we started to grumble about old times, it triggered us..as hell, it would be fun to start again ... and so it was. We had the exclusion then, but had a hard time getting it together with rehearsals, children and distances, so it became easier when everyone lived in the neighbourhood and no consideration was needed for small children etc. We are very much more serious now than in the past, anyway. At the time of writing we are waiting for LP # 2 to be released on FOAD rec .. it will probably be released in dec.
Tell us a little about each member, age, job, family, band before and band next to it? Did you have any bands during the time Asocial did not play ??
-When we started to play at all, we were called Ångest(Anxiety). It was Svenne's brother on vocals and another bass player, then. I was playing drums and Svenne guitar. We started from scratch basically ... it was an exploratory adventure. Johan - drums, is the only non-original member, now ... but he was drumming at the reunion -97. He is an old friend, who has been in a lot of bands. He drummed in Uncurbed, and participated in Fleshrevel's and a thousand other projects. He has his band Interment, and also plays guitar in Parasit. Johan works as a seasonal employee and cuts grass on a golf course. Svenne - guitar, was probably the one who first started listening to punk, and wanted to start a band. He played a little with Agoni , before they changed their name to Agony and started to play thrash. Svenne is probably the one of us who has not played in any band while Asocial has been down. Svenne works as a system technician at the municipality. Tb - song,
singed for a number of years in Uncurbed. He also sang in the Utanförskapet that I drummed in. Was a bit of in smaller bands, before..played bass for a while in a band we had called Visions. Tb is the supervisor of a work rehab, or what to call it ... Work training for people who have different problems with getting into working life. I, Tompa, play bass, and have previously been in slightly different bands..Svart Parad, Visions, Utanförskapet .. Johan and I also played in a thrash band called Hatred, after Svart Parad had split. I was also with a brief turn in Uncurbed before the band split. Was in and out into Crossing Chaos before they split ... damn, do I have bad influence? .. haha. I work in social psychiatry. We have all had a great musical interest all the time over the years.
I can hear very much old crust like early Discharge on the latest record? Was it better iback in time?
-No, it was good in the past and is good now. But will never forget the first time you heard Discharge ... there was like nothing that sounded so, then ... damn, you fell off the chair . Since then, the love of old Discharge has been immortal. Old Discharge is so close to the heart that we want to stay in those hooks. But sure, there are many good bands nowadays..the scene is alive and well. It's nice.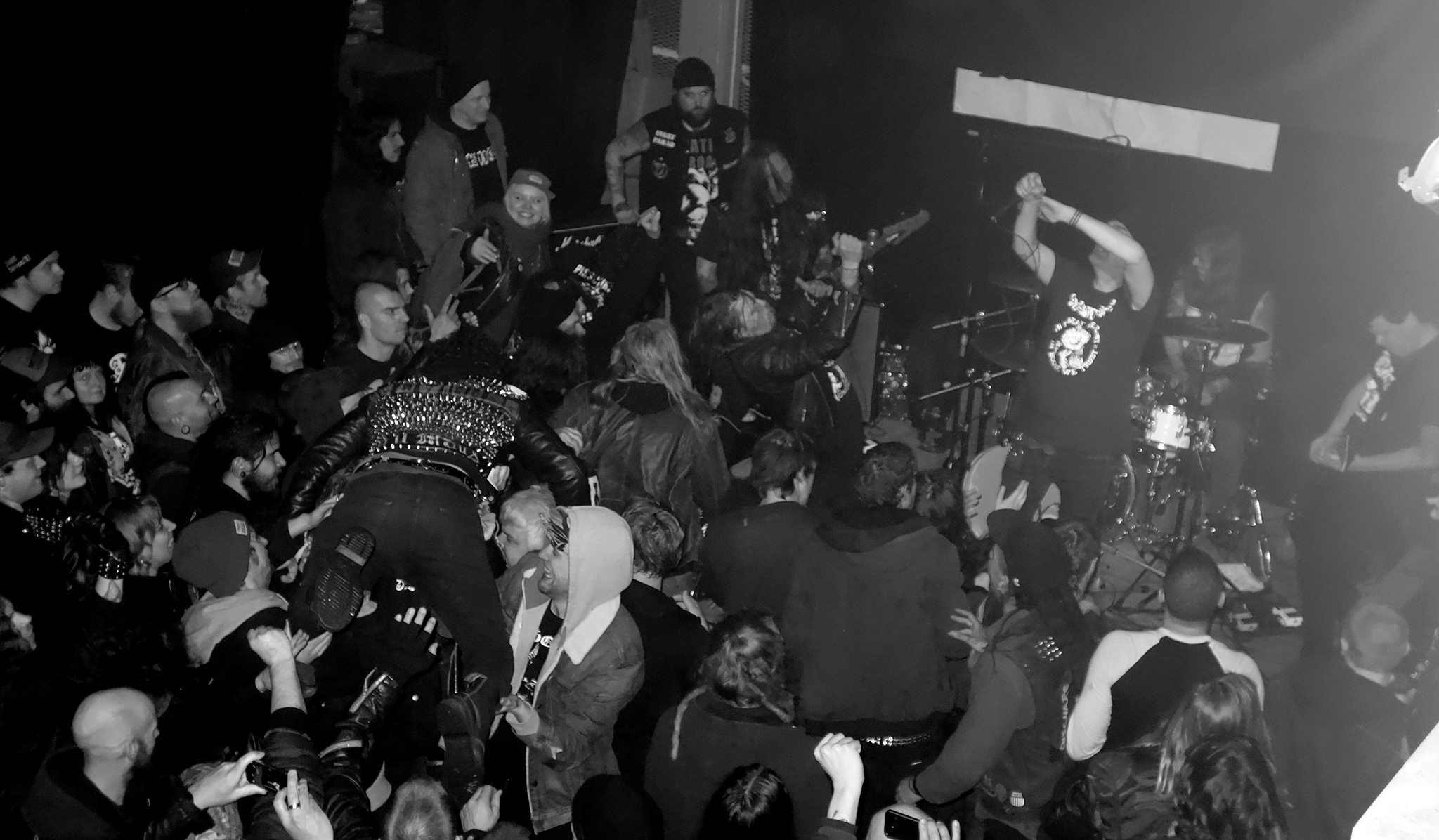 Asocial, are you happy with the name? What other names were you talking about when you decided the name? If not the best band name had been taken, which name would you have chosen? I mean which is the best band name?
-Don't remember what names we had as a suggestion ... is a hundred years ago..Asocial is good enough .. After all, Utanförskapet was a nice name, otherwise.
What's the best thing about playing live? What is the difference between playing out now if you compare to 1984?
-It is clearly the most fun to play live ... the feeling of life is increased properly..the response .. the joy..the ecstasy.. what a pleasure it is. Nowadays it is much better equipment and better upgraded..people have grown up. When we had the gigs in Hedemora there was some small stage guitar amplifier as a song system, haha.
Where is best to play, where is worst?
-I prefer squatting..there is the feeling which is the most genuine ..... outdoor scenes with a big scene is such..difficult to say in general. If there are some people in the place who like what you play, it usually works.
How is it like to play this kind of punk in Sweden today?
- Works well, I think. There is a whole spectrum with different musical orientations within the stage, and that's good..diversity is good.
How would you describe your music in three words ?
-Power, soul, nuclear war.
What does punk mean to you, is it just a word or is it a lifestyle?
-Punk is a lifestyle, and good music ... even if you don't look so anxious about it, now that you start coming up in the years..wow, you are your own judge to a greater extent than ever ... who the hell need a lot of teenage rules when you're an old man?
How do you think it is to live in Sweden today, politically? SD?
-It's pretty scary with these right-wingers which blows ... it's like a kind of mental psychosis ... where SD is in the newspapers every day, and where it clearly shows what kind of party and people they are ... and yet the party is growing all the time. People have problems with beggars, but not with Nazis, it seems. Tragic with this unifying government where we privatize, and turn the whole system to the right ... fuck I would say.
Are there any good bands in Sweden today? In your hometown?
-It´s a lot with good bands in Sweden .. both punk bands and other styles. No one in the band just listens to punk. At home in my stereo, Misantropic goes hand in hand with Lundell. At the moment there is no good band in Hedemora..Avesta..the neighboring village, in which TB and Johan live, has Parasit, Interment, Nightime project.
Do you play anything outside Sweden?
-Yes, there have actually been some international gigs since the reunion..Did really like to play abroad..Travel.. Meet new people..New places.
Other good bands from abroad?
-So many... like the old bands that still keep going..U.K. Subs, Peter and the ...
Your lyrics, what influences you? You have done your lyric in English before but it is not something you will do again, right?
-The texts are very much an emotional aspect ... the text ideas come via feeling. You get much closer to the core when you sing in Swedish ... check out Thåström and Winnerbäck eg.
Politics and music, does it always belong together? Is it important to get your opinions out?
- Well, that's how you want it yourself ... but of course it's a plus when a band has lyrics with substance ... but it doesn't have to be about politics to be good lyrics.
Best political band/artist?
-Crass.
Do you think music can change someone's life, then I mean lyrics etc?
-Yes, absolutely ... to feel that you are not alone if what you wear..identification..text can open to new perspectives ... music unites and builds bridges. Music is art, and art is love.
Your cover is really cool on your CD, who did it. Is it important to have a cover so you understand what kind of music you are playing? What is your favorite cover of all time?…
-The guy who did it is named Henrik Gallon. I stumbled across his FB page in the same vein as we thought about the cover. I thought he was drawing fantastic, and contacted him. He is a tattoo artist, and has similar views to us, so we got the motive cheap. The idea is really from another picture..as we turned into ours.
Is it important to get out physical records? Vinyl or CD or both? Is there any good record store in your area?
-Yes, it probably feels like it's important for the physical format to remain. There is no good store nearby where we live..it's through the net and concerts I buy records.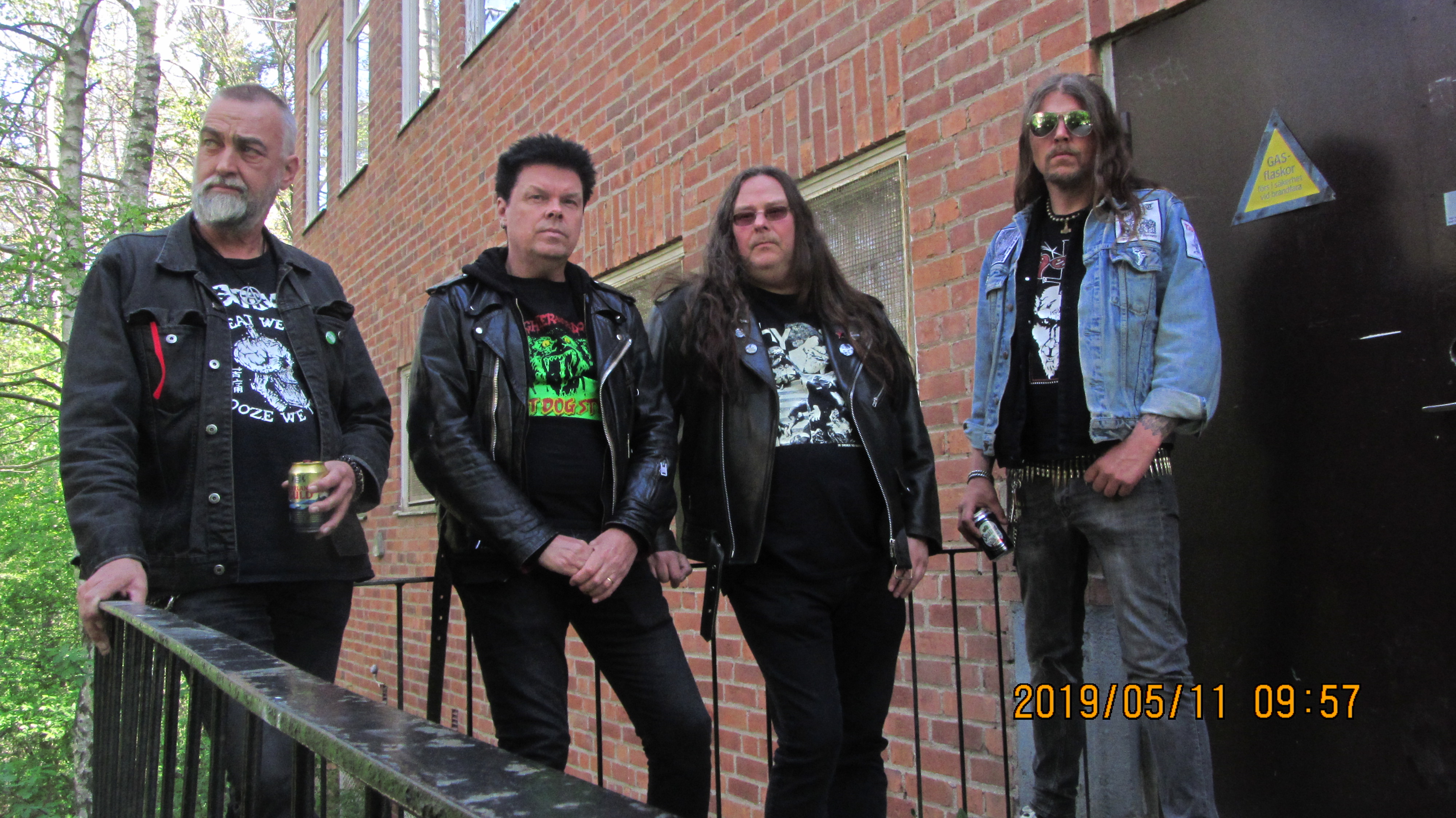 Please rank five favorite records, five favorite concerts?
-Now .. it gets hard. Discharge live at Kolingsborg, Stockholm -83 you will never forget .... Whytwelweinch and Hear nothing are standing favorites even today.
Is music a good way to get out frustration and become a kinder person? Are you angrier today than you were as a young punk?
-Music is a great way to keep your mind in a crazy world. A life without music would be very poor. Poorer and more angry..we probably don't see the world as black and white as before, but it's a fucking odd planet we live on ... you see the more things hang together, the older you get..and it's a fucking poaching and an incredible arrogance ... as we point out on Död åt kapitalismen (Death to the Capitalism )record. You are more aware of the choices you make today.
Future plans for the band?
-Continue rehearse, playing concerts ... and then our other full-length hopefully will be out in Dec.
For yourself?
-Continue the same way I do now..continue trying to be creative ... make it grow..is quite happy with the track I'm on.
Something to add?
- Thanks for the interview. Nice with people who still making fanzines.