Armborst och Tulpaner have influences both from Perssons Pack and Lars Demian and in all this they have a really own style. Fun is it anyway and the group was so nice that they answered on a interview really fast… ….december-2008.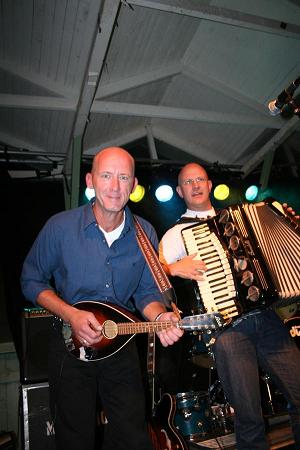 History?
-The band was founded 1991 and have played together since then with a break 2-3 years between 1997-2000. from the first lineup we have only changed the bassplayer and Micke Olsson played until 1994 and then we got Linus Lehnberg. During the years have Magnus Larsson (saxophone, flute) and Gustaf Hammarlund (violin) also been in the group.

Please tell me a little about every member, interests, family, work and something bad about every one?
-Roine Pettersson 39 years, have a wife, two children and he plays the accordion. He reminds us about Roland Cedermark(without hair).
Linus Lehnberg, 37 years, have a wife and two children and he plays the bass. He have bought a contrabass recently.
Krister Fernlund, 48 years, lives alone ina house without warm water or toilet. He´s really good on guitar and mandolin but he´s deaf on one of his ears.
Johan Askbom, 39 years with wife and two children . he plays drums and drive an excavator.
Ola Eriksson, 39 years, wife and two children. Plays guitar and sings in the orchester. He really wants to get himself a banjo.
I can hear a lot of other music in your music as Lars Demian, Torsson and Perssons Pack, am I wrong or is it groups you have listened on?
-Sure have we listened on the groups you mention. Other Swedish heroes is Ronny Eriksson (Euskeferat) and Eldkvarn
Even if your lyrics seems to be fun so do I feels some serious stuff in the bottom? Am I right?
-Lyrics should be entertaining, and it can be some small tales – and many of these have their bottom in the reality. And the reality can be funny but sometimes really boring…..
Min filofax är överfull....how did you came up with that lyric?(It´s a about a murderer which gets paid for doing murders)
-The movie "Grosse Point Blank" there John Cusak plays an ex-murderer is described on the TV-side in the paper. So it wasn´t the movie it´s more about the short description about the movie which was inspiring the song.
Much music is downloaded these days, how do you see on that and the new law?
-For us it hopefully means that more people comes in contact with our music. We have never earned anything on our recordsales. The law…difficult question but downloading is some sort of stealing.

Which type of audience do you have?
-Our audience is really broad when we talks about age. Many children seems to like our lyrics – even if they isn´t so friendly for children(but that´s maybe why they like them)
Which sort of people do you miss on your concerts?
-It would be fun if people who lives in other parts of the country could have the chance to hear us.
When you play live....does the songs go faster then?
-It varies, sometimes fatser but many songs can go much less fast.
Which is the most funny thing which have happened during a concert with you?
-Olyckan, or Ted Åström, was in the audience on our first gig. I think it was a birthday party for a 40 year old guy.
How is your relation to punk?
-There´s good punk and there's not so good punk. Our first bassist was an old punk so it have been put some traces in our music.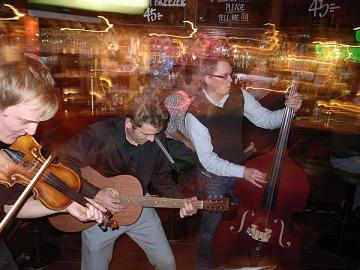 Oh yeah you have met Elvis?
-Yeah, but I have promised him not to tell anyone where he is nowadays.
Your name is odd…..how did it came up?
-Roine got the idea when he and I was watching a coverband which did a song from Guns and Roses. It´s a swedish variant.
Finns i sjön is the lates trecord you have released or…when does the next come?
-We will record our next record during the spring 2009. It will probably be released during the autumn.
Is there any other good bands in your hometown(Nyköping???) or in Sweden today?
-There´s surely some younger bands which do good things but it´s not so many in our style. But the old classic punkband Rebell is still playing...
Tiger Lou comes from the beginning from our town, land so do Staffan Hellstrand and Stefan Demert.
Politics and music is going hand in hand for some bands/artists but not for you? Do you have any favourites in the political music?
-Euskeferat, as we said and Stefan Sundström is really good. But much of the political music gets old with some glimmering exceptions. We have some songs which we take some stand in specific questions in for example Läderprästen and on our coming record we have a song which must be seen as republican.
Please rank your five favouriterecords and five best concerts you have seen?
-Records: Blood on the Tracks (Dylan), Pank (Demian), Kärlek och dynamit (P Pack), Himmelska dagar (Eldkvarn), Rum, Sodomy and the Lash (Pogues)
Concerts: Carl Johan Vallgren (Mosebacke), Springsteen (Ullevi), Dylan (Cirkus), Mike Scott (Melody) and of course one of all those Perssons Pack-concerts I have seen
The first and latest and the most expensive record ever bought?
-First: Boppers second record I think. The latest: Dylan Tell Tale Signs Most expensive: Some Dylanbox I presume.
The most embarrassing record in your collection?
-?
How do you think it is to live in Sweden then, I mean politically?
-We have it very good in Sweden if you compare with other countries.
Is it many interviews, is it boring?
-It isn´t so many interviews so it´s not boring yet
Is there any questions you want to have, but you never get? Please ask it and answer it?
-Question:
Do you want to do a big Swedishtour where the tickets goes as fast as to a Metallicaconcert: Answer: Yes please.
Futureplans for the band?
-The band plays on as ususal and we record a record during the autumn. It would be fun to play on Västerviks visfestival.
For yourself?
-Christmas vacation
Wisdomowrd?
-The thing which is worth to be done is worth to be well done.
Something to add?
-Thanks and goodbye.