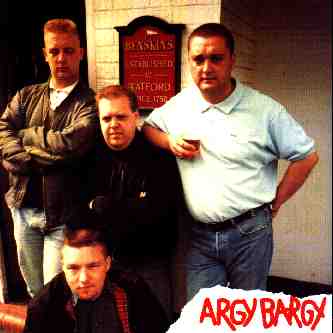 Argy Bargy is a name on a Cocksparrer song, but it doesn´t matter. Beacuse The band Argy Bargy is an oi-band with class. I got this interview done 17/8-2000 with the singer Jon which also works on Captain Oi
History?
-We formed in 1990. The original lineup was Jon-vocals, Dustin-drums, Stuart & Kevin-guitar and Carl-bass. After a couple of gigs that line up split and I called in my friend Daryl to play guitar and a guy called Mark played bass. Mark left and we called in Lol to play bass.
Please tell me a little about every member like age, family, bands before and what you do when you don´t work?
-I am 31 and maried with a 2 year old daughter. Daryl is 28 and lives with his girlfriend Nikki. He also plays in Cock Sparrer. Lol plays for The Business and his girlfriend is called Michelle. Dustin lives with his parents and is 28. When we are not working we are watching gigs or relaxing.
You work on Captain Oi,why didn´t you put our your music there?
-Captain Oi! specialises in re-issues and we don't do many new bands. But, you never know what might happen!
Have you done anything more than drink,drugs...and if you have how can I get it?
-We have been on several compilations and videos and all are still available from most mailorder companies.
The name Argy Bargy is it form the Cocksparrer song or ,what does it mean?
-The name is tribute to Cock Sparrer.
It seems that you like football, is it Watford which is your team? They went down to the firts divison, what about Elton John?
-Watford are my team and altough we went down from the Premiership it bought a lot of money into the club. Elton John is good for Watford because he is a fan and not a business man.
What do you think about Englands EURO 2000?
-DISASTER!!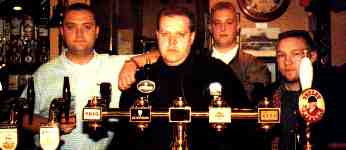 Is Neville going to get the same treatment as Southgate and Beckham did?
-He was stupid to foul at that late stage in the game. He didn't think and deserves everything he gets.
What shall we do about the english hooligans?
-You will always have people who go to the match to fight. It's the same worldwide. If you stop them fighting in the ground they will just go elswhere. There will always be violence at football as long as two sets of fans want to fight.
What do you know about swedish football?
-Not as much as I would like to know.
What do you know about Sweden?
-Beautiful women and my friends who have visited tell me it is a wonderful country.
Have you heard any swedish bands?
-Only the obvious ones like Voice Of A Generation.
It hasn´t been any ideas to take in swedish and other european music on Captain Oi when the english one isn´t so much left?
-As I say we tend to re-issue the classic punk and Oi! bands. It's not because there are no good bands in Europe because of course there is.
Back to your band,you look like skinheads and I hope you´re the type of skinheads like they´re in the beginning?
-Actually we are not Skinheads although I was for many years. I did dress like the original Skins and I was one of Londons biggest Ska/Reggae DJ's.
What shall we do about racism? And why did the racism was associate with skinheads?
-I'm no politician so I can't answer that but the National Front recruited many Skinheads in the early 80's after they declared themselves the party of youth and working class.
Did it die with Ian Stuart(i hope so)?
-No.
How is a good concert with Argy Bargy?
-I people think we play a good gig . We always have people on stage and there is lots of singing and dancing. It's always good fun with NO POLITICS.
How does the average fan look like?
-Skins,Punks, Herberts, Skate kids etc.
Is it many interviews? Is it boring?
-We do many interviews and they are all important to me.
Which is the question you want to have but you never get. Please ask it and answer it too?
-I honestly don't know!
.Is it many gigs, where´s the best place to play? have you been outside England and played?
-We've played many gigs all over Europe. I always enjoy them so I don't really have a favourite place.
Is Step 1 a good label? What do you like the other bands there?
-Step 1 is a great outlet for Punk/Oi! and ska bands. There are many good bands on the label.
When you do music, which is the most important, the music, the lyrics or a refrain which people can sing with?
-We try to make our songs good for everyone to sing along with. But a good tune is also important.
-Me
Idols when you were small?
-Glam Rock and 77 punk. In 1980 I discovered Oi! music and have loved it ever since.
First and last record you bought?
-1st record was "If The Kids Are United" by Sham 69 in 1978 and the last was the new Motorhead album.
What does punk mean for you?
-Believing in yourself and taking no shit from the bosses. Just because someone is earning lots of money it doesn't make them any better than you or me.
Is the word punk mean more to you nowadays or did it do it in the beginning?
-It is as important today as it ever was.
What s the best and what´s the worst of living inEngland?
-EVERYONE should love their country without being ashamed. It is not a bad thing to be patriotic. It DOES NOT make you a racist. The bad thing as everyone knows is the bad weather! And o course the people in power.
What can you the people do to the worst things?
-Nothing because all politicians are liars and cheats who are only interested in their own well being.
What´s the best and what´s the worst of being in a band?
-The best thing is doing a good gig and releasing records. The worst is the long journeys and sound checks.
What do you think when I write , family, love, John Major, reggae and ska?
-Family is one of the most important things in life so is love. John Major was a pathetic prime minister with no backbone. I love Reggae and Ska!
-To gig all across Europe and USA. We are recording a new album and doing a split single with Beerzone.
-UNITY.
-Thank you Peter for the interview. We can only survive as a scene with people like you and the people who buy the records and go to the gigs. Without you bands like Argy Bargy mean nothing. You are us and we are you.