I´ll (Timppa) try to answer as good i can as an whole band. It´s written by Timpa who plays guitar in the finnish hardcoregroup Äpärät. April 2016
Please tell me a little bit history of the group?
-Äpärät played it`s first "sounds"in a small town ,Seinäjoki,(must been fuckin terrible), back in spring 1982!!
Original members were Ipe-voc, Saikki-gtr(RIP),Kuju-bass and Muttu-drums.
Muttu was only 12 years old then,whaaat!!!
Äpärät did some gigs and also some singles and were on some finnish punk-collections.
it`s really hard to find those.
Between 80`s and 90`s it didn`t happen too much.
1996 was the first gig since a long time, at Provinssirock-festival ,Seinäjoki. The band was the same except it was my first gig with the band and I was playing bass then and it was also Saikkis last gig, he died in 2000.
After that there was some gigs with different players.
We kinda started it over again a few years ago, I think it was 2010.
Muttu left the band 2014.and Antero came in. Kuju re-joined to the band last summer!
Äpärät has always been pretty lazy band, we`ll go to a gig if someone ask and we make a record in every 30 years haha.
But now we have a proper agency
I`ll promize you we´ll try to be more active!!!
Now we are Ipe-voc, Timppa-gtr, Kuju-bass and Antero-drums
It´s really hard to tell our history like in a few lines!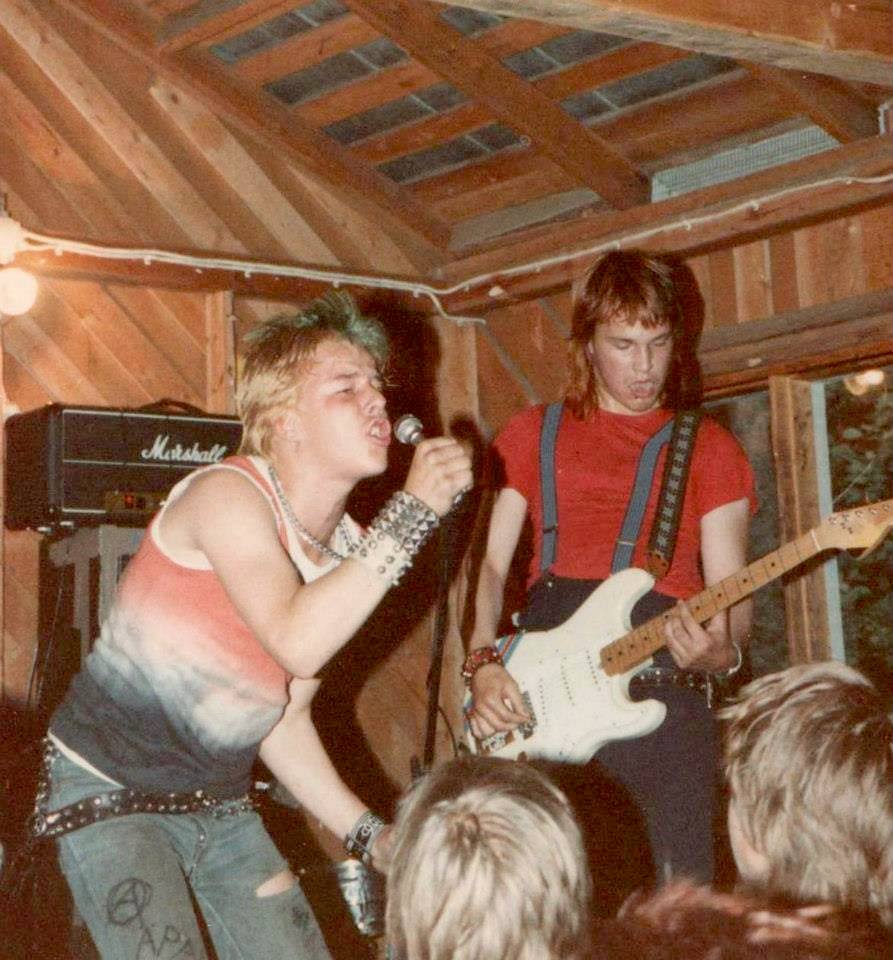 Please tell me a little about every member in the group right now, age, family, work, interests and something bad about everyone? Earlier bands? Other bands on the side?
-All right, what to tell about us? We are an oldguys-group haha. Everyone is around 50´s, but we still feels so young!!
I and Ipe have played together in couple of different bands before. Somewhere in late 90`and early 2000 we had a band called `Positive Mental Attitude, our music was some mix of 77´punk and hardrock and we also had a Sex Pistols cover band in 2000´ and we did pretty much gigs then.
Ipe and Antero played in the same band `No Colors back´ in early 2000´
Everyone has a family and goes to work every fuckin day. Think we live pretty "normal" life nowadays except when we have a gig!!
I live In Turku and rest of a band still lives in Seinäjoki
I can hear much different influences , much old punk and some hardcore? Favorites from the past?
-Yeah you can definitely hear some influences from older stuff, from bands like the Sex Pistols, UK Subs, Blitz, Anti-Nowhere League even Motorhead and Black Sabbath...and so on...
Äpärät are you satisfied with the name? How did it came up? You weren't afraid that some other band would be named like this. Which is the best bandname you know?
-Äpärät, the Bastards in English! Really hard to remember where it came from. Probably just someone yells us like fuck to you fuckin bastards haha. At that time you didn`t think if some other group had the same name, so fucking what
That one is easy..ÄPÄRÄT!!
What´s the best thing with playing live?
-Best thing to play in live is definitely the "rage" you can get from it, It`s like you are in a whole different world then!!
And where is best to play? And the worst place?
-That`s difficult...I think in a small clubs you can get really intimate touch with the audience and that`s really cool, like for example in´Lepakkomies-club´Helsinki! but then again in festivals like Provinssirock last summer we had a fucking good gig!
the worst...hmm, maybe back in the days in some youth-houses when people ran away when we started to play haha...and then again it`s kinda funny also! So I quess there no that bad places to play at all!
How is to play this sort of music in Finland right now? Which types of bands do you have concerts together with?
-I think it`s quite small scene but also really active, so it`s good to play some punkrock here!
Normally we play with the same kind of bands, that`s pretty obvious
How would you describe your music in three words?
-Wow,that`hard...Punk-Attitude-you name the third one!
What does punk mean to you, is it only a word or is it a lifestyle?
-Well that`s also difficult one. Think back in the days it was more like a lifestyle than nowadays but of course it still means a lot. Once a punker,always a punker right?!!
How do you see on downloading, mp3 and that stuff?
-It was more difficult to accept it like 10-15 years ago but I quess it is like it is nowadays so...still prefer vinyls!!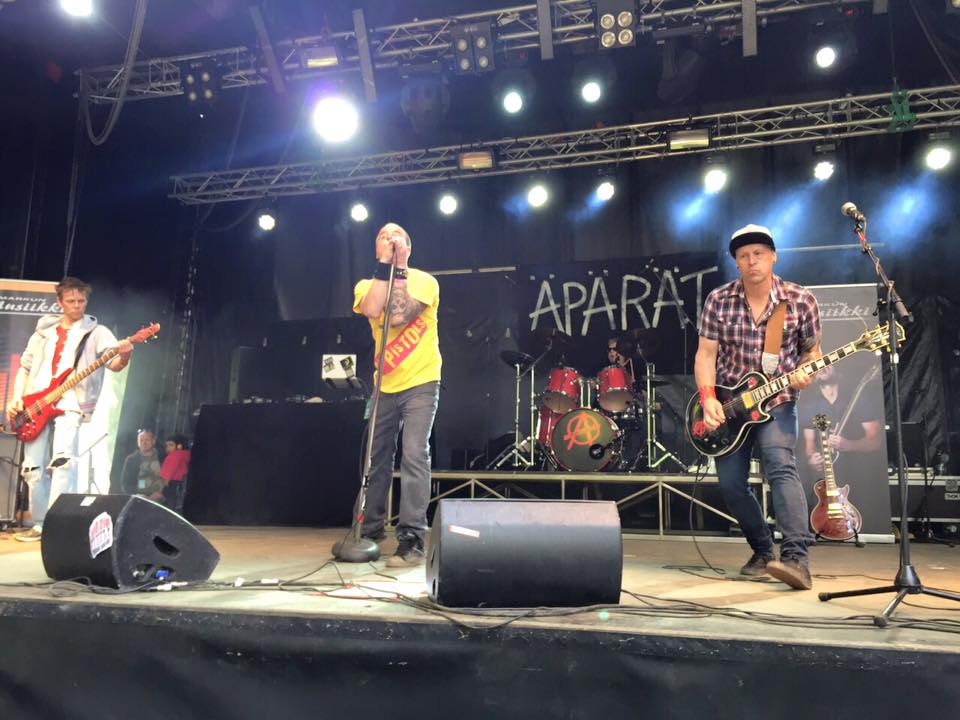 How is it to live in Finland now? Politically?
-To be honest we don't follow politics too much.
Is there any good bands from Finland now? Is the punkscene/hardcorescene big? The metal scene? How is it in your hometown?
-There is some good bands! Too bad Terveet Kädet just told us they are gonna stop playin. And the old band ´Lama´ is still going strong!!
Like I said before,the scene is not too big but it´s really active! The Metal has always been pretty strong in Finland!
There are some punk bands in Seinäjoki but it`s quite small town.
What do you know about Sweden?
-We know lots of things about Sweden! You have a King and...haha
Have you heard any good bands from Sweden?
-Bands like the Hellacopters,Backyard Babes...really good hard rock bands!!
Your lyrics, who does them and what influences you? Is it easier to do lyrics now or was its easier to do it when you was younger? Never in English?
-Ipe does mostly our lyrics and there's also some of Saikkis lyrics in the older songs.
Think it was easier before when you was young and didn`t give a shit about anything!! Now as an adult you have to think about what you say...or do you?
Äpärät`s always sing in finnish
Is there any subject that you never will write anything about?
-We never could write anything racist kind of things!!
Politic and music, does it goes hand in hand? Which is your most political song?
-Well I quess it goes together if you want to but like I said before we`re not that political band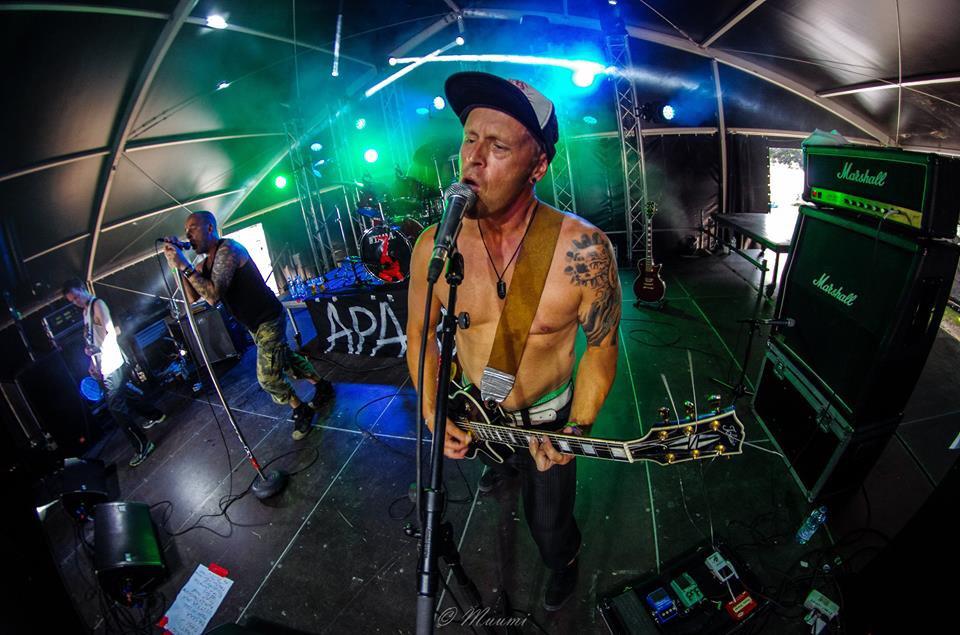 .Best political band/artist?
-Rage Against The Machine
Do you think that music(lyrics and so on) can change anyones life, I mean people who listens to music?
-Yeah of course! Definitely it changed our lives back in the days!!
Your cover on your CD looks really nice, is it important to have a record cover which shows people which type of music you play? Your favorite recordcover? Who does your covers?
-Thanks!! Yeah we think it`s important, it tells right away what`s going on when you see the cover! Our good friends Jaakko and Latvis have taken those photos and Ipe and Antero made the cover, pretty good job,eh! Just wait until you can see our vinyl single cover, we publish that later!!
Is it important to get out physical records of your stuff? Why or why not? Vinyl, CD, cassette, what do you prefer if you could choose whatever ?
-It is very important, just to get something real in your hands!! Definitely vinyl!
Please tell me a funny thing which have happened during your career and under some gig?
-Well in very early days in some punk-festival Muttus older brother came to bring Muttu back home, his mother thoughts he was too young to play on a punk-festival!! I still can´t understand that, I mean he was already 13 ,Come on!!!haha. So we just borrowed a drummer from some other band!
How does your audience look like? Which people do you miss on your concerts? Which is the biggest band you ever have played together with?
-I quess there`s so many different looks in our gigs. Lots of older punks like us but also younger people who knows all the songs and lyrics, that`s fuckin awesome!
A few years back we had gig with UK Subs, that was a wrap!
Biggest thing is still coming, we´ll play in Nosturi,Helsinki,with the Exploited in the end of May! that`s gonna be sick!!
Please rank your five favoriterecords, five favoriteconcerts and five most important things in life?
-That`s really hard...Have to say Never mind the Bollocks....sorry this is way too difficult.
First, last and most expensive record ever bought?
-Do you understand you ask things which has happened 35 years ago haha, can´t remember!!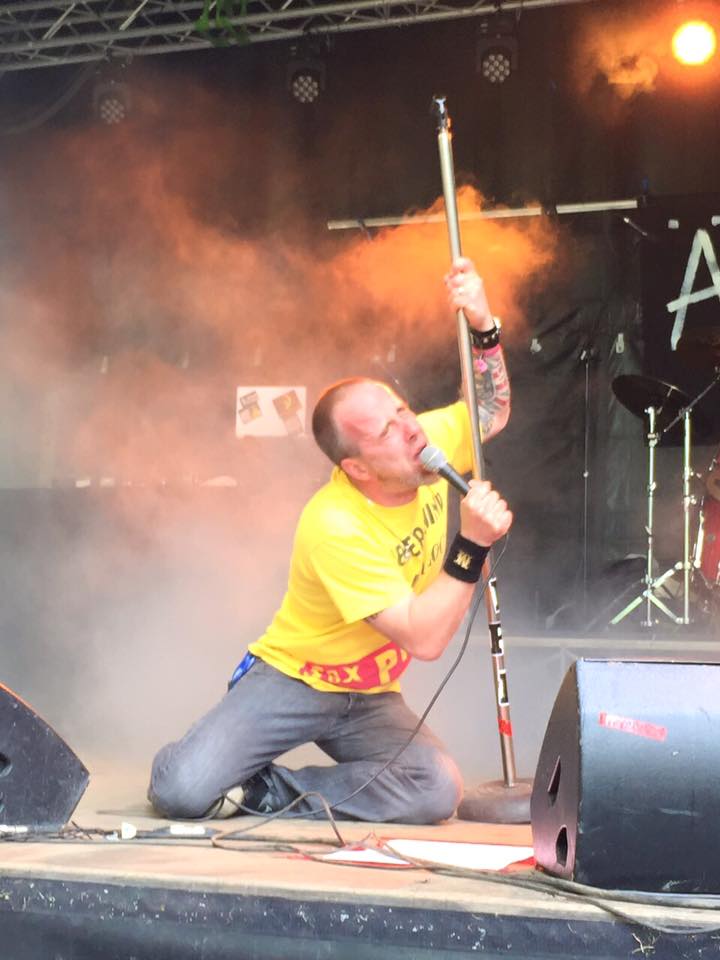 Is it boring with interviews? Is it much interviews?
-No no, just bring it on!! It´s never boring!
If you could choose five bands from the past and the history and nowadays and both dead and living bands to have a concert together with your band. Which five have you been chosen?
-The Sex Pistols, Motörhead, The Clash,...
.Is music a good way to get out frustration and become a nicer person outside the music?
-I think that`s really personal but yeah why not!
Which is the most odd question you ever have got in an interview?
-Can´t remember any odd questions...
Futureplans for the band?
-Well, we´ll try to be more active. as much gigs as it possible and also write more songs for a new album and stuff!
For yourself?
-To be a great dad!!
Wisdomword
-Be yourself!
Something more to add
-Now is really good chance too see a couple of good bands at the stage on 20th of may. The Exploited and Äpärät at Nosturi,Helsinki!! Worth to come also from far away, I`ll promize you that!!
Also would be great to have some gigs in Sweden!!!
You can book gigs:
Rockgopper Agency
juha .juonj@rockhopper
+358500904932
Cheers,
Timppa/Äpärät