Jiri which is the singer in the Czech Republic Group Anyway was very fast with his answers to me and we get an introduction in their musiclife…..14 december 2006
History?
-The band has been around from circa '96, but the new era started when Jiri joined the band in late '99.
First gig took place in January 2000, and a couple of weeks later we went to studio to record a first seven-inch. We have been recording and gigging since then.

Please tell me a little about every member, age, family, work, interests and
something bad about every one?
-Guitarist: Bob
Paranoid, nervous transport co-coordinator, childless & sometimes hopeless, too
Interests: music, literature, movies, jogging until heart attack
Bass: Petr
Speedy and stoned amigo with no time to think, one little son, no steady job
Interests: music, making his own T-shirt logs during sleepless nights
Drummer: Rob
Nihilist with a heart of a hippie
Interest: music including playing in a second band called Lvmen and DJ-ing for drum'n'bass sound system, trying his stomach what it can bear by eating junk food
Singer: Jiri
Nervous, panic, sometimes hard to deal with, with an inclination to be pathetic, works in engineering department of a multinational telecom company
Interests: music including singing for his second band called Eastern Star, travelling in Latin America
We're all in our early thirties.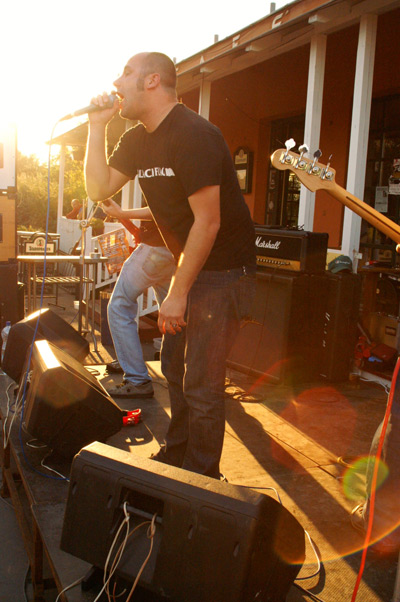 Is there any other bands you´re being compared with?
-Dead Kennedys, Husker Du, Fugazi, Mission Of Burma, Mudhoney, At The Drive-In, Nation Of Ulysses

Do you care about reviews?
-We do actually.

You have a little bit odd style, is it so that all you in the band likes different music???
-I wouldn't say totally different. But it's definitely a garden variety. There're a lot of bands we agree on.

How would you describe your music in three words?
-Listen and feel

How is it to live in your homecountry?
-It's relatively wealthy and safe. But sometimes too small and even boring. That's why we play rocknroll.

What about the government?
-We don't have any at moment and it's some six months after election.

Do you think that music and politics goes hand in hand?
-Not necessarily. Politics stink. Not everybody can handle it.

Best political band?
-Dead Kennedys

Is there any good bands in your homecountry now?
-A lot. Check www.silver-rocket.org and www.dayafter.cz

What do you know about Sweden?
-Excellent music. High taxes. Expensive booze.

Have you heard any good swedish bands?
-Refused, Entombed, Randy, Hellacopters, Hives, Division Of Laura Lee

What does punk mean to you, is it only a word or is it a lifestyle?
-It is definitely a life style AND A GOOD PRODUCT!

Please rank your five favourite records, five favourite concerts and five
most important things in life?
-Records:
The Clash - s/t
Dead Kennedys - Fresh Fruit For Rotting Vegetables
Fugazi - Repeater
QOTSA - Rated R
The Bronx - II
Live:
Radio Birdman
And You Will Know Us By The Trail Of Dead
The Cooper Temple Clause
Seaweed
Born Against
Values:
Freedom
Love
Rocknroll
Friendship
Beer

First, last and most expensive record ever bought?
-Iron Maiden - Killers was the first,
Gallows - Orchestra Of Wolves was the last one and
V/A - 20 Years Of Dischord was the most expensive one.

Most embarrassing record in your collection?
-A lot discs of mostly local bands I have been given.

How can I get your other records? And which records have you done?
-Check http://www.anywaymusic.com/merchandise.html and
http://www.anywaymusic.com/releases.html

When do we see your next CD?
-Hopefully in early 2008

Is it many interviews? Is it boring?
-Not really.

Which is the question you never get, please ask it and answer it?
-Would you sign to a major label? Yes, if someone gave a good offer.

Is it any chance to see you in Sweden soon?
-I'd doubt that.

Where is the best place to play? Have you been out the Czech Republic and played?
-Places like Cheb or Tabor in The Czech Republic are always fun!
We had good gigs in Berlin, Bristol, Leeds, Bremen…

How is a good gig with you? And which style of people comes to your concerts?
-I'll try to take it seriously. I appreciate when audience does it too.
It depends where you play. In England it's mostly kids. On the mainland it's older kids.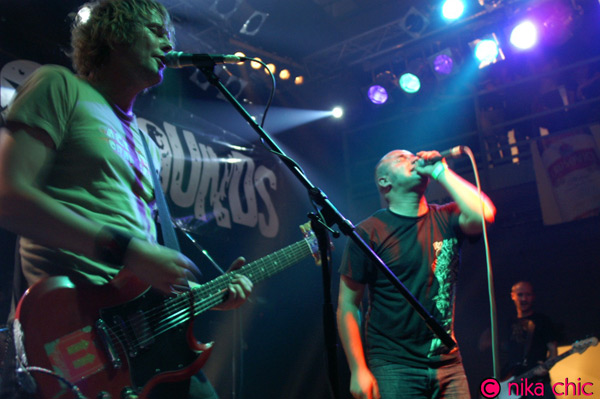 The name where does it comes from?(yeah it´s a boring question but it´s interesting)? ? Not so punkish?
-It doesn't really matter ANYWAY.

What shall we do about all racists? Is it a big problem in Czech Republic?
-Satirize them! Just like elsewhere in Europe.
.
The best band in punkhistory? And in Czech Punkhistory?
-Perhaps Black Flag. Anyway...of course.

The most important punksong?
-The Clash - Complete Control

Futureplans for the band?
-Write and practice new songs.

For yourself?
-Not to go insane.

Wisdomword?
-You're not what you own.

Something to add?
-Cheers!