History?
-Antipati was started 2006 by Robban and Radar. We asked pelle and Johan if they would like to be in the group and they wanted that. We recorded a bad demo and did our albumdebute 2007 on Skins on Attack!/Bords de Seine with the record "On Repeat". 2009 we released a 7-inch ("Sleepless", Distroi!) and was on "Chaos in Sweden" and now(late summer 2010) have we recently released our second album "Frågor Som Rör Det Allmänna" on Kjell Hell. LP-version comes on Randale/Bords de Seine later this year. Since the start we have played both here and there in Sweden and we have been once in Belgium.

Please tell me a little about every member, age, interests, work, family and something bad about every one?
-ROBBAN, around 30, vocals and guitar, married, works as a pupilassistence in the northwest suburbs, collect records, nerding and drink beer. ,.
RADAR, around 25, vocals and guitarm marriedm works a resource on a school, multimusican and beerdrinker
PELLE, around 28, bass, have a girlfriend, works as a officeslave, Tv-gameplayer/beerdrinker/electroniconsumer
JOHAN, around 22, drums. Single. Works a mailman and he study when he have time, beerdrinking historic interested guy and aututistic talented of god. ,
That question about bad things so did we get from Cow Mag-Ted that he censured the answers by public demand but we can say that Robban and Johan is nerds. Radar can juggle with a hat and Plele likes to eat meatballs.

Do you have any other bands than Antipati?
-ROBBAN - Robban, Radar and Johan plays in Agent Bulldogg. Radar plays in The Radars. Pelle plays with Dobermann Cult, and Johan plays sometimes with Projekt 9.
RADAR – Yeah, I have The Radars which is as a poppy Antipati and a little more. Have also some other projects going on, a singer/songwriterproject with some people from some other punkacts and also a HC-project with people which are known from other bands. You can never have too much to do hehe.
Why just this name? Did you have any other suggestions?
-ROBBAN – We would like to have a swedish name which could go well abroad too, short, powerful and all this. Plus is that we get associations to bands like Antipatik and Anti Pasti.

You are skinheads after what I understand, is it boring that you always must defend from regular people that think that all skinheads are nazis?
-ROBBAN - Antipati is partly skinheads. Personally I don´t care about what ordinary people thinks about skinheads, I don´t feel that i must answer about things about that. Sometimes I feel that it´s good that people think that skinheads are nazis if the alternative is that it shall be nice and that people understand the culture from the mainstream.way. And physically it´s not often that you have to defend yourself just because of the fact that you´re a skinhead..
JOHAN – It´s not so tiring with that thing. Sure it is days when you don´t want to confronts with that but you don´t want to be confronted with anything that day. But if you have been around for some years so will you not be tired the nearest years either, I use to think that if you have looked like everybody else so haven´t you been a mate with regular people on town either – who is the people who gets around and become mates with all people. No, in that way they can really hate you if they want. Have the same experiences of the Nazis themselves if I don´t remember wrong and that´s in order,haha...
PELLE – I´m not a skinhead and have never been. But I like the culture and the music.
RADAR – Yeah, it was a very long time since I get in a fight just because of that people have called me a nazi. Have been in more "fights" with rightwing people because of the fact that you have become "a red one".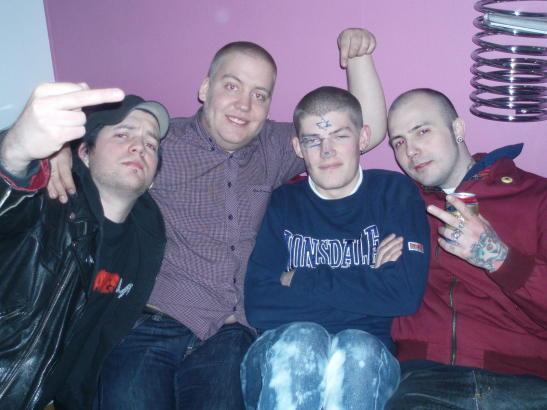 You have a lot of politics in your music, is it hard to write political things so it doens´become "wrong"?
-ROBBAN – How does it become wrong? We write things spontaneus and primitive, and I don´t think it can be wrong, it´s subjective.

You plays together with a lot of different bands and not only oi/punkbands? Which is the most peculiar band you have played with?
ROBBAN –We have almost only played with punk and oi-band. Farest way must be psychobilly or skaband I think.
JOHAN – It could be something on Backbeat Club (RIP?) in Södertälje in that case. Love them, but fuck which scandalous acts which have been there through the years

What have you done before the lates trecord?
-The discography looks like this:
On Repeat CD (1000 cps, Skins on Attack! Records, 2007), On Repeat LP (500 cps, Skins on Attack! Records/Bords de Seine Records, 2008), Sleepless 7"EP (300 cps, Distroi! Records 2009) V/A - Bords de Seine Promo Vol. 2 (Bords de Seine, 2008), V/A - Our Music Skinzine Promo (Our Music, 2008) V/A - Chaos In Sweden LP/CD (Ian Rush/Roliga Firman/Switchblade/Kjell Hell etc, 2009) Frågor Som Rör Det Allmänna CD (Kjell Hell, 2010)
(Have no records left of On Repeat (but you can order it here and there, anyway in Belgium and Germany) but the 7-inch can we maybe get foreward.

On the new records you have a song called Punk på berns?
-ROBBAN – It´s mostly about people who have left punk of different reasons but after a while and somewhere else in life take the right to define and explain it. And take on the coat which blows at the right way. The first verse goes to the first generation of punks which was in the punk when it was new and couldn´t be compared to any other popcultural phenomena. Many who was there was fast and jumped on another train, whatever it would be, but they´re now really fast to say that they were there when they´re on nostaligiagigs and explain for younger people and entusiasts which wasn´t there then and then they cannot talk about what punk is – isn´t you still involved can you never say that you were serious in that either.
The second verse is about Aftonbladet-journalis and ex DS13/Imperial Leather-medlemmen (etc) 138 which only is some sort of punk(metal) Peter Siepen.

What does punk mean to you, is it only a word or is it a lifestyle?
-ROBBAN – This discussion will never end.I see punk as a musicindustrial revolution, a historic era, a always actual grassrootmovement, a musicstyle in extremely broad and shifting style and an attitude to music, and a subculture. And do you take that subculture to yourself it becomes a lifestyle.
JOHAN - Give or take: music with a message which makes life worth living and do yourself to a thinking person…so it must become lifestyle on that question!
RADAR – Musically it´s about pureness and feelings for me. And then it is so that Robban says that if you take the subculture to your heart it becomes a lifestyle and we plays, listens, travels etc in the sign of punk so must it become a lifestyle.
Kjell Hell, is it the perfect lifestyle for you?
-ROBBAN – Yeah, it´s great! Pike aka Kjell is a good mate, a generous recordcompanyboss and he´s handsome..
PELLE – I agree. Pike have many good contacts and he helps the band really much.

You only sings in swedish except the extrasongs on the new record there you sing in english, will you continue to mix between english and swedish in the future?
The first record was mixed about 50/50 and the 7-inch was in english(all the extrasongs you mention). We like swedish most but it can be so that we will write in english too but we will not mix on the same record as we did on "On Repeat".



Which is most difficult, to write in english or in swedish?
-ROBBAN – It´s off course must more difficult to write in english because it´s not our real language. But in the same times you feel much more naked and it´s more work to make it in swedish so it sounds good. It´s hard to say actually.

Do you do any covers when you plays live?
-We have done some, among them is Blitz - Nation on Fire, Major Accident - Brides of the Beast, Camera Silens - Pour La gloire, Peter & The Test Tube Babies - Banned from the Pubs, Agent Bulldogg - Vad Du En Gång Sa, Oxblood - Traitor, Demob - No Room For You and Haircut – Pontoise/Paris and many more…I think. We have also translated and recorded a version of . The Templars – Another One which will come on a russian Templars-tribute.

What makes a cover good?
-ROBBAN – It is when you do it as the original and as tight as it are, good and energic or so do you do a whole different mix, translate the lyrics or something like that or maybe change the tempo or something else. There is so many examples on bad covers , more than good ones.
JOHAN – The most fun is that you once and for all make your stand on the songs you love and which is recorded bad or played and plays them yourslef…and it´s so fucking much better a Saturday at 1 am !

Please rank the five best record, five best concerts and five most important things in life?
-ROBBAN -
Records:
1. Camera Silens - Realité
2. Cock Sparrer - Shock Troops
3. Oxymoron - The Pack is Back
4. Asta Kask - Aldrig en LP
5. Anti-Nowhere League - We Are... The League
(Could do a top-100 and even then I must choose records but these five have been important for my soul and subcultural development)
Gigs:
1. The Bruisers/Kafe 44, STHLM -98
2. Cock Sparrer/Winter Gardens, Blackpool, UK -06
3. The Crack/Warrior Kids/Klubben, STHLM -04
4. The Templars, Oslo -99
5. Newtown Neurotics, Winter Gardens/Blackpool -06
(With any particular order and the same thing here, could mention 50 more
Things:
Punk/Subculture(without them nothing of the rest)
Love
Friendship
Kindness
Drinks (tea and beer)
JOHAN-
records
1. Angelic Upstarts - 2000 000 Voices
2. Blitz - Voice Of A Generation
3. GBH - City Babies' Revenge
4. Resistance 77 - Thoroughbred Men
5. Agent Bulldogg - 1000 Glas
Concerts
1. Cock Sparrer, WASTED 2006
2. Desmond Dekker, AUGUSTIBULLER 2004
3. Adicts, WASTED 2006
4. Partisans, PUNK & DISORDERLY 2006
5. Stiff Little Fingers, WASTED 2008 (?)
Things
1. Music
2. Fun with freinds(and all what that means)
3. History and languages (nerd as mentioned above)
4. Food
5. Do something NEW
PELLE –
Records
1. Minor Threat - Minor Threat
2. Decendents - Milo goes to college
3. Sick of it all - Scratch the surface lyrics
4. Warzone - Lower east side
5. Against Me! - Searching for a Former Clarity
Concerts
1. Sick of it all/Augustibuller -06
2. Kiss/Stadion -97
3. Trotskids/Vive le Punk!, Callac, France -08
4. Zeke/Örebro -03(?)
5. Rancid/Riddarholmen -03
Things: The moving to our Capital town, family, friends, music and alcholic drinks.
RADAR -
It depends which mood I´m in, but some alltime favourites(without any particular order) is:
1. Madness - 7
2. KSMB - Rika barn leka bäst
3. Allan Edwall - Alla Allans visor
4. The Burial - A day on the town
5. The Jam - In the city
Some of the best concerts:
1.Madness - London 09
2.The Pogues - London 09
3.Flogging Molly - Hultsfred 03
4.Dan Berglund - Mosebacke 08
5. Cock Sparrer - Wien 08
First, last and most expensive record ever bought?
-ROBBAN – The first one could have been Strebers - Till en Vän or Cosa Nostra - Eldar. The latest was Les Vilains - Pour Faire Chier! and Kill Baby, Kill - Give it Back Again! The most expensive record was surely some old french punkbands firstpress which maybe costed me 800 swedish krona.
JOHAN - First: Sahara Hotnights debut
Latest: Hotknives - Home, Bootstroke - Football, drinks and rock n roll, Superyob - Quality Street, Des-Kontrol - Behin eta berriz, Toro Bravo - Tavo vertybes, samt Badlands - Hands of time (I bought everyone at the same time...)
Most expensive: Must be The Blood - False gestures for a devious public (original+and a new one), £20. Not so expensive for that fucking good record...
PELLE – the first record was KSMB - Aktion, I don´t remember which year it was. The latest was Stick och Brinn - Håll käften, knäpp västen och köp kir för resten. I have no expensive records.
RADAR – The first record was Tiny tunes by Millencolin. I don´t actually know which is the most expensive because I don´t care about first press or something like that but I could say that the most expensive maybe have costed around 300 swedish krona.
The most embarrassing record in your collection?
-ROBBAN – I have no embarrassing records in my collection :)
JOHAN - Sahara Hotnights-skivan is gone for a long time ago so it must be "Halleluya - Songs of jerusalem vol. 3".
PELLE – I don´t say something so I don´t have to eat it up later =)
RADAR – I don´t have any embarrassing….or? :p

What do you think about mp3 and downloading?
-ROBBAN – It´s a good way to spread music and be nail in the eye on big record labels, ordinary people and ordinary lawriders. Personally I want more real stuff on the music.
JOHAN – It should be on the bands terms. Piratpartiet(Piracylabel) can go and take some liberal over themselves. But I don´t want a record to cost 200 swedish krona. The interest of money should be hold short.
PELLE – The best things which have happened to the musicbusiness, All majorscomapnys cries, other people screams yeah. But it´s of course more fun to have a record in your hand than on your computer.
RADAR –Yes and I can put to this if we had have some interest of doing profit on our music so hadn´t we played punk!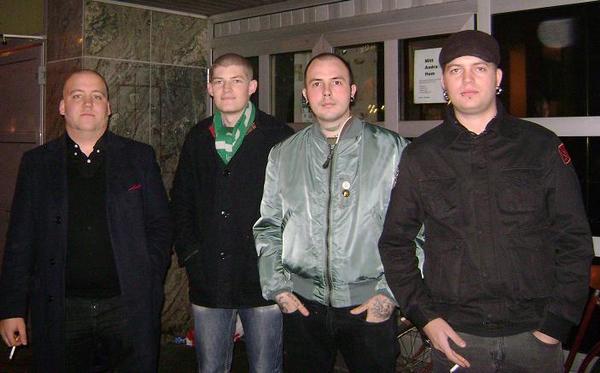 Is it good for a band like yours?
-ROBBAN – yes, that can I guarantee. It´s spreads easy and in a an easy way. But in the same time it´s a way of bring up there people who don´t buy records will be taken and they must be in the dance. To support the scene is an honourthing. Tow own records is tough. So people buys record anyway even if I think it could be better.
JOHAN - Myspace is a good way for musicinterested to not buy music they don´t have heard before. And if you don´t have the energy to look after the band you´re not so interested and then can you fly away.

What do you think about the election this autumn? Are you going to vote or doesn´t that matter?
-ROBBAN – Unfortunaly so does SD(Swedish democrats=very right wing) become the fourth party I think just becuae of the simple reason that the so called established parties doesn´t have any connections to reality(that haven´t SD either) and is all of them have a wet PK-blanket over themselves. Personally I vote on the left of the middle because of my hate to the conservatives and new liberals but there is so much I want that the left-on-the-middles parties could talk about which they don´t just because of the newly mentioned blanket. But you should vote, Blankvoting is better than not voting at all.
JOHAN – I´m not more enthusiastic than Robban. You vote against and not for. But after that I stopped reading DN´s sides about politics and Synovates have I become an happier man, anyway so doesn´t I know anything. A change of government is the less bad. As long as we have a representative democracy should you vote.
RADAR – I don´t know eher it´s gonna end. Personally I definitely see the red/green as winners.

What have you done if you could have been the prime minister for one week?
-ROBBAN – Forbid all religious practising for all time, I would force people in segregated places as Djursholm and Tensta to move to other places to be mixed up with people of different classes, ethnic and social background than themselves, force all the people who decides to live and be among the people they decide about and let them get the culture there in practice. And sink Maud Olofsson and Björklund in acid and cut Anders Borgs fucking hair.
JOHAN - Ditch EU, FRA, RUT, ROT & WTF and what they´re called, take home all "peacepractising" troups from Afghanistan, raise the taxes really much for people who have voted for the liberals, take away the royal family, build more , f*****g apartments to hire, build ONE good place in Stockholm to play in, and take back Absolut Vodka from France. I saw Anders Borg some day here, he ate sushi., PELLE – Lower the prices on the SL-card, forbid guards outside places and lower the taxes on alcohol…. =)
RADAR – Go with immediate effect.... Hahaha.

What do you think about Sweden otherwise-politically?
-ROBBAN – If you compare it´s good , you cannot say so much else. We lives, eats, have somewhere to live, can take yourself a beer now and then we have can say what we want without being jailed or something like that and play punk because of the fact that we want to do that. What shall you say….
JOHAN – Too much influences from USA. Have otherwise a fine tradition of relative democracy, peace and unions…I who never have experienced the old swedish folkhome have so much easier to longing back to it haha. The question is how would the future be like and could be like. .

Any good bands in Sweden right now?
-ROBBAN - Many: Gatans Lag, The Radars, Vindicate This!, Oldfashioned Ideas, The Lowlifes, Poor Old Slugs, Attack Position, Agent Bulldogg, Körsbärsfettera, The Clichés, Torpedo GBG, CDCP fjust to mention some..
JOHAN – The Clichés, Gatans Lag, Epidemics, The Lowlifes, Strung-Ups. And I must say Projekt 9!

Which is the best oi/punksong ever done?
-ROBBAN –have the question been "which 100 oi/ounksongs is the one which is done"? so had I give it a try " But spontaneous I must say Demob – No Room For You.
JOHAN – It´s use to be The Partisans - "Blind Ambition" for me, it´s most simple.

Which is the most important oi/punkband which have existed?
-ROBBAN – It´s the same thing, you cannot answer that, In an objective historic perspective I would say that it is The Ramones, Cockney Rejects and bands like Condemned 84 which have been important for the thing which today is oi. Ramones because they were first with being hard and play punk in that way we used to know as punk. Rejects because they were the first and the only oi-band and C84 because of that they put the standard for the thing which can be named oi – skinheads which was playing aggressive, slow and "thick" punk.
And then for the punk overall so can´t you deny Pistols and Sahm for the style they had, X-ray-Spex for the saxophone and the womenstruggle, Crass and the anarchobands for the politics and DIY-attitude, GBH and Exploited for the wave of UK82-bands. Discharge is responsible for the endless stream of carboncopied disbands etc etc. Or which band at all from the American Hc-style. Or Metal Urbaine, LSD and Camera Silens for the frenchmen. Or KSMB, Ebba and GBG Sound ffor the swedish people….etc….it´s hard to answer…many bands have been filled a big function in the shaping of the diversed and international punkscene we have today.
For me spontanues I would say Blitz. But see the question above and change "punksongs" against " punkbands.
JOHAN – It´s very relative. I say anyway Angelic Upstarts because they have meant a lot for me. But also have they meant a lot in common because when the "usual" 77-punk was going to die and they showed us that angry and energic music is timeless, plus that you don´t have to have a superb songvoice to be a good singer. And then I think they always have gone their own way, they have given the boot to many things.

Futureplans for the band?
-ROBBAN –Play, record and give out records now and then.
PELLE – Fix some new merch
For yourself?
-ROBBAN – Make kids, live good and expand my record collection.
JOHAN – Get some order in my life, go home from the pub with money left etc
PELLE – 60 years-party, 30 yearsparty, rest.
RADAR – Yeah…plays a lot of music, be with my wife, drink beer and I hope to work a little bit lesser.

Wisdomword?
-ROBBAN - Make poverty history - cheaper drugs now!
JOHAN - You are what you drink, and I'm a bitter man
PELLE – is it lesser than teaspoon it is a fart.

Something to add?
-ROBBAN – Thanks a lot for the interview. Long live Skrutt, it´s really fun with things which always is there!
JOHAN - Yes.
RADAR - CHEERS!