Anti-Pasti was one of my favorite punkbands in the early 80´s but they only disappeared
but now they have come back with their new record and it was time for me to speak with
them. September-16
How was it, have you been playing much of the time between the your latest record in the 80´s and your newest one Rise up?
Kevin: We reformed briefly in `95 for about a year, played a couple of punk festivals in England and Belgium. 2012 was the year that we made a real attempt at a comeback, we've played many shows across Europe some intimate and others huge festivals.
Please tell me a little about every member which is in the group right now, and how many is original members and which groups have you been in except from Anti-Pasti?
Kevin Nixon drummer & song writer since 1980
Ollie Hoon guitarist & song writer since 1982
Ben Hanson bassist, song writer since 2012 producer of RISE UP
Martin Roper original singer is back in the band, until we find a permanent replacement after we sacked the former vocalist on the album RISE UP
What´s the difference of playing live nowadays if you compare when you were younger?
Kevin: The excitement is still the same, personally I'm more professional in my approach, plus I wear glasses or contact lenses these days so I can see what's happening on stage and in the audience now.
Where is the best place to play? Is there more places today to play on than before?
Kevin: Everywhere is good to play, I enjoy travelling to other countries especially if we haven't played there in the past. There are definitely more and more festivals to play all over the world.
Ben: We love playing Europe; the crowds are always well up for it. We've done German & Czech tours and festivals and they're all mental. Best so far was a gig in an artists commune/squat in downtown Paris - loads of interesting people to talk to and mad stuff going on. And the crowd were fucking crazy!
Your audience today….is it the old ones who come back or do you have many younger fans?
Kevin: It's a mixture, sometime there are older punks in the audience with their children who are teenagers or in their early twenty's.
Is there any sort of people you're missing on your concerts?
Kevin: No.. every audience has its merits the bigger the better.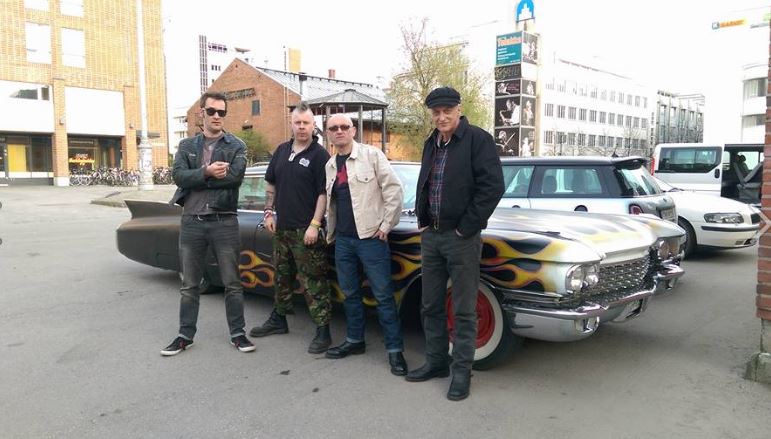 The name Anti-Pasti is an Antiname among others, is there any funny history behind it why you took the name?
Kevin : Anti-Pasti means starter in Italian, it was the first thing on the menu in an Italian restaurant opposite the pub that we used to go to when we were teenagers.
How is it to play this sort of punk rock nowadays in England? Is there any new punk bands around that you like? Which is best among the old ones?
Kevin: I still prefer The Clash and Pistols, years ago didn't really appreciate a lot of the bands that were around at the same time as us but these days I realize just how good Discharge and GBH are.
Ben: There's still a huge appetite for punk rock in the UK, you only have to look at Rebellion festival to see that. My favorite of the old bands is GBH - they've got a really nasty hard sound with just the right amount of rock n roll swagger
When you write lyrics today, is it easier than back in the days? What influences you to you're your lyrics?
Kevin: not much has changed really except the cold war if you understand? There is still global injustice, police brutality especially in the US Mental illness never goes away.....try reading the lyric sheet.( Haven´t got the record yet!)
Is there anything you never will write about?
Kevin: I can't see me or anyone else in the band writing a love song!
How is it to live in England right now? Politically? Was it good or bad that you break out of the European Union?
Kevin: All of the band would have preferred to have remained part of the EU.
Ben: It feels like we're on a knife edge - current prime minister Teresa May has kept a fairly low profile so far but you just know there's a shitstorm just around the corner...we now have a government so far to the right that junior doctors are seen as a threat. As for brexit, time will tell - but it's not looking good - most "leave" voters got hoodwinked by the media promising "great" Britain again - when the country ruled the waves - but personally I'd rather not be associated with a nation that invades other countries and slaughters and indoctrinates indigenous populations in the name of queen and country.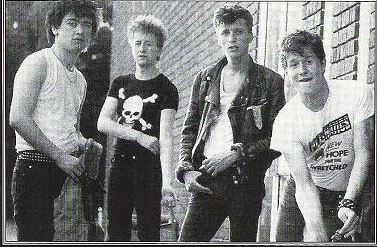 What does punk mean to you, is it only a word or is it a lifestyle?
How have punk changed your life?
Ben: To me it's an attitude, a choice, an opportunity to break the mould and not conform to "normality". To others its more about the fashion and that's cool too - the scene would certainly be a lot less interesting without all the pink and green Mohawks.
Kevin: Ben's right IT IS an attitude, not a uniform.
Have you ever been to Sweden and played? Have you heard any good Swedish bands?
Kevin:We`ve never played in Sweden, although we'd love the opportunity to. The nearest that we have been to Sweden is Finland in May of this year. I hear that beer is expensive in your country. The Hives are Swedish aren't they?
What is typical Swedish if you think about what you think is typical? What is typical English?
Kevin : Roast beef and Yorkshire pudding are typically British.
Ben: Er... Abba, herring, blonde hair, Volvos, expensive beer - all no doubt unrealistic stereotypes! You might think typical English traits would be drinking tea while complaining about the weather - and you'd be right - English people actually do this.
Politics and music , is it goes hand in hand?
Kevin: What else should we be writing about ? Love Songs? No! Its important that we highlight social injustice but we don't pretend to have all the solutions.
Ben: It can, I know people who are adamant the two should never mix, but some bands work well with political leanings whereas others don't - I lost interest in Guns n Roses when they stopped writing about Hollywood sleaze and started on anti war songs. But political bands have a platform to spread a message that they believe in. Having said that, if you just wanna rock n roll that's cool too
Your most political song?
Ben: Rise up - it's a message on a global scale.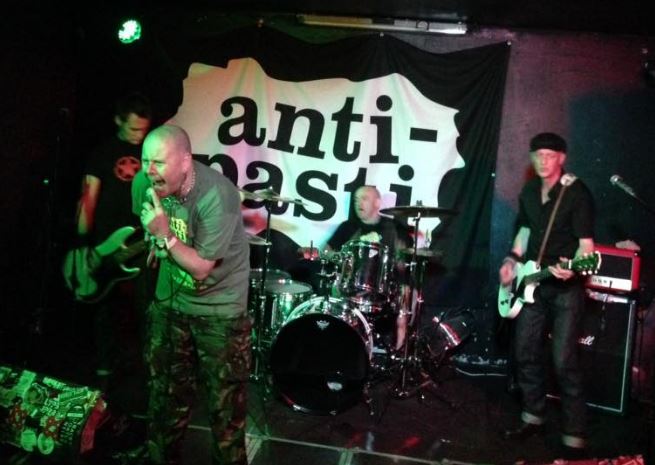 Best political artist/Group?
Ben: Stiff Little Fingers were writing about the Troubles as seen from their back yard - that's some brave shit.
Kevin: I agree with Ben they were very brave, I think that we are a political band but we haven't lived through the troubles in Ireland. The Clash were an excellent news giving band.
Which is the most stupid questions you ever have got in an interview
-Ben: This one!
Please rank your five favoruiterecords all time?
Kevin: That's a very difficult question as mine and I suppose everyone else's change all of the time, the best that I can do is give you my five favourite bands….. The Clash, Sex Pistols, Black Uhuru, The Regular Fries, Primal Scream.
Which is the most important record for the punk movement through all times?
Kevin: New Rose by The Damned was the first but Anarchy opened the punk scene up to the masses so I suppose Anarchy.
Is there any good recordshops left in your town? Which if it's any left?
Kevin: BPM Records is an independent record store in Derby it's still going thirty years on.
How do you see on downloading, mp3 , Spotify and so on?
Kevin: Anything that makes it easier for people to get hold of our music has to be a good thing.
Ben: It's convenient - but it's lost all the excitement of going into town and buying something tangible the day it comes out
Is it important to get out your records physically, on CD, LP, cassette etc?
Kevin: Yes of course it is, people want the hard copy and to be able to open the cover and read the lyric sheet, I do anyhow! I think cassettes are a bit old fashioned though and vinyl is making a big come back
Futureplans for the band?
Kevin: Firstly to get a permanent vocalist in place (we are almost ready to announce our new member), then to re-record the vocals on the album RISE UP in time for the second pressing. We have partly written another album and have plenty of good song ideas to get to work on. A Scandinavian tour would be good, do you know anybody that could make it work?
Ben: Keep writing good numbers and getting tighter
Futureplans for yourself?
Kevin: To make a career out of music and to write more songs with Ben not necessarily for Anti-Pasti.
Ben: Hopefully I'll get some more production work off the back of this album
Wisdomword?
Kevin: Never underestimate anyone
Something to add?
Kevin: Hope you enjoyed our album, we'd love someone to bring us over to play a few shows in Sweden
Ben: Someone! Bring us to Sweden!