The American group Antidonīts just donīt spell their name different , it feels like if they play different kind of punk also without being peculiar in any way. Hereīs an interview with the group anyway done in june 2015.
Please tell me a little bit history of the group? Well, we're a 3 piece from Florida and we go by -The Antidon'ts. It's hard to put our music into a category. We kind of just go with the flow and play whatever feels right at the time when we're writing. There's lots of different styles there : surf, skate, punk, hardcore, pop punk, ska and sometimes thrash. I guess it all depends on how our day is going.
Please tell me a little about every member in the group right now, age, family, work, interests and something bad about everyone? Earlier bands?
-Well, I'm Mikey. I play the bass and occasionally provide some vocals. My guitar player, Zac and I have been playing in punk bands together since high school. We're both 24 now. Our drummer Anthony and I grew up together, and he was always in various local bands when we were younger. Mostly metal, but he's always had a strong appreciation for punk music. He's 22 now. We finally decided it was time to start jamming together a couple of years back and have been constantly writing and playing shows ever since.

I can hear much Bad Brains, Stupids, anarchopunk and Dead Kennedys here in your music? Am I right? Favorites from the past?
-Well, I guess we do get a lot of our style from the old school. If you werenīt ask Anthony and I, we would tell you that The Ramones are the greatest band of all time. Zac grew up on Dead Kennedys, so It's not surprising that you can hear a lot of it in his guitar playing. There's usually always music playing in the background wherever we're hanging out, so a lot of what ever we're listening to that day finds It's way into our jam session one way or another. Some of our favorite bands to cover are The Ramones, of course... DI, Circle Jerks and Ceremony.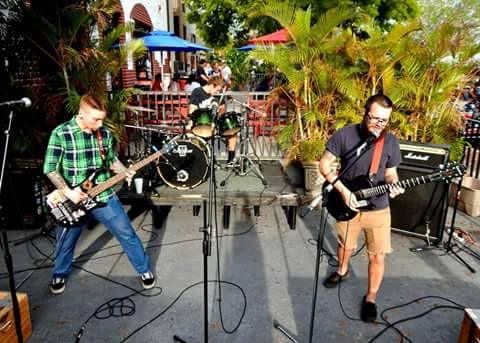 Antidonīts are you satisfied with the name? How did it came up? And why the odd spelling? Which is the best bandname you know?
-We think it's a cool name. It doesn't really have a meaning, honestly, but we still wind up telling people that it means 'We never say don't, we're anti-don't'. The coolest thing to me about our band name is that everyone either seems to pronounce it wrong, or spells it wrong some how. If you get our name right, I'm pretty much impressed.

Whatīs the best thing with playing live?
-We love any opportunity we have to jam with each other, so we always have a blast playing live. It' always really cool getting compliments, as well.

And where is best to play? And the worst place?
-We always have a good time playing In the Tampa, Florida area... but we've never had much luck in the Orlando, Florida are. Hopefully that will change.

How is to play this sort of music in USA right now? Which types of bands do you have concerts together with?
-I feel like people either get what we're doing, or they don't. Folks that appreciate our style of punk rock praise us left and right. It feels good. But, the two biggest genres in our scene right now are folk punk and pop punk. It's hard to get noticed if you're not playing either. The types of bands we play with vary.
How would you describe your music in three words?
-SKATE TO THIS!

What does punk mean to you, is it only a word or is it a lifestyle?
-I don't think it necessarily has to be as obnoxious as people make it out to be, but It's mot definitely a lifestyle. What we do isn't for everybody.

How do you see on downloading, mp3 and that stuff?
-Hey man, get our music however you can. We don't mind. But I guess it all depends on how the artist deems it necessary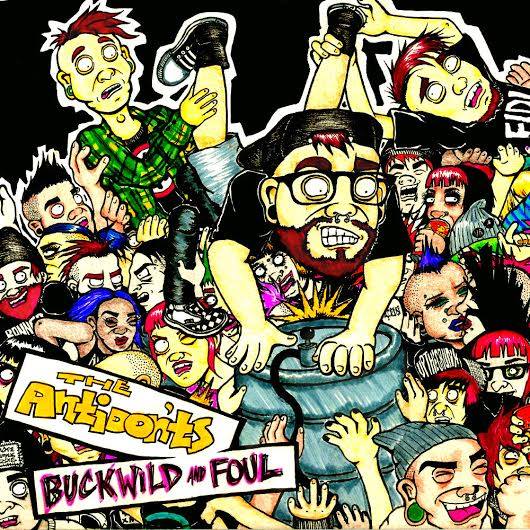 How is it to live in USA now? Politically?
-We love it here, but we try to stay out of politics as much as we can

Is there any good bands from USA now? Is the punkscene big? How is it in your hometown?
-We're the only punk band from our small town, but the surrounding areas have great scenes. My favorite bands newer American bands currently are Night Birds and PEARS. Both of those bands fucking rip! Check them out, if you haven't

What do you know about Sweden?
-I don't know too much about Sweden, to be quite honest. I've heard It's nice though

Have you heard any good bands from Sweden?
-Isn't ABBA from Sweden? ABBA fucking rules!

Your lyrics, who does them and what influences you?
-We all kind of take turns writing lyrics and our biggest influence seems to be being annoyed with something. Our lyrics are usually just us venting our random frustrations. There's a lot to write about living in a small retirement community in Florida, believe it or not haha
Subject that you never will write anything about?
-Politics. There's no room in our tunes for politics

Politic and music, does it goes hand in hand? Which is your most political song?
-Sure, some bands use their lyrics to make people aware and to voice their opinions about the government wherever they live and it really works out for them. Us on the other hand, not our thing. We have a song on our first album called 'Nation in Distress' which at first glance, looks like it could be a political song. But It's just a witty song title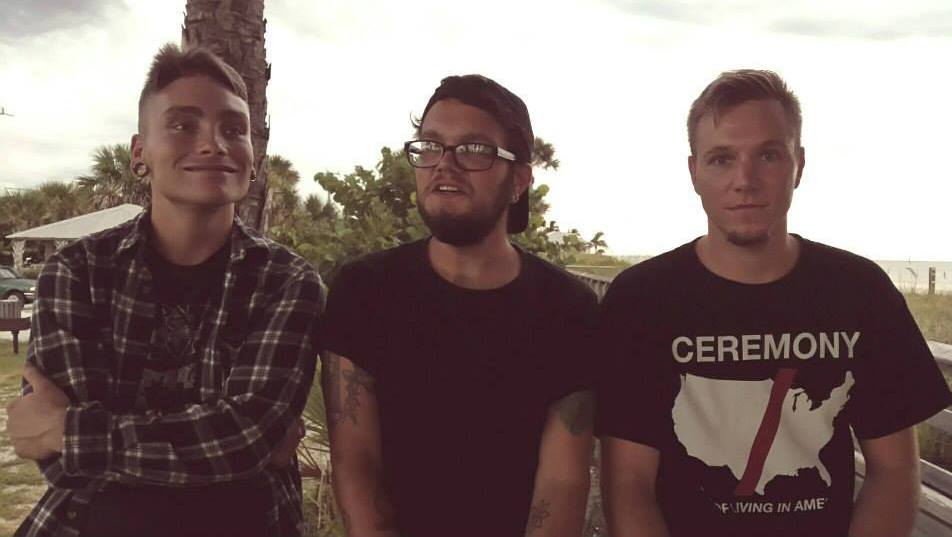 Best political band/artist?
-Leftover Crack and Dead Kennedys, if I personally had to make a guess. Not because of their politics by any means, I just like their jams

Do you think that music(lyrics and so on) can change anyones life, I mean people who listens to music?
-Yes. I've had times in my life where those lyrics really helped pull me out of a bad spot. I guess it just depends on who you are and what you're listening to

Your cover on your CD looks really nice, is it important to have a record cover which shows people which type of music you play? Your favorite recordcover? Who does your covers…
-Thanks! Our friend Vic at Nowhere City COMIX (Check them out on Facebook) did our artwork. I personally appreciate when the album art is a reflection on the music. I think ours does a pretty good job of it. My favorite album art personally is Municipal Waste. It compliments their tunes amazingly
Is it important to get out physical records of your stuff? Why or why not?
-This day in age, you don't necessarily have to at all. I'm a collector of vinyl myself, so I enjoy having a physical copy. We don't have any of our albums pressed yet, but some day hopefully

Please tell me a funny thing which have happened during your career and under some gig?
-This is a good one. We played a show once and after every song, Zac would say 'Thank you, we're Pantera from Texas'. Just a gag. After the show, some dude in a Pantera shirt approaches us all offended telling us how we'll never live up to Dimebag Darrel's legacy and all this other psycho crap. One of the funniest moments of my life. I'm sure you guys have your fair share of crazy Pantera fanatics in Sweden as well. They don't fuck around haha

How does your audience look like? Which people do you miss on your concerts? Which is the biggest band you ever have played together with?
-We've played with a number of awesome bands. DRI, Green Jello and The Independents to name a few. Our fans are scattered all over the place. We get support from the oddest places that you wouldn't have expected our music to reach. The internet is an amazing tool

Please rank your five favoriterecords, five favoriteconcerts and five most important things in life?
-Speaking from myself personally, Probably Ramones first album, Rancid 'And Out Comes The Wolves' Operation Ivy 'Energy' Descendents 'Milo Goes To College' and Screeching Weasels 'My Brain Hurts. I've seen too many awesome bands to even wanna start naming off honestly

Is it boring with interviews? Is it much interviews??
-Live interviews can be a little much sometimes.... but in this case, I'm drinking coffee and watching a George Carlin stand up special while I answer your question. No sweat

If you could choose five bands from the past and the history and nowadays and both dead and living bands to have a concert together with your band. Which five have you been chosed? -Ramones, Operation Ivy, Black Flag (Keith Morris days), The Germs and Bad Brains
Is music a good way to get out frustration and become a nice person outside the music??
-It all depends on who you are, I suppose. To me, It's an awesome stress reliever
<![if !supportLineBreakNewLine]>
<![endif]>
Which is the most odd question you ever have got in an interview?
-What did you guys have to eat at the gas station before you got here????
<![if !supportLineBreakNewLine]>
<![endif]>
Which is the question you want to have but you never get. Please ask it and answer it?
-So guys, how does it feel to be the latest band to sign to Fat Wreck Chords? We don't know! Haha life goals

Futureplans for the band?
-Right now, we're getting ready to go on a short 3 week tour and then start writing again after we get back. One step at a time, though

For yourself?
-I just want to keep writing tunes with my best friends
<![if !supportLineBreakNewLine]>
<![endif]>
Wisdomword?
-Hmm... I guess follow your dreams and never give up. Tacky, right?

Something to add? Head over to our bandcamp page and download our new album, It's -FREE! www.theantidonts.bandcamp.com Thanks for having us!