Animal from Anti-Nowhere League got a chock when he saw all the questions but he answered them really fast but he didn´t answer them with too long answers. August-2007 Here we go then mate...........as Animal says
Have you been playing music the whole time with some sort of Anti-Nowhere League or did you have a break in the 80?s?
-Yes we had a break in the late eighties due to the fact that the musicindustry was shit and so was the music we were putting out....I was bored so I fucked off for a few years.
The members today, please tell me a little about every member, age, family, interests, bands before and something really bad about every member(including yourself)?
-All local boys who are out for a good time...no muso's here mate.
Have it been many different members in the group through all these years?
-We all come and go...who knows next year!!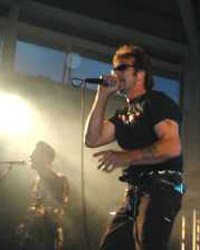 What´s the difference of playing nowadays if you compare with the beginning?
-More organised nowadays....people are in it for the music not the image.
You have done a video to Mother you´re a liar? Was it the first time you did a thing like that?
-For many years we have not done a video...but ...times change and I wanted for people to see us as well as hear us.
How does it feels to go around and sing in a video in that house? Was it a different feeling?
-Real 'spooks' in there mate....it is a haunted house of fame....think we scared the shit out of them though...we never got hassled.
How is punklife/musiclife in England right now?
-Small clubs are good along with the big festivals....doesn't seem to be any middle ground though.
Any good bands around?
-Loads.
Have you ever been in Sweden and played? If you have where?
-A few times but mainly in small venues.
Have you heard any good Swedish bands?
-A couple.
What does punk meant to you? Is it only a word or is it a lifestyle?
-It´s what I do and what I am ....how can we describe that!!!!.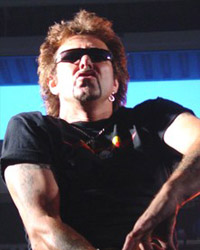 Have the releation to punk changed through the years or how is it?
-I suppose so...but me...I am just a punk singing motorcycle riding scruff and I intend staying that way.
I have said to my girlfriend, children that I want your song For You together with Adicts Bad Bay on my funeral? What about that?
-For You seems to be fitting....a few before you have done the same mate...probably I will as well!!...and of course ending my 'death' ritual with...'So Fuckin What'!!
When you do lyrics, what influences you?
-People....stupid people.
Politics and music, does it goes hand in hand?
-Probably but not in our case we don't trust anybody.
Best political artist/group?
-The Clash.
How is it to live in England nowadays? Politically I mean?
-Shit ...as always...never changes vote one piece of shit out and another comes walking in....
You have a big interests in motorcycles and then it´s Triumph which is the thing or? Why Triumph and not Harley Davidson?
-Triumph born and bred mate...my mates ride Harleys but I am just an old 'Brit' at heart.
What's the best with going on a ride with your motorcycle?
-Gang of blokes on bikes at a party (either playing or not)...things just don't get better than that...
Have the other members the same interest in motorcycles?
-Yes.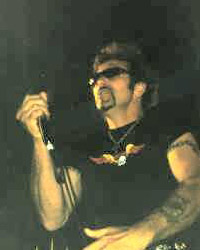 You release your new superb record The road to Rampton on your own label? Howcome, wasn?t it any label who wanted to release it or why did you do it yourself?
-Just got fed up with record companies telling me what to do I suppose...why should some middle class arsewipe know what the hell I am talking about!!
You´re going out on a tour now, are you going alone or is it any other band who will follow you out on the tour? When do you come to Sweden?
-Yes we start out UK tour soon...and Yes we will be back in Sweden at some point ....all this year is now taken up along with an Australian/NZ tour.....
Which country is most fun to play in?
-Eastern Europe.
Please rank your five favourite records, five favouriteconcerts and five most important things in life?
-So many....cant answer that...
First, last and most expensive record ever bought?
-First vinyl I bought was...Tighten up 'volume 2'..Reggae classics...... bought that in 1969 I think?...
Most embarrassing record in your collection?
-None of them.
Which type of people comes to your concerts?
-Depends where we play...obviously at Biker festivals or Nightclubs in Newcastle the audience is different but all want the same thing....a good night out!.
Which type of people do you miss on your concerts?
-I don't miss anyone...but I do like to see a lot of women around....they taste better that dirty old men..
Futureplans with the music? How long will you go on playing?
-I'll be a Rocker till the day I die!!...
Futureplans for your self as a human being?
-Enjoy everyday....whatever I decide to do.....we don't get a second chance mate ...when ya dead ya dead!!.
Wisdomword?
-Cowards and losers die a thousand deaths......heroes only once.
Something to add?
-Fuck I love Punk Rock and Triumphs!!.......LONG LIVE THE LEAGUE.