German Angry Youth Elite have done a new record some months ago. Here have Markus answered some questions for an interview. July 2023
Tell me the short or the long story how you did come together as a band?
-We are friends who made music together way back in our youth. After we all have played the game job, family, children get through, we have brought in 2017 the band back to the start. Only a year later our first album "Ready! Set! No!" came out. And with that, the journey could begin. After we released our charity single "Say Anything" featuring The Bombpops in 2018, Marius - an old friend - joined the band.
How is the punkscene living on in Germany right now?
-The punk scene in Germany is already doing extremely well. There are a lot of really really good bands here that bring the sound of the 90s to life. In general, there are more bands that sing in German than there are English-speaking skatepunk bands in Germany. We think it's really good that there are so many different kinds of punk rock bands and we really like to listen to both. We are always asked if we want to sing in German, but we haven't tried that yet. Another thing we noticed is that there are a lot of cool bands in English punk rock in Germany, the scene is really alive.
I understand that it have been up and downs in your musiclife, when was the punk as lowest down for your band?
-In fact, our new album is totally honest and authentic. The songs are about many things and situations in our lives that we had to cope with. One thing that especially influenced the band and also the writing of the album was an illness of our guitarist. He had to fight his way out of a very deep hole. We as a band have supported him again and again, so that he is now fully back in the game. This whole thing we have processed within or songs and we find that it has made us as friends and as a band even stronger. We just see what's important to life and what you don't really have to get upset about.
I hear that you have influences both in USHC and the usual hardcore it feels like? Am I right?
-That's a really exciting question. Actually, we come from the whole melodic punk of the 90s. There's all the FatWreck and Epitaph stuff to mention. US Hardcore wasn't really our influence before. But with the time we found one or the other pearl in the field of hardcore so we like to try it a bit rougher and harder. We just love the mix of good melodies, punk rock and also extremely hard and short fast interjections. The short hardcore songs are mostly created in the rehearsal room, especially after work where we just want to play together.
Is Bakraufarfita a good label? You have done one more record from 2018, am I right. Is there any chance to get that too?
-We are now brand new to the label "Bakraufarfita" arrived. The colleagues who run the label are all good old acquaintances with whom we like to work very much. They have an extremely exciting mix of punk bands from all over Germany and we feel really comfortable with them. Besides our latest album "All Riot", which came out on June 16th, our label also released our debut album "Ready! Set! No!" on vinyl again. So this album, which we are still extremely proud of, is available on CD, tape, vinyl and stream.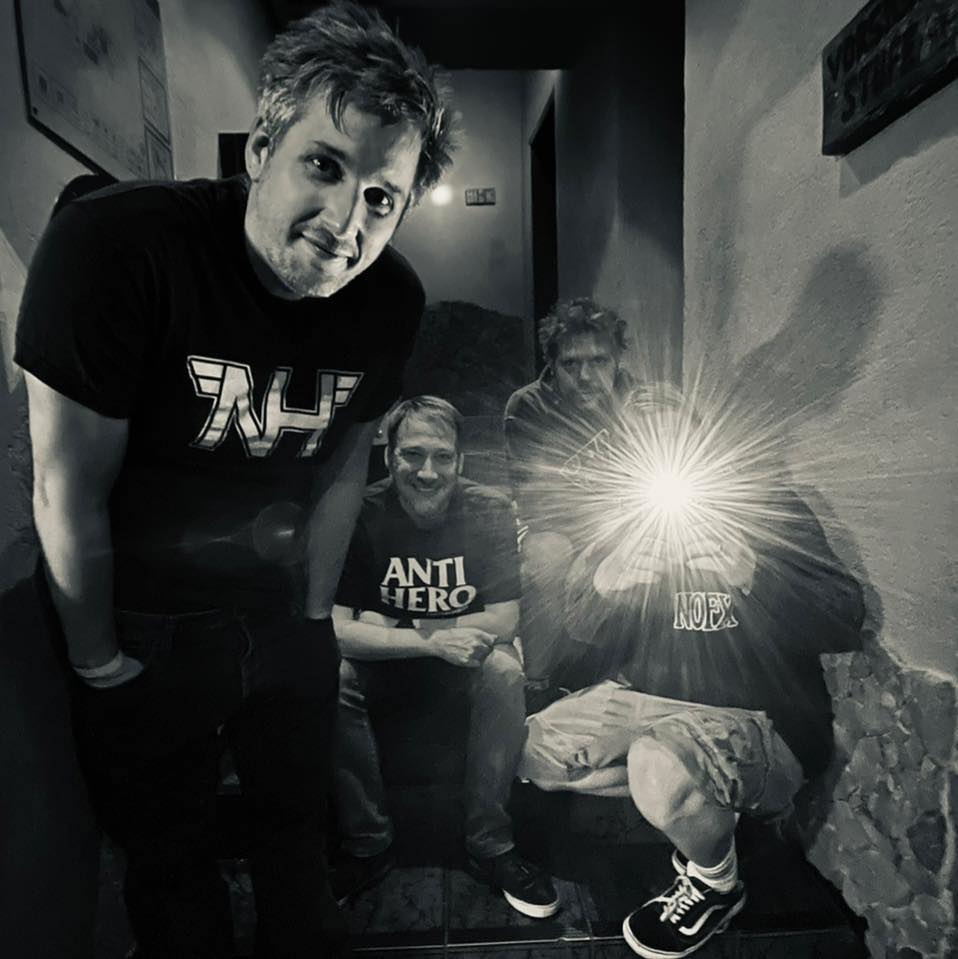 What does punk mean to you , is it only music or is it a life style? How have your thought about punk changed through all the years you have been in the movement?
-For me, punk rock means self-determination and freedom. I can be creative in punk rock and try things out. In addition, we have become more and more political and honest over the years and now call a lot of things in our songs by name. what I'm particularly excited about is the fact that through music and especially punk rock you always meet new great people. The people behind the music are actually the special and it really makes no difference whether I'm a teenager with blue hair or a family man who likes to go to punk concerts. Even if I sit in a shirt at work, I still feel like a punk.
Is there any good punkbands around in Germany right now?
-I´d say there were more bands in in the late 90s/early 2000s, some of them are still active nowadays. Some of them wrote their own verse for our single "it´s gonna be bad", make sure you check them out on our instagram profile.
Just as we're about to put out another album and play a lot of shows, you get to meet so many cool new punk bands. There are always people getting together and putting out new music. It's a lot of fun to socialize here It's a lot of fun to socialize here and get to know people.
Do you have any Swedish favorites?
-I think all of us started listening to Millencolin and Satanic Surfers in the mid 90s and discovered great bands like Adhesive, Randy, Stoned, or old, fast Raised Fist Stuff. Personally I dig a band called Steamboat Rally, great melodies at about 210 bpm, maybe like the Beatles on speed?
We also love "No Fun At All". We listened to their albums as kids up and down and now we have already played several Weekender in Germany with them. They are just wonderful people who still make great music.
Have you been here and played anytime?
-No, unfortunateley not until now. We would love to play in Sweden one day. Maybe there is a possibility to travel here for 4-5 shows in the north. We would be there in any case and like to bring a few jokes about Germans.
But we played shows with cool Swedish bands like No Fun At All, Millencolin, Satanic Surfers and Venerea.
Could you feel that you have released a record if you only put it out digitally?
-Well no, that´s why we also put All Riot out physically on vinyl, CD and even tape.
Do you buy much records yourself? Do you have any recordstore left in your hometown?
-I have many classics in my CD collection, missed the vinyl train in the 90, maybe I´ll jump on it someday, I think the others have vinyls as they´re two years older than me. Vinyl is definitely becoming more and more important and there are a lot of very cool record stores here in the region. We like to support them and buy there. But also at shows we like to buy and trade with the other bands to expand the record collection. We already notice that vinyl has much more demand than a CD.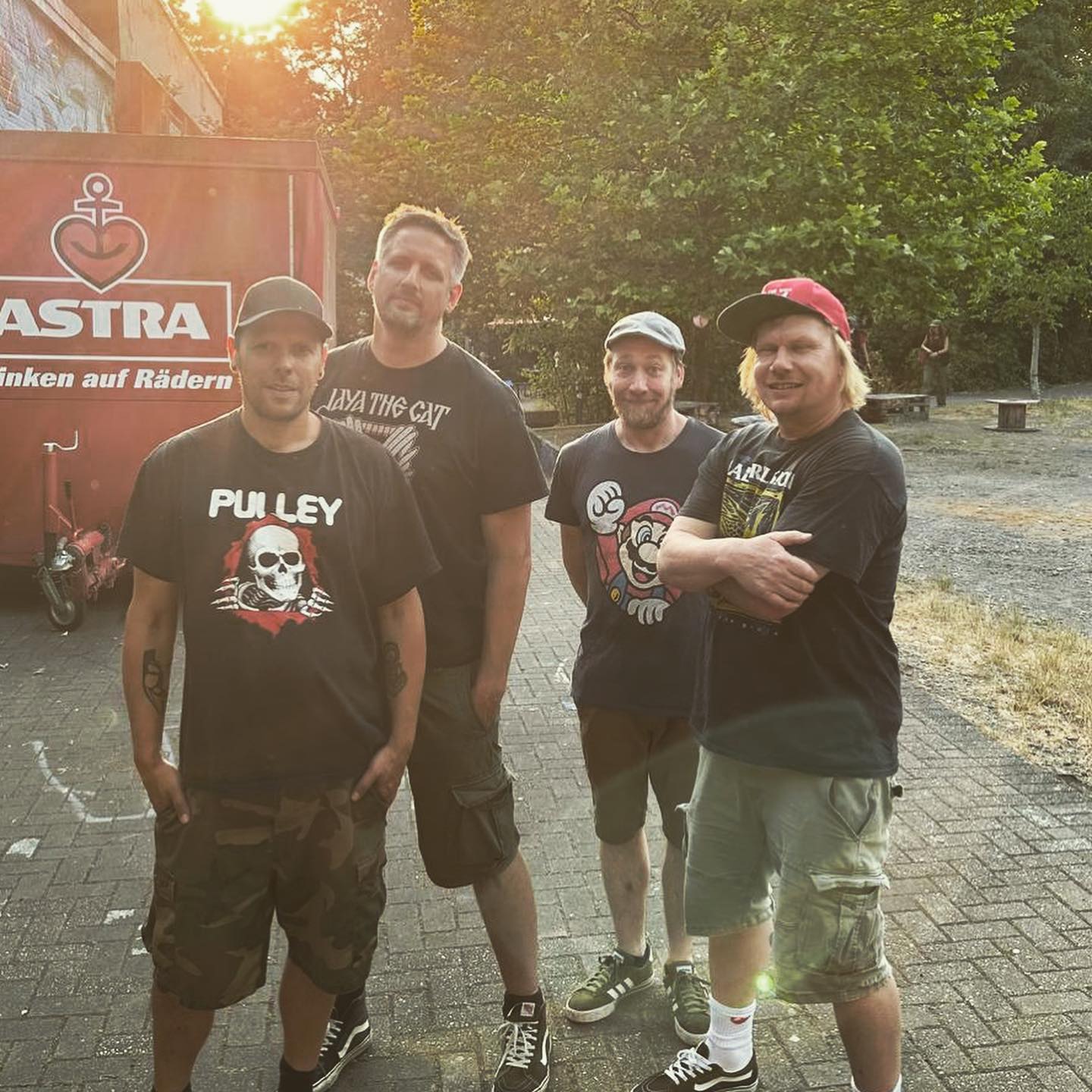 You have get in some reggae/ska in Give it up…how come?
-Some people don't like reggae or ska and would never put that on a record. We already had a reggae song on the debut album, so it wasn't really unusual to put the song "give it up" on the new album. Somehow reggae is our "Guilty Pleasure", so it was enough for such a song on the record. We love the song as much as the hardcore punk songs.
Which is your personal Angry Youth Police favoritesong and which is the audience's choice?
-That´s a tough question, I´d say "Anger turns to hate" because of ist uptempo beat followed and somehow highlighted by a shout part.
We always get the crowd singing with us when we play Strong company, so I´d say that´s the audience´s choice.
Which is….
the album which make you wanna do music and play yourself?
-NOFX – So long and thanks…
the album which is the reason that Angry Youth Elite sounds like you do?
-Good Riddance – My Republic
the album you have been playing/singing on, I mean any other bands classic record?
-I started playing guitar with Nirvana´s Nevermind, trained my skills on hearing out stuff with Green Day, Offspring, Millencolin, Nofx, Lagwagon, Pennywise…Adhesive albums and that Steamboat Rally s/t album are much fun to play
the album you must have in the tourbus
-Abba Super Trouper
the album you´re ashamed of that you own but you like anyway?
-I´m proud of my MC HAMMER – Please Hammer don´t hurt ´em record, which was my first record. Pretty cool lyrics for a preacher by the way…

How is it to live in Germany right now, political, bad economy, racists etc?
-Here in Germany, we are actually doing quite well. But if you look deeper, you can see the fractures in society. The gap between rich and poor is getting bigger and bigger and mostly children are left behind. This makes us especially as fathers really concerned. In addition, there are those who do not want to see the new problems and do not like change. Climate change is a really good example here. There must be no "business as usual". Politically, Germany is also becoming more and more divided. With the AFD, a right-wing party is already in the Bundestag that keeps making stupid and racist statements. We must fight against this development together as a society. But this development is certainly not only in Germany. But that doesn't make it any better.
If you have the chance to rule Germany for a week, which have been the first thing you have been changed?
-That's a really difficult question. In fact, I think it's not really easy in power. But if it should happen that the AJE party should be elected, I would fundamentally try to improve education and equal opportunities. In our eyes, education is the basis for equality of opportunity, enlightenment and a better common coexistence
Do you think that politics should be in music? Which is your most political song?
-I think that making music and playing in a band is a good school for life. You get to know many people and automatically deal with the problems of this world. Music connects and making music as a band only works as a team. In politics, it's often about maintaining power and your own EGO. In our experience, you can forget it in a band.
On the current album we have a lot of political songs. DIY is about the throwaway society and your possibility to do something against it yourself. Trash is about climate change and our responsibility towards the youth.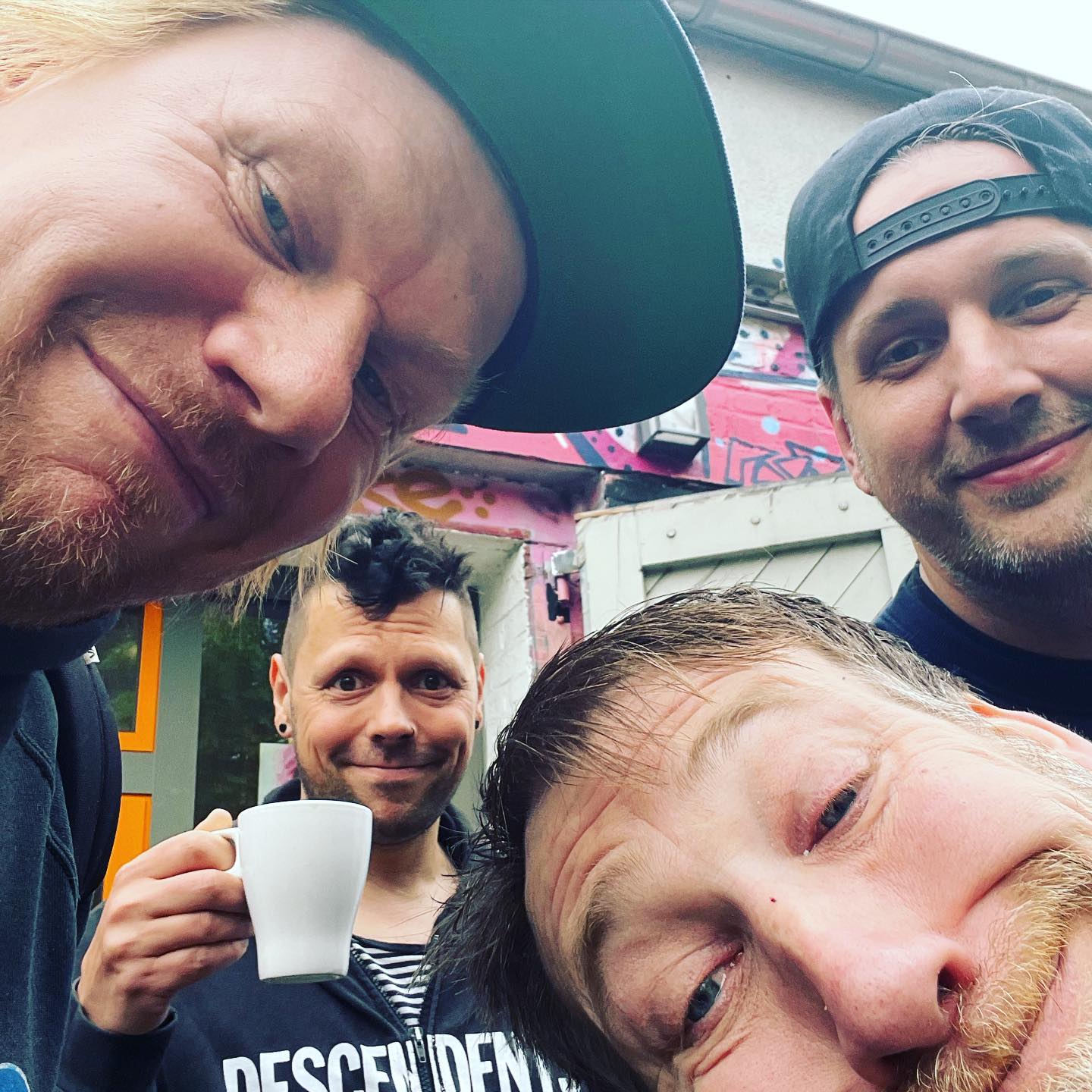 You sing mostly in English, why don´t more in german? Is it easier to write songs in English?
-In previous bands we always sang in English and actually feel it safest there. It's not that we think German is bad as a language in punk rock, but it's never really been an issue. Maybe it's also that we have too high a demand on ourselves if we were to sing in German, so we would always discard lyrics and songs. With English we feel comfortable and we find that it actually feels quite good.
Do you have any new songs on it´s way?
-Although our second album is just out, of course the songs have been present for us for much longer. For next year we are definitely planning a new EP, because we had a lot of cool songs to choose from when writing the album. So you can already look forward to new material from Angry Youth Elite in 2024. But now we take care of our fresh album first.
Please tell me a little about the following songs?
DIY
-This song is about the waste of resources and the love of DIY. DIY has a high value in our band because we try to do as many things ourselves as possible. For example, we print our T-shirts ourselves and also get sustainable fabric that we then print ourselves with screen printing. I think if you make things yourself and also repair broken things then you appreciate them better and of course take care of them differently. Musically, the song goes extremely forward and is a very good example of fast and rough songs from us.
It´s gonna be bad
-With "It's gonna be Bad" we made an exciting social media campaign. The song is about things that you can do, but in the end they are simply bad, the way you do them. Everybody knows these situations and moments where you see or overhear things that just go bad and where it's better to open your mouth or to take action against it. As an example in the song for that, if someone spreads right-wing ideas and you only listen and say nothing against it. In our campaign, many bands from Germany have sung their own version of the song and we have published these versions on our Instagram channel. There are some really cool versions. Be sure to check them out.
Give it up
-As a reggae song GIVE IT UP is the exotic on the album. We just love this song. It just has such a cool vibe and such a looseness to address difficult issues but also celebrate the good times together. It's meant to give hope that we can overcome challenges together and show respect for all those who are working for a good cause. It is quite unusual that this song is relatively long (for our standards). You have to listen to it.
Future plans for the band?
-Right now, of course, we're doing an extreme amount of promo for the new album and we're playing a few shows in the summer. From mid-September our tour starts, where we stop in many cities in Germany. We are totally excited about how our new album will be received and look forward to meeting many new people and making new friends. For next year we are planning an EP and also many festival shows. In any case, we want to continue because it's fun and we think we have something to say. Now that you mention it, maybe we will make it to Sweden.