Anders F Rönnblom

-don´t want to be everyone´s property
Anders F Rönnblom is a guy which I have like since the late 70´s then I bought a record with him together with Radioators on Ginza. Here was Anders so kind that he answered about 40 questions in a weekend in april 2005.
Why dud you start to play from the very first beginning, did you start up with guitar
-I started with a Skiffle Group 1959. Played mandolin. And then guitar and a guitargroup 1961-62.
I started to write songs in serious style , in English 1963-64. And it was popband between 1964-66.
You can play other instruments too, tell me?
-I cheat a little with piano, and I have cheated with harmonica.
Have you been into any bands, which ?
-1962-63 Red Fires. 1964 Bob Major & The G.I.:s. 1966 Anders & Nicko.
1973 Den Långa Ludna Svansen. 1978-80 Maddepolam. 1981-83 Seskaton.
1989-1991 Bravado Bravado. 1994-1996 The Caviar Pizza Band. 1997 The
Incredible Gretsch Brothers. 2003-05 Anders F Rönnblom Band.
Why have mostly was solo but with a band behind you?
-Both and, actually…Have always worked with the group as a collective, but it´s mostly me who have stand as a soloartist on my recordprojects. But Bravado Bravado was initial a collective with me ,
Jesper Lindberg and Håkan Ström. And The Incredible Gretsch Brothers-project was 50 % Peter R Ericson.
How is the feeling not to have been really wellknown as Ulf Lundell or something like that? Is it bitter or is it really nice?
-It´s really nice,actually. It´s a privilege to have done 20 records but not being exploited and loved by the people . To be love by the people is a disaster to your musiccareer I think. Yeah, you can own a lot of money but the creative ability seems to be very inhibited.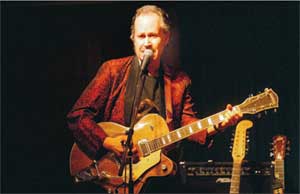 But you have had some hitsongs like Jag kysste henne,
Det är inte snön som faller osv? Is it nice to halfknown like that?
-3 small hits during the 80´s. Jag Kysste Henne Våldsamt, Europa Brinner,
and Det Är Inte Snön Som Faller... It felt really OK. Kysste Henne was on the singlelist many weeks and it sold really well.
Which of your records ahve sold the most and the smallest amount?
-Have no idea bout this. I think that the records from the 80´s with songs like Kysste Henne and Europa Brinner have sold really good
Which record are you most satisfed with?
-The records are really different, they mirrors different musicstyles so I think alot different about them. But Ramlösa Kvarn from 1972 is still a really good production. The record Våld from 1991 I really like because the songmaterial is so strong and that the record was recorded very spontaneous in the studio in only 2 days.
Which is the song "everybody" wants to hear when you play out?
-Det Är Inte Snön Som Faller.
Do you try to play songs from your whole career?
-yeah, much because of the fact that the F_BOX is released and we want to have songs from all 18 albums
You have never been an outspoken politic musician but do you think that music and politics goes hand in hand?
-Not directly partypolitics but….but the lyrics is really politic. And if you hear on the journalist Bengt Eriksson have I always have politics and criticism in my reports about our community.
The best political lyricwriter?
-Dylan, Zappa, Wiehe, Cornelis... and many unknown bands which speaks about today´s reality….There is so many who have written much strong things...
I have always listened to punk since it came but the first time I heard you it was on Tarschan Boulevard I really have liked your music, what made me like you and that you came through my punkbarrier?
-I don´t know….but I have heard the same thing from a lot of musicans….in the bottom so it so maybe that I have a punk-attitude inside me even if I belong to another generation before the punk. But the word "punk" in American way is a little bit different if you compare with the "punk" we began to know in the end of the 70´s.
Your music have always been a little bit different to describe, what´s the most peculiar you have heard about your music?
-It have been called for example Punk-Reggae, Singer/songwriter-Punk, Poetry-Rock, Blues-Rock, Singer/songwriter -Rock... All these are really weird everyone. Somewhere there´s a mix of everything….Influences from everything you have grown up with and been influenced of the latest 40 years…from the beginning it was called Rock n Roll shortly.
To write in swedish is really obvious to you, have you done any songs in english? Why or why not?
-I wrote english songs in the whole 60´s. And then it became Swedish. Now I´m translating all my old Swedish lyrics to English for an eventual English production. We will see what it become.
Is it many gigs nowadays?
-Yeah, it have started again. We have had some excellent reviews. Some papers have called my musicians for "shining" "almost world class"…it feels really fun.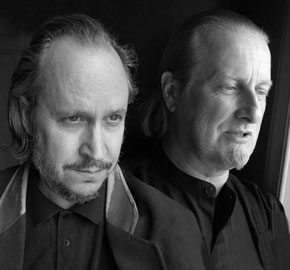 How does your audience look like, is it very mixed, what is the most extreme you have seen as audience?
-Nowadays it´s 2 different generations. It´s the old fans from the 80´s which is 40-50 years old and then we have a lot of 20-25 year old which have inherit, borrowed or being grown up with my music. Fun!
Much things must have happened during your long career, which is the most funny thing which have happened?
-That you easy can get a whole side in Aftonbladet or Expressen if you get a loudspeaker on your foot and crush it. Much easier than if you do a good rockrecord
You released a box with 18 record and one DVD a while ago, who buys it? And why did you release a thing like this
-All old fans have lost their old vinylrecords. 12 of the old records you can´t get anymore so that they´re on CD now it´s a good thing. Abnd then it´s a fine presentation of me as an artist for the people who have missed me through the years.
Is everything you have done on the box?
-All published and recorded songs is on the box. Plus more than 30 bonussongs, livesongs, demos and odd versions.
What´s on the DVD?
-7 musicvideos + the animated christmas movie. And there is some digital art and animations.
Is there any good music in Sweden today?
-It´s incredbile much good music which comes all the time. And it is good if you compare with international music. But the most bands sings in English and it´s a shame that not so many artists works with the Swedish language and there I think there´s some shortage
What do you that internet have done for today´s artists?
-Internet will be lifedecisive for a lot of artists. Just to get out their music and get an audience
What do you think about the downloading of music, does it kill the music or does so the music lives up more and get more creative?
-Of course it do so the music lives. It´s getting new. It´s spread to more people. And that´s is a positive thing. The problem is only that the originator must get their money in some way. The conventional musicindustry will be changed. The originators must find other ways to get paid for their songs.
Have you downloaded anything for yourself?
-No, I haven´t started with that yet….Have right now began to listen to my old vinylcollection from the 70-80´s.
Please rank your five favourite records, five favourite concerts you have been to?
-Records: 1. Blond On Blonde, Bob Dylan 2. Buffalo Springfield Again 3.
Music From Big Pink, The Band 4. Smiley Smile, Beach Boys 5. Trout
Mask Replica, Captain Beefheart
Concerts: 1. The Band on Konserthuset in Stockholm 2. Crosby Stills
Nash & Young on Konserthuset in Stockholm 3. Jimi Hendrix Experience on
Gröna Lund, 4. Cream, on Konserthuset in Stockholm, 5. Little Feat pon
Konserthuset in Stockholm,
The most embarrasing record in your collection?
-??? I don´t know...but I think it´s some weird synthschlagerrecord from the 80´s.
Many actors do records and many artists became actors? This isn´t anything you have tested or feel to test?
-No.
Is it so that many who do anything with entertainment is so talented or does many people get the chance only because they´re wellknown?
-In Sweden it´s easy that it become so that you must broad yourself, test different things to survive. As cabaret, dinnershows, stand up comedian, theatre , movies….
How do you think it is to live in Sweden today?
-It´s OK. We have it really good if we compare with many other countries. But there is a lot of things which is chaged. The Swedish welfare state is gone and we´re totally another country than we were 25 years ago. We´re spoiled with high rise living and we get frustrated when the welfare state is being picked down.
How do you think that the government worked with the tsunamicatastroph?
-Really weird. Amateurstyled. But everything is depending on that we´re not used to these sort of catastrophes . Italy for example have had earthquakes and they have another prepardness with a government who works fast and with independence.
Is it a perfect time for the opposite parties to win when the socialist government don´t do right?
-Yeah, it comes automatically, I think.
When you write your lyrics, what are you being inspired of?
-Everything around me. Papers, TV. How people talks. How people are….It´s only to look around.
Musically, how have you changed yourself during the years?
-You´re changing all the time because of the impressions you get….but anyway it´s a frame which lives on after the first impressions from the end of the 50´s. They never disappear. It´s only changes, modifies, refines… ...
Is it many interviews , is that boring?
-It have been a lot of interviews since F-BOXEN came out in november.
No, it seems to be really nice moments.
Futureplans with the music?
-To play live a lot. Start more new musicproject. Videoprojects…do a compilation artvideos of early lyrics.
And for yourself?
-Finish a book which have been halfready since the 80´s.
Wisdomword?
-It may be necessary to be on the top of a mountain in order to find the
best way up. (Dr. Edward DeBono)
Something to add?
-Rock ON!!