Ancestral Sin plays hard music, they come from Holland and they were so nice that they answered some questions from me in march 2023.

Please tell me a little bit history of the group?
We started as friends in 1989 in in Jake's garage and had our first gig in 1990. After that we released a demo tape in 1991 and featured some compilations. In 1992 we released an album (Feel it Erupt), only on tape. In 1994 we released a titleless EP, only on CD. We quite often supported American HC bands (e.g. Gorilla Biscuit, SFA) when they toured and came to the Netherlands. In 1996 we split up and formed other bands and in 1998 we did one last reunion gig. We decided to reunite in 2018 with a new drummer. We wrote new songs and recorded a new album in 2021 (Social Hate Speech) without the bassplayer, he left the band in the ' covid era'. After the album was released in 2022 we got a new (our recent) bassplayer.

Please tell me a little about every member in the group right now, age, family, work, interests and something bad about everyone? Earlier bands? Other bands on the side?
Jake – vocals, age 51, father of 2, Forrester, especially interested in moss. Bad thing; Used to smoke 2 packs a day, but quit smoking 15 years ago. Other earlier bands; Molosser/ Room #13.
K.J. – guitars, age 50, father of 2, Engineer, interested in historical books and windsurfing. Bad thing; controlfreak-ish. Other earlier band; Ultimate Chaos/Wise Men of Gotham.
Ragnar Blastbrok – drums, age 36, father of 1, Welder/Handyman/Drumwhore, interested in everything, bad thing; to many interests, other bands on the side: Cote d'aver/Braincasket/MyMindsMine/Inhume
Marcell – bass, age 48, has a girlfriend, teamboss at a mail company, interested in the occult, bad thing; interest in the occult ;-) Earlier bands / side projects; Sexual OCD/Molosser/Lugubre/ Gärgäntuah.<![if !supportLineBreakNewLine]>
<![endif]>
I can hear much different influences but mostly hardcore and metal and a little bit grindcore? Favorites from the past? You're absolutely right.
Our present drummer is a grindcore drummer in essence, so we decided to introduce double- stroke blast beats and use that for the new album. And since we're long time Terrorizer/Napalm Death fans this fitted in in perfectly.<![if !supportLineBreakNewLine]>
<![endif]>
Ancestral Sin are you satisfied with the name? How did it came up and what do you mean with it? You weren't afraid that some other band would be named like this? Which is the best band name you know?
We got the name from a lyric from an old dutch hardcore/thrash band called Disabuse. We didn't come up with it ourselves, it is actually a common phrase throughout the world when it comes to religious discussions etc. Therefore, if some other bands wants to use the name it's all cool. Best bandname to me (KJ) I can think of at this moment is Teethgrinder, a dutch grindcore band.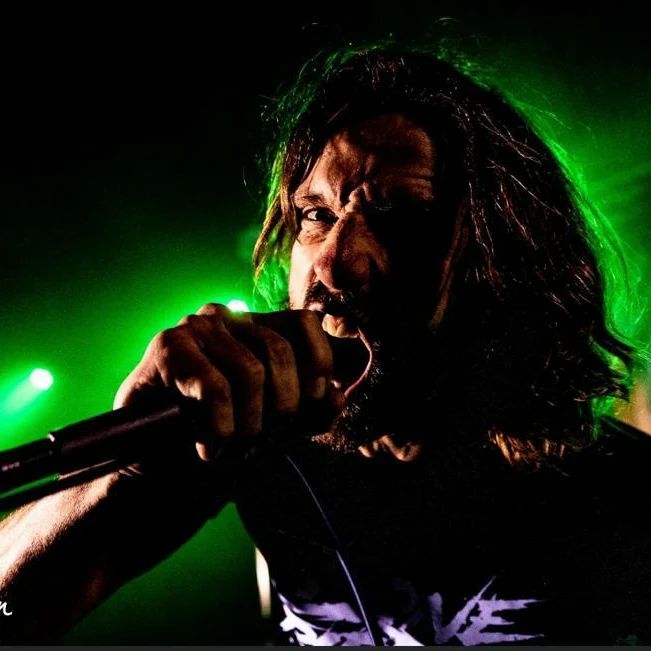 What´s the best thing with playing live? Your biggest concert you have done?
Best thing is to be able to express ourselves in an artistic way and get credits for that by way of appreciation from the audience. Biggest show we did was Waldrock (open air) on June 24 1995 (Line up: Ancestral Sin, Madball, Pro Pain, My Dying Bride, Sick Of It All, Benediction, Machine Head and headliner Venom).

And where is best to play? And the worst place?
For our kind of music that would be a small- scale venue with a leveled stage. That way we interact with the audience and can be part of the pit! Worst place is a stage when we're way up there, too distant from the crowd.
How is to play this sort of music in Holland right now? Which types of bands do you have concerts together with?
Well, there's an audience for it in Holland and we always get positive response. But we are kind of an oddity for not being hardcore or metal or grindcore which makes it hard to be categorized. The upside of that, is that we do shows with all those genres, which is really cool.<![if !supportLineBreakNewLine]>
<![endif]>
How would you describe your music in three words to people who never have heard you?
PUNK - BUT - FASTER (three words ;-)
What does punk mean to you, is it only a word or is it a lifestyle? Have it changed through the years?
To us it is just a word which our music is referred to. We don't pick our wardrobe to represent a certain musical style. We've loved the style since we were 13 years old and it won't go away. Nowadays you can buy punk clothing in stores and look like a punk without really being one. So it changed over the years.
<![if !supportLineBreakNewLine]>
<![endif]>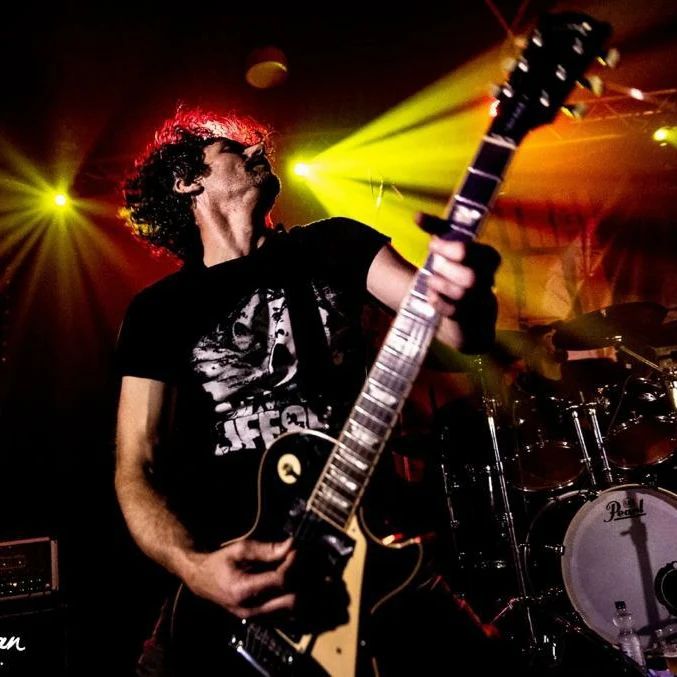 Which song/album or group was it who took you into punk/hardcore?
Cro Mags/Agnostic Front/Youth of Today/ Ripcord/ Heresy/Intense Degree/Repulsion/Infest

What shall a young guy do today to shock their parents as the way we did when we were young? They have already seen everything ?
Haha, you're right, there's nothing shocking left!

How is it to live in Holland right now? Politically? Fascists?
It's a political carnage. The landscape is scattered over 23 parties! No decisions are made and everyone's finger pointing at the other. Because of that populistic parties have gained voters and influence. But unfortunately, these parties carry out neo-fascist polarized messages and a very grim vibe.
Is there any good bands from Holland right now? Is the punkscene/metalscene/hardcorescene big? How is it in your hometown? And how about good old dutch bands?
Good Dutch current bands we played with or will play with are for example; My Minds Mine(inert), Teethgrinder, Suffering Quota, Boneripper, Ten Ton John, Bladecrusher, Atmoran, Ornaris, the Gathering…
The scene is pretty widespread throughout Holland, also in our homebase- town. We all know each other and attend at each other's shows, it's a friendly scene. Old dutch bands are for example Disabuse, Disgrace, Room no.13, Blood I Bleed, Brutal Obscenity, Right Direction, Backfire, Pestilence, Gorefest etc.
What do you know about Sweden? Have you been here sometime? What is typical Swedish?
It's a large country, low- dense populated, lots of trees, large timber logging industry, great nature and wildlife. Jake has been there several times on vacation. Typical Swedish is .. blond hair..! At least that's what all of dutch think…;-)
Have you heard any good bands from Sweden?
Oh hell yeah! The first ones coming to mind are Entombed, Meshuggah and ABBA. And one of the first Swedish bands we listened to on tape was MOB 47 and Protest Bengt on the compilation Really Fast!
Your lyrics, who does them and what influences you?? Please tell me a little about the following songs
-Waste of God
-More of the shame
-Western Paradigm
Lyrics (and music) are written by KJ.
-Waste of God is about the downside of religion, it's often the cause of war and suffering as one religion tries to force itself upon others. What a fuckin waste of god.
-More of the shame reflects on the 2008 financial crisis and its aftermath. No lessons were learned and we're in again in the same shameful position at the present day.
-Western Paradigm analyses the (among others) Dutch expansion and imperialism of the last four centuries. The Dutch took it as their (self- declared) God-given right and duty to submit and oppress Asians and Africans to convert them into civilized Western citizens. Even in the twentieth century those people were still seen as inferior beings and looked down upon. This even was taught in early 20th century schoolbooks; thus it can be considered as a paradigm.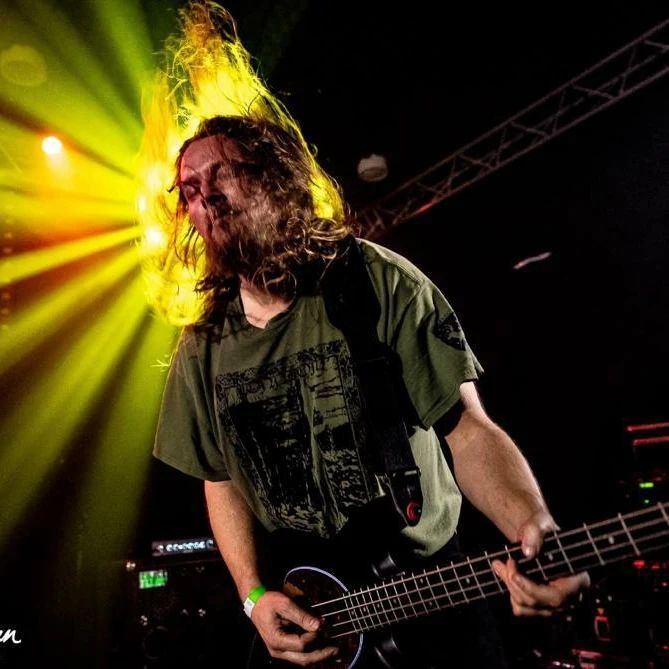 Is there any subject that you never will write anything about? Or isn´t anything sacred?
No there isn't.<![if !supportLineBreakNewLine]>
<![endif]>
Politic and music, does it goes hand in hand? Which is your most political song? Is it important to get out your opinions in music? Or is it OK to play music and not sing about politics?
Both are okay to us. Although we prefer politics over other topics politics because it affects our everyday lives. But we don't force ourselves upon anyone. We hope people read our lyrics and make the right choices Our most political song is Narcissus Borealis. This addresses a currently active Dutch politician who's not really a politician for he has no vision. In his victory- speech he spoke of the Boreal world referring to the supremacy of the northern European race. That combined with his narcissism, resulted in the title Narcissus Borealis.
Best political band/artist?
Th' Inbred from Morgantown, USA. Awesome lyric writer (Bob Cotter) and awesome hardcore/punk tracks. And MDC too!
Do you think that music(lyrics and so on) can change anyones life, I mean people who listens to music? Do you have any example?
Yes, it did for us. It made us aware of things we were oblivious to. So yes!
Your favorite recordcover alltime? Who does your recordcovers? And do you have any good recordstores in your hometown?
Cover of the Reign in Blood album! Man, it's like Rembrandts Nightwatch!
Ours was done by Robert Mink of Mink Graphics, who is a friend of us.
There are two good records shops in Leeuwarden that sell our album among other alternative music.
Is it important to get out physical records of your stuff? Why or why not? Vinyl, CD, cassette, what do you prefer if you could choose whatever ? The latest record came on vinyl or?
Yes it is, first of all because vinyl is really cool with a large sleeve cover and so we wanted Social Hate Speech to be our first on vinyl. Secondly, we sell it at our shows and use the money to record a new album. We got a lot of questions for CD's because they're easier to carry around at a show.
Please tell me a funny thing which have happened during your career and under some gig? With this band or some earlier band?
We (Asin) once had a breakdown with the van when we returned from a gig. To get to the engine we had to unload the cargo space and we set up the drumkit at the side of the road, so our drummer did an open air solo. After we fixed the problem the van would only go 30 km/h, so we all sat on the roof and drove home at 4 am!
Another thing was with NY hatecore band SFA. After a show with them we shared a dormitory, when suddenly in the middle of the night their singer started beating up their guitarplayer, man it was hilarious.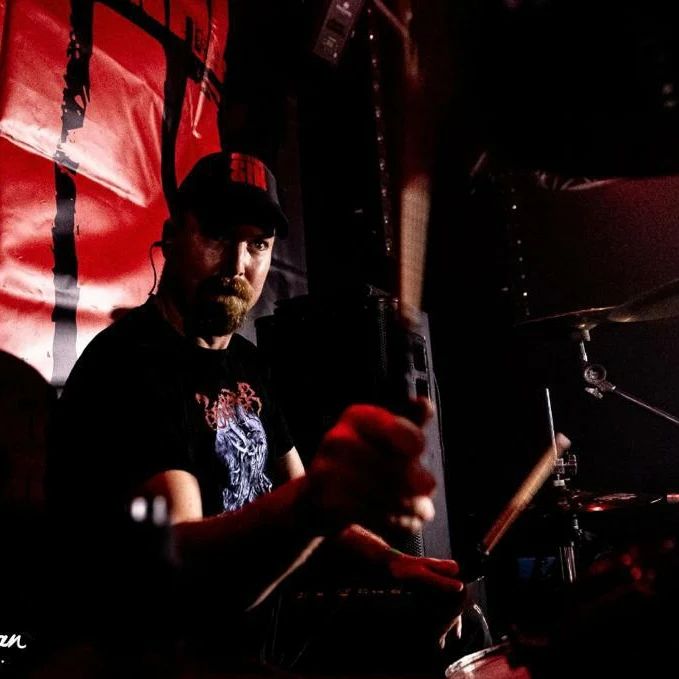 How does your audience look like? Which people do you miss on your concerts? Which is the biggest band you ever have played together with?
Our audience goes from age 18 to 60. It's a mixture of metalheads and hardcore punks, so we don't miss anyone.
Biggest in the 90's was with Venom and in the present was with D.R.I. august 2022, great guys by the way.
Please rank your five favoriterecords, five favoriteconcerts and five most important things in life?
Records In random order:
Slayer – Reign in Blood
Infest – No Man's Slave
Terrorizer – World Downfall
Heresy – Face up to it
Th' Inbred – Family Affair
Shows in random order:
No means No
Slayer
Entombed
Napalm Death
Agnostic Front
Most important things in random order:
Freedom
democracy
friendship
bandship
love
First, last and most expensive record ever bought?
Don't remember, sorry.
Is it boring with interviews? Is it much interviews?
Email interviews are boring 'cause of all the typing. We had an interview with an American YT channel via Zoom last year. Much better! ;-)
We don't do many interviews fortunately. We rather play shows.
Do you care about reviews? Which is the most peculiar you ever had, with this band or any other band you have been to? Have you ever changed anything after a bad review?
Reviews used to be important before social media, but nowadays they have much less value, because we interact with our audience/fans in a direct way. We will never change anything after a bad review, hell no!
Which bands do people compare you to, is it boring that people compare you to other bands or is it understandable?
People compare us with e.g. Slayer or powerviolence bands like Infest, which is a great compliment and totally understandable.

If you could choose five bands from the past and the history and nowadays and both dead and living bands to have a concert together with your band. Which five have you been chosen?
No surprises there:
Slayer
Infest
Terrorizer
Heresy
Th' Inbred
Is music a good way to get out frustration and become a nicer person outside the music??
Yes, to us it is.
Which is the most odd question you ever have got in an interview?(Except this one)
There's no such thing as an odd question, who's the judge of that?
Which is the question you want to have but you never get. Please ask it and answer it?
Will you come to play in Sweden if I make all the arrangements? Answer = Yes please!
Futureplans for the band?
Playing shows in Sweden, Norway, Denmark, Germany etcetera. And we're currently working on a new album of course!
For yourself?
Keep breathing, stay tuned and stay pissed!
Wisdomword?
It's not the destination, but the trip that matters
Something to add?
Nope.
One more question….Beerfavorite sort? If you did a beer with your bandname which sort would it be and what have it been called?
Jake; any special brew
KJ; any special brew
Ragnar; any special brew
Marcel; any special brew, but above all whiskey
Our beer brand would have been called Skål Sin!