Ambition Demolition is a band which is in my age and here have the drummer Alan answered some questions from me. He is a fast answering guy….and he answers many questions in one some times….june-2019
Please tell me a little bit history of the group? You have been along a while or? I´m 56 and you seems to be in the same age or, Please tell me a little about every member in the group right now, age, family, work, interests and something bad about everyone? Earlier bands? Other bands on the side? I can hear much different influences but mostly good old English punk from 77-81 and that sort of more attitude punk? Favorites from the past? Ambition Demolition are you satisfied with the name? How did it came up? You weren't afraid that some other band would be named like this? Which is the best bandname you know?
-We got together April 2016, Buff the bass player, Alan the guitarist and me AL the drummer. Both Buff & Alan do the vocals, but mainly Alan. Me and Alan write the music and lyrics, although we'd like Buff to write more than the 1 or 2 that he has!! It's good that different song's come from different angles. We have a song called 'Rag To Riches' which is about the shroud of Turin, we have a song called 'Ticking Boxes' which is about having all the supposed right up to date stuff and keeping up with the neighbours!! We have a song called 'Black Dog' which tackles depression. So we really do have variety!! Our sound isn't based on anyone in particular, but as we're all in our mid 50's and grew up with a lot of '78/'79 Punk stuff, I guess it shows in our sound?? We've been told we sound like various band's, but the notable one's are The Lurkers, 999 and U.K. Subs, all of which we've played gig's with!! And indeed, we're playing with 999 this Thursday 27th June!! On a personal note, I'm single, Buff has a girlfriend and Alan is married. Actually, Alan's wife, Vix, also does our merchandise stall at our gig's, she does us proud!! None of us have any children, which means we're free to do a lot more gig's than otherwise!! Work is a dull subject, We'd rather talk music!! We've all been in and out of band's in the past, but nothing as good as we're doing now!! I guess we all came along together at the right time to do Ambo-Dembo?!!!!! (That's a nick-name for us if you hadn't already worked it out?!!!) Only Alan had other band's on the side, but he was doing them before Ambo-Dembo, but now just concentrates on this band. The name Ambition Demolition came out the blue, I checked Google, YouTube and Facebook to see if anyone had that name already, and nobody did!! I asked Alan & Buff if they liked that name, they did, so Ambition Demolition was born!! The name came shortly after we started rehearsing, I made up a Facebook page with it on so no one else could take it!!!! I made a rough copy of our logo, Alan & Buff liked that too, so we quickly got that properly designed!! The wrecking ball crane is called Melvin!!!! And without being too modest, it's gotta be one of the best band name's around at the mo?? We've had a lot of good comments about it, so it seems well liked by many people!!?!

What´s the best thing with playing live? The worst place to play?
-We love playing live, no matter how many people turn up to see us!! It's a fantastic adrenaline rush, and to hear people clap and cheer you is just humbling to say the least!! I don't think there is a "worst place" to play, as they're all an adventure!?!?! We could do with less steps and stairs though as we can't afford roadies!! We're a D.I.Y. Punk ethic band, we try and do everything off our own backs, and any money we get from t-shirts, CD's etc etc, gets put back into the band!! We'd love to send stuff out all over the world, but we just can't afford it, there wouldn't be any money left to make more t-shirts, CD's etc etc!!!!!!!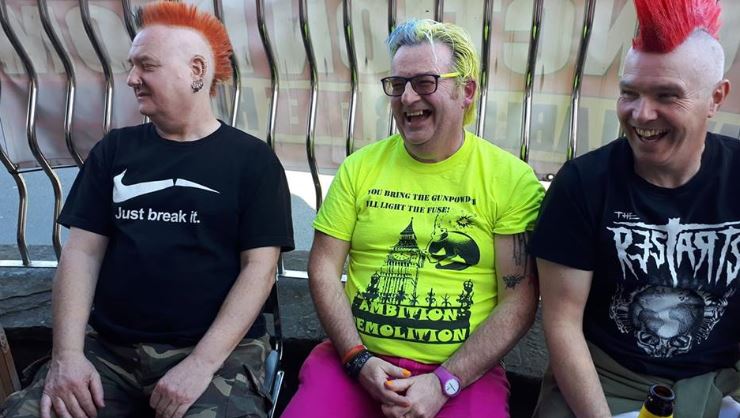 How is to play this sort of music in England right now? Which types of bands do you have concerts together with?
- The Punk scene is very healthy in the UK right now, and our town where were based, Cheltenham in Gloucestershire, has regular Punk/Rock/Alternative gig's, but it's nice to play all over, and indeed,
You´re playing on rebellion this year…is it the first time? Which band this year do you look most foreward to see?
-YES! we're playing Rebellion again!!!! And for anyone interested, we're on at 1.30pm on the Arena Stage Thursday 1st August!!!!! We played Rebellion 2 year's ago, and it's very nice to be asked back!!!! This year I'm looking forward to seeing The Stranglers and The Skids, and also a favourite of all 3 of us is Dirt Box Disco!! Another band we've played with, so check them out if you haven't already??!!
What does punk mean to you, is it only a word or is it a lifestyle?
-To us, Punk means culture, attitude, lifestyle and a phenomenal array of music that you just don't seem to get with other musical cultures??!! You can see someone with a pink Mohican, studded jacket and boots, someone in a kilt, or someone in a suit!!!! The variety is endless!!

What shall a young guy do today to shock their parents as the way we did when we were young? They have already seen everything <![if !vml]>

<![endif]>?
-Yea, I guess not many parents are too shocked by their kids as they've seen a lot of it when THEY were kid's??!!!!! I guess a more shocking thing would be if the kid's didn't show an interest in music in any shape or form?? Life without music would be just,.... well, let's not go THERE!!!!!!!!

How is it to live in England right now? Politically? Brexit? Fascists?
-Living in the UK with this brexit mess is just mind numbing!!!! The politicians have really fucked it all up, no matter which way people voted!! One of the worst thing's, is that it's given the green light to fascist bigots to be more abusive to anyone who isn't British, and that includes people who aren't even from Europe!!!! It's very sad and bloody shameful, and yet these bigots had forefathers who fought in the Second World War to stop people with views like that!!?!!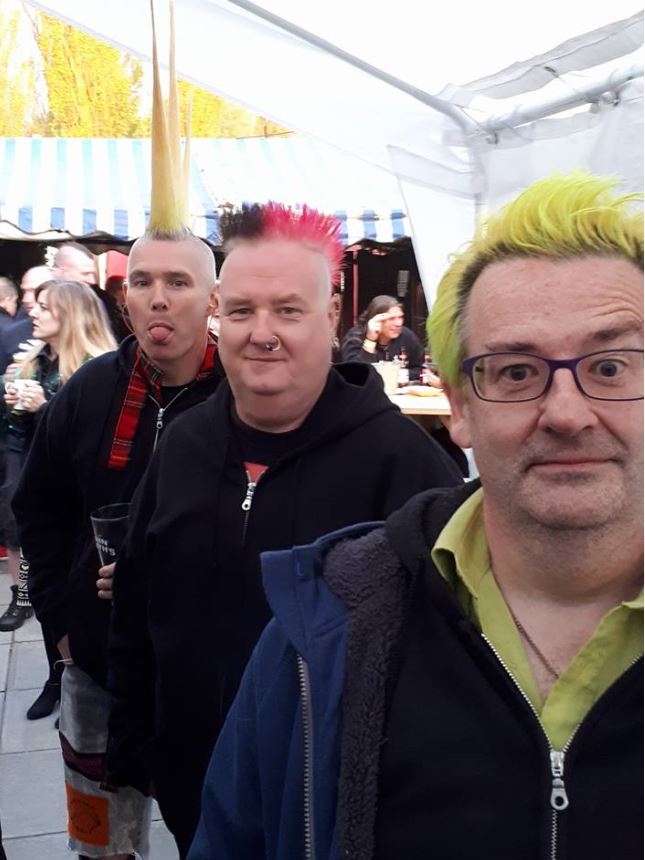 What do you know about Sweden? Have you been here sometime? Good bands from Sweden?
-None of us have been to Sweden, that I know of??!!, I know where it is on a map, and I used to have a friend from Scotland who lived there, so he told me various things!! I've seen Disfear and Dischange from Sweden, but that was in the early 90's, but!! last month we played with Zooparty!!!!!!!<![if !supportLineBreakNewLine]>
<![endif]>
Best political band/artist?
- Best political band?? I think that all 3 of us would say SUBHUMANS!!!!

Your favorite recordcover alltime? Who does your recordcovers? And do you have any good recordstores in your hometown?
-There's just too many record cover's, but Never Mind The Bollocks is sublime!!!
Alan does most if the artwork for our CD's/T-shirts, he used to be a professional printer!!
Badlands is the only independent record store in Cheltenham!!

How does your audience look like? Which people do you miss on your concerts? Which is the biggest band you ever have played together with?
-I like the fact that Punk will always welcome everybody, and indeed, we would welcome anyone who cares to come and watch us, come one - come all!!!! Our audience isn't always full of Punk's, so that's good that other people like what we do!! I guess the biggest band's we've played with would be U K Subs and Subhumans, although we've played with some fantastic other band's, too many to mention really!!

Please rank your five favoriterecords, five favoriteconcerts and five most important things in life?
- Naming 5 favourite band's/records would be a tad difficult as there's SO many, and most of them would be one's that were obvious!! But I'll mention Machine Gun Etiquette by The Damned as one of our faves!!!!
5 most important things in life?? Breathing, swearing, drinking, more swearing and playing in Ambition Demolition!!!!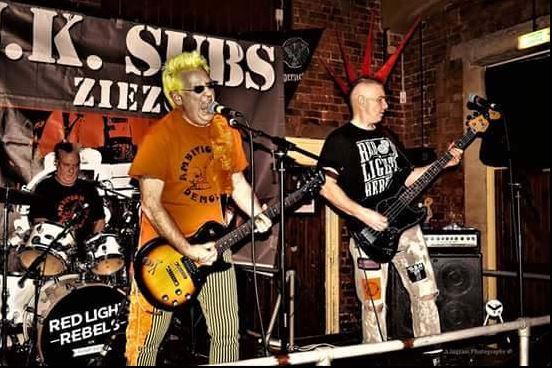 Is it boring with interviews? Is it much interviews?
-Nope, interviews aren't boring, it's nice that people, like yourself!!, bother to ask for an interview!! We've never had a peculiar interview, unless you'd like to count yours Peter??!!!!!!!!!
If you could choose five bands from the past and the history and nowadays and both dead and living bands to have a concert together with your band. Which five have you been chosen?
- To have played with The Sex Pistols would've been sublime, but we're lucky to have played with who we have, and of course if you count Rebellion, then we've played with some damn good band's!!!!
<![if !supportLineBreakNewLine]>
<![endif]>
Which is the most odd question you ever have got in an interview?
- Not had the most odd question yet, but we've not been asked about anything or band's from Sweden!!!!!!!!!!

Which is the question you want to have but you never get. Please ask it and answer it?
- Truly don't know what question we'd like to be asked?? I guess it's all good that people ask questions, whether we've been asked them already or not??!! Its nice that people are interested!!!!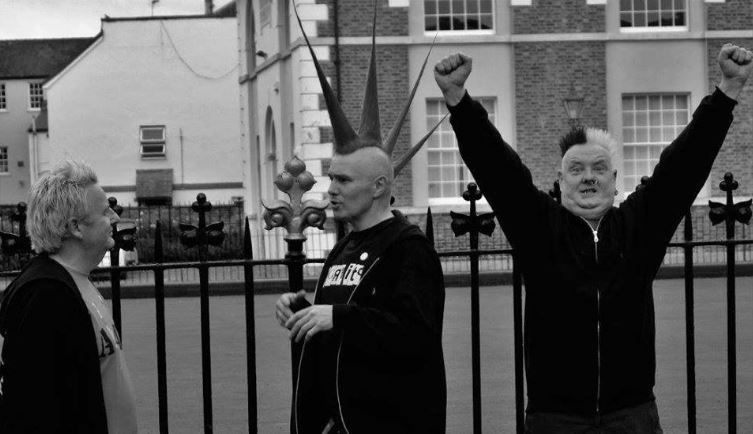 Futureplans for the band?
- Well, we have many songs that me and Alan have written, so hopefully in a few months we'll record another album?!! Also, we're going to keep gigging, and hopefully play abroad with anyone who'll have us??!!!!!

Wisdomword?
- Quite simply; MUSIC.<![if !vml]>

<![endif]><![if !vml]>

<![endif]><![if !supportLineBreakNewLine]>
<![endif]>
Something to add?
- OK, there you go Peter, Cherz mate, thank you on behalf of all of us, AL<![if !vml]>

<![endif]><![if !vml]>

<![endif]><![if !vml]>

<![endif]><![if !vml]>

<![endif]><![if !vml]>

<![endif]><![if !vml]>

<![endif]><![if !vml]>

<![endif]><![if !vml]>

<![endif]><![if !vml]>

<![endif]><![if !vml]>

<![endif]><![if !vml]>

<![endif]><![if !vml]>

<![endif]>!! If there's anything else, then please ask, and please put these in the fanzine for people to see/get in contact with us for anything, you can always have a look at our Facebook page, @AmbitionDemolition and our website www.ambitiondemolition.com
Pheewwww, I need to rest my fingers now!!<![if !vml]>

<![endif]><![if !vml]>

<![endif]><![if !vml]>

<![endif]><![if !vml]>

<![endif]><![if !vml]>

<![endif]><![if !vml]>

<![endif]>