I haven´t heard so much punk/hardcore/thrash from Mexico but here I have done an interview with ADF(All Death Forces) april-2016
Please tell me a little bit history of the group
-ADF (ALL DEATH FORCES) is an aggressive paced high energy band, influenced by genders such as death metal, trash metal, and hardcore. The band was formed in the end of 2011 as a side project of Jaime (drums), Rodolfo and Jonathan (guitars). Six months after Ricardo (vocals) and Luis (bass) joined the band and quickly developed into an underground sensation.
Please tell me a little about every member in the group right now, age, family, work, interests and something bad about everyone? Earlier bands? Other bands on the side?
-Jaime "Wachi" 43, own construction business, BMX Rider, beginning as a drummer in the AXPI punk rock band in the year 1993, has had side projects in all kinds of rhythms, punk rock Spaulding Gray, goth metal Everafter, latin Trio Noctambulo and d-beat Insolent. Its defect is to be little patient.
Rodolfo "Fofo" 32, owner and sound engineer in the studio OLEO ROCKERS, bassist and guitarist since 1999, basketball player start as a bass player in the group of hardcore Yoing in 2000, later play bass of Insolent group which gave a series of concerts in Europe in 2006, currently also plays in the group of hardcore Double D. the default have a strong character and often get angry if things go wrong.
Luis "Tris" 32, sales agent, bassist and guitarist since 2002, Soccer player, started as a guitarist in the punk rock band KLH in 2003, then participated as a guitarist in the band Hardcore Drive By, he joined New group Hardcore Double D which currently plays well. Its defect is to be a little irresponsible under the influence of alcohol.
Jonathan "Yammer" 32 year-old architect, bassist and guitarist since 2002, soccer player, bassist start as goth metal Everafter, joined as a guitarist in ADF in 2012 is now a parent of a child. Its defect is to be very stubborn.
Ricardo "O.G. Full "36-year-old art director in advertising, vocalist since 2006, former basketball player, started as a vocalist in the group of hardcore Drive By, in 2008 I was integrated as lead vocalist in the band of hardcore Nocaut began in ADF his only and acts band in 2012. Its defect is to be strong-willed
I can hear much different influences but mostly hardcore and some tough metalmusic? Favorites from the past?
-For everyone, At The Gates, Sepultura, Metallica, Megadeth, Fear Factory, Agnostic Front, Discipline, Born From Pain, Slayer, Do Or Die, Carcass, Ministry, Tool, White Zombie, Anthrax, The Haunted, Satanic Surfers, Bloodbath, Millencolin, Perkele, Wolfbrigade, Martyrdot, Discharge, Pantera.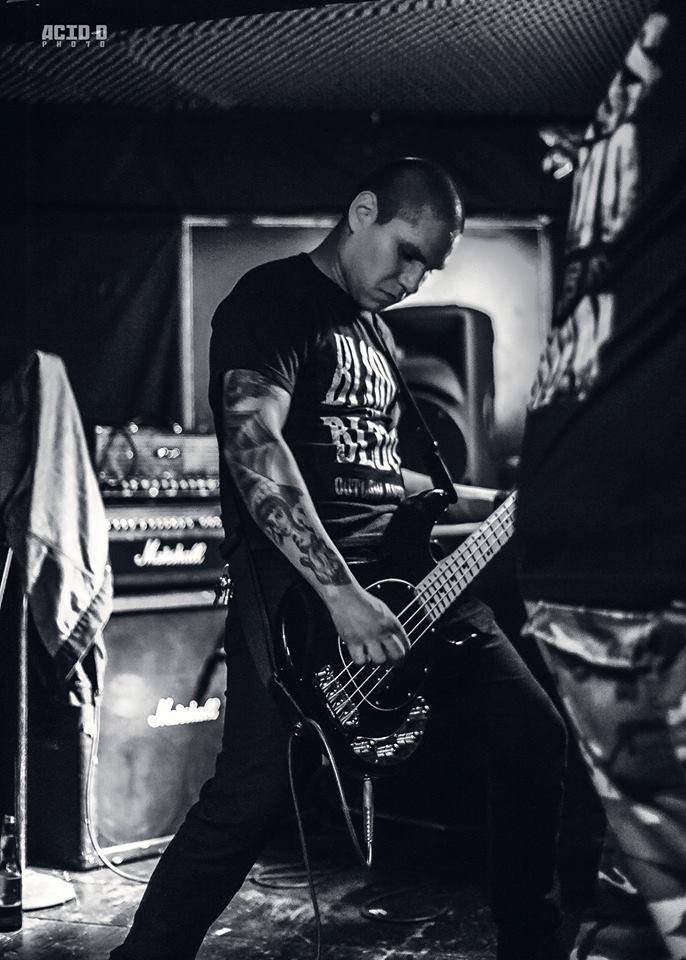 ADF (All death Forces) are you satisfied with the name? How did it came up? Are you calling yourself only ADF or the full name? Which is the best bandname you know?
-Very pleased with the name, we feel that All Death Forces is the complete identity of the band, from the start we liked the full name abbreviate a matter of logo design, we prefer to be called by the full name, the name's origin it was a proposal was initially Wachi all Forces of Death and drunk decided to generalize the present, is an allusion to all that for many it was but for others it means to follow.
What´s the best thing with playing live?
-Convey what one feels when touching and reciprocity of people. Fun.
And where is best to play? And the worst place?
-For us all are the best.
How is to play this sort of music in Mexico right now? Which types of bands do you have concerts together with?
-If there is a scene but not broadcast it deserves, each band makes its way through the diversity of genres at concerts in which we all support.
How would you describe your music in three words?
-Rabiosa, direct and as we say in Mexico "With Eggs" (Attitude)
What does punk mean to you, is it only a word or is it a lifestyle
-It is an attitude towards life and a way to see the different and creativity to everyday things not err, it is something that motivates you to fight or be against all control systems, be it religious, political and social.
How do you see on downloading, mp3 and that stuff?
-Good because it is global spread but against that people no longer value the music as it was before the power to investigate about the bands and having on hand the audiovisual interpretation (physical) of the artist.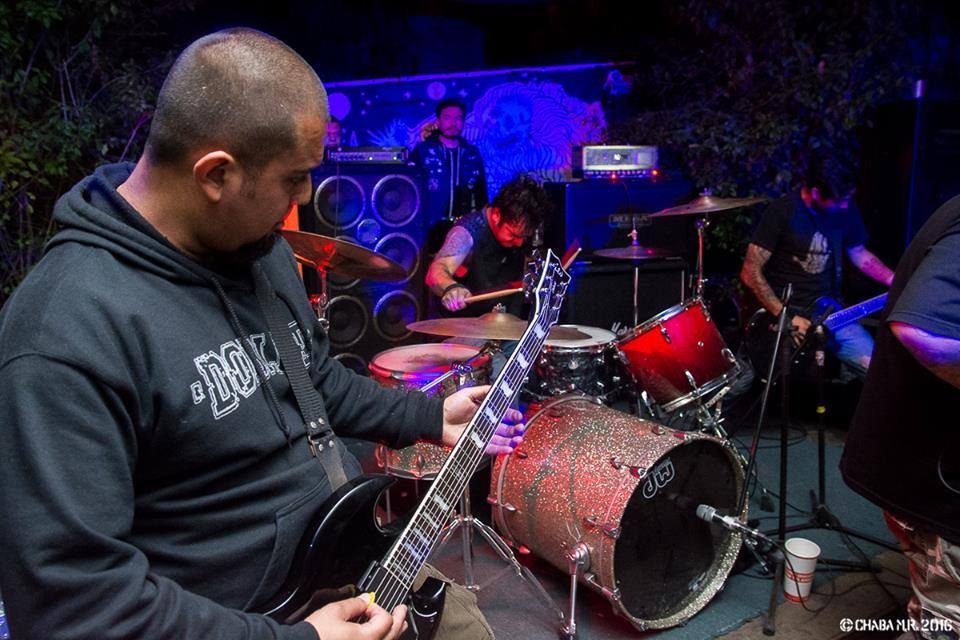 How is it to live in Mexico now? Politically? The violence? The drugs?
-The situation is bad, but nothing new has been years present, current media (social networks, etc.) are responsible for scandalize the whole situation of violence and drugs of their activities within the country, politically all it is corruption and the three words you questions are linked to each other as gears of a factory that works thanks to the other.
Is there any good bands from Mexico now? Is the punkscene/hardcorescene big? How is it in your hometown?
-As in all countries there is diversity, is enormous participation of the bands and the scene, the bands are part of the scene and the same scene supports bands, All Death Forces recommends, Kicktime, Doble D, Uno a Uno, Axpi, Crimen, Masscare 68, AntiMaster, Tormentas, Apocalipsis, Hell Maiztroz, Alfonso Sayas, Furens, Propia Actitud, Barra Brava, Last One Standing, Annapura, KLH.
What do you know about Sweden?
-A country with very good bands of Death Metal, Punk Rock, Oi! of which many are influences of us, ah very cold and although we love to have shows in the country.
Have you heard any good bands from Sweden?
-At The Gates, Dark Tranquility, Skit System, Soilwork, Dimension Zero, Wolfbrigade, Millencolin, Scar Symmetry, Perkele, Arch Enemy, Carcass, Bloodbath, Kakatonia, Satanic Surfers, Martyrdot, The Crown and some that we do not remember.
Your lyrics, who does them and what influences you? Is it easier to do lyrics now or was its easier to do it when you was younger? Never in spanish?
-We all write lyrics, our influence is just the issue of violence and as far as can be capable of destroying man himself. We write in English because it is the universal language, but do not rule sometime to write lyrics in our language.
Is there any subject that you never will write anything about?
-Never say never say in Mexico.
Politic and music, does it goes hand in hand? Which is your most political song?
-In our music if, one against the other, here we have a perception policy in which we can not set a position "corruption" our lyrics are a result of the reaction of people to the current situation of our country.
Best political band/artist?
-Sin Dios, The Oppressed, Sepultura, Ministry, Electroduendes, El Tri,
Do you think that music (lyrics and so on) can change anyones life, I mean people who listens to music?
-A huevo as we say in Mexico.
Your cover on your CD looks really nice, is it important to have a record cover which shows people which type of music you play? Your favourite record cover? Who does your covers? And do you have any good record stores in your hometown?
-If, with art you project part of what you mean, Arise Sepultura, Victim in Pain Agnostic Front, Stigmata of SKITSYSTEM, Let's Go Rancid, to name a few, our art has made the Mexican visual artist Hetwort, Carcoma Records, El Tianguis Cultural del Chopo.
Is it important to get out physical records of your stuff? Why or why not? Is it expensive to do records in your homecountry?
-It is important for what we mentioned above, the physical is the best, shows much of what the band is, the price of creating a recording in Mexico unfortunately depends heavily on the foreign exchange market.
Please tell me a funny thing which have happened during your career and under some gig?
-On a tour of the Mexican Bajio our van caught fire but thanks that we were carrying an ice chest with beer and whiskey which we called R2-D2 we smother the flames.
How does your audience look like? Which people do you miss on your concerts? Which is the biggest band you ever have played together with?
-Punks, Metal Maniacs, Hardcore, Skinheads, Crust Punks, Alternative People, we miss the people who really have fun on the shows and raise their fist not their smartphones, we played once upon a time with At The Gates, The Haunted, Slayer and Sepultura in a festival on Sweden (jajajajajaja in our dreams)
Please rank your five favourite records, five favourite concerts and five most important things in life?
-Records
<![if !supportLists]> 1. <![endif]> Ride The Lighting, Metallica
<![if !supportLists]> 2. <![endif]> Rust In The Peace, Megadeth
<![if !supportLists]> 3. <![endif]> One Voice, Agnostic Front
<![if !supportLists]> 4. <![endif]> Slaughter Of The Soul, At The Gates
<![if !supportLists]> 5. <![endif]> Cowboys From Hell, Pantera
Concerts
<![if !supportLists]> 1. <![endif]> At The Gates
<![if !supportLists]> 2. <![endif]> Face To Face
<![if !supportLists]> 3. <![endif]> The Oppressed
<![if !supportLists]> 4. <![endif]> Devil Driver
<![if !supportLists]> 5. <![endif]> Fear Factory
Things
<![if !supportLists]> 1. <![endif]> Family
<![if !supportLists]> 2. <![endif]> Friendship
<![if !supportLists]> 3. <![endif]> Enjoying Life
<![if !supportLists]> 4. <![endif]> Dreams
<![if !supportLists]> 5. <![endif]> Work
Is it boring with interviews? Is it much interviews?
-If there are good questions and whiskey come through all that apply.
If you could choose five bands from the past and the history and nowadays and both dead and living bands to have a concert together with your band. Which five have you been chosen?
<![if !supportLists]> 1. <![endif]> Warzone
<![if !supportLists]> 2. <![endif]> The Outfield
<![if !supportLists]> 3. <![endif]> The Who
<![if !supportLists]> 4. <![endif]> The Clash
<![if !supportLists]> 5. <![endif]> DIO
Is music a good way to get out frustration and become a nicer person outside the music?
-After a heavy day there is nothing like getting to rehearse with the band, pour a good drink and get all the rage playing together.
Which is the most odd question you ever have got in an interview?
-Why we sing in English and why we are called ADF.
Which is the question you want to have but you never get. Please ask it and answer it?
-Would you like to go to play at Wacken, Hellfest, Resurrection or Download? Yes we want it.
Future plans for the band?
-Making music and play it where we can.
For yourself?
-Follow throwing riot.
Wisdom word?
-Cheers.
Something to add?
-Yes another whiskey bottle please, jajajajajaja.