SÖREN ALEXANDERSSON have been in Tatuerade Snutkukar, Libresse and Not enough hate have an orchestra together with PAULSSON from Råttorna, Alice Under and he is like me supproting GAIS and he use to be on the matches, here we talk about the most important things in life GAIS, music and family. The questions was sent the day after a terrible matche between Häcken-GAIS, there Häcken managed to get a goal when it was only seconds left(overtime) but after this match it have been so again and read the red text and then you understand.

How is the disappointment from Häcken-GAIS?
-It felt really bad and bite your nails from minute 42 to fulltime and feel that "Yeah it CAN go, it CAN go…" and then Häcken get a goal when the clock is 90:15. It was really not so surprising after the pressure in the second round but it felt more like a defeat than a point. I have almost come back after this after two days. And on Saturday it´s Öster you know, if not only Göteborgsvarvet comes in the way …
(OBS!!! This was written before the catastroph on Ullevi 04-05-15 which is ccalled "The Black Saturday" after this. I said to my self that I NEVER gonna go to football any time more but I must admit that I have been thinking of going down to Falkenberg this Thursday. Because nu it CAN`T continue like this)
How do you combine your interest for football and music?
First of all I sing like hell in the GAIS-songs on Östra Ståplats. It can happen that I sing along when I´m drunk to the record with Sten-Åke Cederhök whne he sings about Kålle Pudas who "loved his GAIS" and was "long and safe and a little bit handsome and a little bit red in his face" Or maybe you say so because that it would be some songs written to a future record with GAIS-songs. If that´s the case I will combine it better in the future …
You sanged in Tatuerade Snutkukar before, what´s the difference of singing in a punkband contra to sing this style of calmer songs?
-If you see it vocalsstylled it´s the biggest difference the one that you don´t need so many Fishermans Friend when you rehearse. During the Ta.S.K.-time it often happened that we destroyed something. When we was support act to Disorder I managed to shout myself to a pouchhernia but no one of your gigs today have lead to an ambulanceride. And nowadays we don´t have to fight in gangs with Uddevallaraggare and that you must see as a good thing.
How did you came up with the thought to begin with this?
-The steps haven´t been so big as you can think. I heard a lot of folksongs when I was small. It was mostly my dad who played Dan Berglund and Stefan Demert and so on. And then we "enjoyed" some Ruben Nilsson in my dads style when we was in the car in my youth so the influences was there. I have always done some acoustic things on the side and I got my banjo when I played with the rests of Tatuerade Snutkukar under the name"Livsfarlig ledning". And because of the fact that we wrote all our lyrics in swedish we could take down the tempo a little, change some chords and change the line-up a littlemand then it became this style. I played alone on some hardcoregigs in Eskilstuna among others and the idead hit me to ask Ägget if he wanted to give out Tatuerade in this acoustic style. "Hemvärnet gör dig till nazist" with banjo and accordion must be a real big success!
Is this todays punk? Does this depend on the fact that the old punks begin to be tired and only can play their songs in this way or what
-I don´t know if this is today´s punk directly. But it feels like it many old punks in this style. I don´t think the old punks have begin to get tired but my goutbroken oldmansbody says that it´s the opposite way. .
What do you think it depends on that many old punks doing this and that it sounds so much better than an old hardrocker do this
-I think that old punks can be hard of hearing, exhausted, parents and change musictaste but the punks creativity don´t disappear so easy. We must fix and do songs and arrange musicconcerts. And then this scene reminds me a lot of the punkscene because you do a lot of things yourself and help each other out with gigs, recordings and to sell records and so on
The reason why it don´t is so good when old hardrockers do this is because that folkballads is PUNK. You write about things which makes you happy or totally fucked up. The punk is driven by the fact that you want to tell something and the telling is the most central in folkballads. The folk ballads is built up in the same way as the punk and in the same 3 chords that punks have been used since 77. Maybe punk is a type of more distorted folkballads. Woody Guthrie travelled around in USA in the 30´s and he was pissed off and he had a an old acoustic guitar which had a sticker which had the words"This machine kills fascists!". It´s so much more punk than I ever have been.
Please tell me a little about every member in Jaemmerdahls Orkester? Bands before, family, age and something bad about every one?
-The line up in Jaemmerdahls Visorkester varies from time to time but it´s often these members:
Sören Alexandersson – Earlier singer in Tatuerade Snutkukar, have also been in. Libresse and Not enough hate. 36 years and I have a son, two parents, one and a half sister, an halfbrother and a lot of good and near mates, supporters, drinkingbrothers and other qwinddriven existences.
Claes Paulsson –In the 80´s drummer in the legednary Boråsband Råttorna, and after that the leader in Alice Under. Plays also his songs with Terrrorteatern. Lives with a girlfriend and a daugther . He is in a undescribable middleage.
Johan Sörmark – Worldcitizen which have lived in Qatar and Curacao . The bands youngest member and plays harmonica. He´s going out on small errands for the old ones. Have a girlfriend and works for Altbo.
Stefan Wolf – Almost play all instruments known in the westworld. He has been in Terrorteatern, White Negroes and some shorter and longer musical projects. He´s a sought-after bachelor. He´s in the same age as Paulsson..
Mikael Grebelius – Acocordion, agitator, overthrower, union representative without a portfolio and office. President in the free republic of Haga, nowadays in exile on Hisingen there he lives in a little bosnian-finnish accordian and catcollective. He ´s 50 years old.
Mats Johnsson – Playman with unafterimitated bowstyle. Näcken with clothes. He have a cat. And he works together on the churchyard with Paulsson
I´ll wait with the terrible things til we´re have been wellknown, very rich and when we have split up and I release the book "Jaemmerdahls Visorkester – The shocking truth! (a survivor tells)".
Where do you stand when we´re talking about mp3`s? Is it anything which have helped you?
-For us unestablished is internet and MP3 really the best to reach people and then it doesn´t matter which style of music you play. We released the whole first record(Cirkus & Sorger) on the net and you meet very much people who have heard it. Some people buys it afterwards, others not. But I rather want 1000 people to hear us for free that that 20 people buys it and 980 never have heard us. The MP3 songs have really helped us to get gigs through the years.
What have you released?
-The CD "Cirkus & Sorger" we released some years ago and that was when me and Pålle was a duo. It was recorded during an hectic week on Autogena in Chrstiania. It´s homeburned and we can still compy more if someone is interested. But unfortunaly is the nice cover out of print but I can draw something nice. …
The CD "Garage" came last year and is recorded in your rehersal room in Kortedala . And there it is me and Pålle and Wolfen who plays.
And then we have some unreleased liveconcerts if somebody is interested. The record is homeburned and we´re giving them out ourselves.
No label which is interested?
-We haven´t worked so much to get a label on the hook. We have sent some records to Birdnest but without getting any answer. Had it been so that some label had got in contact with us it have been fun but it doesn´t feel so important. I think that homeburning and mp3 and so on will do the labels unnecessary and it´s a freedom of being independent. But of course it have been fun if someone have paid for the CD-records, cover and son and did so the record will be out in the stores.
I understand that you put much energy in doing lyrics, Trött och 30 (tired and 30), is it how it feels?
-Yeah, shit, that is really sad? But it varies of course. Sometimes it´s really fun to be grown up for real but sometimes you puke on the shit and thinks it´s only " wake up, go to the job, work, eat lunch". And then you can be thorn by a youthnostalgy and then you can write complainsongs like "rött & 30"(Tired and 30). Have also written a punknostalgic countrywaltz from Bohuslän which is called "Asfaltsindianer"(Indians of asphalt) and which we forgot to record to "Garage". But the ebst in being an established taxpayer is that you can be mad and whiny and demonstrate and grumble on things in the society without people saying "you´re going to be grown up some day". I am a part of the establishment but I´m STILL mad at things!
Is it difficult to write lyrics or does it going up and down?
-It goes fucking much up and down. Sometimes it only purs right out of my pen and sometimes you can sit and really try to get something out and then it´s only shit. When it´s like that I use to give up and go out to the tavern and complain over my no-talent til the writecramp have gone over. I think the best songs I have done is the ones when the lyrics go away to a way that you hadn´t thought of and you must continue to write because you´re so fucking curious over how it will end.
Is it easier to write when you´re angry or is it easier when you´re happy?
-Of some reason it´s easier when you´re angry or mad or have been provacated or that you´re unharmonic in some way. Probably you´re too busy to have fun in life to write something good…I hate the clichee about "the suffering artist" but unfortunaly it is so for me… anledning är det lättast när man är sur eller ledsen eller provocerad eller på något sätt oharmonisk. …
(Often)
You write half the stuff each you and Paulsson, do you have a mall how it would sound or is it only so that you have the same taste so it can be as similar as it be?
-I don´t think we sound similar! The most funny with playing with Pålle is that we comes from different corners musically. He have always liked Clash and Cure much but I am more influenced by Cornelis, country and Swedish folballads. And in the punktime Pålle thought that Tatuerade sounded too bad but we used to say that Råttorna played nerdpop. And then we write about the same things but it depends on that it´s more actual substances for songwriters
Do you listen to any modern punk today?
-Not direct actually. I go to gigs sometimes but I cannot say that I have any check on the scene. I still listens to some old things. And I rediscovered the old skinheadspoet Attila The Stockbrocker some years ago. Do you look at the punks who lives in my neighbourhood it seems like they have barrowed their jackets directly from the 80´s. It seems like bands like Ta.S.K., Anti Cimex, Asta Kask and Sötlimpa is the thing and that I think it´s a little bit odd. And sad if it´s true.
But in the same time it seems to be so that it´s more and more gigs in the last time so it´s surely some hope. …
What do you like "a stunt" like Swedish Punk 25 years(where you there?)?
-No, I didn´t give a damn about it. It was maybe a fun onenights nostalgytrip for us old but I didn´t seem to be so fun that I must fight for tickets to get one. I think it´s a little bit desperate with all old bands which reuinion all the time. I didn´t see Natuionalteaters rockorkester either. It gets a little bit pathetique and you can´t escape the feeling that they do it to blow life in their middleagelife and be a little bit teenage and in the same time earn some money on it. Respect to old guys like. Krister Blomgren (Troublemakers) and Tott (GBG Punx) whic have been on all the way without being ridicilous..
But I have toa dmit that I have really fun when Ägget managed to get us to a revivalgig with TASK in Bollnäspunken, but to our defence we must say that the other bands was real bands.
Which is the most important punkgroup except from TASK which have existed?
-Ha ha. I don´t listen to the editors shameless flattery and try to answer seriously on this question. E can´t come away from the fact that Ebba Grön if you see to how they have been spred but I liked KSMB more of the stockholmsbands. Gud I Brallan you must remember also. Even if they weren´t so much punk maybe more progg so was they frist to play something which sounded punkrock.
The most important song?
-Spontanius I must say "Ronka" by Perverts. It is sum up the whole attitude.
Ebbas "Beväpna er" must come as second song.
I still think as a 36 year old man that "No Security" by Chaos UK must be one of the rawest things which have been released in punkstyle.
Please rank your five favouritealbums, five favouriteconcerts and five most important things in life?
-That varies a lot and it´s depending how you feel today or so but right now it looks like this… :
Records:
1. Tom Waits: Small change.
2. LOKE: Vackra människor.
3. Soundtracket to Oh brother, where art thou.
4. Hamell on trial: Tough love.
5. Västerbrokören: Svälj ditt läppstift.
Concerts:
1. Johnny Cash in Bragebacken in Slottskogen -97 (I think it was then)
2. Dan Berglund on Gamlestans teater some weeks ago.
3. Hamell on trial on Bommens Salonger in february.
4. Vagina Grande on Skogsnäsfestivalen 2003.
5. Sonya Hedenbratt on Brännö -98.
The most important things in life:
1. My son Egil.
2. My friends.
3. To be nice to people around you .
4. That you don´t take any shit.
5. To laugh a lot and have fun.
First, last and most expensive record ever bought?
-The first record I bought for my own saved money was "Never Mind the Bollocks". I must have been 10-11 years old and my mother kept her mouth shut and didn´t say anything when I let it go on our stereo. But I think she preferred "Kåldolmar och kalsipper"
The latest record I bought was "Safety pin stuck in my heart" by Patrik Fitzgerald. Punkpoet with a distorted acoustic guitar from 79-80, sometime.
The most expensive must have been "Oompa til du dør" by Kaizers Orchestra. My mate Hasse som who works in Norway played it in my car and I thought it was really good. I said to him that he would buy it for me the next time he was in Norway. I didn´t thought about how much things costs there so it was only to take foreward the 270 swedish krona it cost. But it´s a good record. spelade den i bilen och jag tyckte den var asgrym. Sa till honom att köpa den till mig nästa gång
The most embarrassing record you have?
-I don´t know if I have some embarrassing records precisly. But I have some that people think is odd. For example:,. Drums of the yoruba of Nigeria, Jubel i busken, 100 svenska snapsvisor, operasopranen Cathy Berberians record with Beatlescovers, and my record with George "Flygmalajen" Formbys best ukulelehits.
The record you bought becuase of the cool cover, but you was really disappointed on?
-Piano Party Time with Mrs Mills. The woman was big and with a white dress and she sits with an hysteric smile with a piano and she have a lot of balloons and garlands. The record wasn´t at all that bombastic and manic snorting mad as I thought and it was only one usual woman playing piano
You lived in Skogsnäs( a collective in Northern Sweden) for a while, what made you move from there, wasn´t it your style of life or was it GAIS which made you move back?
-Yeah, it was my style of life. I think of moving out to the forest again.I was stucked in a routine which I think was boring and I decided to move back to Gothenburg, which is the city I love to hate. But I go up there many times a year and hang around with mad hippies and northern survivors. Just to tell you I must say that many of the people around Skogsnäs is supporting GAIS. But they will have Nordantjäls IK to support but some time a year they try to come down and the see the greenblack triumphs on their homeground. .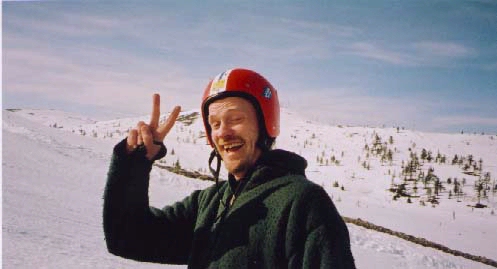 Do you get that feeling sometimes, that you must think "it´s only football", there´s a lot of more important things but in the same time you´re so disappointed so you much lie down, why do you think that football is so important to so many and why GAIS then?,
-I, I recognzie the feeling. I think it depends on that it mix people from many different backgrounds and make your life exciting for some hours. You don´t think about which other people who are around you, and are they supproting GAIS they´re fantastic people in two hours which share the same hopes, disappointments, anger and happiness as me, and it doens´t matter which age they´re in, humour and political view. Football is really hard to describe. Of course it´s ridicilous that grown-up people can engage themselves in that a bunch of idiots run after a ball on a green field, when we should put our energy to make money and buy the right stuff and be worried about our health. But THAT ´s the thing. That you can be passionate for something else than your own ego. And the team is always there. Darlings and friends can disappear, but the tema is there all the time. The players shifts and new coaches are there and get kicked but the team is the ones who stands there and freeze in February and see the first matches for the year. We modern people haven´t so much things that we can feel that we´re a little part in something which is bigger now when ideologies and religions have died. Have you read "Fever Pitch"? The movie was a little bit fun but the book is a genius writing about the soul of football.
GAIS is the gothenburgfootballs underdogs and that makes loyalty in the same way as the ugly, threadbare kids in the school have when they give the finger to the more succesful. We know that IFK and ÖIS is "better" than us but we don´t give a damn about it.
I have thought about to do a Bellmanrecord, can you imagine to be on it and have you done something like that before?
-Yeah, we recorded a song to "Endera Dan", a tributerecord to the cultrubadour Dan Berglund with us Dick Lundberg, Janne Olofsman, Johan Johansson and Wille Craaford and Janne Hammarlund. It was really fun to do it and to tribute one of my childhoods biggest heroes. Unfortunaly the record was stucked somewhere in the production and they wait for someone to pay the printcosts..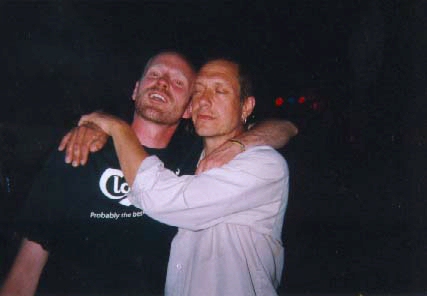 So you can think it over to be on some tribute and supportrecords?
-See last question. Of course can we think of being on supportrecords with things we believe in and on tributerecords to those who have inspired us.
What does music means to you today and if you compare with the time for TASK?
-I put a lot of more time into music then. It was incredibly fun to be in the rehearsalroom for 8 hours and only play. I don´t have the energy to it now. Then I was convinced that if you only played in a punkband you could change the world but I don´t think it is so now, not really. Then it was really extremely important that you should sound a special way.Now I listens to a lot of different things. To write songs is something necessary for me now and then but I do a lot of other things which feels necessary. I am a sportfisher, a bad one, but enthusiastic.
Whjat does punk meant to you today, is it only a word or is it something that have formed you to the one you´re today?
-I´m too a big part a direct result of the punk. Hadn´t it been so that I had moved to Gothenburg and learned to know the punkgang in Haga in the 80´s haven´t I understand that you can do things without being an expert. I had missed the whole squattermovement and never been to Skogsnäs. I maybe didn´t had these views I have today.
Then I have noticed that you can be a punk in so many different ways and that it don´t have so much to do with clothes(I know that tthis is a cliché but how many thinks it´s right for REAL) I have met women in which have been 70, farmers in Norrland, prisoners and own employers which is so much punk without knowing it themselves. .
To be a "punk" isn´t so important to me anymore, but the punkattitude to life and authorities is something of the best I know!
Your musicstyle have became really big with artists like Winnerbäck, Demian, Sundström and similar , what do you think about those artists?
-I think the latest stuff I have heard with Winnerbäck is boring. Demian is stil fantastic with his odd folkballdstyle(theatrical French cabaretmusic?). Stefan Sundström I think is a true talent both as a songmaker and scenpersonality. He´s cool and humble guy without divatendencies.(But I still wait for money for the "garage" record).
I will also mention Johan Johansson which always have been satisfied with standing in the background and play with the others but he is a fucking good lyricwriter.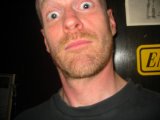 Is there any good artists/groups today in Sweden?
-In the undergroundscene it is some which is really good. like Loke, Maud Lindström, Janne Olofsman och Hagtribunalen, Johan Piribauer och Gruvtolvan, Västerbrokören, Fredda Johansson, Dan Viktor, Jens Gustafsson, Mattias Dristig and a lot of more.
What does the site Ljuv Musik means to your scene?
-Much. It works a contactnet for those of us(and we´re a lot) which haven´t gone to the Visskola in Kungälv. The most contact I have with those people outside Gothenburg I have got through Ljuv Musik. That have lead to that I have many odd records in my collecton and it have given oss gigschances in different places Grytgöl, Arvidsjaur and Nässjö. It would be fun with more active Ljuv Musikans out on the net.
Do you play much live? Which type of people comes to your concerts?
-It goes in periods. Now it was a while since we played together but we do thing ourselves and play in other bands. The audience is really varied but it depends on where you play. We have played for everything from old junkies on line 6 tram to hiphopfestivals in Delsbo to among others Arne Weise on a vernissage in Borås Culturehouse.
Futureplans for the band?
-Not direct. We´re thinking of doing a thing in Stockholm in the autumn and some gig in midsummer, but it´s not sure. Maybe put out some more songs on the net.
For yourself?
-To go to Norrland this summer and hammer on a house, fish and relax. Maybe I will taking a driving license sometime. Have also thought about releaseing an own record with swedish bluegrass but then I must finish the material. Do a really good GAIS-song of course. And decide myself for a good Bellmancover
Wisdomword?
-"If someone talks behind your back of you so do you look at them with your ass" – Tristan Tzara
Where does GAIS come in Superettean?
-GAIS have always been a team for the autumn and always comes much in the end. I have put 50 swedish krona on that they would win the Superettan(25 times the money) but I think that a placement in places 1-5 is really good.

Something to add?
-Yeah I think it´s interesting that Skrutt have begin to review and interview us old folkballadsnerds. I hope you continue with that.