The portugeese band Albert Fish is a really interesting punkband which have been on the road for 15 years now and I really hope that they will continue doing this good shit. Here´s an interview which was done in October 2010 which will give us a clearer picture of the band maybe?
History?
- 1995 – Albert Fish are born in Lisbon, Portugal.
- They give their first concerts.
-1996 – Demo-tape "We Don´t Eat Children For Breakfast".
-1997 – Demo-tape "Six Pack".
- They perform with Skamioneta do Lixo, X-Acto, Crise Total, New Winds, etc.
- 1998 – Demo-tape "Take A Break With…".
- Feira Mix in Portimão with Blasted Mechanism.
- 1999/2000 – Concerts from the North to the South of Portugal and they appear in several compilations.
-2001 – Promo CD "Albert Fish".
-2002 – First álbum: "Strongly Recommended" (CD – Anticorpos/ Zerowork Recs).
-2003 – Tour in Portugal/Galicia with the English band Varukers.
- European Tour of 3 weeks in Spain, Holland, Germany, Hungary and Italy; concerts with Zounds (UK) and Possible Suspect (Nl).
- Faísca Festival (Galicia) with Banda Bassoti, Inadaptats, etc.
- Concerts with Lagwagon (USA) and Skaparapid (Sp).
-2004 – Tour in Spain and Portugal.
- Concerts with Garotos Podres.
- Involvement in several compilations.
-2005 – II Urban Beast Festival (Ciudad Real, Spain) with Los Fastidios (It), Brigada Flores Magon(Fr), Malas Cartas (Sp), Opció K-95 (Sp), etc.
-2006 – Split CD "Garotos Podres/ Albert Fish" released in Brazil and Portugal.
- 8 concert tour in Brazil with Garotos Podres.
- Concerts with Klasse Kriminale (It) and Deadline (UK).
-2007/2008 – More concerts and several compilations.
-2009 – "Punkarte" vinyl 7" (split with 4 bands, with Gazua, Decreto 77 and Dalai Lume).
- "Underground Anthems" vinyl 7" (split with 4 bands, with Decreto 77, Red Union(Serbia) and Ultima Sacudida (Sp)).
- Concerts with No Fun At All (Sweden) and Sham 69 (UK).
- Dinamo Punk Rock Fest 2009 in Komárom (Hungary).
- Second album "News From The Front" (CD –Raging Planet/ Zerowork/ Your Poison & Graver in Portugal; Criminal Attack in Brazil).
-2010 – Concert with The Casualties (USA).
- Concerts in Galicia with Skarmento and Ultima Sacudida.
- Tour in Spain/Portugal/Holland.

Please tell me a little about every member, age, family, work, interests and
something bad about every one?
- Rattus (bass) is 33 years old, have a label Zerowork Recs, plays in some Oi! Bands and is a Ska/Reggae DJ. Works in a transports firm and is a Sporting CP supporter. Stresses too much!
Gustavo (vocals) is 32 years old and likes old HC/punk American bands. Studies/works sociology, plays football and is a really pain in the ass.
Daniel (guitar) is 32 and is married with a son. Works in a delivery firm and in the past played in several HC, Punk and Crust bands. Never knows how his temper is.
Nelson (drums) is 33 and is into old Metal and Hard Rock. Is a lawyer and is always late!
Claudino (guitar) is 33 and likes to travel a lot. He loves Rockabilly besides old Punk and you never know where he will be tomorrow.
ALBERT FISH-NEWS FROM THE FRONT(CD-CRIMINAL ATTACK RECORDS CAR010)
You can already see on the CD-cover that this surely is good. When you read the thanklist and see band like Varukers, Sham 69, Klasse Kriminale etc so do you understand that this Portuguese band will be really good. They sings in English and Portuguese punkbands isn´t I´m spoiled to have heard. I didn´t become disappointed when I put on the record..the only thing I´m disappointed on is that I haven´t more material with them. Fast wellplayed punkrock with a singer which suits into the music fucking good. Mix Bad religion with some tougher styles so can you come a little bit on the way how they sounds. Much melodies but with a really hard sound in a positive way and it´s obvious that this will be record which will be played a lot at my home. 16/9-2010
What about it?
-Nice!!!!!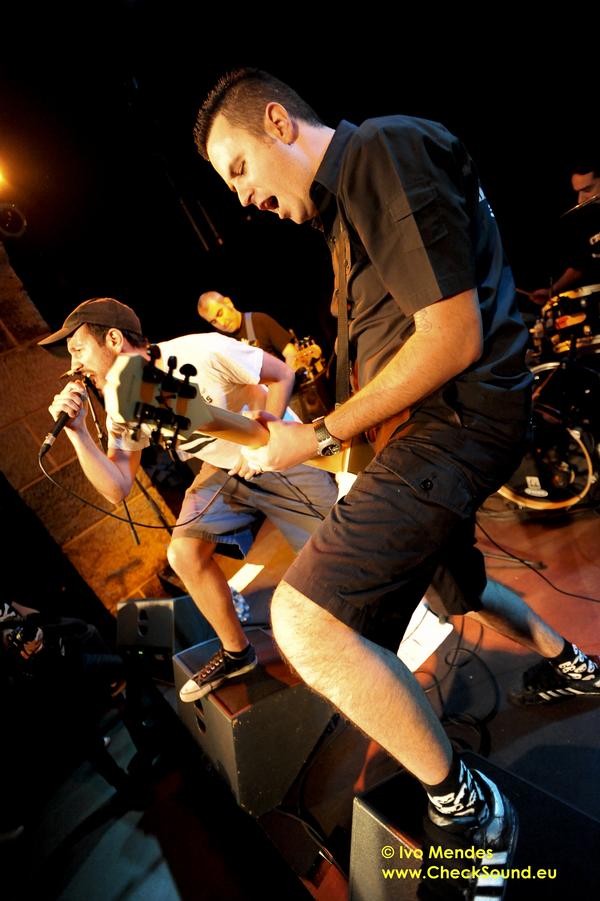 Is there any other bands you´re being compared with?
- Along this years we've been compared to some bands but only to give the idea of some influences. Normally people recognize our own sound.

Do you care about reviews?
-Yes, unless is only to criticize or made by people that don´t know shit about Punk-Rock.

Which is the most peculiar review you ever have got?
-Well, we have some reviews in countries like Czech Republic or Germany in their original language that we don´t understand shit… ahahahah!!

How would you describe your music in three words?
-Punk fucking Rock.

How is it to live in your Portugal?
-We like to live here. Nice weather, nice food, nice people… we don´t have extreme problems like some countries (racial tension, religion fanatics, terrorism, etc). We have our problems but we have to live with that…

What about the government?
-That´s the problem… we have a prime minister from a false left party with right attitude. Like other countries as Italy or France we are with contention laws that are fucking our working class. Our economy is a disaster and our government doesn´t know how to deal with it. The taxes of primal supplies as food are ridiculous!
Do you think that music and politics goes hand in hand? What do you sing about?
-For us is the only way that makes sense. We use music to pass the message. If is not like this is not Punk but any other thing. We sing about our view of the world and his problems. But also about some "personal" issues. We have the band not only to take a stand but also to have fun.

Best political band?
- Respect to Crass, they change a generation. Zounds were great also. The Clash goes against the nihilistic 70's. Bad Religion, don´t know if you consider a political band but have some great lyrics.

Is there any good bands in Portugal now?
-Of course! Great Punk-Rock bands as Decreto 77, Asfixia, Acromaníacos, Crise Total or Canhões de Guerra; Good Hardcore acts like For The Glory; excellent early reggae with The Ratazanas; blasting Oi! bands as Facção Opposta and Gume.

What do you know about Sweden?
-I think the first thing we think when we heard the word Sweden is beautiful blonde girls! Ahahaah!!

Have you heard any good swedish bands?
-We know some bands like Wolfbrigade, Uncurbed, Warvictims, Perkele, Agent Bulldog, Driller Killer, Hellacopters, Backyard Babies, Refused, Millencolin, Satanic Surfers, 59 Times the Pain, Liberator, Chicken Pox, Mob 47, etc…

What does punk mean to you, is it only a word or is it a lifestyle?
-Even more than a lifestyle, is our school! Individually we grew up in the Hardcore/ Punk scene back to the final 80's/ beginning of the 90's. With Albert Fish we take 15 years guided by the Do It Yourself ethics and libertarian principles that we take from Punk.

Please rank your five favourite records, five favourite concerts and five most important things in life?
-Records: London Calling (The Clash), Skinhead Moonstomp (Symarip), Dernier Combat (Komintern Sect), Inflammable Material (Stiff Little Fingers), Shock Troops (Cock Sparrer); concerts: Desmond Dekker, Cock Sparrer, The Adicts, Cockney Rejects, Joe Strummer; things in life: family, friends, unity, solidarity and Punk-Rock!

First, last and most expensive record ever bought?
-First was "Ramones" from Ramones, last was "Monkey See, Monkey Do" from The Clichés, most expensive was a 7" from L'Infanterie Sauvage.

Most embarrasing record in your collection?
-"Reckless" from Bryan Adams… ahahah!!

Why don´t you sing in Portuguese???
-We start singing in English first because our main influences sing in English and because is the most universal language. In any place we go people understand English, we can´t say the same about Portuguese. Anyway, we already recorded and play live some covers from Portuguese bands with Portuguese lyrics and is in our mind start singing some original material in Portuguese.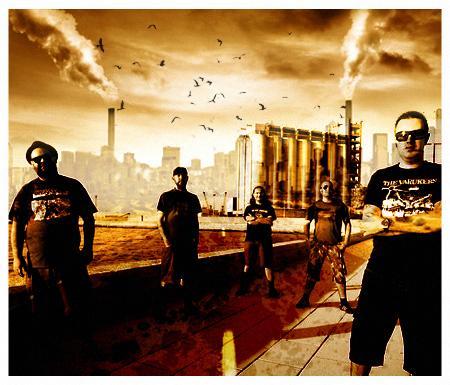 Which type of people comes to your concerts?
- Is diversified, but mainly Punk-Rockers, Hardcore kids and some Skinheads. But also "common" people…

Is it many interviews? Is it boring?
-Not boring but… I can´t remember other interview so big… ahahah!

Which is the question you never get, please ask it and answer it?
-Well, this one!!

Is it any chance to see you in Sweden soon? Or anytime?
-We would love! We never played in Sweden in our previous tours. Maybe in the future… we are waiting for invitations!

Where is the best place to play?
-Till this day, our best and craziest concert was in Vila Velha, during our tour in Brazil. Don´t have words to describe it.

How is a good gig with you? And which is the biggest band which you have played with as a support act? And which is the biggest band which have been support act to you?
-We love gigs in small and packed venues, with a lot of sweat, beer and adrenaline! Biggest bands we support maybe The Varukers, Zounds, Klasse Kriminale, Garotos Podres, Lagwagon, Banda Bassoti, Los Fastidios and No Fun At All. Supporting us maybe Possible Suspect.

The name where does it comes from?(yeah it´s a boring question but it´s interesting)? ?
-Comes from the American serial killer from the 30's with the same name. He was also a cannibal and in the past we had a song were he turns vegetarian… ahahah!! We liked the idea that people think he was a sweet old man, but in the end he was a real animal… remain us other real things in society…

What shall we do about all racists?
-First of all call them to the reason. Is totally unbelievable that in XXI century people judge other one by the color of their skin. As ultimate option… fight back racist scum!!

The best band in punk history?
-Difficult question… but The Clash is a real institution.

The most important punk song?
-"If The Kids Are United" from Sham 69.

Future plans for the band?
-We have some 7" to release in a near future. And continue to play live and tour all over the world!

For yourself?
-I have some new releases in my label… just check www.myspace.com/zerowork_recs

Wisdom word?
-If the kids are united… they will never be divided!

Something to add?
-Thank you so much for the interview and help. Cheers to all Underground in Sweden! Check us in www.myspace.com/albertfish77 and keep on touch. Stay gold!


<![if !supportLineBreakNewLine]>
<![endif]>