Erik Törnqvist was so kind that he answered my questions about his group The Agents in october 2000.
History?
-Ok, A very short history then. We started in the new year 97-98 and then it was as a sideproject to the punkband St Mary. Then was we only 5 in the band. But it went out good and was fun so we continued and we got some more members. After a while Agents took all our time so St Mary died a little. We won some competitions here and there and we got good reviews from papers and fans, Right now weīre a little low because many of us are out in the country and study and some of the members have quit. But weīre going to take us self together soon and get some new guys. So I canīt give you something dirty about every member this time.
Isnīt it a little hard work to be so many in a group ?
-Itīs a little hard work to be 8 in a group because itīs many personalities which must be together and come in time to reherseals and things like that but the most of the time itīs very fun to be so many. We have very fun when we meet and do our reherseals and itīs always something funny which have happened we laugh at. The best thing is that so many people can do better things to the songs.
Do you have any groups on the side of Agents?
-The most in the band have bands on the side and itīs good I think because then you never lost the feeling of playing ska. We have so many different musictastes in the band which we like to play and then itīs very good that you have the chance to do that. I play in a streetpunkbband called Blisterhead.
You havenīt any labels and you give out Pitbull by yourself, wasnīt it any label which was interested?
-We choosed to release Pitbull ourself because then could we do in excact the way we wanted to do that. But some labels have been interested like Mad Butcher from Germany, Bratville Records from Norway. Fakin Jamaican records from Norway and some other smaller labels. The latest whcih came out from us was a compilation from swedish Step aside Productions with ska bands from the whole world like Duck Soup, Ciggares, Mark Foggo, Spitfire and so on.
Have you released something else except Pitbull? How can I get it if you have released something else?
-Pitbull is the first serious recording we have done. The first one came out 98 and itīs named Dave but we think itīs fucking bad and that we donīt sell anymore. We have put out a livedemo from the Younomiafestival -98, but it sucks to.
You donīt mix your ska with any other styles, howcome?
-We donīt mix any other musicstyles in our music because we feel like it sounds best with only ska. we have sideprojects as we said and there you can play what the hell you want.
There is some skabands in Sweden,a ny favourites? Outside Sweden?
- I donīt listen so much on swedish ska because I donīt think it is so many good groups here, but Tic-Tox I like and Libereators first record is OK. I rather listen to Desmond Dekker, Prince Buster, Dr. Ring-Ding, Hepcat, The Pietasters and many more. And the 2-Tone bands is good they too.
When you do music, which is most important, the lyrics, the melody or a refrain that people can remember?
- The most important for us when we do a song is that we have a good swing, good meldoy and some good hornmelodies.
How do you do your songs?
- Itīs so that one of us cames with an idea and then everybody helps out to make a song out of it.
What do you think about living in Sweden and Skövde? What do you do in Skövde a fridayevening?
- I think Sweden is a good country, but the dream is to live in London. A friday night in Skövde looks like this. I and my mates is meeting in the afternoon, we talks little shit and plays flipper or something like that. And then we go and buy som beer or wine and then we drink it at someoneīs home and listen to some good records. When the evening is coming we go out to some pub to meet people. Itīs the only thing we do when we donīt are on any gig or soemthing.
Is there any musiclife to talk about in Skövde?
- Musiclife in Skövde isnīt as I want it to be. Of course thereīs some gigs sometimes but it isnīt anything to be proud of I think.
Is it many interview, is it boring??
- Itīs never boring with interviews, itīs only fun if anybody wants to write about us. But some questions I have answered so many times it could be a little boring to answer them again.
Have you heard anything from any other country?
- We havenīt heard so much from outside sweden but thereīs some labels which have contacted us. But we got an email from a radiochannel in Mexico which wanted to play us. They have heard us on a Mp3 site or something like that.
How is a good gig with Agents?
- A good gig for us is a gig with a fucking swing from the beginning to the end. We donīt only play forthe audience because we play for ourself also and we think itīs fucking fun to play and we make the gig go aroudn so much as possible.
Do you know why itīs black and white on skarecords?
- Iīm not really sure about this with black and white on skarecords. I think it was the label 2 Tone which started with it. It will show that balck and white are one, or something like that.
How does the average Agentsfan look like?
- The average Agents fan is a 17-19 year old girl who like to dance and itīs very much punks who are coming on ur shows.
Which other people want you to come on your concerts?
- It would be nice if some more boys could come and pogo. But otherwise we have a public which is all from Rudeboys and punks to disconerds.
Itīs many documentsoapoperas on TV, why do you think and which do you want to be in if you could choose one?
-This thing with docusoapoperas is boring now, in the beginning it was fun when it was only a few, but now itīs too many. If I could be in one docusoappera I would choose Baren or Villa Medusa because I like to party a lot. In the other ones you must do many things and that wouldīt I wnna do and donīt have the will to do it.
Do you only like ska or is it many other musicstyles in your record collection?
- The most of my collection is punk and ska but I listen much to irish folkmusic and sometimes country. If we talk about punk I listen much to streetpunk and oi and if we talk about ska I like everything from jamaican 60īs ska to the newer bands but something I donīt like is the fucking skacore.
Idols when you were small?
- I have always been a big fan to Magnus Uggla, I think I have all his records.But my biggest idol isTim Armstrong in Rancid and I really look up to him. And Ramones have I listened very much to so they wil count also.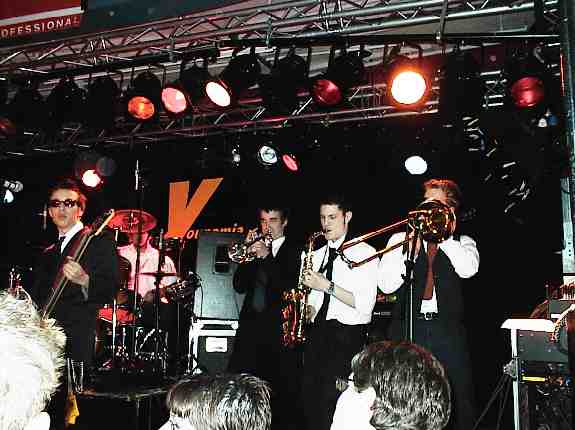 The first and the latest record you bought?
-The first record I bought I donīt remember but the latest was Bombshells Rocks new record.
Which is the question you never get but you want to have, please ask it and answer it?
- A question I never get is "Pepsi or Coca Cola?" and then I would shout out Pepsi for gods sake your fucking drugaddict!!!!!
You have an own website,, is it important you think, who does it?
- I think itīs important to have a website ,if itīs good and be updated often. Unfortunely isnīt our site so goodlooking as I wanted it to be. But Iīm not so good in doing websites so we must have this one. It hasnīt been updated for a while but we have a break for a while so itīs nothing so much to write about right now.
Do you have any favouritesite on the net?
- Itīs many good sites on the net but thereīs many shitsites too. One of my favouritesites is www.funplanet.com and there you can play many good games, best of all are Funolympics. An other good site is Ska Wars where you can read the most of what happening in swedish and foreign ska.
Do you read fanzines, do you have any to recommend on paper or on the net?
- Iīm not a big zinereader ,it happens that I buy some on a gig or soemthing like that. Me and some mates have an own zine some years ago and it was called Pikkadåll and it was about sick humour and bad punk but we quit doing it after two issues.
Wisdomword?
-Wisdomword…..hm…hm….yeah, my mother once said to me "It doesnīt matter how it tastes, itīs the spinning you want" that was a good thing.
Futureplans for you?
-My futureplans for the moment is to finish my education"how to find work" and to find work, fucking shit. Maybe moving to a bigger city than Skövde, I donīt really know.
Futureplans for the group?
- The groups futureplans is to play as long as people think itīs funny to play. But even if weīre putting Agents down are we going to play reunion gigs once in w hiel because itīs so fucking fun to play.
Something to add?
- I havenīt so much more to say but I must say that itīs fucking good that it exist fanzines like your which got the fire burning. Keep on the good work.