Mark plays in the anarcho-punk-group ADS(Another Destructive System) and in January 2007 I got their album and I really liked it. It reminds me about old groups like Crass, Dirt and so on.

History?
-Formed in summer of 1985-1988 and reunion shows in 1994 with DIRT and finally back full time in 2005, from Los Angeles, the original members were myself-vocals, Riley-vocals, Stephen guitars, Wron-bass and Matt Ratt on drums, then soon Riley played bass as well. today its myself, Mandi-bass/vocals, Douglas-guitars and Grant drums.

Please tell me a little about every member, age, family, work, interests and
something bad about every one?
-Douglas and Grant are around 35 and Mandi is the young one at 24, I am the old one at 41, nothing bad to say , they are all great people. I do construction, Mandi is a student, Grant does handyman work and Douglas works for a direct TV contractor.

My review of your record is like this ANOTHER DESTRUCTIVE SYSTEM-BREAK THE SILENCE(CD-AGC/MORTARHATE) This group seems to in some way got help from Mortarhate to get out this record. It's often so that it's good quality when they´re involved and it's often political music. I don´t get so surprised when the record is on because the group sounds like an anarcho-band with some more metalinfluences sometimes. When Mandi comes into the music and sings it's a little bit more Crass/Dirt-influenced but this group have a more workthrough sound. I feel how my hand becoming a fist in my trousers and I want to let it free and struggle for the poor and people who have been badly treated. Check out this group at once.(EIGHT) 10/1-06
What about it?
-Good your choice.
<![if !supportLineBreakNewLine]><![endif]>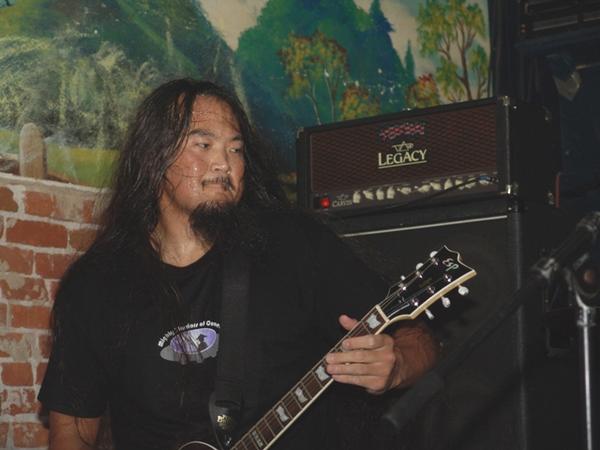 Is there any other bands you´re being compared with?
-Antisect the most, some think a faster Amebix.

Do you care about reviews?
-Sure we like to see what people are saying about us.
Which is the most peculiar review you ever have got?
-Cant remember had so many in the past.

How would you describe your music in three words? Is the word anarchopunk the wrong description on your music?
- Tribal war dance., no we are and admit anarcho-punk.
How is it to live in your homecountry?
- Don't really no any different, even though I´m Irish, America is very big with all sorts of people, but the government/police rule, and the rich are richer and the poor are poor, poverty for sure is a issue, racism a problem and apathy is deep, but America is very beautiful ,its nature ..like how Sweden is<![if !supportLineBreakNewLine]>
<![endif]>
<![if !supportLineBreakNewLine]><![endif]>
What about the government? Bush?
- Like all governments , don't like them, bush is a warmonger and killing the world, blood for oil....
Do you think that music and politics goes hand in hand?
- We play music for fun and a political message, awareness is strength, music for social change, so yes.
Best political band? In the world? In USA?
-I like the Subhumans, Conflict, love the Ramones, Clash and Killing Joke as well, as in american anarcho Crucifix, Iconoclast, Trial were good.

Is there any good bands in your homecountry now?
- Many bands in the USA are good today, Behind enemy lines, Apple, Amima Mundi, Scarred for life, Resist and exist, Blank etc...
What do you know about Sweden? What is typical swedish?
- Hockey, Peter Forsberg, Sedin brothers...ice and wildnerness.
Have you heard any good swedish bands?
- Yes in the 80's we had friends there, but I have forgot.
What does punk mean to you, is it only a word or is it a lifestyle?
- Punk to me is different then what it was in the 80's, I am older and wiser now, I was a kid then and it was a everyminute lifestyle, the music is one thing but how it inspired me was another thing, getting active in my area with animal and human right movements etc...direct action...! Punk it self by fashion is a farce, many fake people out there, but too me it will always be my soul.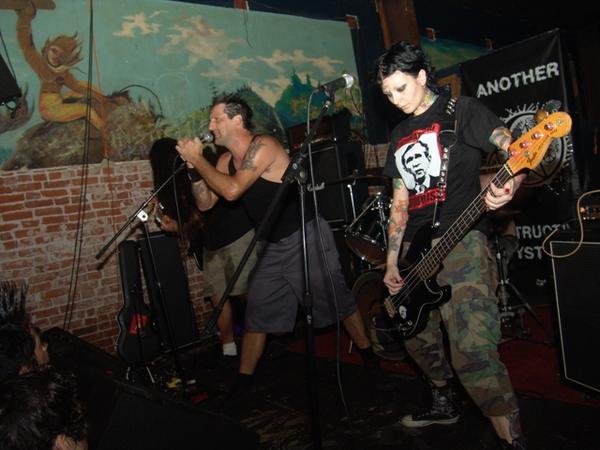 From where do you get your influences to your lyrics, movies, wars, people around or what?
- Different things, other music , life I see around me.
Please rank your five favourite records, five favourite concerts and five
most important things in life?
-Fav records...Antisect-In darkness there's no choice, Discharge-Hear-see-say nothing,Motorhead-Ace of spades, Killing joke-what is this for, Rudi Peni-Death church, Chumbawamba-Pics of starving children.. Fav shows..Discharge 1982 Florentine Gardens- Hollywood, Conflict 1985 Fenders-Long Beach...GBH/Crucifix/Iconoclast 1985 on Broadway-San Francisco..TSOL/Bad Brains 1983 Devonshire downs-Los Angeles ...Vice Squad/Chron Gen 1983 Whisky in Hollywood.......most important things in life are....my family, our health, peace on earth, animals/people not suffering,living and evoling

First, last and most expensive record ever bought?
- I would say Black Sabbath was the 1st, last one ..dunno cant remember
Most embarrasing record in your collection?
- Dunno, not much vinyl anymore
Do you do any covers on stage? Why or why not?
- We do Janie Jones by The Clash

Is it many interviews? Is it boring?
- Interviews can get boring when they get nowhere
Which is the question you never get, please ask it and answer it?
- Will try
Is it any chance to see you in Sweden soon? Have you ever been here?
- No never been, were not big enough to go to Europe yet
Where is the best place to play?
- I like the Showcase in Corona and the Key club in Hollywood for venues
How is a good gig with you?
- People enjoying themselves with no violence
Which type of people comes to your concerts?? Only punks or what? Ages?
- All ages, punks mostly
What shall we do about all rascists?
- Educate them
The best band in punkhistory?
-.The Clash

The most important punksong?
- Lyrically Kings and punks by Conflict
Your name, are you only called ADS or do you write out your whole name Another Destructive System?
- We like the full name

Mortarhate did they help you out in some way? How did they helped you?
-I have been friends with Colin Jerwood since 1985, we were suppose to release a ep in 1987, but that's a long story, Mortarhate is only distributing the cd for us on the web site, soon to produce more , but we recorded it, paid for it all

Have you done any other records than Break the silence. If you have how can I get them?
- Just demos from the older band.

Futureplans for yourself? Wisdom words, Something to add?
- Everyone needs to network together to achieve any changes at all, isolation is our enemy, stand together and don't sterotype people, let all join no matter who they are, it takes all kinds of music and people , music for social change and awareness, cheers n beers Mark
<![if !supportLineBreakNewLine]>
<![endif]>