Hallo there some history?
-We was founded in 1996 in the rises of Stockholms punkband number 1, Tarmludd. The same members which started as Mindless is now like The Ackermans. During the years we have done some sideprojects like (Hello Musiclovers, Varnagel, Eskalator) After a short break from Mindless we recorded the demo Westside Club which was a restart for the members
Johan, August, Sebastian, Erik and Daniel . And then after that we have been a band to 100 %.
Come on come on is it the first record or what have you done before?
-Under the name Mindless we have done some sporadic demoreleases since 1996. But with the name The Ackermans this is our first demo.
Tough and good sound you have alson, was it something you did in purpose or did it only went to that sound?
-Of course you want good sound. We haven´t recorded in any prostudio so some there's some chances we have taken but it´s to the right way. We have recorded the most in our livingroom with own stuff. With a little help from a man called Herik Wikner the result was OK
Give us three arguments why you´re better than Mando Diao and those other groups in the same style? (Youre better than all those bands)
-The taste is very different, all bands have different qualities.. A thing that bands in our style have is it´s hard to have the distance to the things they do. People try too much to live up to the rockmyth and say fuck off to other bands in the same style. That part we really want to have something to do with. We dare to look like we´re having fun when we play and we even smile when we see a camera
Please describe your music with three words?
-Energic, swinging and good.
Which music have you grown up with?
-We can all say that the punk has formed us since the lovely youth. The punk united us in the beginning and will be our united thing in the future too.
Is there any good bands in Sweden today?
-Yeah, of course there´s good music today. Our musictaste varies in the band, everything from swedish punk to jazz.
Please tell me something about every member in the band, age , interests, work and soemthing bad about every one?
-All in the band is 21 years old and lives in Stockholm. Johan plays guitar and he´s interested in collecting records, play music and everything which comes along with that. He have really tight trousers and he thinks that he lives in the 60´s. Erik plays bass and he likes pasta. Once he puked on his
bed and he turned it around and forget it for many months. He plays Swedish trallpunk too. August is always dressed in his big sweater, he plays guitar and he has a very big pan which can be disturbing for the other members . Daniel plays drums and he has nothing worth in his life without his drums. Sebastian stands for the singing and is also the brain behind the band. He gets all the money and he´s a bastard when he´s drunk.
How is a good gig with you?
-You music is done for lifeperformance. A good gig with us is short and intensive and you can see on us that we´re having fun when we play.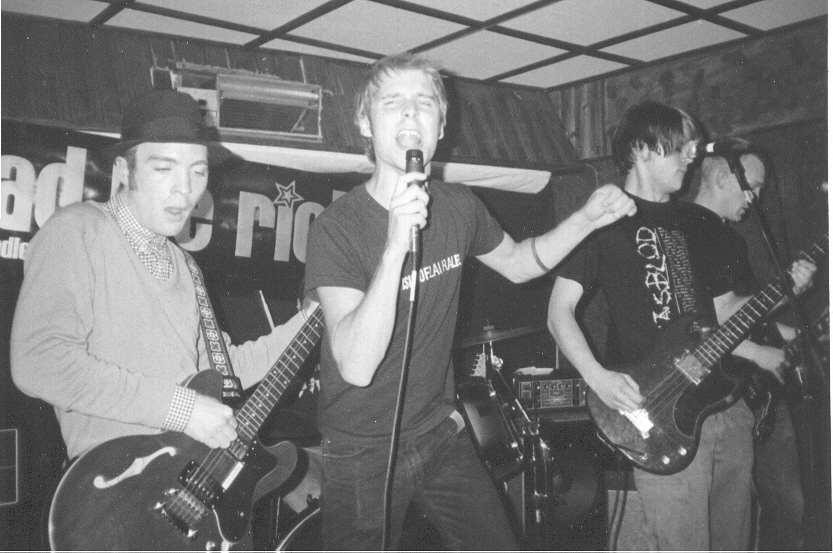 How does your audience look like?
-Which style of people who comes depends on which gig we do. As The Ackermans we haven´t established any audience yet so it´s impossible to say how it looks
Please rank your five best record, five best concerts and five most important things in life?
-Johans best record-I only say five good records that I listen much to right .It´s too difficult to say the five best ones.; The Jam - In The City, The Small Faces - Small Faces, The Maytals -
Never Grow Old, Ramsey Lewis - Wade In the Water,
Johans best concerts: Alton Ellis last yeay. A bad concert but to see hime in front of myself was worth everything. Skatalites – the same here,
Bad gig but I got the positive creepings when I saw the legends. Randy and Hives is always fun too see, fast and sweaty. That´s enough.
Johans five most important things: Friends,a guitar, music, the 60´s and a camera
Eriks best records: The compilationLive/Även vackra fåglar skiter,
Mimikry - Visar vägen, Strebers - Kallt stål, varmt blod, Köttgrottorna – Köttrea and Räserbajs - Noppriga tights och moonboots.
Eriks five best concerts: DLK:s goodbyegig at Kafé 44, Refused on Kafe 44, Köttgrottorna on Mera Hitlåtar. Johan Antilla on Tre Bacakr and Radioaktiva Räker on Kafe 44.
Erik have no important things in life..
Sebastians best records: Saves the day - Stay what you are, Mew - Am I
wry? No, Hot rod circuit - Sorry about tomorrow, Randy - The human atom bombs, Millencolin - Tiny Tunes.
Sebastians best concerts: Donnas and Randy on Pustarviksteatern, Cherry
Poppin Daddies on Warped tour, Arenan, Satirnine on Obscene.
Sebastians most important things in life: Love, friends and music.
Daniels best records: Leonard Cohen - Songs of love and hate, Bob Marley -
Uprising, Refused - The shape of punk to come, The Strokes - Is this it,
The Skatalites - Foundation Ska and Rage Against the Machines first record.
Daniels best concerts: Soundtrack of our lives on Göta Källare, Refused
On Kafé 44, Rage Against the Machine in Hultsfred, Desmond Dekker in
Roskilde,
August best records: Dj Shadow - Preemitive strike, Solomon Burke - Don't
ive up on me, Ryan Adams - Heartbreaker, Led Zeppelin - Led Zeppelin,
Rage Against the Machine - Evil Empire.
Best concerts: Moder jords massiva on Arvikafestivalen. I´m not used to going warm on concerts , it must be more dancemusic and swinging music.
Best things in life: Tradition, and quality (I can´t answer it).
First, last and most expensive ever bought?
Johan: First Queen - Greatest hits, Definitivt femti spänn or Strebers - Kaos och skrål. I don´t remember. Latest: All stars of Jamaica - Coxsonne Dodd/Studio one Most expensive: (single)Prince Buster –Foul dance
Erik: First: Just D - Rock ´n´ Råll. Most expensive: Strebers - Flickan och
kråkan. Latest: Trekant - Människor smakar gott.
Sebastian: First: NKOTB - Live. Most expensive: Saves the day - Stay what you are.Latest: Get up kids and Rocket from the crypt, splitsingle.
Daniel: First: Trazan and Banarne - Sångtajm. Most expensive: The Skatalites - Foundation Ska. Latest: Art Blakeys Jazz Messengers - A night at the Birdland vol.1.
August: First: MC Hammer - U can't touch this. Moste expensive: Snowboy proudly presents the return of the hi-hat... Latest: Langhornes - Mystical Music.
Do you buy much records?
-No,yeah, some of us do, some don´t.
How do you think it´s to live in Sweden today? Politically where do you stand, can you think of the fact of doing a political gig or have you already done it?
-We haven´t done any political thing with The Ackermans but many of the members are political active in different ways. We can put us together on the left wing and we really want to play on political gigs but nobody have asked because of the fact that we´re not seems to be a political band.
This thing with Gudrun Schyman, wnhat about it?
-She have definitely done wrong. You can say one thing first and then do another. But it´s boring when the politics gets personified and a persons wrong doings do so the country they´re work in change and many people vote more on the person than an the party they talk for and that say a whol lot about the representive democracy
Does politic and music goes along?
-Yeah and no. Politic and music have always have been each other near. Eeven if the lyrics isn´t so politically direct so does the music shows how the society we live in are. Music is a very strong way to express yourself and make people come along. It´s many examples both in right and left wing extreme politic. How does it work for a band like The Ackermans. We haven´t so political lyrics but only to do good and fun things together can you show for yourself and to other people that you can do things by yourself. It´s a political way to do things as anything else. Every concert is an action.
Can music change anyones life? Please give em an example?
-Easy. Music have changed our lives. We would have been different guys if we haven´t started the band. Many of our values have we got from the music and from all the zines we have read under our grownuptime. You can say that music is something which have influenced all. Maybe more than many people know about.
How did you react the 11/9-01 when the terrorist attack was done, with anger fear or what?
-The first reaction was surprise. It felt unreal to see it live on my TV. It took a while before I understodd what was happened. After that all speculations came about who? How? And so on. The attack the 11th september was something terrible and that it always is when civil people die. And then it don´t matter if it´s USA, Chile, Iraq or Afghanistan.
Have it changed your life anything?
-After the nmedia began to build it up and the USA terror campaign we have to practise to see where from all facts come from. So much propaganda in all forms everywhere you have your eyes. Terrorism as a word is very weak. The list can be long on the times that Europe and USA killed a lot of people in foreign countries, isn´t that terrorism to? Why doesn´t we hear how many dead it was in Afghanistan. Why does the Genevaconvention see through Camp X-ray. The prison in Afghanistan in which USA tortured taliban soldiers and kept them in prison. The world have been changed after the attacks and USA is waiting for a war in Iraq and the war rhetoric goes always back to the terrorattacks. The struggle against terrorism" have been the most important weapon in republic USA:s propaganda and it´s used really often in terrifying style. Everything to get the American opinion with them and let them think they want a war.
Now back to the music, how do you do a song, what is most important is it the lyrics, the melodies or is it to have a refrain that people remember?
-It´s a little hard to put the finger on what does a song good. I think it´s all the three things you say. It´s hard to know how a song will be on a record and the most important is to know how it sounds when we rehearse and on stage. We must feel comfortable on stage.
Ackermans, what is it?
-Earlier this year we felt a desperate need of a new name and after some inner conflicts, unholy alliances and many votes about it the name The Ackermans came up to be our new name and it was a start for our new start, 20 % of our members is called Ackerman in last name.
Haven´t you heard anything from any label? Which label would suit your music?
-The independentlabel Big Brothel have show interest and now we´re talking about what will happen. I hope it´s going to be some work together with them. Independentbolaget "Big Brothel" har visat intresse och vi snackar
What´s the best and what´s the worst of being in a rockband?
-The best is to play and the worst is all stuff we carrying when you have a gig
Is it ugly to be called a demoband?
-It depends but we´re a band which release demos. The most important isn´t if you have a record contract or not. Demobands can many times be so much more fun to see than contracted bands. But the categorize do so it can be a-team and b-team, which is bad
Where do you stand in the when we´re talking MP3?
-MP3 is the worst thing which have happened to the big labels and maybe the best thing which have happened to the musiclover and then espcially the DIY-scene. It's a longfinger to the establishment and they can have it. It´s their own faul when people can´t afford or don´t want to buy their records to fantasyprices and then came mp3 as a saver in need. For artists which have best before stamp, the ones that are on the top ten is this bad because they have a short time to sell records. For unestablished bands is it one of the most important medias to come foreward to their audience and they only have good from it in the end.
Futureplans for the band?
-we have no direct plans for the future, we only wait to hear the response for the demo. We look foreward to do some good gigs this spring and summer. Some festivals in summer would be fun.
Futureplans for yourself
-Daniel want to go on a musicschool somewhere in the country and he study music and he hope to do that this fall. Johan hope top study artscience in Visby and to afford att a Rickenbacker 330. August want to study art in Stockholm and Erik want to get som selfdiscipline and something useful in his life.
Wisdomword?
-No!
Something to add?
-No!