Acid Blood from Umeå has made a really tough and hard record and I almost was "forced" to interview this cross-genre band. This was done in the corona times in March-2020
A little history of the group?
Jojo: Met Karl at a festival in Umeå and he came and asked if I wanted to front his band and I said yes because you do not say no to a legend.
Karl: Haha, yes, I was at Mökens hard rock club looking for a new band and Jojo stood out among everyone else. Then we were seen again at a midsummer party and started the band. It was only me and Jojo first, then we had two other members that didn't work properly. The band had only been around for three months when we recorded the first EP "Dagger Eyes". Isak and Emil joined us almost two years ago and then it was a new start and we could start playing outside the city and such. The first LP came out last summer.
Tell us a little about each member, age, job, family, band before and band next to it?
Jojo Anderbygd: Song. I am 36 years, no job, no family. Played drums in metal bands and various pop projects.
Karl Backman: Plays electric guitar, soon 50 and no family. Work as a stage hand at concerts when I need money. I've had many punk bands, AC4, The Vectors and T-55s for example.
Emil Fjällström: Elbas, 31, a service technician at an industrial laundry, has a cat and a partner. Previous band is the thrash metal band Raging Steel. Currently has two for projects: Scum Crusade (crustpunk) and Aftermath (crust in the style of Anti-Cimex).
Isak Mörtzell: Drums, 25 years, personal assistant, come from a family who all deal with music in one way or another. Has previously played in cover bands and a metal band called Kill Krayon, now also plays in a fairly new constellation playing progressive rock.
I can hear both Baboon Show and Plasmatics at the same time, I hear right? Was it better in the past?
Emil: Of course, it's a little Plasmaticsvibes. Don't think it sounds anything like Baboon Show. It was generally cooler bands in the past.
Karl: It's been quite a long time since I last saw the Baboon Show, nothing wrong with them, they're a good band and everything, but we sound pretty different?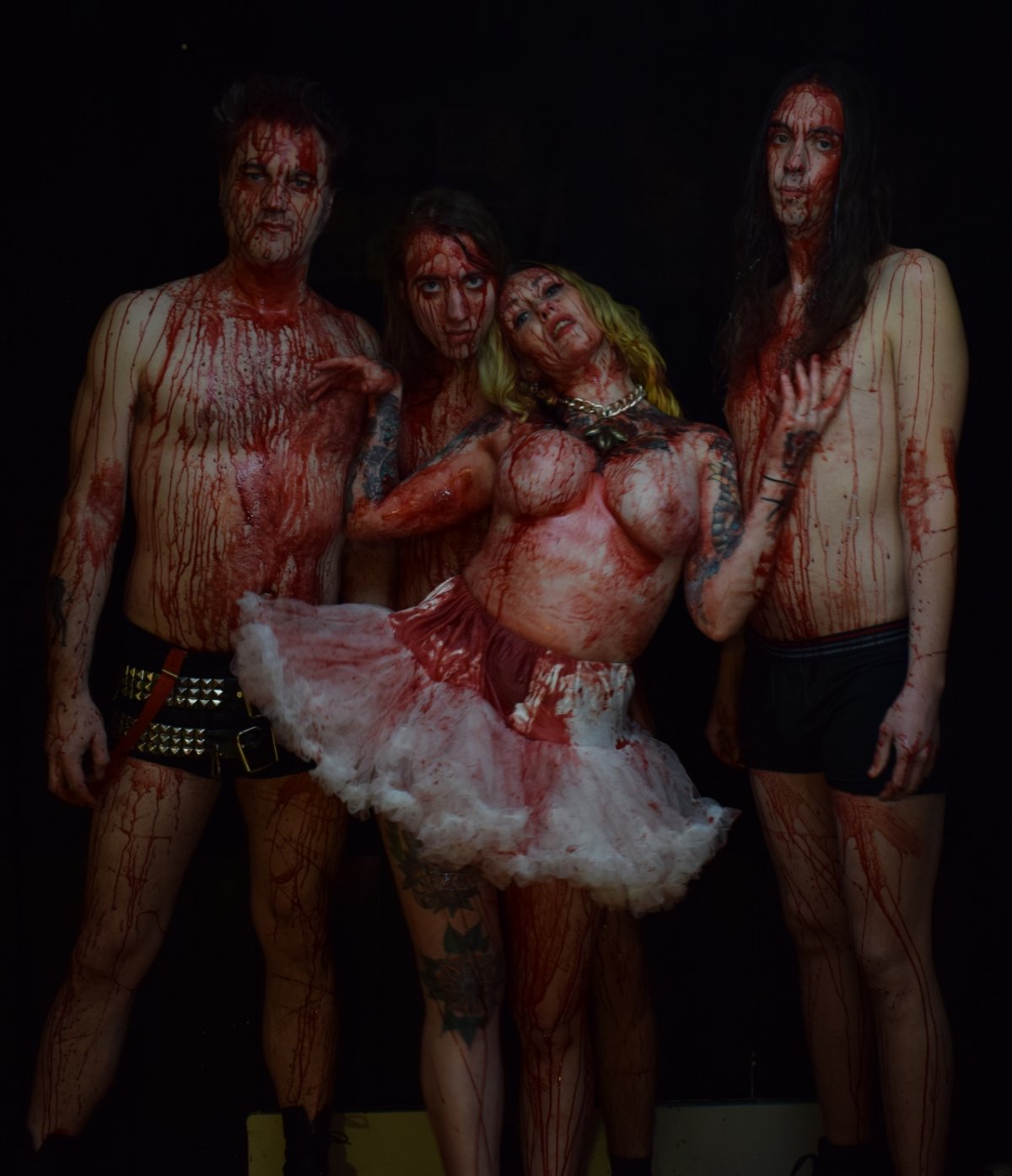 Acid Blood, are you happy with the name ?! If not the best band name had been taken, which bandname would you have chosen? I mean which is the best band name?
Jojo: Yes
Karl: Acid Blood works in a way that most people who see it immediately realize that it's some kind of aggressive rock'n'roll and not some fucking pop.
Emil: Two band names that are tough beyond understanding are Venom and Satan.
What's the best thing about playing live?
Jojo: That's the funniest thing I know. Everything comes alive.
Karl: Meet new people, see new places, drink new beers. Above all, maybe that with new beers then.
Isaac: The best thing about playing live is the feedback you get from the audience when it is positive, and that it is just sick fun to show what you are doing instead of just playing for yourself.
Emil: It's damn satisfying when a gig goes really well.
Where is the best to play, where is the worst?
Karl: Most places are good nowadays, maybe Germany and Sweden are the best. Australia was really good too, but I've only toured there once. I have played in most of the countries in Europe and the only country I have only bad experience from is Italy.
Emil: Overall, it's more fun to play in bigger cities.
Jojo: Where there are people.
Isaac: The best thing is to play is at any event where you know there will be people who appreciate the music you play so that there will be some go in the audience. The worst is to play where there is no more than type 3 in the audience.
How is it to play this kind of punk in Sweden today?
Karl: Works well, we play with all sorts of other bands from quite different genres. They do their thing, we do ours.
Isaac: Don't have the experience of playing any other kind of punk so I don't know how it really differs. But it seems to be appreciated in most places we have played at, so I can say no more than it is fun. However, not all places want to book such a band, so you have to search for events where the music fits.
Emil: No difference to playing crust or thrash I think.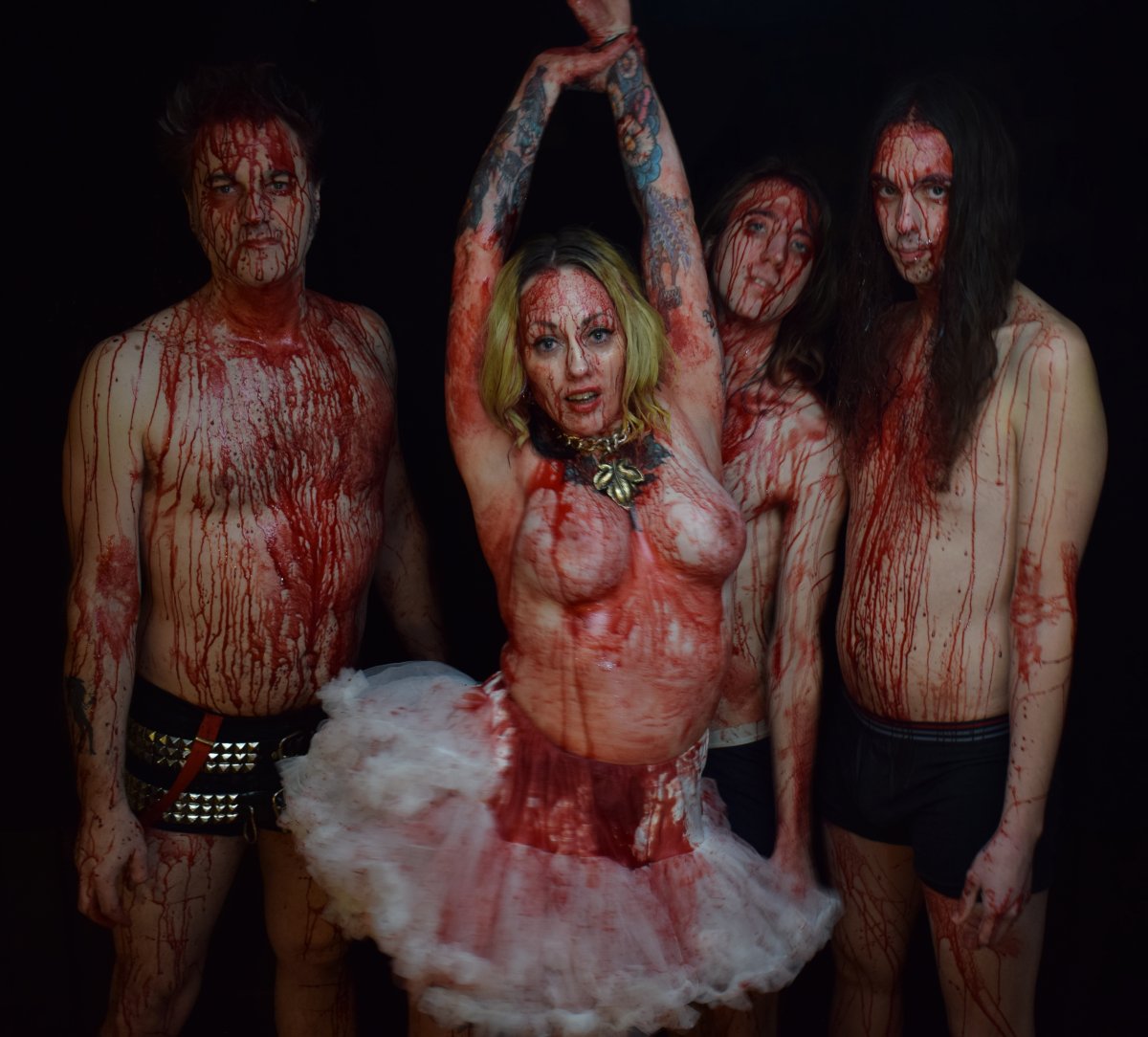 How would you describe your music in three words ?
Jojo: Quick, Angry, Swinging
Emil: Drunk, Rock'n'roll, Loud
Karl: Punk, Hardcore, Rock'n'roll
Isaac: Quick, Fast, Angry
What does punk mean to you, is it just a word or is it a lifestyle? Which group/song was it that got you into this wonderful world?
Karl: The first record I bought for my own money was Sex Pistol's "God Save The Queen" 7. "That single also represents what punk means to me. Punk was the newest thing when I was a kid, then it became my life.
Jojo: For me, punk means I do what I want and that way I try to stay on. My first punk record was Sex Pistol's "Never Mind the Bollocks", in the sixth grade.
Isaac: Since I don't consider myself to be much of a punk, punk is for me mostly a genre of music only.
Emil: For many it's a lifestyle, I lie with both the hard rock and punk. The first punk band I listened to was probably Ramones, but can't remember which song which started it all.
How do you see on downloads, mp3s and the like? Or has Spotify killed it? Your record is not on Spotify? Conscious choice or?
Isaac: I don't care if people download.
Jojo: I'm the worst on data so I'm not downloading. Spotify I listen to every day and the idea is that Acid will also enter there.
Karl: Yeah, we'll fix it. Later. We have post quite a few videos anyway. Piratesites that sell or share MP3s don't matter to me. Punk and the hard rock crowd are good because they always want to buy physical records anyway.
How do you think it is to love in Sweden today, politically? Jimmie is handing out flyers to refugees at the Turkish-Greek border?
Karl: Sweden is probably still one of the best countries to live in, even though the left has eaten itself up, the socialst are controlled by the center and the right wing(M) are controlled by SD. After all, Åkesson was taken by the Turkish cop and deported. Perhaps a useful experience for him given that Turkey is now running the policy that SD wants to introduce in Sweden.
Jojo: That Jimmie exists and does what he does in Sweden's name is a shame. Living in Sweden is very comfortable.
Isak: It is ok, of course could have been better but does not go around and be so angry on all politicians. Jimmie is mostly a joke so I find it a little amusing to hear what he is doing of his madness.
Emil: It is frightening that hatred and fascism grows and that less and less people care about it because it is some kind of objection unfortunately.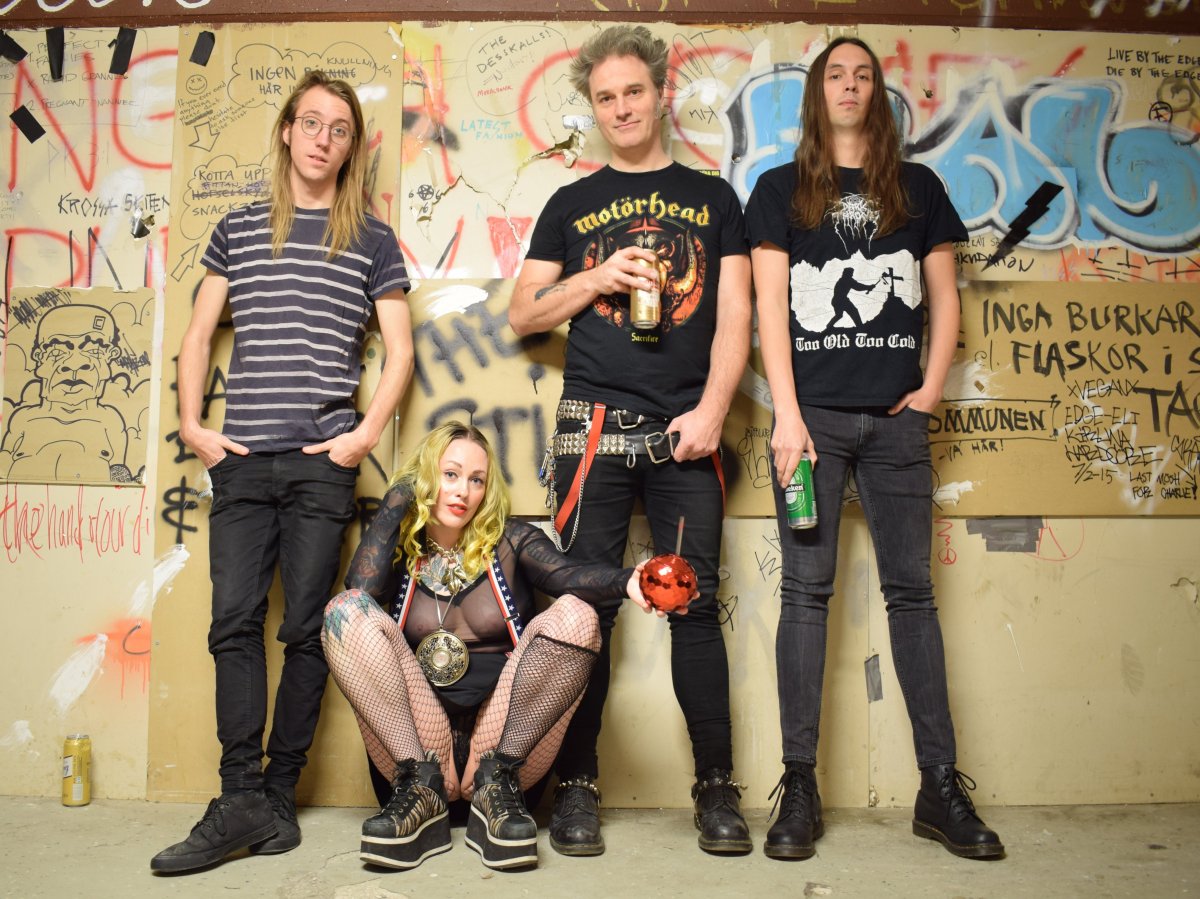 Are there any good bands in Sweden today? In yourhometown?
Emil: Umeå's best band at the moment is probably Piss River, from other Swedish cities I think Ax Rash and Dahmer are really good.
Karl: Bewitched has just reunited. G8 Boys, The Neurotics, and Dumb Fucks are also good Umeåband. And this summer we're going to play with both Crystal Caravan and Raging Steel who haven't played in many years, it'll be cool.
Jojo: Viagra Boys are on fire! Right now I listen to Swedish hip hop very much. ODZ, Erik Lundin, Mwana, Jirrel, Ozzy, etc. In Umeå you will find Piss River, Det Jordiska, Cult of Luna, Random Bastards.
Isak: Doesn't have much check on punk bands at all, but there are other good bands here in Umeå and in Sweden. Fool's Gambit is a psychedelic band from Umeå that is good. Otherwise, Monolord is a good Swedish band that plays doom metal.
Do you play anything outside Sweden? Is there a good chance with a foreign record company or?
Emil: Not at the moment. but we will most likely do so.
Isaac: Haven't done that yet, but hope it'll be soon.
Other good bands from abroad?
Karl: Acid Blood has done gigs with Tarantüla from the US and Career Suicide from Canada, for example. Or do you just mean random new bands I like? Maid Of Ace from England.
Isaac: There are too many to choose, what to say.
Emil: Hard to answer as there is so much and I am pretty bad at listening to "new" music but for example Fireburn and Long Knife which are pretty new.
Your lyrics, what are you influenced by? Never in Swedish?
Jojo: Life, high and low.
Karl: It's probably almost 40 years since I wrote a song in Swedish. My first punk band sang some in Swedish and we closed down in 1983. It was so because most punk companies and newspapers were outside Sweden maybe. And then you thought it sounded cooler, haha.
Is there anything you will never write about?
Jojo: Jonas Nimrodsson
Karl: Probably, but nothing planned. Now I'm going to write a song about Jonas Nimrodsson.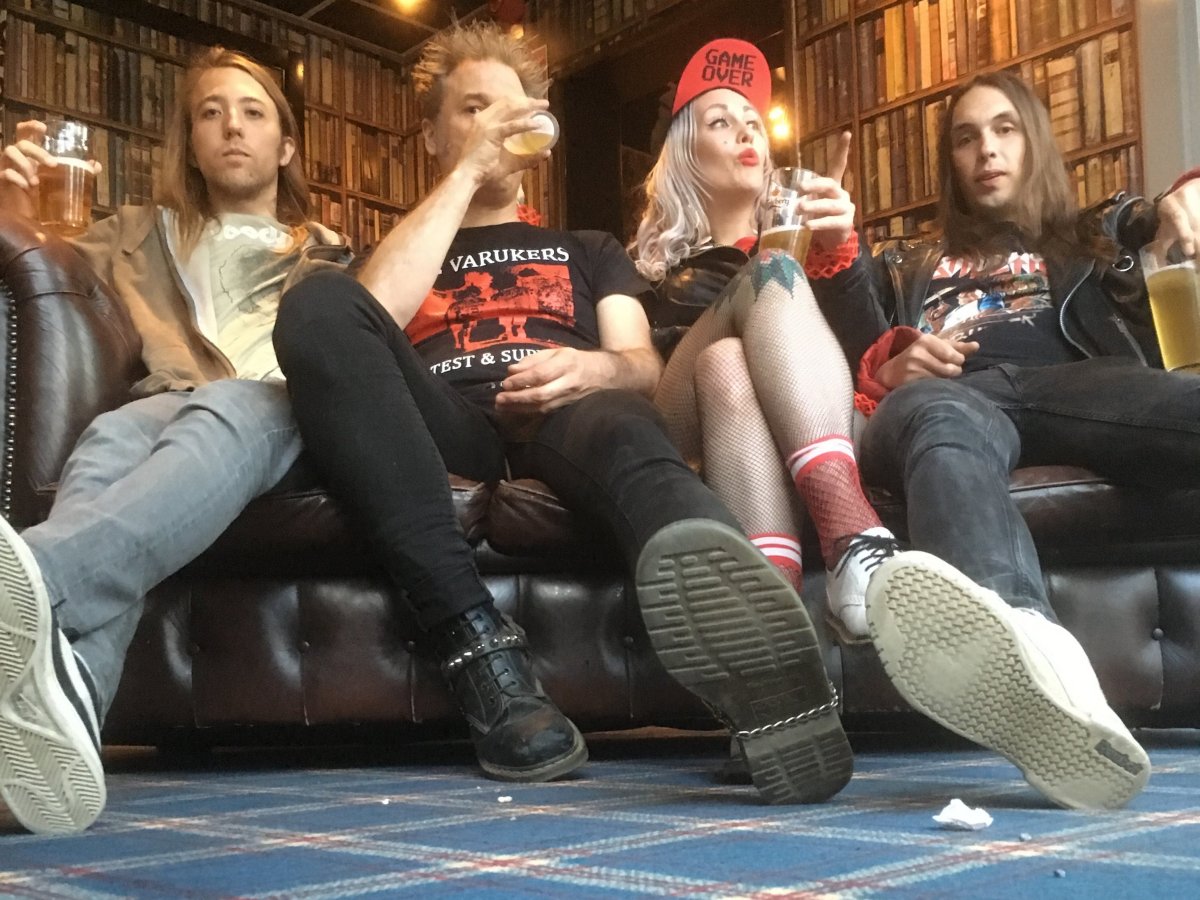 Politics and music, does it always belong together? Which is your most political song?
Jojo: Well, but it's strong together.
Isaac: I really don't think so, when I write music myself, it's probably never politically motivated music. Think that art should be able to express more than just political opinions, then it can only be music that is nice to listen to, kind of instrumental music.
Emil: Not always, but it certainly can, which is obvious. Would think it's "Bullseye".
Karl: It probably only comes together if you want it. I write lots of texts about political and religious leaders and everything they do, but I do not feel that we are a political band. We have no agenda. If you start a band to pursue politics, you should perhaps become a politician instead. After all, there is a far greater lack of good politicians than good bands.
Best political band / artist?
Emil: Billy Bragg, Woody Guthrie, MDC, The Clash.
Isaac: No idea, don't even listen to lyrics very much. Is more interested in melodies and rhythms.
Karl: I like bands like The Varukers. No sugar coating. "Another Cease Fire Fails".
Do you think music can change someone's life, then I mean lyrics etc?
Isaac: Absolutely!
Jojo: Yes.
Emil: Change is to take in, but probably I think some people can get help and support from texts.
Your cover is really cool on your LP, who did it. How did you come up with just that? Is it important to have a cover so that you understand what kind of music you are playing? Uncomfortable feeling standing half naked? Which is your favorite cover of all time?
Isaac: We did that together with Nicklas Viberg, who also made all our music videos. After all, it can be an advantage to have a cover that says something about what music you play, so that people who like that music can look at the cover if they think it's something they like, but is not a must. Think the most important thing is to have something that just attracts eyes. Don't be too hard to stand half naked.
Jojo: It was great fun to get to this masterpiece. Good and safe job from photographer Nicklas Viberg and blood manager Lisa Nylund.
Emil: I felt a little strange and be standing in the short underwear in a punk house smeared with theater blood, but not immediately uncomfortable. Favorite cover: Motörhead "Iron Fist" or Slayer "Reign in Blood".
Karl: The first idea was just to take a studio photo of the band against a black background, like The Doors or Stooges first records. Then we talked blood and then in the end it became more undressed than other bands. It was probably thanks to Jojo. It was good, naked skin and blood, sex and violence, life and death. It fits with the songs on the record as well. There was no problem with the photo shoot itself. We didn't have to be much drunk than usual, haha.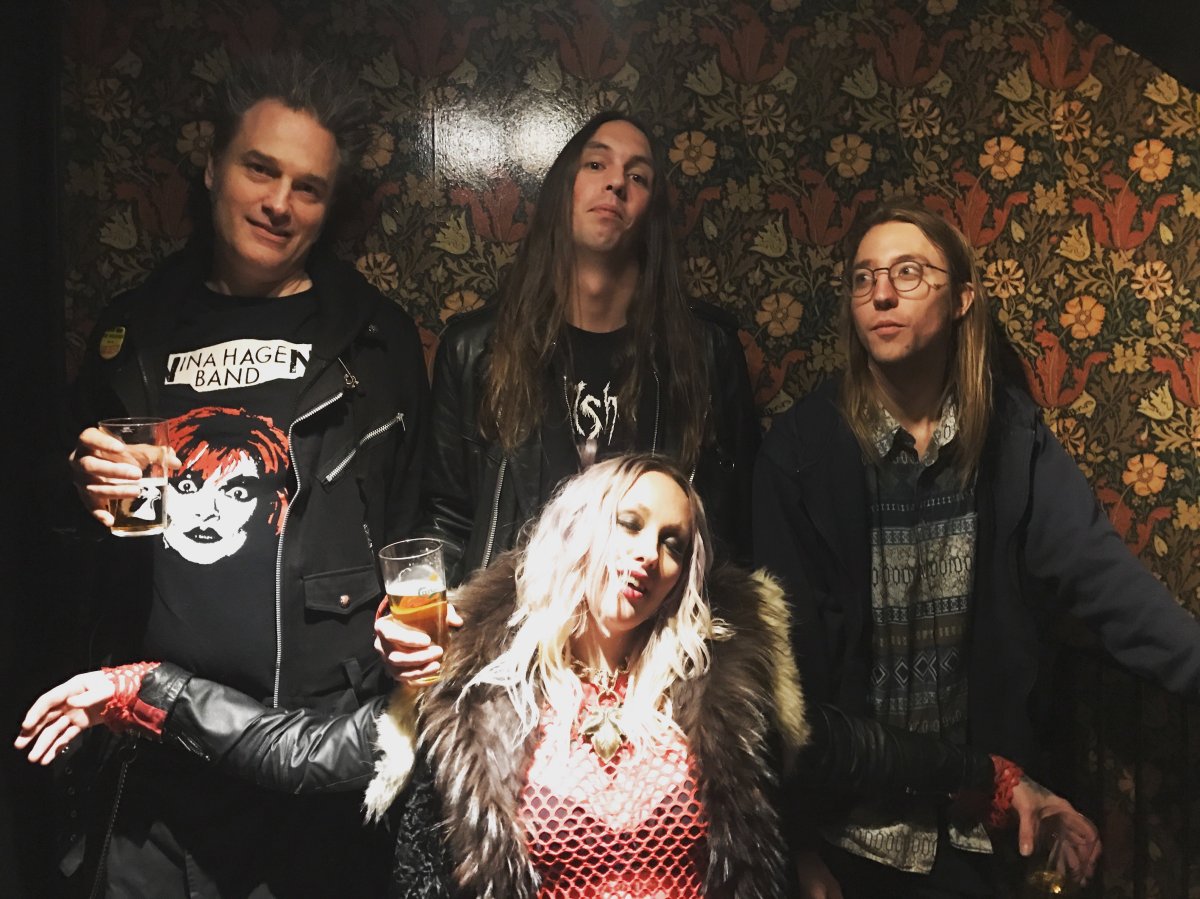 Is it important to get out physical reords? Vinyl or CD or both and? Is there any good record store in your area left? JanML Records is it a good company?
Jojo: CD feels unnecessary, Vinyl is a must for it's best. Would have liked to have released the cassette. We have Sweden's oldest record store in Umeå ?! We made fun shows outside it, where we stood and played on the square in the summers. Last I had a party for two days and arrived just in time, think we played at. 14, I came straight from the party, swiped a drink from my friend RG and then it was just to go.
Karl: Yes, Burman's Music is even Scandinavia's oldest record store, and they say the world's northernmost. Stefan who runs it does a great job of arranging gigs there. I'm so old that I think it's weird when bands say they released a new single and then they mean they've uploaded a song at Bandcamp. For me personally, it's just important to release vinyl, I never listen to any other format. Bought a Vectors bootleg on CD last month and discovered that it is not possible to plug in a CD player in my stereo. Jan and Maja at the company are good because they care about vinyl. Jan filmed gigs with AC4 for German punknewspapers, then he started the company while I started my previous band T-55s, so he released a 12 "EP with it, then just continued with Acid Blood. The result is always good.
Emil: I think it's important since most people who listen to punk are also record collectors, plus it's good to be able to sell something at gigs.
Please tell me something really fun that happened during your career on stage or behind the scenes etc? How does a gig night look like for you? Before and after the gig?
Jojo: Before the gig I'm pretty closed and want to chill. After I am emptied and filled, happy to finish with all beers.
Karl: Beer before, during and after the gig. To get the time to go before we get on stage I usually tease Jojo when she should try to chill, haha. Or, Isaac plays on some organ extremely loud and long, while Emil and I talk about early Venom. It is well as for all bands, it is very urgent that you come a certain time, then you should only sit there for four hours without doing anything. Hurry up and wait.
What does your audience look like? Which type of people comes? Do you miss any types of people? Age of the audience?
Jojo: Most guys, but lately it has started to coming girls, which I see as a sign that we are doing something good.
Karl: Yeah, it's cool that there are more girls and more young people in the gigs. Otherwise, it's the most punks, hardrockers and some skinheads. We get a lot of middle-aged record collectors in a washed-out band shirt that stands at the bar with arms crossed and nodding as they like it as well. People who are passionate about rock 'n' roll and go to a lot of gigs.
Isaac: Is probably most type 40-year-old punks. But I think we reach out to more, so it's not like you feel that there are some types of people I really miss.

Please rank your five favorite records, five favorite concerts and the five most important things in life?
Karl: Sex Pistols "Never Mind The Bollocks", Motorhead "Ace Of Spades", The Exploited "Troops Of Tomorrow", Chuck Berry "Golden Decade", and D.O.A. "Bloodied But Unbowed" maybe and favorite concerts are well among the gigs seen with those artists. Or Airbourne at Getaway Rock, or The Damned's 10th Anniversary at Finsbury Park 1986, or some Gröna Lund-gig with the Ramones, Nina Hagen or Iggy. And Rose Tattoo with Girlschool a couple of years ago in London was a great evening too. We arranged gigs with bands like Attentat and Stockholm Negrer in the 80s, and that meant a lot to one then. The five most important things in life are to have fun.
Jojo: Beastie Boys "Check Your Head", Tool "10,000 Days", Fugees "The Score", Roxette "Look Sharp", Sex Pistols "Never Mind The Bollocks".
Favorite concerts: Tool in Gothenburg at Metaltown type 2009, Avishai Cohen at Jazz Festival 2012. Anna Von Hausswolff 2019 Umeå, Mattias Alkberg 2017 Umeå, Sibbille Attar 2018 Umeå Open.
The five most important things in life are: Freedom, Music, Love, Avocado and Snuff.
Emil: Five discs; Rigor Mortis first, Ramones "Subterranean Jungle", Hellacopters "High Visibility", Neil Young "Everybody Knows This Is Nowhere", Undertones first or The Damned "Damned Damned Damned".
Five concerts, The Hives at Bråvalla, Hellacopters at Folkets Hus Umeå, Cock Sparrer at Punk and Disorderly in Berlin, Overkill and Motörhead at Getaway in Gävle.
Five things; Music, horror movies, comic books, vacation and good health.
Isaac: Best discs:
1. Nectar "Remember the Future"
2. Genesis "Selling England by the Pound"
3. The Doors "L.A. Woman"
4. Starcastle "Starcastle"
5. Drag "Dopesmoker"
Hard to pick just five, but I have listened to a lot of them anyway.
Favorite concerts:
1. Opeth
2. Snarky Puppy
3. The tone
No more I can come up with.
Five most important things in life: 1-5: music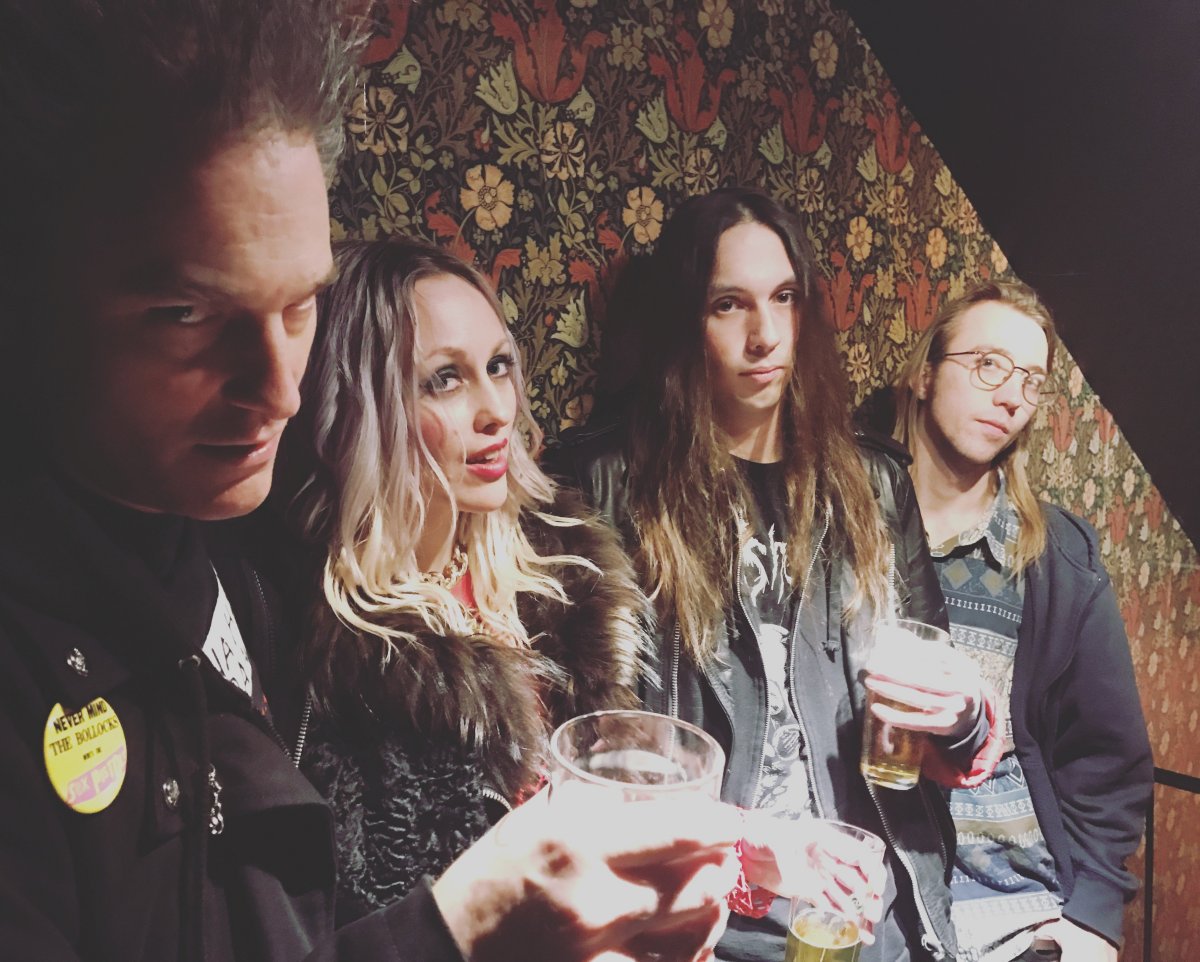 Is it boring with interviews? What do you prefer mail, phone or live interviews?
Emil: Not boring at all, however, has not done a great deal. Mail interviews have the advantage that you can really think through the answers.
Karl: No, everything is ok, live interviews when they broadcast the recording are perhaps best, then you can talk about what you want. Telephone interviews for newspapers are the easiest and fastest, they always just want two fun quotes and the names of everyone in the band. Everything works, as long as you don't get too wrong quoted or the translation is damn bad.
Jojo: Live interviews when Karl is talking a lot.
If you could choose five bands from history, dead and alive to have a concert together with your band, what are the dream bands then?
Jojo: Led Zeppelin
Emil: Rigor Mortis, Ramones, Girlschool, Motörhead, MC5.
Isaac: The Doors, Jimi Hendrix Experience, Emerson Lake And Palmer, Kraftwerk, and a magician.
Karl: Yeah, it'll be pretty much the same band I mentioned earlier, Sex Pistols, Motörhead, Chuck Berry. I've been playing with a magician once already, so I say a little classic plate spinning as well. And that squirrel who goes water skiing. He is the best!

Is music a good way to get frustrated and become a kinder person? Are you angrier today than you were as a young punk? Or do you choose your battles today in a different way?
Karl: I'm a much nicer person today than I was in the 80's, but it probably depends more on my girlfriend Jessica than on 40 years of raw punk.
Jojo: Music is pretty good therapy for everything, but it probably makes less difference if you're a psychopath. I'm probably as angry and happy now as before. Do not think the fighting has become smaller, but it may have become easier to hide behind a computer. I have no problem skipping the computer.
Isaac: Never been particularly angry.
Emil: Music works great to bring out frustration, has probably always been pretty calm anyway.
What is the strangest question you have been asked in an interview? Don't answer this question because almost everyone does ...
Emil: We did an interview for a foreign little fanzine with my old band Raging Steel. Didn't understand a single question because he was so poor in English. All questions were something like "So you like to get drunk HUH?"
Karl: Yeah, "Exactly what your lyric?" one remembers from some country in Asia.

Which is the question you never get, ask it and answer it?
Karl: What's his name? Joe Hawkins.
Future plans for the band?
Karl: We're playing Stockholm in two weeks.
Emil: Play more live and record more discs.
Jojo: Play everywhere.
For yourself?
Emil: Always want to do music.
Karl: Well, just go on. Now I'm going to eat burgers. In five to six weeks it is time to put the boat in the river.
Jojo: Eat avocado and play everywhere.

Words of wisdom?
Karl: Nothing has ever gone wrong.
Jojo: If you touch, you die.
Something to add?
Karl: Thanks for the interview, rock on! Anyone wishing to book or talk can contact the band at https://www.facebook.com/acidbloodumea/ or https://www.instagram.com/acidbloodumea/
The records are ordered easiest and cheapest directly from the company http://www.janml-records.de/
Acid Blood från Umeå har gjort en riktigt tuff och hård skiva och jag kände mig nästan tvungen att intervjua detta genreöverskridande band. Detta gjordes i coronoatiderna i mars-2020
Lite historia om gruppen?
Jojo: Träffade Karl på en festival i Umeå och han kom fram och frågade om jag ville fronta i hans band och jag sa ja för man tackar inte nej till en legend.
Karl: Haha, ja, jag var på Mökens hårdrocksklubb och letade folk till ett nytt band och Jojo stack ut bland alla andra. Sedan sågs vi igen på en midsommarfest och startade bandet. Det var bara jag och Jojo först, sedan hade vi två andra medlemmar som inte funkade riktigt. Bandet hade bara funnits i tre månader när vi spelade in första EPn "Dagger Eyes". Isak och Emil kom med för snart två år sedan och då blev det en nystart och vi kunde börja spela utanför stan och så. Första LPn kom ut i somras.
Berätta lite om varje medlem, ålder, jobb, familj, band före och band bredvid?
Jojo Anderbygd: Sång. Jag är 36 år, inget jobb, ingen familj. Spelat trummor i metalband samt olika pop projekt.
Karl Backman: Spelar elgitarr, snart 50 och ingen familj. Jobbar som stage hand på konserter när jag behöver pengar. Jag har haft många punkband, AC4, The Vectors och T-55s till exempel.
Emil Fjällström: Elbas, 31 år, servicetekniker på ett industritvätteri, har katt och sambo. Tidigare band är thrashmetalbandet Raging Steel. Har för tillfället två till projekt som är Scum Crusade (crustpunk) och Aftermath (käng i stil med Anti-Cimex).
Isak Mörtzell: Trummor, 25 år, personlig assistent, kommer från en familj som alla sysslar med musik på ett eller anat sätt. Har tidigare spelat i coverband och ett metal band som hette Kill Krayon, spelar nu även i en ganska ny konstellation som spelar progressive rock.
Jag kan höra både Baboon Show och Plasmatics på samma gång, hör jag rätt? Var det bättre förr?
Emil: Lite Plastmatics-vibbar är det såklart. Tycker inte själv att det låter något som Baboon Show. Det var rent generellt coolare band förr.
Karl: Det var ganska länge sedan jag såg Baboon Show senast, inget fel på dem, de är ett bra band och allt, men vi låter väl ganska olika?
Acid Blood, är ni nöjda med namnet?! Om inte det bästa bandnamnet hade varit upptaget, viket namn hade ni valt då? Jag menar vilket är det bästa bandnamnet?
Jojo: Ja
Karl: Acid Blood funkar ju på så sätt att de flesta som ser det genast fattar att det är någon typ av aggressiv rock'n'roll och inte någon jävla pop.
Emil: Två bandnamn som är tuffa bortom förstånd är Venom och Satan.
Vad är det bästa med att spela live?
Jojo: Det är det roligaste jag vet. Allt blir levande.
Karl: Träffa nya människor, se nya platser, dricka nya öl. Framför allt kanske det där med nya öl då.
Isak: Det bästa med att spela live är feedbacken man får av publiken när den är positiv, och att det bara är sjukt skoj att få visa vad man håller på med istället för att bara spela för sig själv.
Emil: Det är jävligt tillfredställande när en spelning går riktigt bra.
Var är bäst att spela, var är sämst?
Karl: De flesta ställena är bra nu för tiden, Tyskland och Sverige är kanske bäst. Australien var riktigt bra också, men där har jag bara turnerat en gång. Jag har spelat I de flesta länderna i Europa och det enda landet som jag bara har dåliga erfarenheter ifrån är Italien.
Emil: Överlag så är det roligare att spela i större städer.
Jojo: Där det finns folk.
Isak: Bäst är att spela på någon tillställning där man vet att det kommer vara folk som uppskattar den musiken man spelar så att det blir nåt drag i publiken. Sämst är väl att spela där det inte är mer än typ 3 i publiken.
Hur är det att spela denna sortens punk i Sverige idag?
Karl: Funkar bra, vi spelar med alla möjliga andra band från ganska olika genrer. De gör sin grej, vi gör vår.
Isak: Har inte erfarenhet av att spela nån annan slags punk så vet inte hur det skiljer sig riktigt. Men det verkar uppskattat på de flesta ställen vi har spelat på, så kan väl inte säga mer än att det är skoj. Är väl dock inte alla ställen som vill boka ett sådant här band, så man får ju söka sig till arrangemang där musiken passar in.
Emil: Ingen skillnad mot att spela käng eller thrash tycker jag.
Hur skulle du beskriva er musik med tre ord??
Jojo: Snabb, Arg, Sväng
Emil: Berusning, Rock'n'roll, Högljutt
Karl: Punk, Hardcore, Rock'n'roll
Isak: Snabb, Ösig, Arg
Vad betyder punk för er, är det bara ett ord eller är det en livsstil? Vilken grupp/låt var det som fick in er i denna underbara värld?
Karl: Den första skivan jag köpte för egna pengar var Sex Pistols "God Save The Queen" 7". Den singeln representerar också vad punk betyder för mig. Punk var ju den nyaste grejen när jag var liten, sedan blev det mitt liv.
Jojo: För mig betyder punk att jag gör det jag vill och den vägen försöker jag hålla mig på. Min första punkplatta var Sex Pistols "Never Mind the Bollocks", gick 6an.
Isak: Då jag ej anser mig vara speciellt mycket av en punkare så är punk för mig mest en genre av musik bara.
Emil: För många är det en livsstil, jag ligger med både hårdrocken och punken. Första punkbandet jag lyssnade på var troligtvis Ramones, men kommer inte ihåg vilken låt som började det hela.
Hur ser ni på nedladdning, mp3 och liknande? Eller har Spotify fått död på sådant? Er skiva finns inte på Spotify? Medvetet val eller?
Isak: Bryr mig inte alls om folk laddar ner.
Jojo: Jag är sämst på data så jag laddar inte ner. Spotify lyssnar jag på varje dag och tanken är väl att även Acid ska göra entre där.
Karl: Ja, vi ska ordna det. Sen. Vi lägger ju upp ganska många videos i alla fall. Piratsajter som säljer eller delar MP3-filer spelar ingen roll för mig. Punk och hårdrockspubliken är ju bra för att de vill alltid köpa fysiska plattor ändå.
Hur tycker ni det är att bo i Sverige idag, politiskt? Jimmie står och delar ut flygblad till flyktingar vid turk-grekiska gränsen?
Karl: Sverige är väl fortfarande ett av de bästa länderna att bo i, även om vänstern ätit upp sig själv, sossarna styrs av centern och moderaterna styrs av SD. Åkesson blev ju tagen av turkiska snuten och deporterad. Kanske en nyttig erfarenhet för honom med tanke på att Turkiet numera driver den politik som SD vill införa i Sverige.
Jojo: Att Jimmie finns och gör det han gör i Sveriges namn är en skam. Att bo i Sverige är väldigt bekvämt.
Isak: Det är väl ok, kunde såklart varit bättre men går inte runt och är arg på alla politiker. Jimmie är ju mest som ett skämt så jag tycker det är lite underhållande att få höra vad han håller på med för galenskaper.
Emil: Det är skrämmande att hat och fascism växer och att allt mindre människor bryr sig om det då det är någon form av invänjning tyvärr.
Finns det några bra band i Sverige idag? I er hemstad?
Emil: Umeås bästa band för tillfället är nog Piss River, från andra svenska städer tycker jag tex att Axe Rash och Dahmers är riktigt bra.
Karl: Bewitched har just återförenats. G8 Boys, The Neurotics, och Dumb Fucks är också bra Umeåband. Och i sommar ska vi spela med både Crystal Caravan och Raging Steel som inte spelat på många år, det blir coolt.
Jojo: Viagra Boys är on fire! Just nu lyssnar jag väldigt mkt på svensk hiphop. ODZ, Erik Lundin, Mwana, Jirrel, Ozzy osv. I Umeå finns Piss River, Det Jordiska, Cult of Luna, Random Bastards.
Isak: Har inte så stor koll på punkband över huvud taget, men det finns andra bra band här i Umeå och i Sverige. Fool's Gambit är ett psykedeliskt band från Umeå som är bra. Annars så är väl Monolord ett bra svenskt band som spelar doom metal.
Spelar ni något utanför Sverige? Finns väl bra chans med utländskt skivbolag eller?
Emil: Inte för tillfället. men det kommer vi med största trolighet att göra.
Isak: Inte gjort det än, men hoppas på att det blir av snart.
Andra bra band från utlandet?
Karl: Acid Blood har gjort gigs med Tarantüla från USA och Career Suicide från Kanada, till exempel. Eller menar du bara random nya band jag gillar? Maid Of Ace från England.
Isak: Finns för många för att välja vilka man ska säga.
Emil: Svårt att svara på då det finns så otroligt mycket och jag är ganska dålig på att lyssna på "ny" musik men tex Fireburn och Long Knife som är hyffsat nytt.
Era texter, vad influeras ni av? Aldrig på svenska?
Jojo: Livet, högt och lågt.
Karl: Det är nog snart 40 år sedan jag skrev en låt på svenska. Mitt första punkband sjöng en del på svenska och vi lade ned 1983. Det blev väl så för att de flesta punkbolag och tidningar fanns utanför Sverige kanske. Och så tyckte man det lät coolare, haha.
Finns det något ni aldrig kommer att skriva om?
Jojo: Jonas Nimrodsson
Karl: Antagligen, men inget planerat. Nu ska jag skriva en låt om Jonas Nimrodsson.
Politik och musik, hör det alltid ihop? Vilken är er mest politiska låt?
Jojo: Nja, men det är starkt ihop.
Isak: Det tycker jag verkligen inte, när jag skriver musik själv så är det nog aldrig politiskt motiverad musik. Tycker att konst ska kunna uttrycka mer än bara politiska åsikter, sen så kan det ju bara vara musik som är nice att lyssna på, typ instrumental musik.
Emil: Inte alltid, men det kan absolut göra det, vilket är uppenbart. Skulle tro att det är "Bullseye".
Karl: Det hör väl bara ihop om man vill det. Jag skriver massa texter om politiska och religiösa ledare och allt vidrigt de gör, men jag upplever inte att vi är ett politiskt band. Vi har ingen agenda. Startar man band för att driva politik borde man kanske bli politiker istället. Det är ju betydligt större brist på bra politiker än på bra band.
Bästa politiska band/artist?
Emil: Billy Bragg, Woody Guthrie, MDC, The Clash.
Isak: Ingen aning, brukar inte ens lyssna speciellt mycket på texter. Är mer intresserand av melodier och rytmer.
Karl: Jag gillar band som The Varukers. Ingen sugar coating. "Another Cease Fire Fails".
Tror du musik kan ändra någons liv, då menar jag texter etc?
Isak: Absolut!
Jojo: Ja.
Emil: Ändra är att ta i, men nog tror jag att vissa människor kan få hjälp och stöd från texter.
Ert omslag är riktigt fräckt på er LP, vem har gjort det. Hur kom ni fram till just detta? Är det viktigt att ha ett omslag som man förstår vilken typ av musik man spelar? Obekväm känsla att stå halvnakna? Vilken är ert favoritomslag alla tider?
Isak: Det har vi gjort tillsammans med hjälp av Nicklas Viberg, som också gjort alla våra musikvideor. Det kan ju vara en fördel att ha ett omslag som säger något om vad det är för musik man spelar, så att folk som gillar den musiken kan se på omslaget om de tror att det är något de gillar, men är inget måste. Tror det viktigaste är att ha något som drar blickar till sig bara. Var inte så jobbigt att stå halvnaken.
Jojo: Var väldigt kul att få till denna mästerbild. Bra och tryggt jobb från fotograf Nicklas Viberg och blodansvarige Lisa Nylund.
Emil: Kändes väl lite märklig och stå i kortkalsongerna på ett punkhus nersmetad med teaterblod, men inte direkt obekvämt så. Favorit omslag: Motörhead "Iron Fist" eller Slayer "Reign in Blood".
Karl: Den första idén var bara att ta ett studiofoto på bandet mot en svart bakgrund, som The Doors eller Stooges första plattor. Sen pratade vi blod och så blev det till slut mer avklätt än andra band. Det var nog mycket tack vare Jojo. Det blev bra, naken hud och blod, sex och våld, liv och död. Det passar med låtarna på plattan också. Själva fotosessionen var det inga problem med. Vi behövde inte vara särskilt mycket fullare än vanligt, haha.
Är det viktigt att få ut fysiska skivor? Vinyl eller CD eller både och? Finns det någon bra skivaffär i er närhet kvar? JanML Records är det ett bra bolag?
Jojo: CD känns onödigt, Vinyl är ett måste för det är bäst. Hade gärna släppt på kassett. Vi har Sveriges äldsta skivbutik i Umeå?! Vi har gjort roliga spelningar utanför den, där vi stått och spelat på torget på somrarna. Sist hade jag festat i två dagar och kom just i tid, tror vi spelade kl. 14, jag kom direkt från festen, svepte en grogg av min vän RG och sen var det bara att åka.
Karl: Ja, Burmans Musik är till och med Skandinaviens äldsta skivbutik, och världens nordligaste säger de. Stefan som driver den gör ett grymt jobb med att ordna spelningar där. Jag är så gammal att jag tycker det är konstigt när band säger att de släppt en ny singel och så menar de att de har laddat upp en låt på Bandcamp. För mig personligen är det bara viktigt att släppa på vinyl, jag lyssnar aldrig på något annat format. Köpte en Vectors-bootleg på CD förra månaden och upptäckte att det inte går att koppla in en CD-spelare i min stereo. Jan och Maja på bolaget är bra för att de bryr sig om vinyler. Jan fotade spelningar med AC4 för tyska punktidningar, sedan startade han bolaget samtidigt som jag startade mitt förra band T-55s, så han gav ut en 12" EP med det, sedan fortsatte det bara med Acid Blood. Resultatet är alltid blivit bra.
Emil: Tror att det är viktigt då dom flesta som lyssnar på punk också är skivsamlare, plus att det är bra att kunna ha något att sälja på spelningar.
Snälla berätta något riktigt roligt som hänt under er karriär på scen eller bakom scen etc? Hur ser en gigkväll ut för er? Före och efter giget?
Jojo: Innan gig är jag rätt tillknäppt och vill chilla. Efter är jag tömd och fylld, avslutar gärna med alla öl.
Karl: Öl före, under och efter giget. För att få tiden att gå innan vi ska upp på scen brukar jag retas med Jojo när hon ska försöka chilla, haha. Eller så spelar Isak på någon orgel extremt högt och länge, medan jag och Emil pratar om tidiga Venom. Det är väl som för alla band, det är jättebråttom att man kommer en viss tid, sedan ska man bara sitta där i fyra timmar utan att göra något. Hurry up and wait.
Hur ser er publik ut? Vad drar ni för folk? Saknar ni några typer av folk? Ålder på publiken?
Jojo: Mest snubbar, men på senare tid har det börjat ploppa upp tjejer vilket jag ser som ett tecken på att vi gör nånting bra.
Karl: Ja, det är coolt att det börjar bli fler tjejer och fler yngre personer på spelningarna. Annars är det mest punkare, hårdrockare och lite skinheads. Vi får en hel del medelålders skivsamlare i urtvättad bandtshirt som står i baren med armarna i kors och nickar gillande också. Folk som brinner för rock'n'roll och går på mycket spelningar.
Isak: Är väl mest typ 40-åriga punkare. Men jag tror vi når ut till fler, så det är inte så att man känner att det saknas några typer av folk riktigt.

Snälla ranka fem favoritskivor, fem favoritkonserter och de fem viktigaste sakerna i livet?
Karl: Sex Pistols "Never Mind The Bollocks", Motörhead "Ace Of Spades", The Exploited "Troops Of Tomorrow", Chuck Berry "Golden Decade", och D.O.A. "Bloodied But Unbowed" kanske och favoritkonserter är väl bland annat spelningarna man sett med de artisterna. Eller Airbourne på Getaway Rock, eller The Damned's 10-årsjubileum i Finsbury Park 1986, eller någon Gröna Lundspelning med Ramones, Nina Hagen eller Iggy. Och Rose Tattoo med Girlschool för ett par år sedan i London var en grymt bra kväll också. Vi ordnade spelningar med band som Attentat och Stockholms Negrer på 80-talet, och det betydde ju extremt mycket för en då. De fem viktigaste sakerna i livet är att ha kul.
Jojo: Beastie Boys "Check your Head", Tool "10.000 Days", Fugees "The Score", Roxette "Look Sharp", Sex Pistols "Never Mind The Bollocks".
Favoritkonserter: Tool i Göteborg på Metaltown typ 2009, Avishai Cohen på Jazzfestivalen 2012. Anna Von Hausswolff 2019 Umeå, Mattias Alkberg 2017 Umeå, Sibbille Attar 2018 Umeå Open.
De fem viktigaste sakerna i livet är: Frihet, Musik, Kärlek, Avocado och Snus.
Emil: Fem skivor; Rigor Mortis första, Ramones "Subterranean Jungle", Hellacopters "High Visibility", Neil Young "Everybody Knows This Is Nowhere", Undertones första eller The Damned "Damned Damned Damned".
Fem spelningar, The Hives på Bråvalla, Hellacopters på Folkets Hus Umeå, Cock Sparrer på Punk and Disorderly i Berlin, Overkill och Motörhead på Getaway i Gävle.
Fem saker; Musik, Skräckfilm, Serietidningar, Ledighet och god hälsa.
Isak: Bästa skivorna:
1. Nektar "Remember the Future"
2. Genesis "Selling England by the Pound"
3. The Doors "L.A. Woman"
4. Starcastle "Starcastle"
5. Sleep "Dopesmoker"
Svårt att välja bara fem, men dessa skivor har jag lyssnat på mycket i alla fall.
Favorit konserter:
1. Opeth
2. Snarky Puppy
3. Tonbruket
Kommer inte på fler.
Fem viktigaste sakerna i livet: 1-5: musik

Är det tråkigt med intervjuer? Vad föredrar ni mail, telefon eller liveintervjuer?
Emil: Inte alls tråkigt, har däremot inte gjort jättemånga. Mailintervjuer har fördelen med att man verkligen kan tänka igenom svaren.
Karl: Nej, allt är ok, liveintervjuer när de sänder inspelningen är kanske bäst, då kan man prata om vad man vill. Telefonintervjuer för dagstidningar är enklast och snabbast, de vill alltid bara ha två kul citat och namnen på alla i bandet. Allt funkar, så länge man inte blir alltför felciterad eller översättningen är åt helvete dålig.
Jojo: Liveintervjuer då Karl håller låda.

Ifall ni kunde välja fem band från historien, döda och levande att ha en konsert ihop med ert band, vilka är drömbanden då?
Jojo: Led Zeppelin
Emil: Rigor Mortis, Ramones, Girlschool, Motörhead, MC5.
Isak: The Doors, Jimi Hendrix Experience, Emerson Lake And Palmer, Kraftwerk, och en trollkarl.
Karl: Ja, det blir väl ungefär samma band som jag nämde tidigare, Sex Pistols, Motörhead, Chuck Berry. Jag har giggat med en trollkarl en gång redan, så jag säger litet klassisk plate spinning också. Och den där ekorren som åker vattenskidor. Han är bäst!

Är musik ett bra sätt att få ut frustration och bli en snällare person? Är ni argare idag än ni var unga punkare? Eller väljer man sina strider idag på ett annat sätt?
Karl: Jag är en mycket snällare person idag än jag var på 80-talet, men det beror nog mer på min flickvän Jessica än på 40 år av råpunk.
Jojo: Musik är sjukt bra terapi för allt, men det gör väl kanske mindre skillnad om du är psykopat. Jag är nog lika arg och glad nu som förr. Tror inte stridtagandet har blivit mindre, men det kanske har blivit smidigare att gömma sig bakom en dator. Jag har inga problem att skippa datorn.
Isak: Har aldrig varit speciellt arg.
Emil: Musik funkar ypperligt att få ut frustration, har nog alltid varit ganska lugn ändå.

Vilken är den konstigaste frågan ni fått i en intervju? Svara inte den här för det gör nästan alla…
Emil: Skulle göra en intervju åt ett utländskt litet fanzine med mitt gamla band Raging Steel. Begrep inte en enda fråga för han var så dålig på engelska. Alla frågor var något i stil med "So you like to get drunk HUH?"
Karl: Ja, "Exactly what your lyric?" minns man från något land i Asien.

Vilken är frågan ni aldrig får, ställ den och besvara den?
Karl: What's his name? Joe Hawkins.

Framtidsplaner för bandet?
Karl: Vi spelar Stockholm om två veckor.
Emil: Spela mer live och spela in fler skivor.
Jojo: Spela överallt.

För dig själv?
Emil: Vill alltid hålla på med musik.
Karl: Kör väl bara på. Nu ska jag äta hamburgare. Om fem-sex veckor är det dags att sätta båten i älven.
Jojo: Äta avocado och spela överallt.

Visdomsord?
Karl: Ingenting har någonsin gått fel.
Jojo: Rör du så dör du.

Nåt att tillägga?
Karl: Tack för intervjun, rock on! Den som vill boka eller snoka kan kontakta bandet på https://www.facebook.com/acidbloodumea/ eller https://www.instagram.com/acidbloodumea/
Plattorna beställs enklast och billigast direkt från bolaget http://www.janml-records.de/