Acao Direta from Brazil took a very long time before they answered but now the answers is here. Gepeto, Galo and PANCHO have answered the interview so here it is. 14/6-2010
History?
Gepeto:-We started the band in 1987, in that age me and my friend Panda.
Soon Deni arrive to play bass, I start on guitar and divide vocals with Deni and Panda start on drums.
We doesn't know how to play but some songs arrive like Quantos Mais Morrerão ? , Pior Que Um Animal and others. Our mix of Punk, Hardcore an Metal born in that age and in 1988 we records our first demo tape "TEMOS QUE AGIR". After it, many gigs many trips, many friends many records and it still happening 23 years after this beginning we are here keep alive !!!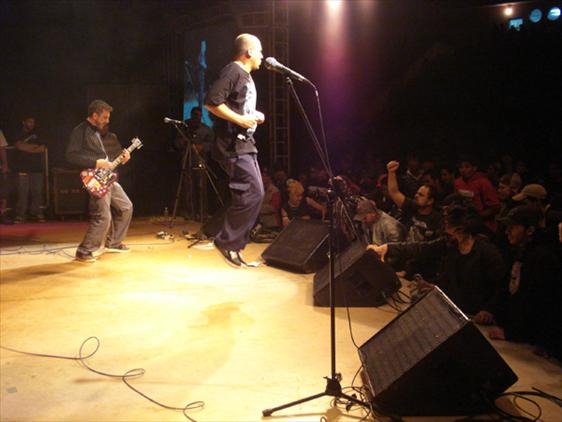 Please tell me a little about every member, age, family, interests and something bad about every one?
Galo:- Gepeto(Paulo Rogério)vocals,39,Single,works in stockroom management,and with his Label(BombardeioDistro).He´s a real rocker,dedicating his life to the underground scene, ,lover of the 80's bands,and has been working hard in the last 22 years to keep Ação Direta playing and surviving as an Independent Band.Pancho(Marcus Vinicius)guitars,38,single,works in I.T.support. Inspired to write furious songs and lyrics,big fan of alternative bands,and has a special feeling to play.
Marcão(Marco Antonio)drums,38,married,working just with his drums in Ação Direta and Dead Fish but was the owner of a rock Bar(Nagarage Bar), our get-together place for 14 years to meet Musicians and fans.Galo(Douglas)bass,35,sales representative,married,passionate about live concerts and trips,cranky sometimes and lover of the Do-it–Yourself lifestyle.Difficult to say bad things about them because we have been like brothers for a long time...
I compare you with groups like Ratos de Porao.Is there any other bands you?re being compared with?
Gepeto:-Well, since the beginning of the band we try to have our own style. We try to create our songs and lyric , mix with other styles without make copies. I think that people recognize it. We try to be original all the time and the most demonstration is our 6 studio records that are so different but in all you can say " Hey, this is AÇÃO DIRETA" you know ? But people use to say that our music sounds like RATOS DE PORÃO , SEPULTURA , AGNOSTIC FRONT and it is great because we love all of them !!!
Do you care about reviews?
Gepeto:-Yeah !!! For sure !!! But we appreciate when the people that make the reviews really know about what they saying you know. When the people know about the style, the message, the music style. Talk something good or bad, but know about what are saying !!!
Which is the most peculiar review you ever have got?
Gepeto:-In general, our reviews is positive. People like our albums and try to say that it runs in this or that style, and try to determinate it, but we always try to make our albums with free and open minds and according with our inspiration at that moment. Never follow tendencies.
How would you describe your music in three words?
Poncho:-AGGRESSIVE, HARMONIOUS, TRANSCENDENTAL
How is it to live in your homecountry?
Pancho:-TO LIVE IN BRASIL IS AS FAST, HEAVY AND AGGRESSIVE AS OUR MUSIC IS. BRASIL IS A VERY STRANGE AND PARTICULAR LAND PLACED IN WORLD, LIVE HERE IS SO HARD AS SURVIVING IN HELL. MORE THAN HALF OF THE POPULATION IS STILL ANALPHABETS AND ALLIED TO THAT THERE ARE STILL PEOPLE STARVING, HOMELESS, NO HEALTH CARE… SO LIFE HERE SOMETIMES SEEMS LIKE A PARADOX… IF YOU HAVE A JOB IT´S OK ´CAUSE YOU CAN PAY FOR YOUR SURVIVAL, IN OTHER HAND THERE ARE MILLIONS OF UNEMPLOYED SEARCHING FOR A PLACE IN THE SUN BUT WITH NO PERSPECTIVE FOR BETTER DAYS BECAUSE THERE AIN´T JOB FOR EVERYBODY. AND IF YOU LOOK CLOSELY YOU´LL SEE THAT THERE ARE INEXHAUSTIBLE NATURAL RESOURCES WHICH COULD BE USED INSIDE AND MAKE LIFE EASIER FOR ALL… GOVERNMENT, POPULATION… BUT… UNFORTUNATELY …IT DOES NOT HAPPEN.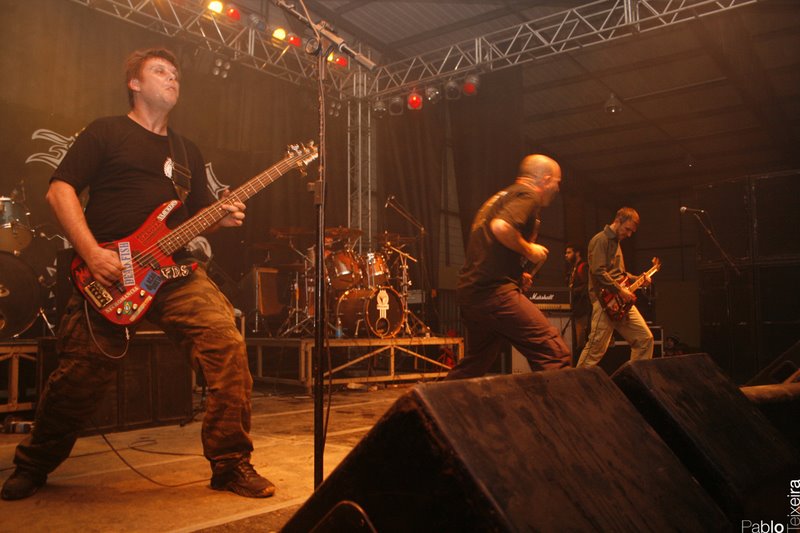 What about the government? Much unfair things in your country?
Pancho:-WE´RE GOING THROUGH HARD TIMES SINCE XVI CENTURY. PEOPLE HERE INHERITED THE BAD MANNERS OF PORTUGAL COLONIAL STYLE. LAZINESS, CONFORMATION, STATE OF 'STUPID EVERLASTING HAPPINESS' ARE THE COMPONENTS FOR MOST OF BRAZILIAN PEOPLE´S BEHAVIOUR… SO THE OPPORTUNIST GOVERNMENT FEEDS ON IT. CORRUPTION, HYPOCRISY, DEMAGOGY, INJUSTICE…ARE THE HIGHER POINTS ON BRASILIAN POLITICAN AND POLITICS… BUT I BELIEVE THAT …THIS KIND OF THINGS DO NOT HAPPEN BY CHANCE… I BELIEVE THAT PEOPLE HAVE THE KIND OF GOVERNMENT THEY DESERVE, I THINK THAT IN OUR CASE WE ARE HOSTAGES OF OUR OWN EDUCATIONAL FAILURES, OF OUR MISEDUCATION, OF OUR OWN LIMITS… IF YOU´RE NARROW MINDED EVERYONE WILL ABUSE YOU.
Do you think that music and politics goes hand in hand?
-Pancho:-SURE, I BELIEVE SO!!! I UNDERSATND THAT ART IS THE ABILITY TO OBSERVE, TO WATCH, TO SEE, TO ANALYZE CRITICALLY. I BELIEVE THAT MUSIC AND POLITICS CAN NOT BE SEPARATED. IT´S EXPRESSION, IT´S LIFE STYLE, IT´S BEHAVIOUR, IT´S OPINION, IT´S EDUCATION, IT´S TEACHING AND LEARNING… THROUGHT MUSIC AND ARTS YOU CAN RECOGNIZE A NATION.
Best political band?
Pancho:-RAGE AGAINST THE MACHINE

Is there any good bands in your homecountry now?
Pancho:-SEPULTURA, RATOS DE PORÃO, ARE YOU GOD, HUTT, HATEMOSFEAR
What do you know about Sweden?
Gepeto:-Here in Brazil we don't have much information about Sweden or other Scandinavian countries . We know more about your underground music and things like this.
Have you heard any good swedish bands?
Gepeto:-Yeahhhhhhhh, we listen to Swedish bands since the 80´s !!! We love bands like ANTI CIMEX , FEAR OF WAR , CRUDE SS , WOLFPACK & WOLFBRIGADE , ASTA KASK , EMTOMBED , ANTI HUND MINA , POBEL MOBEL , DRILLER KILLER and others.
What does punk mean to you, is it only a word or is it a lifestyle?
Gepeto:-For me since I started to stay in contact with it , it´s ever man like a life style. A kind of "place" when a find a way to scream out the words and shout to another people about my feelings and my point of views. A "place " that I can talk about justice, liberty and equal rights. And I can stay in touch with people that have similar points of view. The punk/hc movement brings me a lot of information , conscious and identity.
Galo:- It's just a word,a kind of music; for us the only important thing is the Do-it-Yorself lifestyle,the concept that you don't need be a great musician to play, you just need to have feelings and good ideas.We prefer to call it independent or alternative lifestyle.
Please rank your five favourite records, five favourite concerts and five most important things in life?
-Pancho:-IN NO PARTICULAR ORDER AND…SURE…THERE ARE MANY MORE THAN 5… HEHE…
5 FAVOURITE RECORDS:
BLOOD, SUGAR, SEX, MAGIC (RED HOT CHILIPEPPERS), ROOTS (SEPULTURA), IMPURITY (NEW MODEL ARMY), SABBATH BLOODY SABBATH (BLACK SABBATH), DA LAMA AO CAOS (CHICO SCIENCE & NAÇÃO ZUMBI)
5 FAVOURITE CONCERTS:
BAD BRAINS (SP, 2008), NEW MODEL ARMY (SP, 2007), NINE INCH NAILS (SP, 2005), SUICIDAL TENDENCIES (SP, 2008), DEFTONES (SP, 2007)
5 FIVE MOST IMPORT THINGS IN LIFE:
HEALTH, FRREDOM, PEACE, LOVE, CONSCIOUS

<![if !supportLineBreakNewLine]>
<![endif]>

<![if !supportLineBreakNewLine]>
<![endif]>

<![if !supportLineBreakNewLine]>
<![endif]>
First, last and most expensive record ever bought?
-Galo:- First album, Kiss(Creatures of the Night),Last album, New Model Army(Today is a good Day) and the most expensive one, Slayer(Japanese with a bonus track -God hates us all)
Most embarrassing record in your collection?
Galo:- Titãs(Domingo)old Brazilian rock band from the 80's, turned into a pop band in this record(it sucks)
Which type of people comes to your concerts?
-Galo:- We always carry the flag of Liberty,we're a libertarian band to compose,write and play with all kinds of bands.There are Punks,Metal fans,H.C fans,skatepunks...We always joke , saying that there's A.D, the band, and A.D., the pack (normally a group of friends, fans and some drunks passionate about fast music who follow us.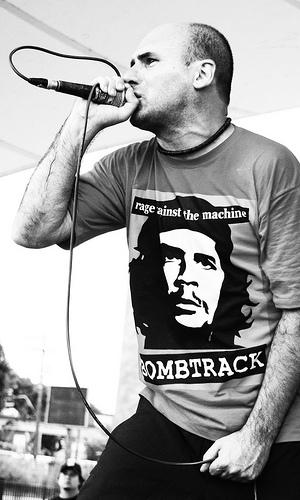 Your music is very fast?
Galo:- That's the idea,we try to make people feel exhausted, out of breath, like in a 100-meter sprinter race , but not tired or boring.
Many interviews, is it boring?
Galo:- We really like the opportunity to show our point of view,opinions and convictions.If there are people asking, it means that there are people interested in more than music,it's cool...we like to read interviews from other bands too.
Which is the question you never get, please ask it and answer it?
Gepeto:-Left the personal lives in peace !!! Don!t take care about it !!! RESPECT !!!
Is it any chance to see you in Sweden soon?
Gepeto:-Well, we'll love it. But we need to put out our new record first and then see what will happens. For sure we wanna make another European tour as soon as we can and this time we'll include Sweden , Finland and Norway !!! Can you offer us some support ????
Where is best to play?
Galo:- .The best place is where there are lovers of fast music,fans and support.Our lives are playing,traveling and making new friends everywhere.Of course there are special places like El paso(Turim-Italy), Lintfabriek(Belgium), Zoro(Leipzig-Germany),MKC(Koper-Slovenia),Espaço Niemayer(Goiania Noise Fest)and River Rock Fest (Indaial-SC.Brasil).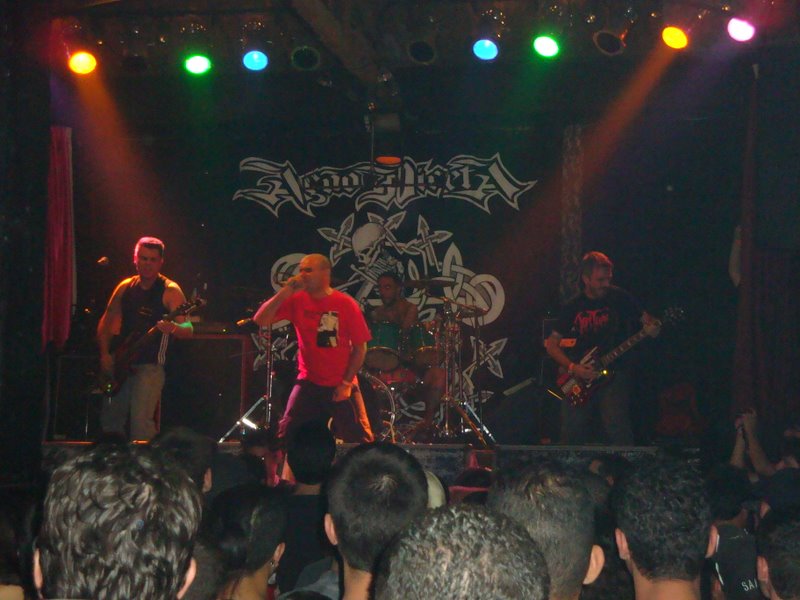 How is a good gig with you? And which is the biggest band which you have played with as a support act? And which is the biggest band which have been support act to you?
Gepeto:-Well, we play together with great bands like DISCHARGE , NAPALM DEATH , AGNOSTIC FRONT , RIISTETYT , RATOS DE PORÃO , VARUKERS , DEW SENTED , HARDONS , MDC and many other, bands that we like and respect.
The name where does it comes from?(yeah it´s a boring question but it´s interesting)? ?
Gepeto:-The name meaning the same of DIRECT ACTION. And it is our life style here. We are like a family, the AÇÃO DIRETAs family. We are together all the year because we are friends, we have respect between us and its our life style. Direct Actionlife style. This name running side by side with our ideas and our message in music about justice, freedom, respect, and reflections about human been and the world that we live.
What shall we do about all rascists?
Pancho:-GIVE ´EM ONE ONLY CHANCE TO BE BORN AGAIN AND BE FREE FROM THEIR DISEASE
Which are the most important band in the punkhistory
Galo:-The most important band to me is Ratos de Porão(to my personal history)but to punk history The Ramones.
The most important punksong?
Gepeto:-Include RAMONES songs like I Wanna Live and We Want The Airwaves. RATOS DE PORÃO Crucificados Pelo Sistema, Crianças Sem Futuro , Aids, Pop , Repressão. THE CLASH song London calling , AGNOSTIC FRONT Victim In Pain, United & Strong , VARUKERS , Another Religion, Another War , DISCHARGE – never Again , GBH I'm The Hunted, Sick Boy , City Baby Attacked By Rats and City Baby Revenge, AÇÃO DIRETA Deuses ,Dogmas e a Violência, Pior Que Um Animal , and many many more !!!
Futureplans for the band?
Pancho:-RECORD A NEW ALBUM, PLAY AS MUCH AS WE CAN, TOUR EUROPE AGAIN (AND THIS TIME INCLUDE SWEDEN) AND SOUTH AMERICA.
For yourself?
Pancho:-FINISH MY GRADUATION ON HISTORY IN UNIVERSITY, GET A BETTER JOB, BUY MY HOUSE, PLAY A LOT AND FINISH THE WRITINGS OF OUR NEW ALBUM, GET MARRIED… GO TO THE BEACH EVERY HOLIDAY…WIN THE LOTTERY… HEHE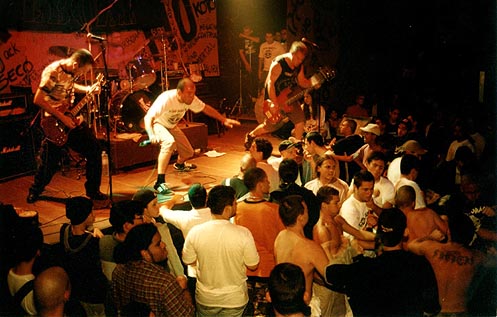 Wisdomword?
Pancho:-"And if home is where the heart is We'll just keep going until we disappear" J. Sullivan
<![if !supportLineBreakNewLine]>
<![endif]>
Something to add?
Gepeto:-Many many thanks for this interview and support. A big hello for all Swedish hardcore's, punks, headbangers skate rocks,etc
We hope to meet you soon and stay in touch !!!