Abuse is an American punkband. They sent me their answers but it was in a form that couldn´t read. Now they have tried to do that again and we´ll give it a new try. June 2006.
"We answered these question an 8 hour van ride home from Los Angeles while taking shots of Vodka every time we saw a sign for home, so we may have been a little loaded.
History?
We formed in Vacaville California in July 2002 with Nikki on vocals,
Tyson- guitar, Ben- bass, Kyle on drums and Mary as 2nd guitar. Marty took over bass for Ben because he flaked on practice all the time. Kyle ended up quitting the band right after we were offered a record with Charged, so Our friend Gabe filled in for him. After a few months, Gabe had to go to graduated school so he gave us Derek, who turned out to be a perfect fit.
Please tell me a little about every member, age, family, work,interests, and something bad about every one?
- Tyson- 30
Family- "no thanks"
Work- sometimes 40 hrs a week
Interests- getting hammered, making fun of retards
Bad- total asshole
Nikki- 24
Family- 3 brothers and Tyson
Work- completely sucks
Interests- Beer, Spanish, friends and drinking beer with friends
Derek- 19
Family- lives with his
Work- getting bossed around at newspaper factoryInterests- definitely not drugs of all kinds, and being an all around
Marty- 24
" I am the best that will ever be"
My review of your record is like this LOVE EQUALS DEATH-NIGHTMERICA(CD-ABUSE-DIGGING YOUR OWN GRAVE(CD-CHARGED RECORDS CHARGED 027)It´s really good to here this group because you dream yourself
back to the first time you heard Vice Squad, Action Pact and those groups because it´s the same energy as then even if Abuse is maybe a little bit tougher maybe. The music is played in a fast tempo and Nikki on vocals does everything to sound really angry. Not so much to say about this
because this type of punk talks their own language of theirselves and you should almost listen to this to get an own opinion about it. But jow it is and how old I am I am always addicted to punkrock and it became the biggest part in my musicheart and really obvious is that Abuse is fitting in there also.(SEVEN)27/2-06
What about it?
- M.-Thanks for the review. I don't always agree with the bands that we're compared to but I can't do much about it . Nothing against Vice Squad but I just don't hear it.
T.- Well, it's a really good review but we hate being compared to Vice Squad. That happens all the time. We sound nothing like them. I always thought that we sounded like Blitz with a girl singer. I agreed with what you said about having to listen to our cd to make your own opinion because it's hard to describe. Thanks, glad you like the record.
Is there any other bands you´re being compared with?
- N.-Vice Squad and Deadline because most of the time people just see a girl singer and don't listen to our music. When we were on tour in Texas, someone compared us to Last Resort, which was cool.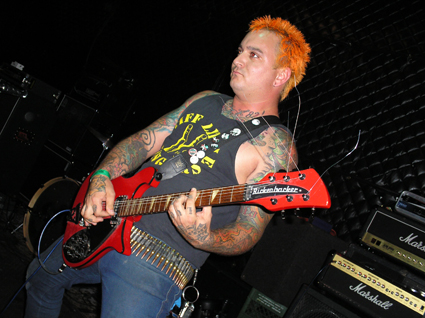 Do you care about reviews?
-N.-Sort of, but we shouldn't at all
T.- I hate when someone who already doesn't like streetpunk reviews us and then says that we're generic. We do appreciate honest reviews, good or bad. Most reviewers are music nazis anyway and are generally all cunts.
M.- I don't take them seriously. I'd rather see kids dance around and have fun than please some snobby critic.
D.- nope
Digging your own grave, where did the name come from?
- N.-It's from the song that Marty wrote about going to a shitty job every day and knowing that everyday brings you closer to having one foot in the grave.
What´s the best and the worst with being a girl in the front in a punkband?
- N.-The worst is that people automatically assume that our band sounds weak when they see me before we play, and creepy guys in general.. The best is that I learned how to pee in a bottle on tour.
Is USA the land of milk and honey?
- D.-No, we are from California . It's different here. The streets are paved with gold. Ha ha ha.
What about Bush?
- M.-He's a piece of shit. I didn't vote for him.
N.- Ditto.
T.- He's an Idiot!, next question.
Do you think that music and politics goes hand in hand?
- D.- Not always, not really.
T.- Music and politics don't but punk and politics do, unless you don't care about what happens in the world.
Best political band?
- M - Born Against, Dead Kennedys, T - The Resarts
Is there any good bands in your homecountry now?
- Yeah, a lot! Peligro Social, Complete Control, The Bodies, ArnoCorps, Whiskey Rebels, Madhouse Disciples, Monster Squad.
What do you know about Sweden?
- N - Not much at all.
Have you heard any good swedish bands?
- T- Asta Kask, Abba, but that's it.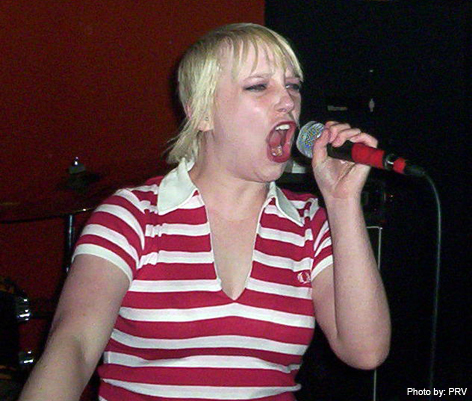 What does punk mean to you, is it only a word or is it a lifestyle?
-T- The people who really believe in it live it everyday. The kids that just play dress up on the weekends to piss off there parents, they don't have any ideas they are just followers. They eventually get board and disappear from the scene. None of my friends I grew up with are still around.
Please rank your five favourite records, five favourite concerts and five
most important things in life?
-Record: N.- Shock troops by Cock Sparrer, Real McCoy by On File ,
T.-Everything by Filth, Slumworld by the Restarts, D.- ?, M.- Plastic Surgery Disasters by DK
Concert: N.- Cock Sparrer in SF, T.- Meatmen at Gilman, D.- ?, M.-
the Monster Squad show with Cropknox and the absinth.
Favorite thing: N.- a tie between my brothers and beer, T.- getting loaded, D.- Getting loaded, M.- Swiss Wrestling.
First, last and most expensive record ever bought?
- First: N.- Operation Ivy, T.- Twisted Sister , D.- NY Dolls, M.- Naked Agression
Last: N.- Peligro Social 7", T.- Court Marshall, D.- Nice Boys, M.- Neonmaniacs.
Most Expensive: N.- who knows, T.- In Love with the System by Forgotten Rebels for $35, D.- Stiv Bators, M.- Blitz for $40
Most embarrasing record in your collection?
- T.- Journey, D.- Elton John, M.- Men at work, N.- Boris the Sprinkler
Charged Records, is it a good label?
- T- It's a good label to start off with I guess. Our record wasn't promoted like it was supposed to be. We had some other problems I shouldn't get into here.
Have you done anything more than Digging your own grave? If you have how can I get it?
-- Yeah, we have a 7" but it is sold out and a 4 way split on Rodent Popsicle with Monster Squad, Whiskey Rebels and Cropknox. You can get that from our website www.abusepunx.com or www.rodentpopsicle.com
Is it many interviews? Is it boring?
- N -No, this is our 2nd. We are having a good time with this one. We are driving back from Los Angeles right now, having a good laugh over it.
Which is the question you never get, please ask it and answer it?
- M - What is you favorite sexual fetish? Ha Ha! - but we are not answering that one.
Is it any chance to see you in sweden soon?
- T- No, sorry. Unless you know anyone who wants to pay for plane tickets?
Where is the best place to play?
- N- Burnt Ramen in Richmond California. It's crazy. Its all ages and they let everyone bring there own booze and drink inside. And Triple Rock in Minnesota. They give free drinks and food.. D - I like 924 Gilman Street in Berkley.
How is a good gig with you?
- T- A good turnout , we all get fucked up but still don't play too shitty, the venue doesn't rip us off, good crowd response and no fights. That is always an ideal night.
The name where does it comes from?(yeah it´s a boring question but it's interesting)
-N - We wanted to be a noisy punk band and we were joking about how our music is ear abuse so the name The Abuse stuck. T - I thought the name came from our bad attitudes and ill tempers? N - Nope
Futureplans for the band?
T - We are bringing in a second guitar player our friend Dave. He played guitar for Cropknox. Then we will be doing a U.S. tour August 2nd to the 22nd With a band called Peligro Social. When we get back we will go in the studio and do our second Full length. That's all we have planned right now.
For yourself?
-D - college. M - Going to Switzerland for a couple months before our tour.T - keep working my shitty job then go on tour and forget about it for a while. N - Yeah me too.
Wisdomword?
- M - Fart. D - Duh. N - Fuck. T - Rum. Ha ha
Something to add?
- D - 1 + 1 = 2 yeah baby me and you! T- Derek's silly drunk on taaka. Thanks for the interview it was fun. If you want to check out some pictures and some music go to our website www.abusepunx.com Take care.