999 have been in the punkmovemenet for over 30 years now. I interviewed them for the third time now. This was in the middle of February-2008.
How come that you still going on and do your music?
-Because we enjoy making music together. People want to see the band and buy our music. Promoters want to put the band on in almost every country in the world and labels like 'Overground' who have recently put out our new album 'Death In Soho' want to release albums and singles by 999.
What drives you to do that?
-An inner need and it's great to get a live audience going.
What does your families and children say when you still is doing the same old punkrock?
-They say great keep going long live the music. It's amazing that it's still going after 30 years and that people all over the world still enjoy it and people still want to see you.
Was it something you thought back in time , that you after 30 years still would play punkrock?
-At the beginning we knew we were part of something making history but we didn't think it would last this long.
What´s the difference between playing nowadays if you compare with when you started?
-It's become more established now some of the early shows we did people had never seen a punk rock/ new wave band before.
What took you into punk in the beginning, why did you start to play punkrock?
-Personally I was playing guitar and recording in Kilburn and the High Roads they split up just as the punk thing was happening. Ian Dury said to me at the time that I would be mad to give up making music but I had already thought that then came 999.
Punkrock have many times been very political but not so often your lyrics. Which is your most political lyric?
-Our most political lyrics are probably on the new album Death in Soho but we just write about the things that affect us personally. Sometimes it upsets the media. The TV & radio stations banned our single Homicide supposedly because of the lyrics but I think they were nervous about punk bands upsetting the establishment at that time.
Music and politics does it goes hand in hand?
-In some cases yes to great effect.
Best political artist/band?
-Country Joe and the Fish they talked about the Vietnam War in their songs and I thought this was great and a lot of people in the audience thought the same thing. I heard this on a live recording of Woodstock in the sixties man - it was the first time I realised that music could be political.
Is there any good bands in England right now?
-Some, but there's not enough live music venues at a lower level so that bands can develop by playing live like in the early punk days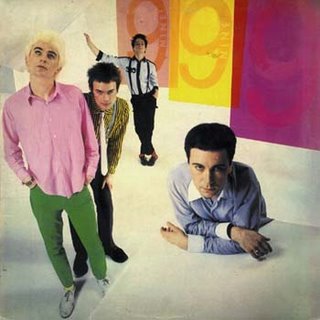 What do you know about Sweden? I saw you here 1990….have you been here after that?
-Yes a few times we played Stockholm in 2006 and we are hopefully coming back to play 2 shows this April 2008 one in Gothenburg on Saturday 19th April and the other in Uddevalla on Sunday 20th April I don't know the venues yet. We will be playing songs from our new album Death in Soho as well as some favourites from the past.
Have you heard any good Swedish bands?
-Yes, The Bones who we've played with a few times. In fact I'm wearing a Bones T shirt at the moment which they gave me when we played a concert together in Berlin.
Is it more difficult to write songs nowadays or is it more easy that it was in the beginning of your career?
-I always find it hard to write but then it gets easy when I get the first one or two songs. It was the same for us in the early days.
What does punk mean to you, is it only a word or is it a,lifestyle?
-A lifestyle
Is it better to be on a small label than on a bigger label that you were in the beginning of your career?
-It was great to be on a small label at the start of our career especially as it was our own label, Labritain Records. Recently it's only been possible to put out totally new stuff on a small label. The old stuff is still out on the big labels like EMI as well. But the big labels today are not interested in putting out new albums by 999 "that's the truth of it".
The only thing with Overground is that they mostly release old records , was you afraid of the fact that people maybe believe that this is old stuff which is re-released?
-No because we play the new songs on stage anyway and our audience is aware that Death In Soho is a totally new release. John Esplen at Overground is doing a great job promoting the album.
The audience today on your concerts, is it only old farts or is it any young one in the audience too? How does the typical 999-fan look like?
-I was amazed to see kids as young as 11 years old at our concerts in the U.S.A. they could come to the shows because there was no booze on sale. Our audience is all ages and they are usually bloody great. They come in all shapes, sizes and ages and are united by love of the music.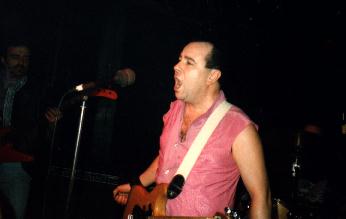 999-Valvet 1990
Please rank your five favouriterecords, five favouriteconcerts and five most important things in life?
-5 favourite concerts:- 999 Lyceum London, Sex Pistols, Notre Dame Hall, Who, (Quadrophenia tour) Manchester Free Trade Hall when I supported them as a member of Kilburn and the High Roads - a great honour. Iggy Pop, Bizzarre Festival, Sweden
5 favourite records…My five favorite punk records are:-Blank Generation, Richard Hell& the Voidoids. Pirate Love, The Heartbreakers. Personality Crisis, New York Dolls. I Wanna Be Your Dog, Iggy Pop and Little Red Riding Hood, Sam The Sham & The Pharaohs.
5 most important things in life: Music, having fun, 999, health, and people I love.
First, last and most expensive record ever bought?
-Walk Don't Run - artist unknown, Blank Generation - Richard Hell and the Voidoids. None of the records I have bought have been that much more expensive that the others.
Most embarrassing record in your collection?
-My Boomerang Won't Come Back by Charlie Drake.
Which is your most frequent asked song that the audience wants you to play?
-Homicide
Which is your own personal favouritesong and album with 999?
-Gimme The World from Death In Soho and is now a single out on Dr. Strange records in the U.S.A. Favorite 999 album at the moment is Death In Soho.
What do you think of living in England nowadays? Politically?
-It's getting worse unfortunately for us.
Are people afraid of the new terroristattacks?
-Yes of course. I am bloody terrified of terrorist attacks especially as i live in London. Check out the songs on Death In Soho - Bomb You, and Rock N Roll World which deal with this subject!
Have the world being a unsafer place to live in if you compare when you were younger?
-Yes I am sorry to say it has. Why can't we live together in peace and get on with the important things like looking after one another and saving the planet.
Futureplans with the music?
-To continue with the Death In Soho tour to reach as many people and countries as is possible in 2008.
Futureplans for yourself?
-More work with 999 and solo work.
Wisdomword?
-In the words of Spinal Tap from the movie - "Have a good time - all the time".
Something to add?
-Please come and see 999 when we play Sweden in April