Pila from 23 to answered a bunch of questions from me in July 2023. The band was one of the first people I interviewed many years ago and here we go again. Sorry for missing some research regarding IFK Norrköping songs and English songs.
23Till consists:
Abra (Janne Abrahamsson) – vocals, guitar
Pila (Micke Pihlblad) – bass, vocals
Georga (George Gustafsson) – guitar, organ, vocals
Pelle (Pelle Karlsson) – drums
All photos taken by FotograFia
It's been a long time since I've interviewed you... It was well the early 90s. A lot has happened since then. You quit in 1996 and did a reunion in 2006... Have you played together since then?
-The correct history is that we started in 1985 as a trio but we had already played as 23Till on four around 1981. Patrik Andersson was also in the band and he then played in bands such as The Great Gypsy Rockers and Los Concombres, which were well-known bands on the local scene in Norrköping. 1985-1996 we played as the 23Till who released records. In 2006 we did a one off reunion night. There were no plans for anything more then. In 2013, Kanalrock in Norway suddenly called and asked if we wanted to play at their festival. It felt like a fun thing to do so it got us going again. Felt a bit sad to only do one gig so then we booked gigs at Debaser / Slussen and at home in Norrköping also then we did a few gigs a year before it gradually increased again. So since 2013 until now, we have existed "for real".
You released an LP in 2019 and it was a welcome record... What was the feeling like when it was released?
-The fact that we made the Shake it Baby album in 2019 was a lot about us starting to play again. After a while, it started to feel pretty boring to just go around and play our old songs so we had a chat and decided that we would try to write new again. It was a bit like opening Pandora's box, it became a creative flow that actually still lasts to some extent. It was a blast and the album was without a doubt the best we have done. Possibly in competition with Nöjd? record. It's just a shame that so few found it and a lot of the pitches and gigs that existed crashed in connection with the pandemic. Shit happens, as well :-P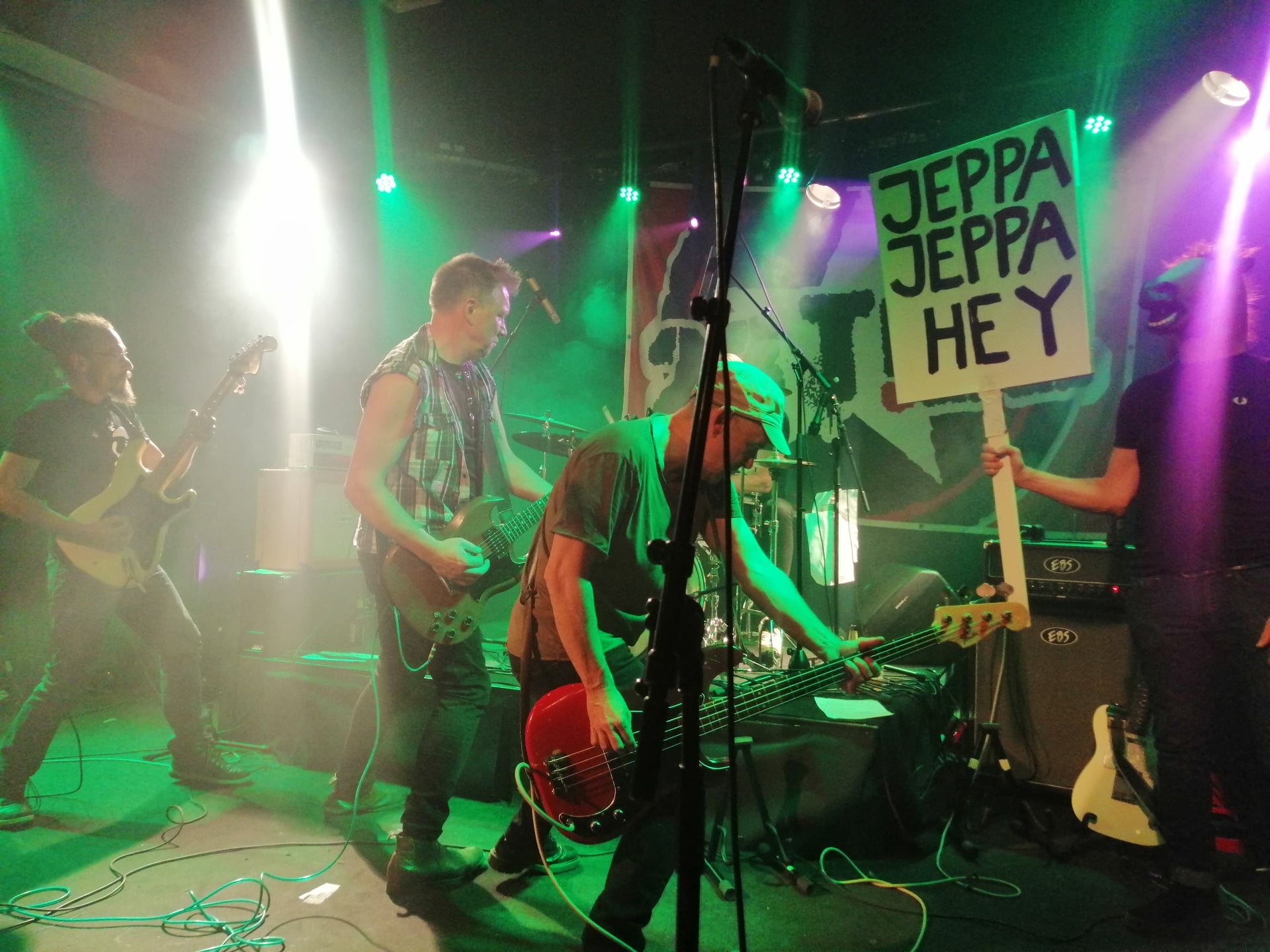 You are working on some new album release, I understand ... Tell us about it and how it sounds?
-Yes, that's right, we also released four digital single releases after Shake it Baby in 2021 so it's time somehow. Hard to describe when you're so into it. Primarily, it is intended as only digital song releases. At least at first. We have some ideas about physical release that talk with Beat Butchers about and see where it lands. We think it sounds incredibly good, of course, but we are hardly impartial, ha ha... The first release will actually be a cover. A little bonus on an old schlager Det börjar verka kärlek banne mig. A tribute to Claes-Göran Hederström who died in 2022. He helped us a bit with some administrative stuff and we have always been weak for old schlagers. We can promise you a really good song and speed there.
You have always been in punk circles but never been a band that is raw punk or so... What would you call yourselves music?
-It has always been our big dilemma and still is. We may not be perceived as "punk enough" for the punks or possible organizers and perhaps too punk connected for others. We've always thrown ourselves between styles of music and tried to make something of our own out of it. Whether it is considered punk or not is actually completely uninteresting to us. When the suit gets too tight, it just feels uncomfortable.
What does the word punk mean to you, is it just a word or what does punk mean to you?
-Punk is undoubtedly our roots, at least mine and Abra's. That's why we started playing without hesitation and definitely why we sound the way we do. If it means something, it's about wanting to do something, the best way is to try to do it yourself instead of waiting for someone else. Not caring about what is punk or not is also a good definition of punk, I think.
Do you mostly play with punk bands when you are out playing?
-That's often the case. A bit because of the dilemma I described earlier in the interview. We have nothing against it, although sometimes organizers should perhaps have a liiiiitle better control of what they book and in what context.
What's the weirdest and oddest thing you've had a concert with?
-Don't know if we've had so many really weird stuff. We accompanied Joddla with Siw on some songs when we performed Per Bertil Birgers – a woman who yodels. We thought it was genius but the audience probably just thought it was weird... we did some weird gigs in Latvia and the Soviet Union also in the 80s and 90s but it was still fun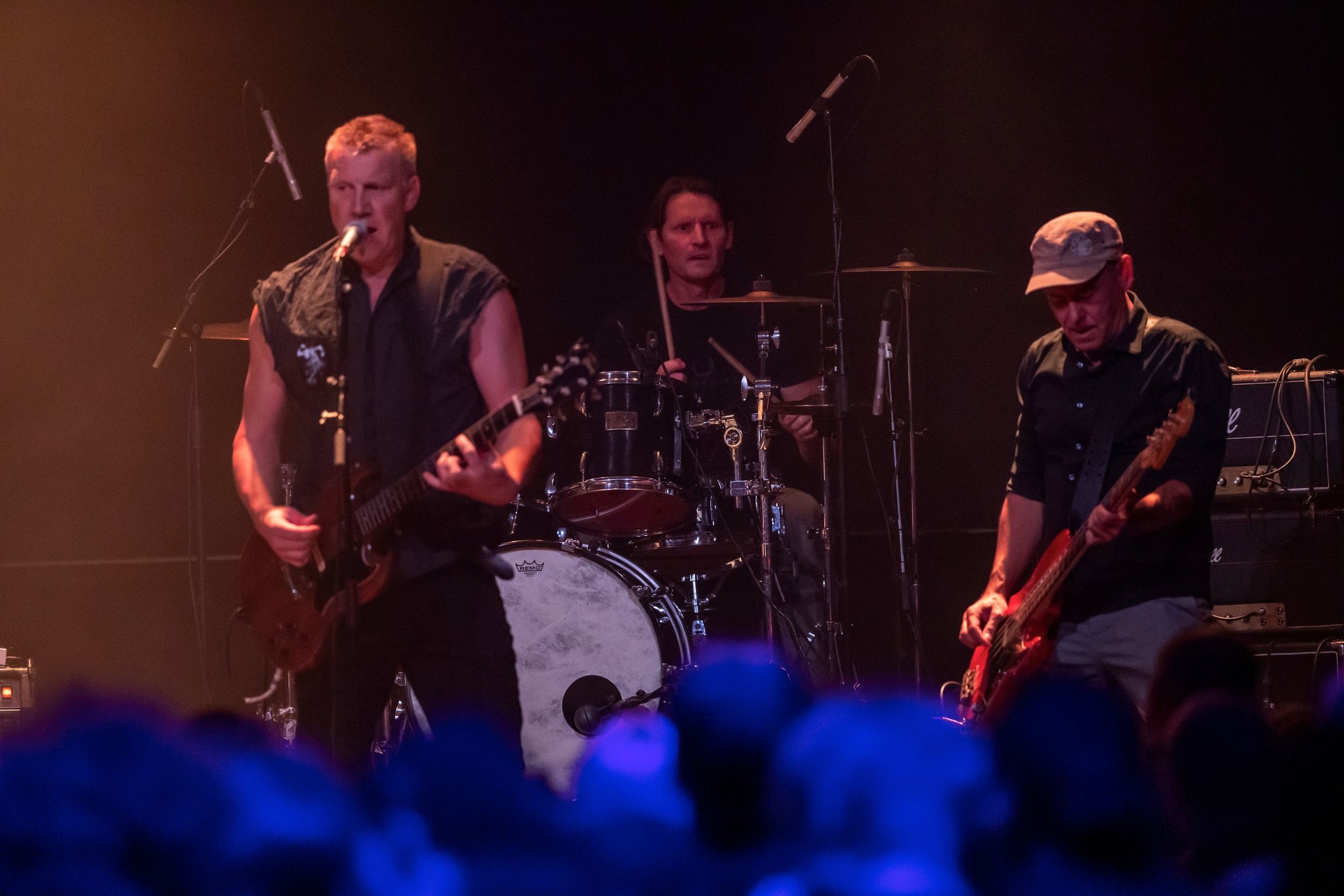 You have only made music in Swedish or how is it, besides the cover of Spicks and Specks?
-Spicks & Specks is one of three English covers we have recorded. In the beginning, we also always did Billy Bragg's To have and to have not and it is actually also recorded and included on one of Beat Butcher's anniversary records. And Eddie and the Hot Rods Do anything you want to do is included on the live album Även vackra fåglar skiter that Birdnest once released.
You have done two really good covers ... the aforementioned Spicks and Specks and Balladen om Olsson which became a hit... Any others you have done or are running on stage? That's right, an Inferno song too, right?
-Yes, Inferno's old "Ett steg för långt" we have often played and often still play. A great song that we all love in the band. One of those songs you wish we had made ourselves. In the early years, we also often threw in 1-2 covers in our sets. Now we have so many songs to choose from that it's hard to fit in covers, but sometimes I like it myself when bands perform a well-chosen cover song. There is actually a playlist on Spotify that I put together where all the songs that we have ever covered and run live at least once are included. Now a lot of other people have been in and fiddled with the list (made it public and have not had the energy to change) so after track 38 there are other people who have been in and added. Don't know why, they might want us to play them ha ha ha Link to the list: https://open.spotify.com/playlist/6eNhC6dUH7SWgCaaCrgW1N?si=7190ef5384e9480a
Tell us a little about the following songs
(a) Vitt slem Our first single. Still think it sounds very good and has a fucking attack while it has that poppy element that we somehow almost always have.
(b) Musiken Georga (George Gustafsson) who has played with us more or less always is a permanent member nowadays and he also has his own career where he releases lots of music. Check it out! When we did Shake it Baby, it felt like a nice wink to him that we also did one of the songs he released before. We 23-ified it a bit, added a chorus and suddenly it became one of the best songs on the record.
(c)Procedomania Is well one of the most well-known songs from the Nöjd? album. As I remember it, we wanted to clear it up properly and even though the verses are just a chord, there is a nice pop feel to the song as well. I wrote a text about a stalker, or at least about how it can feel to be obsessed with someone, where you can't bring yourself not to think about them even though you realize they're meaningless. Something like that.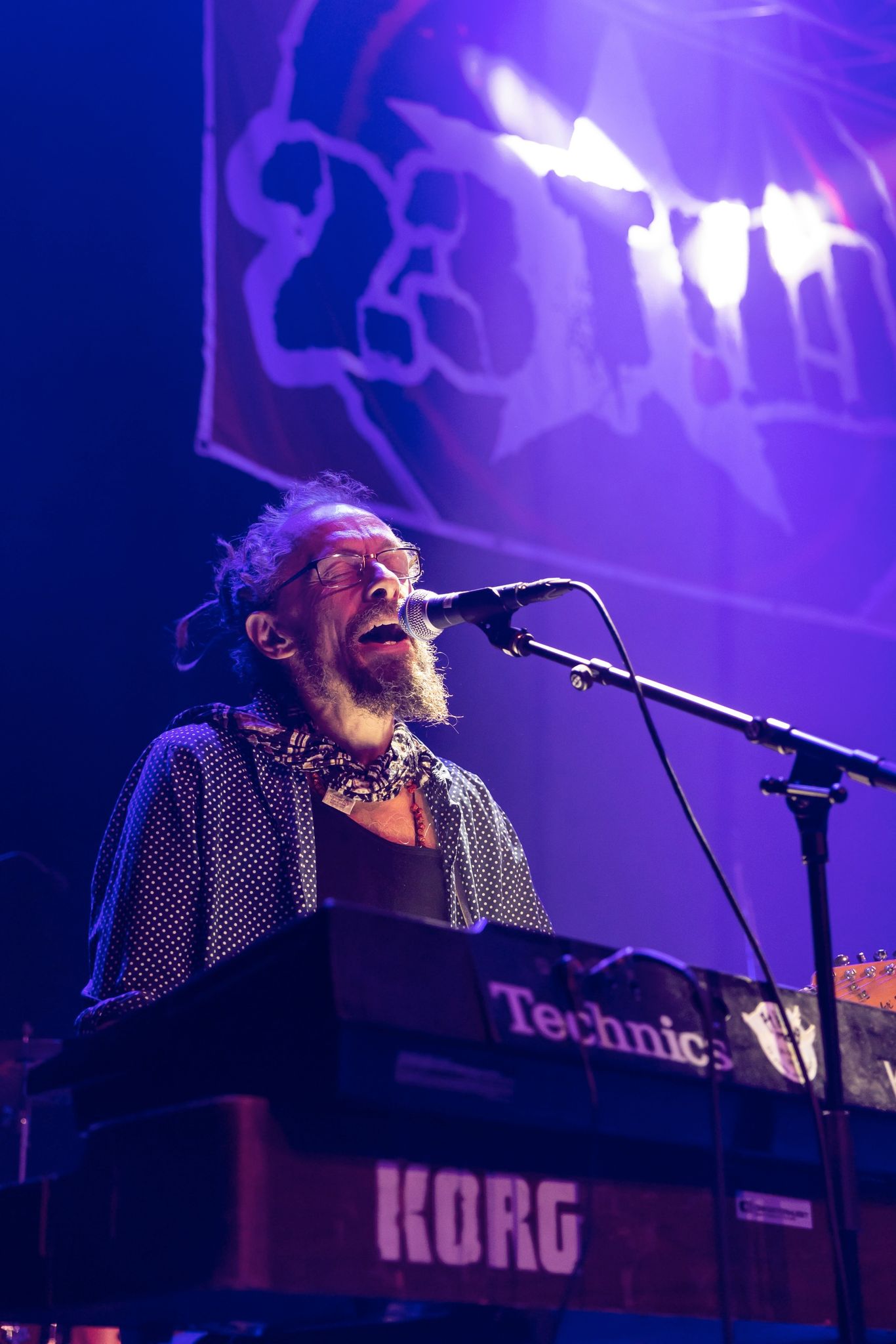 Best political band?
-It's hard to get past The Clash of course. They did it with finesse..
Singing about politics is at the heart of punk, is it important to get opinions out with your music? -I think it's important that texts have a meaning, but it doesn't necessarily have to be explicitly political. If there are pointers, I get tired after 3 seconds. It becomes completely uninteresting to me.
What is the best band that never sings about politics?
-Almost everything CAN be politics if done in a smart way, but should you name a few from the (original) punk , bands like Buzzcock's and Undertone's are two excellent examples where politics was never at the center
There are many young punk bands in Sweden right now....do you have any favorites?
-None of us have any idea about it. Have seen that there are lots of new bands that are counted in the punk genre. It's as it should be and it's fun. Should I mention some new band, I can push a little for Bandet Ellington from Norrköping but even they are not very young anymore ha ha ha. At least they're damn good. Check em out!
Do you still live in Norrköping or how is it? Have you never thought of making a tribute song to IFK Norrköping or another football team from there or do you give a about football?
-Hey there, do your research! (ha ha ha) Of course, we have already made a tribute song to IFK Norrköping! For the 2001 season, we did a temporary reunion in the studio and recorded "My Mitt Lag-Min Stad" for an album that Peking Fanz released. It can be found on youtube: https://www.youtube.com/watch?v=Kj7ElINWlmY I'm probably the big football nerd in the band and have gone to all the games since I was like five years old. I am probably, unfortunately, almost morbidly obsessed with how things are going for IFK. (Sorry for the bad research but I thought they had done it but mixed up the song with Eldkvarn's song)
I can imagine that live favorites are songs like Balladen om Olsson, Sista Supen, Vitt Slem, Am I wrong... What is your own favorite song to perform live and what is the song that the audience is crying out for?
-Balladen om Olsson and Sista supen we always have to play. That is the way it is, and there is nothing wrong with that. How sad it is to go and watch bands that are just going to play their new songs. It's a bit contemptuous somehow. It is important to find the golden mean between old and new. We like to play a lot of the newer material. "Alabama" always sits like a bang and if everything feels good, we sometimes end up with "Jag tror vi går där än" which can become a kind of good night anthem when everything is right.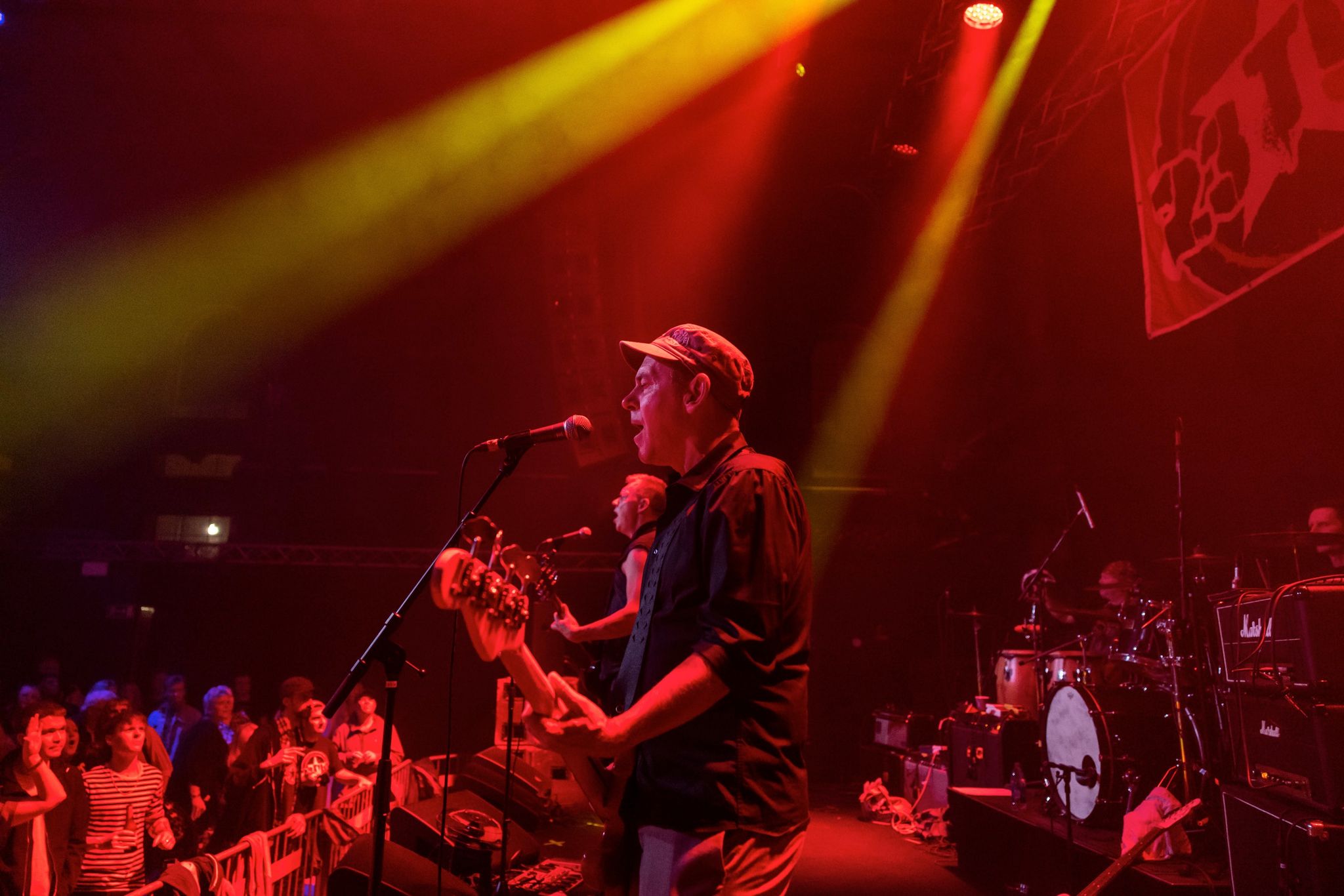 You've released pretty much everything on Beat Butchers, are you going to continue with that?
-We hope so! It is Sweden's most honest record company and we are very happy that we got to know Jojo and Mårten.
Would you consider releasing an "LP" only digitally or would it not feel like you made a record for real then?
-Well, releasing songs today is a bit complicated at the same time as it is easier than ever. I think you get to see the digital and physical worlds as two completely different things. Physical records today are sold almost exclusively in very small editions and to the really devoted. We have only released individual songs lately and then it only works digitally, I think, but an album is fun to also be able to offer in physical form. We'll see how we handle it going forward.
Do you buy a lot of records yourself? What is the favorite format? Are there any good record stores left in Norrköping?
-I buy a lot of vinyl but then almost only things old I missed. I buy very early 70's when I buy records although I also bought "new" records with Frank Turner and Jim Bob, artists I really like. In Norrköping there is Vaxkupan which really is a real record store with all that it entails. Gold place!
Tell us a little about Våga Visa vem du är, låt hjärtat vara med….?
-Strange compilation album that was released locally by some study association and we had to throw in a song because we did some study circle there. Nothing to bother about.
You got some reggae tones in Ännu ekar ropen (a really good song that I hope will be included on the new LP) and I get a Clash / SLF feeling .....or how was the idea of that song ... A tribute to those bands?
-Glad you like the reggae vibe! There's always been a fondness for that early punky reggae thing. At Shake it Baby we ventured seriously with the songs "Det kommer bli bättre" and "Skaver" and we discovered that we could actually do it really well. As you say, Clash and to some extent SLF embraced reggae and made something of it of their own. Ruth should not be forgotten in this context either. For me, they are probably the champions when it comes to punky reggae. If you get vibes from Clash and SLF from "Ännu ekar ropen", we have succeeded well. Then the song is perhaps more of a tribute to how music can actually change your life and a story about the bands that played in the Lejongropen here in Norrköping at that time. We also got lots of help from reggae kings Kalle Baah when we recorded it. We borrowed their hornsection, their drummer Janne Karlsson has substituted with us lots of times and he plays drums on the song and has also mixed / prodded the song and the singer Pelle Johansson is of course singing and toasting and has also written a snippet of the lyrics.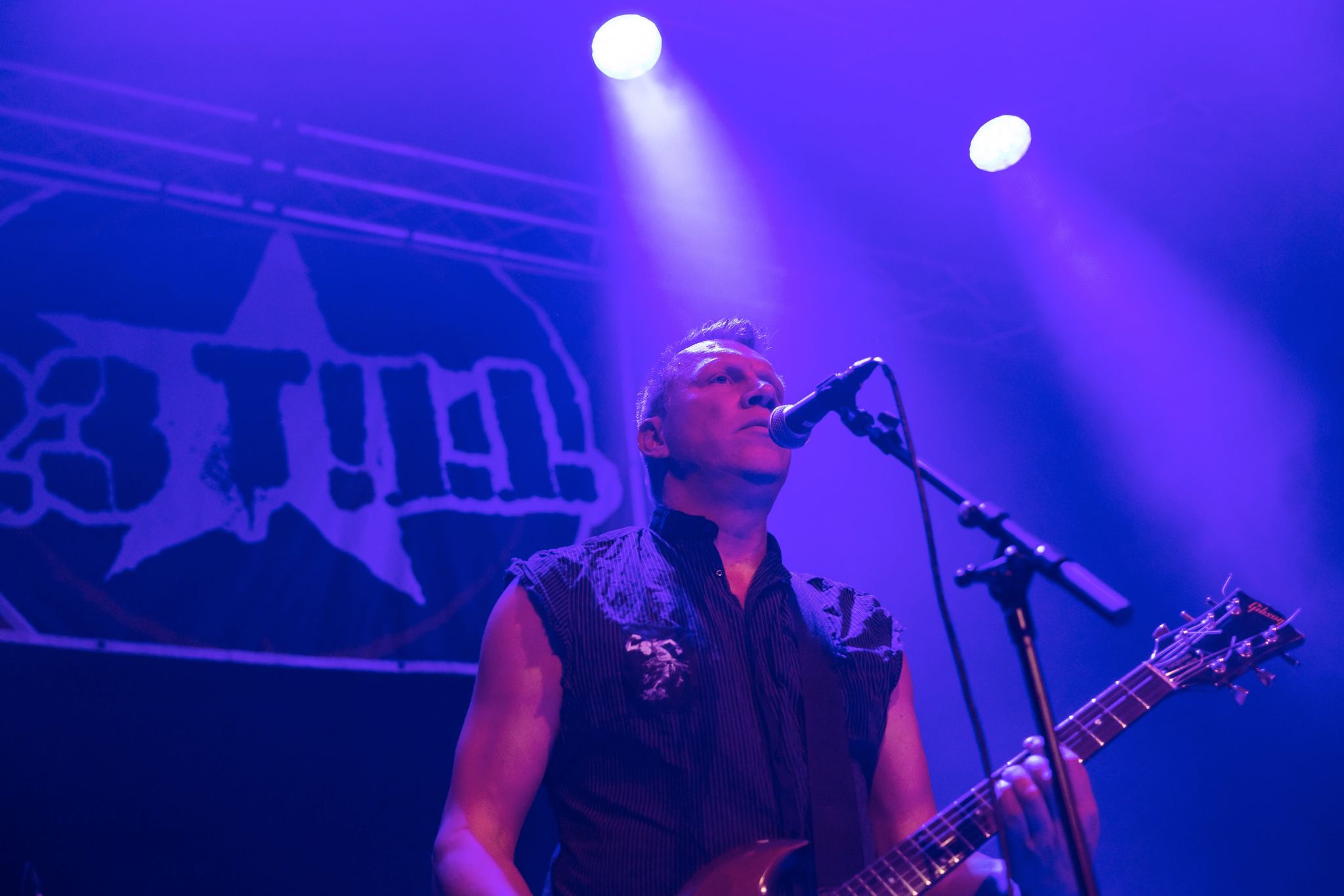 In the video Nån Annan you have with a bunch of beautiful people, how has the reaction from people been to this video? I love it...
-Fun, we love it too and we have only received positive feedback on the video. Georga works as a music teacher at a daily business so he has the privilege of working with this great bunch so that's why the video was made.
Per Bertil Birger's orkester will there be nothing more with or? Is it fun to play such old songs and is it something you throw in at a 23 Till concert?
-PBB was a blast for a period but has been closed down for several years. As for the old songs, it's actually Det börjar verkar kärlek banne mig a song that even PBB did but now we have spruced it up further.
When you play live these days, is it only old men like me who come or do you draw a younger audience as well? What kind of people are coming?
-Actually quite mixed, which is fun. We know that we can appeal to a fairly wide audience as long as they know that we exist and have heard us.
What is the best thing about playing live and what is your strength live?
-Hard to explain. A successful gig gives enormous energy back that you can live on for a long time. We know that we are a damn good live band that can work on basically any stage.
How else do you think it is political in Sweden today with Koran burning, Tidö agreement, NATO application etc etc ... has all that solidarity disappeared?
-A lot feels very hopeless and it feels like the development is going in the wrong direction on so many different fronts. What may frighten me most is that in many ways we march with open eyes towards the abyss, and here I am thinking mainly of the whole environmental issue and that so many welcome a society in which we in many ways embrace a kind of authoritarian rule. It's insanity.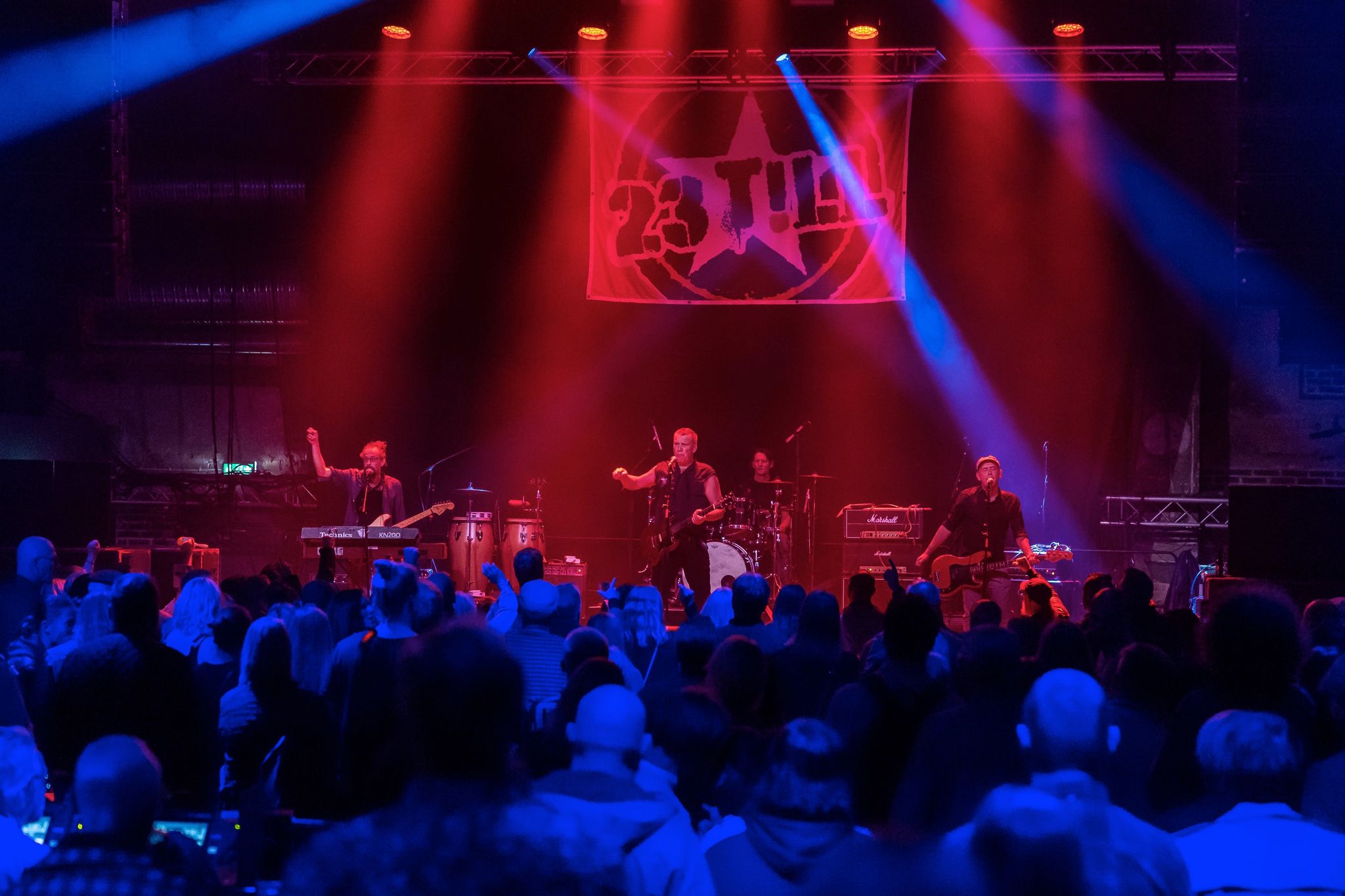 The future plans for you right now are the new album I understand... otherwise?
-As I said, get the new songs out in the appropriate order and then we want to play out much more and hope that some people want to see and book us. It's fucking tough on the live front right now. The same bands in all places.
Are any of the members of other bands playing right now?
-Yes, Abra and Georga have a cover band together where they sometimes play party hits at private parties. Then Georga has his own publishing that goes on all the time.
Words of wisdom?
-Know your rights! The future is unwritten
Anything to add?
-Nope – fun to be a part of this 😊