SJUNG FÖR FAN(2CD-BOK- MASSPRODUKTION MASS CD-147)
En fantastisk samling med låtar som en del har hörts innan och en del är nytt för mig i alla fall. Inspelade låtar från Forsa Studio och det är en hel del bra band som spelat där. En riktigt trevlig CD-Box med en bok som medföljer med en hel del intressant text. Rolig inledning med Elgitarrstämman 1981. Börjar starkt med Missbrukarna. Dagens Ungdom hade jag nästan glömt av men deras ryckiga punkiga Dagens Ungdom idag är riktigt fräck. Massgrav trodde jag var ett nytt band men denna grupp är ju en annan och det är bra. Rolf & revoltörerna var ju ett fantastiskt band i Missbrukarnas anda och det är ju inte så konstigt eftersom Rolf Revålt var med där. Beat less hörde jag på Ny våg när det begav sig och jag gillade deras lite Jam-aktiga svensksjungna new wave. Traste & Superstrarna blev ju nästan rikskända och deras poppiga punk är alltid trevlig att lyssna på och denna version av Dö Fisk är kul…och jag får lite känsla av The Passenger när jag hör den. Sonny´s Boys var en fortsättning av TSS och de gjorde tydligen ett tiotal spelningar och denna låt Militärer är en låt som kanske inte går till historien men jag gillar den. The Rags gillade Thunders och det hörs på gitarrerna och det är en bra habil punklåt. Panik och deras Livet är Mjölk är ju en klassiker. Missbrukarna känner alla punkare till så det episka bandet behöver vi inte ens nämna för så bra är det! Gruppen som var grunden till Missbrukarna var The Turfs och deras låt Det fattas bara att är en ganska simpel punklåt från förr men riktigt kul att höra. Stressad & Pressad är en riktigt kul och snabb låt med Rolf & Revoltörerna. Faktor 8 spelar en stökig typ av punk som är lite svår att ta tills sig kanske men de kör sin egen grej. Trogsta Träsk är mest kända för sin Pelle i Skogen men här var de tydligen inspirerade av Thinlizzy och det hörs på melodierna även om musiken annars är riktigt bra punk i Sommarbarn. Massgravs andra låt Du står för skit låter som ett tidigt Discharge nästan i alla fall ljudmässigt. Subway Army och Totalitär är väl de tuffaste grupperna på skivan och de som står för mest hardcoreliknande musik. Sommarbarn med Trogsta har nästan samma chans att bli en hit som Pelle. Rosor i nattbutiken var TSS egna Shot by both sides tycker de och det är en bra rocklåt! Faktor 4 är förbannade i Helvete och de charmar mig mer och mer. Teenage Grave var inne på Stooges och MC5 , det hörs men de gör det kanske inte lika bra! Jag hade LP:n med Dagens Ungdom men sålde den tyvärr och låtar som Den sanningssökande hunden, pryglingen och Picknick på Bilparkeringen är ju underbara. Så udda men så bra! Stans Original har ju kultstatus och Panik är ett kul band. Brainbombs skiljer sig en hel del musikaliskt från de andra banden och jag tänker Throbbing Gristle, Psychic TV etc men punkigt ändå på något vis. The Källare har tyvärr bara en livelåt med och det hade varit kul att höra deras tidiga punk lite mer! Sist ut på första CD.n är garagerockarna i Bangsters och det är mer än habil garagerock och deras låt på andra skivan The Jesus I know är svängig. En höst, en natt, en mars med TSS är kanske inte en av deras bästa låtar men jag gillar ändå det jag hör. Vacum spelade in sin sista singel i studion och här får vi höra deras Dagar i morgon som är en postpunkdänga som är riktigt bra! Pinballs sjunger både på engelska och svenska på den här skivan och gruppen hade Magnus Fagernäs från Dead Scouts på trummor. Trevlig popmusik! En tidig version av 9 timmars spel med Perssons Pack är välkommen också…..Soap var bara aktiva i ett år och inspirerades av The Jam och det hörs. Klas Crona är tydligen ett mysterium och här har han och hans grupp spelat in låten Så tråkig som är en låt som får mig att tänka på Dom Fåglarna eller någon sådan grupp…fräck! Beat Less Ingenting alls är en skainspirerad låt som mer borde få höra på och nu har ni chansen. Mats Urbation av Faktor 4 blir nästan lite proggig…lite udda men ganska kul. Per Sonerud & The Per Soneruds är väl en av de sämsta låtarna. Han gör det bättre som skivbolagsdirektör. Dead Scouts låt Gråter som en man skulle komma på deras andra LP men den kom aldrig ut, synd tycker jag för det är underbart att lyssna till den gruppen. Släpp den skivan om den finns! Bangsters sista låt på denna samling är Deadly whiskey är deras bästa av de tre låtarna här. De sista 6-7 låtarna är väl till stor del de minst intressanta på skivan eftersom det mest består av metal och synth men visst gillar jag Panic som påminner mig lite om Svart! Samedi hade nog lyssnat mycket på Depeche Mode…inte helt oävet. Space Meno har en liten touch av Lustans Lakejer men inte lika bra. Lucia and the Starboys ville låta som jam men det blev Dexys Midnight Runners på svenska står det i boken. Jag är böjd att hålla med men en blandning av Lustans Lakejer och Dexys kanske. PG, Frycke & Hjalmar kanske är lite skojiga med deras musik är en billig variant av Philemon Arthur & The Dung. Regent är väl det enda hårdrocksbandet på skivan och det är säkert kompetenta men ack så tråkiga. Sista bandet har det mest fantastiska namne eller vad sägs om Dödshjälp fd Hedebyborna. Lysande. Musiken då? Nja… Ni förstår att jag älskar denna box och jag skulle vilja höra hela Dead Scouts andra skiva, mer av Rolf & revoltörerna, Trogsta Träsk och så skulle jag vilja ha en samling med Dagens Ungdom plus lite till men tack Massproduktion för skivorna och boken. Ett underbart arbete! 25/10-2018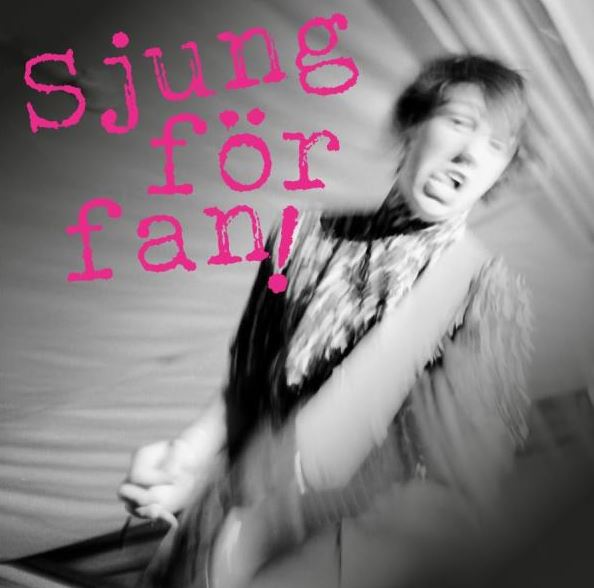 *********
SJUNG FÖR FAN(2CD-BOK- MASSPRODUKTION MASS CD-147)
An amazing collection of songs that some have been heard before and some are new to me anyway.
Recorded songs from Forsa Studio and there are a lot of great bands which have been recording there.
A really nice CD-Box with a book that comes with a lot of interesting text.
Fun introduction with the 1981 Electric Guitar Festival. Starts strongly with Missbrukarna. Dagens Ungdom I had almost forgotten but their Dagens ungdom idag is really cheeky and different punk. Massgrav thought I was a new band but this group is different and that's good. Rolf & Revoltörerna were a great band in the spirit of Missbrukarna and it is not that strange because Rolf Revålt was in there too. Beat Less I heard on Ny Våg when it started and I liked their little Jam-like Swedish-sung new wave.
Traste & Superstrarna became almost famous and their popping punk is always nice to listen to and this version of Dö Fisk is fun ... and I get a little sense of The Passenger when I hear it.
Sonny's Boys was a continuation of TSS and they apparently made dozens of gigs and this song Militärer is a song that may not go to history but I like it. The Rags liked Thunders and it's heard on the guitars and it's a good hilarious punksong. Panik and their Livet är mjölk is a classic song. Missbrukarna all punkers know so the epic band we do not even need to mention and they´re good! The group that was before Missbrukarna was The Turfs and their song. Det fattas bara att is a pretty simple punk song from before but really fun to hear. Stressad & Pressad is a really fun and fast track with the Rolf & Revoltörerna. Faktor 4 plays a messy type of punk that is a little hard to grab perhaps but they run their own thing. Trogsta Träsk is best known for its Pelle i skogen, but here they were apparently inspired by Thinlizzy and it is heard in the melodies, even if the music is really good punk in Lång het sommar. Massgravs second song Du står för skit sounds like an early Discharge almost anyway in the sound sometimes. Subway Army and Totalitär are probably the toughest bands on the record and those who stand for the most hardcorelike music. Sommarbarn with Trogsta have almost the same chance of being a hit like Pelle. Rosor I nattbutiken were TSS own Shot by both sides they think and that's a good rock song! Factor 4 is angry in Helvete and they charm me more and more. Teenage Grave were into Stooges and MC5, it´s heard but they may not do it as well! I had the LP with Dagens Ungdom but sadly I sold it, and songs like Den sanningssökande hunden, Pryglingen and Picknick på Bilparkeringen are wonderful. So odd but so good! Stans Original has a cult status and Panik is a cool band. Brainbombs differ quite a bit musically from the other bands and I think about Throbbing Gristle, Psychic TV etc but punk nevertheless in some way. Unfortunately, The Källare has only one live song and it would be fun to hear their early punk a little more! Last out on the first CD.n are the garagerockers in Bangsters and it's more than capable garagerock and their song on the second disc The Jesus I know is swinging. En host, en natt, en mars with TSS may not be one of their best songs, but I still like what I hear. Vacum recorded their last single in the studio and here we will hear their Dagar imorgon that is a postpunksongthat is really good! Pinballs sing in both English and Swedish on this album, and the group had Magnus Fagernäs from Dead Scouts on drums. Nice pop music! An early version of 9 timmars spel with Persson's Pack is welcome too ... ..
... .. Soap was only active for a year and was inspired by The Jam and it is heard. Klas Crona is apparently a mystery and here he and his group have recorded the song Så tråkig as a song that makes me think of Dom Fåglarna or any such group ... cool! Beat Less Ingenting alls is a skainfluenced song that more should be heard and now you have the chance. Mats Urbation of Factor 4 turns out to be a little bit awkward ... a bit odd but pretty fun. Per Sonerud & The Per Soneruds is probably one of the not so good songs. He makes it better as a record company director. Dead Scouts Gråter som en man would get on their second LP but it never came out, I think it's wonderful to listen to that group. Release that disc if it exists! Bangsters last song on this collection is Deadly Whiskey and this is their best of the three songs here. The last 6-7 songs are largely the least interesting on the record because it mostly consists of metal and synth but, of course, I like Panic that reminds me of Svart! Samedi had listened a lot to Depeche Mode …..not so bad. Space Meno has a small touch of Lustan Lakejer but not as well. Lucia and the Starboys would sound like Jam but it became Dexys Midnight Runners in Swedish, it's written in the book. I'm bent to keep up with but a mix of Lustan Lakejer and Dexys maybe. PG, Frycke & Hjalmar might be a little funny with their music being a cheap variant of Philemon Arthur & The Dung. Regent is probably the only metal band on the record and it's certainly competent but oh so boring. The last band has the most amazing name or what about Dödshjälpen fd Hedebyborna. Brilliant. The music then? Nja ... You understand that I love this box and I would like to hear all of the Dead Scout's second album, more of Rolf & Revoltors, Trogsta Träsk and I would like to have a collection with Dagens Ungdom plus a little more but thanks Massproduktion for the discs and the book. A wonderful job! 25/10-2018