THY PRIMORDIAL-THE BLACKENED YEARS(4CD-DISSONANCE RECORDS)
Efter vad jag förstår så var detta en svensk blackmetal-grupp och jag hade aldrig hört talas om dem innan. Vi börjar med CD 1 som innehåller Where Only the seasons mark the paths time från 1997. De varvar engelska titlar med svenska och de svenska heter Svart gryning, Av ondskapens natur och Dödsskuggan för att nämna några. Det är en ganska primitiv musik som tar sin början när skivan sätts på och jag är ju inte så bevandrad i Black Metal men får mig här en lektion kan jag tänka på hur det "ska" låta. En sångare som skriker men den hårt slående gitarristen hörs mer än sången som får falla tillbaka lite grand. Melodier saknas det inte men som sagt primitivt ljud på den här skivan. Andra skivan innehåller 2000 års utgåva The heresy of an age of reason och här tycker jag att det inte är lika primitivt ljud och jag gillar detta bättre. Jag tycker också att jag hör sången bättre här och den har lyfts fram lite mer här och det är ett bra grepp tycker jag. The Crowning Carnage från 2002 är vad CD 3 erbjuder och de öser väl på på samma sätt som de gjorde på CD2 om man säger så. Några av låtarna går till och med lite snabbare tycker jag men sångarens stil att sjunga består och det ska han ha all cred för. Jag börjar bli lite mätt nu efter tre Cd med samma typ av musik för det är en mäktig matta som översköljer oss även om jag gillar deras energi.
CD 4 innehåller deras sista skiva Pestilence upon mankind från 2004 och utvecklingen fortsätter och jag känner mig helt slut efter dessa fyra skivor men det är väl kanske meningen ;-) Men gillar ni Black metal så tror jag säkert ni uppskattar detta. Man kan ju undra varför inte Under iskall Trollmåne och At the world of Untrodden wonder fick vara med så det hade varit komplett. 8/5-2018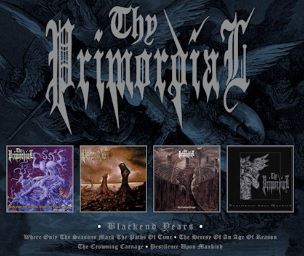 ******
THY PRIMORDIAL-THE BLACKENED YEARS(4CD-DISSONANCE RECORDS)
As I understand, this was a Swedish blackmetal group and I had never heard of them before. We start with CD 1 that contains Where Only the Season's Mark The Paths Time from 1997. There are English titles with Swedish and Swedish called Svart gryning, Av ondskapens natur and Dödsskuggan to name a few. It's a pretty primitive music that starts when the disc is turned on and I'm not so versatile in Black Metal but getting me here a lesson I can think of how it will "sound". A singer who screams but the hard striking guitarist hears more than the vocals that may fall back a bit grand. There are much melodies, but as said primitive sounds on this album. The second disc contains the 2000 edition The heresy of an age of reason and here I think it's not as primitive sound and I like this better. I also think I hear the vocals better here and it has been highlighted a bit more here and it is a good grip I think. The Crowning Carnage from 2002 is what CD 3 offers and they are doing well in the same way they did on CD2 if you say so. Some of the songs are going through a little faster, but I think the singer's style of singing is something that he should have all the credibility for. I'm starting to get a little bit tired now after three CDs with the same kind of music because it's a powerful rug that overshadows us even if I like their energy.
CD 4 contains their last album Pestilence upon Mankind from 2004 and the development continues and I feel completely exhausted after these four discs but that's probably the meaning ;-) But if you like Black Metal, I guess you appreciate this. One might wonder why not Under iskall Trollmåne and At the world of untrodden wonder had not is included so it would have been complete. 8/5-2018